All About Belgium for Kids – Food and Fun
Next on our tour through Europe is learning all about Belgium for kids! Enjoy some fun facts about Belgium, activities, and great food.
Let's Jet, Kids! uses affiliate links.  As an Amazon (and other networks) Associate, I earn from qualifying purchases.  It is no extra cost to you.  
Table of Contents
Make sure to check out these books!
To find all these fun facts, info, and great pictures, check out these books which teach all about Belgium for kids:
Lonely Planet Book (and the one for kids). We love the Lonely Planet books and use them for all our around-the-world fun. (More info on Lonely Planet travel books)
Cultures of the World: Belgium (likely available at your library)- This is full of info in an easy to read format.
Exploring Countries: Belgium – Full of info in an easy format, but simplified even more. Great for younger kids.
Essential Belgium (Fodor's Travel) – a great travel guide, but filled with info on the various parts of Belgium
Magritte's Marvelous Hat – a children's picture book about a dog-artist who finds the perfect hat. The story paints a picture of the world of Magritte, the famous Belgian artist who was known as a surrealist.
Belgium – Fun Facts for Kids
Population: About 11,500,000
Languages: Dutch, French, German
Size: 11,787 square miles (slightly smaller than the state of Maryland)
Independence: Belgium got its independence from the Netherlands in 1830.
Government: Constitutional Monarchy (with King Phillipe as Head of state), a senate, and a house of representatives
Climate: Belgium has a maritime climate, making its temperature relatively mild year round. Summers typically see temperatures in the 70's and winters are generally in the 30 to 50's (Fahrenheit). Belgium does experience plenty of rainy days. The eastern side can see more severe weather, including temperatures and snowstorms.
The Atomium; Photo by Fisnik Murtezi on Unsplash
Interesting Facts About Belgium for Kids
Did you know:
The Smurfs cartoons were created by a Belgian Cartoonist as Les Schtroumpfs.
The European Union Headquarters and NATO headquarters are in Brussels
The largest Belgian Chocolate Museum is in Antwerp. A true gem for kids (and adults!)
Belgium has around 3,000 castles!
The Atomium is a famous structure in Brussels. It was made fo the World's Fair in 1958, but has remained and been admired ever since.
Basic Words in Dutch
Dutch is one of the main 3 languages of Belgium. Here are a few words!
Hello – hallo (HAH-loh)
goodbye – tot ziens (TOTE ZEENS)
please – alstublieft (AHLS-too-bleeft)
thank you – Dank u (DAHNGK oo)
Plants and Animals in Belgium
At one time, Belgium was covered in Oak, Beech, Birch, and Elm trees. It also was home to various animals. Over hundreds of years of clearing the land, most of the flora and fauna now are found in the eastern side of the country, in the Ardennes.
Hoge Kempen National Park has become a protected area of land in Belgium. The land is mainly pine trees near the border of Netherlands. Other areas have been declared protected lands, but many endangered species remain.
Culture- The Arts and Crafts in Belgium
Music is a highly encouraged art in Belgium. There are many competitions and festivals with all genres of music. The Queen Elizabeth contest is held every 2 years and open to competitors around the world. It features musicians of piano, violin, and singers.
Lace Making is very popular in Belgium as well. It played a huge role in the 16- and 1700's by giving thousands of women jobs. While the lace craze eventually died down, the art is kept alive today, though mainly used in tourist shops to represent its strong past.
Popular Cities in Belgium
Part of learning all about Belgium for kids is knowing a little about the fun or historic cities. Each of these cities below plays a big role in what Belgium is, and even has influenced other countries.
Brussels is the best known city in Belgium. It is the capital of Belgium, plus the headquarters to NATO and the EU.
Antwerp is the second largest city and is home to the 5th busiest airport in the world (2nd busiest in Europe). Of all the diamonds cut in the world, 40% are cut in Antwerp.
Ghent is actually an inland city, but is linked to the sea by a 20 mile canal. Ghent played a big role during the middle ages as a Roman trading city. Many of the buildings still stand today.
Bruges, also referred to as "Venice of the North," is filled with canals and bridges. It is a hotspot for tourism thanks to its history and beauty.
Spa is maybe not as popular or well known, but it is interesting! People will travel here to bathe in healing waters. It's where we get the word "spa" from in English!
Image by Jochen Schaft from Pixabay
Famous People from Belgium
Adolphe Sax– You may not have ever heard of Adolphe Sax, but you probably have heard of the saxophone. The invention was actually meant to be a component of classical music, but it eventually led the way to a new genre of music: jazz.
Georges Lemaître– Another person whose name isn't as well known as his idea. Georges actually went against Einstein in the theory of relativity. Even more, he was the person who proposed the idea of the universe creation by explosion, known today as the Big Bang Theory.
Jean "Django" Reinhardt– one of the talented people who broke through during the jazz era. Django became a professional at the Spanish guitar, and you can see video of his incredible skill in this 2 minute video.
Audrey Hepburn- probably more well known to many of us, Audrey was a talented actress born in 1929 in Ixelles. Audrey performed during WWII to raise money and was a big proponent of working with charities. She was best known for her roles in the movies like Breakfast at Tiffany's.
Brussels is full of pedestrians, but not cars! Photo by Yogendra Negi on Unsplash
No Car? No Problem.
Many areas of Belgium do not use cars. Ghent's historic center banished them completely in 2017, Bruges sees very few cars, and Brussels is the second largest pedestrian city in Europe. Don't worry, there are plenty of scooters and bikes to use to get around.
Grand Palace; Photo by François Genon on Unsplash
History of Belgium
For kids to know all about Belgium, it's important to see it's history.
Belgium's known history dates back to 2000 BC. At this time, many tribes lived here, including the Celts from central Europe.
By 52 BC, Julius Caesar (Romans) fought against the Belgae tribe to take the land. Their tribe would become the namesake for Belgium.
Romans ruled for nearly 500 years until the Franks tribes defeated them.
By the year 768, King Charlemagne ruled much of Europe. He built roads and endorsed the arts. When Charlemagne died, his sons had feuds over the land and ended up dividing it.
Famine, plagues, and wars killed thousands of people and by the 1400's the Duke of Burgundy ruled over the land.
The land went under different rulers, including Napolean Bonaparte, until in 1815 when the Congress of Vienna meeting reorganized, making the land part of the Netherlands. That only lasted 15 years until a revolution commenced and Belgium fought for its independence.
King Leopold I took the throne on July 21, 1831 as Belgium's monarch. The date is known as Belgium's National Day.
Food in Belgium
The best part of learning all about Belgium for kids is to taste some yummy food of Belgium!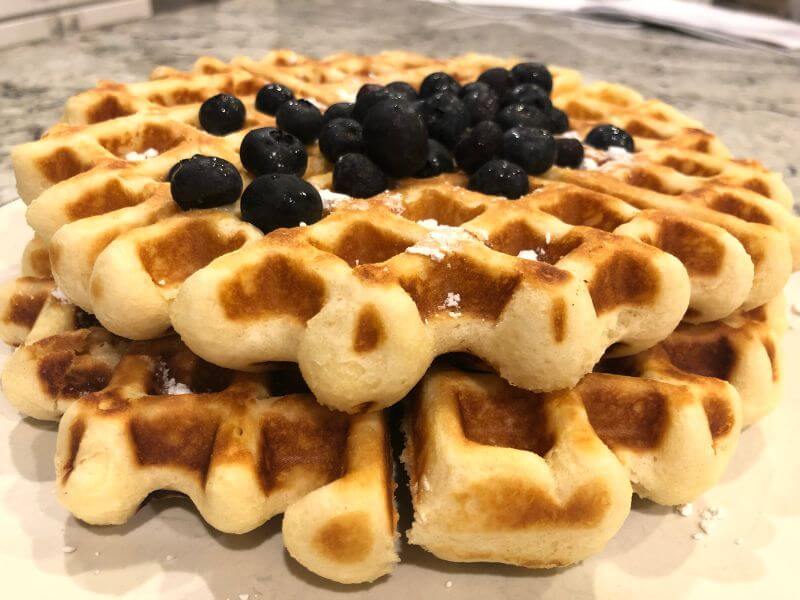 Belgian Waffles are popular even across the ocean in the USA. The thick waffle is often topped with powdered sugar or chocolate and whipped cream. These make a great dinner when studying all about Belgium 🙂
Belgian Chocolate is also popular around the world. We tried some imported Belgian Chocolate (from Trader Joe's), though Godiva is another popular brand. To try less popular brands, try Côte d'Or, Leonidas, or Pierre Marcolini (not available in the US). For a more familiar brand, Kirkland Signature even has Belgian Chocolate!
>>>Use this free Chocolate Tasting printable and activity for a more fun experience with your Belgian Chocolates! <<<
Moules-Frites were originally an affordable option for peasants. Now, they are a traditional combo of mussels steamed in wine and served with fries.
Gentse Waterzooi is a creamy stew of vegetables and fish.
Holidays and Festivals in Belgium
Do you like cats? You'll love the Ypres's Kattenstoet, or "Festival of Cats", parade. It's filled with cat-floats and puppets.
Prefer Bears instead? Andenne's Carnival of the Bears uses a popular story of a boy fighting off a bear to celebrate every March with bear-floats, dancing, and people dressing up like bears!
Christmas is highly celebrated in Belgium. While the traditional Christmas Day is celebrated, Saint Nicholas Day is also celebrated on December 6th. During Saint Nicholas Day, kids leave out socks or boots for Saint Nicholas to fill.
Saint Nicholas also makes public appearances for children to come see. Though alongside him is Black Pete, a man with a pretend black face who comes to make sure the children were good.
National Day is on July 21st and celebrates when King Leopold took the throne. You can see a parade in Brussels and festivities all over.
When learning all about Belgium, kids love learning about holidays and festivals. They really play a great role in understanding a place!
Fun Activities about Belgium
Smurfs Drawings
The young may not know what Smurfs are, but they are fun characters anyway. Since the creator of Smurfs was from Belgium, we looked up an easy step-by-step of how to draw a Smurf!
Create an Atomium
The Atomium is a well-known structure, so we decided to make our own!
Grab some toothpicks and marshmallows. Make a hexagon with six marshmallows and connect them with toothpicks. Then you'll make it 3D by adding a marshmallow right in the middle and then two on the sides, so the hexagon "pops out".
Flower Carpet at the Grand Palace
Every two years, the cobblestone at the Grand Palace in Brussels is covered in flowers, making a beautiful display! People gather all around the perimeter to witness it.
We decided to paint our own beautiful flowers at the Grand Palace. All we used were paintbrushes, cardstock, and paints (which we use often!)
Put a placemat underneath your cardstock. Google a picture of the Grand Palace with flowers and use it as a guide for your painting.
All About Belgium for Kids
I hope you enjoyed learning all about Belgium for kids and learning all about Belgium history, food, and holidays! It's so fun to learn about different places and such a great way for kids to learn about other places by immersing in some of the foods and activities. Enjoy these fun facts about Belgium for kids and fun Belgium activities!
For more around the world posts, use the menu at the top!
Sources:
The Culture Trip, https://theculturetrip.com/belgium/articles/13-famous-people-from-belgium-you-should-know/
National Geographic Kids, https://kids.nationalgeographic.com/geography/countries/article/belgium
Britannica Online, https://www.britannica.com/place/Belgium
The Travel Book and Travel Book for Kids