9 Fun Facts All About Argentina PLUS Food and Fun!
We began our around the world travels in South America, and decided to just move through the continent alphabetically. Learning all about Argentina is first on the list. We didn't use many materials today other than colored paper, food ingredients, and a ball! (And the awesome Lonely Planet travel books, of course.)
Let's Jet, Kids! uses affiliate links.  As an Amazon (and other networks) Associate, I earn from qualifying purchases.  It is no extra cost to you.  
Having a hands on experience while learning some fun facts about Argentina was a great way to get the kids excited.
Image by Adam Derewecki from Pixabay
Of course, we used our handy "The Travel Book" by Lonely Planet and "The Travel Book" by Lonely Planet Kids.
Table of Contents
Fun Facts all about Argentina
There are over 43 million people in Argentina.
It is the 8th largest country!
The capital is Buenos Aires, which is the 13th richest city in the world.
Argentina is known for its cattle. They are known to have some of the best, tender beef in the world and have the second highest consumption of meat in the world. (This alone makes my son want to visit!)
Argentina was the first country to use fingerprints for identification.
Argentina claims sovereignty over Antacrtica.
In 2001, the country went through 5 different presidents in a matter of only 10 days!
Iguazu falls is on the border of Argentina and Brazil and has over 275 individual waterfalls within it! The famous "Garganta del Diablo" is a large, horseshoe waterfall over 250 feet tall.
Some of the oldest species of dinosaurs walked through Argentina, and one dinosaur, the Dreadnoughtus schrani, was discovered. This is the largest dinosaur, roughly 7 times larger than a T-Rex!
Image by José Joey
Sports in Argentina
Football (soccer) in Argentina
Football (or soccer, to Americans) is incredibly popular in Argentina, as well as all of South America. They take soccer very seriously.
One of the most famous football players ever is from Argentina. Diego Maradona is known for the "Hand of God," a famous goal known in football. He scored during the 1986 FIFA World Cup against England, using partially his hand and head.
The refs didn't have a clear view, and the goal was counted. He went on to score another goal that same game, winning the game for the Argentines.
Another very popular player, arguably the best football player right now, is Lionel Messi. He is from Argentina and is captain of the Argentina National team, though he has spent his time in Barcelona playing.
After talking about football and looking up the Maradona "Hand of God" goal on YouTube, we played a football match of our own!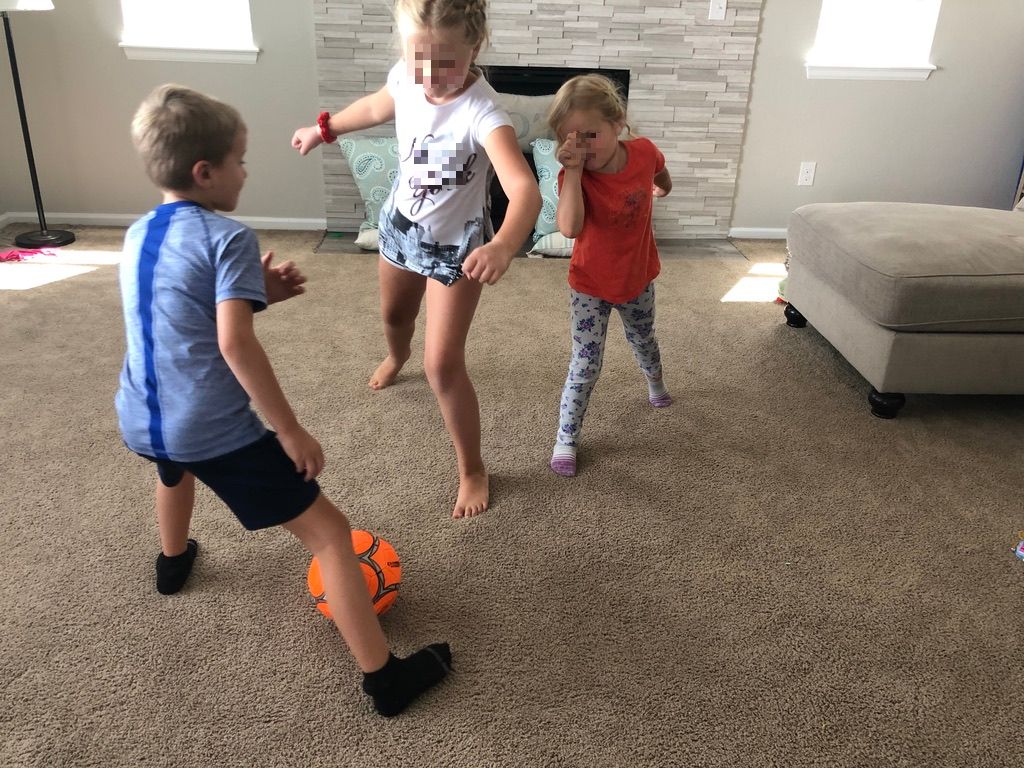 Pato – Game from Argentina
Pato is the national sport of Argentina. It is played on horses and is a mix of things from Polo and basketball. "Pato" means "duck." In the early days of the game, a duck was used instead of a ball.
Since we don't have horses, we looked up a video of Pato online to see the game in action! It looked a little tricky having so many horses crowd together in a fight for the ball!
Crafts All about Argentina
We then worked on an origami craft. The flag of Argentina is blue and white striped with a sun/star in the middle, so this craft was all encompassing!
It was easy once we got the hang of it, but time consuming. All we needed was some blue, white, and yellow paper. It ended up being mostly me and my oldest doing it as it was a little intricate. We followed this YouTube video:
My advice: Make sure to use paper that is all the same weight. We used computer paper for the white, and construction paper for the blue and yellow. That made it a little difficult to fit the pieces and for them all to stay smoothly together once finished.
Food from Argentina
For dinner that night, I served up empanadas. These are basically little hand pies stuffed with meat and/or veggies. (Unfortunately, I forgot a picture.) I made veggie ones, but there are lots of great recipes out there that include beef, as that would be true Argentine-style. Check out this recipe for empanadas from Tastes Better from Scratch.
The Tango – All about Argentina Dance
We finished our All About Argentina day at home by learning some tango.
Again, YouTube came in handy to find a short tango lesson.
I downloaded some Argentine music from the album Greetings from Argentina, and we got dancing! (Amigo Cavano is a good song to Tango to on that album). The kids giggled and were being a little silly with this part.
All About Argentina for Kids
Thanks for coming along to learn all about Argentina with us.
A lot of the fun facts and catalysts for ideas came from the Lonely Planet books. Make sure to give them a look!
What are some fun things you want to include in your day in Argentina?
You May Also Enjoy These South America At-Home Visits!
SAVE this to Pinterest!