5 Best Hot Springs in Ouray, Colorado
There are a few choices if you are looking for hot springs in Ouray. Are you wanting somewhere to play with the kids? Somewhere to relax? Or maybe a little bit of both?
Let's Jet, Kids! uses affiliate links.  As an Amazon (and other networks) Associate, I earn from qualifying purchases.  It is no extra cost to you.  
We visited some hot springs and talked to locals about some other ones. There are 5 main hot springs in Ouray you can visit, and this is an overview of each of them, how to access them, and what to expect. This way, you can enjoy your trip and plan out which Ouray hot springs you'd like to visit!
Ouray Hot Springs Swimming Pool
*Best for families!
Ouray Hot Springs Hot Springs and Fitness Center is the most popular hot springs in Ouray, Colorado. This is a great place to take the family, as it is very kid-friendly hot springs. You can play, hop in the swimming pool, or relax.
This large hot spring is built as a few outdoor pool areas with options for soaking or playing.
The Ouray Hot Springs do not contain sulfur (so no egg-smell to them!). They have plenty of minerals to help your body relax.
Two of the pools are heated to a comfortable temperature. We never felt overwhelmed with heat, which was nice to be able to stay a while without overheating.
The first/front pool is the shallow pool. It is decently warm and has a large open area. It's shallow enough for kids to get in and play. This pool also has a rolling log, a basketball hoop, and a volleyball net. The temperature stays between 82 and 92 degrees.
The next pool right behind it (to the right) is the hot pool. It is a little warmer at 92-100 degrees. There are no activities in the pool, but there are bench seats along the outside to relax on. It's large enough for families to be in here together, or close enough for adults to be in while kids play in one of the more "fun" pools.
The pool behind this is smaller, but the hottest. It is adults-only and the temperature stays between 102 and 106 degrees.
The next pool is the activity pool. This is kept at a cooler temperature at 74-80 degrees. You can definitely tell a difference going from one of the warmer pools to this pool! The activity pool has an inflatable obstacle course and climbing wall to play on.
Next, there is a lap pool. This is also kept at a cooler temperature (74-80 degrees), which is welcome since you'll be moving a bit in here if you choose to swim laps.
And finally, the crowning gem of the Ouray hot springs is the water slides. One goes a little slower on a wide slide. The other is a steeper drop slide (but not terribly steep like the scary ones at big waterparks!) My kids spent a lot of time on these slides.
Cost of the Ouray Hot Springs
Prices (as of summer 2023) are:
| | | |
| --- | --- | --- |
| | Price | Slides |
| Adults | $26 | $5 |
| Kids (4-17) | $16 | $5 |
| Under 4 | FREE | (N/A) |
The slide fee covers use of the waterslides for your entire visit. There is a height requirement of 48″ to use the slides.
The hot springs pools are open every day, rain or shine. In fact, it was raining on and off during our time there. While the rain was cold, it felt comfortable just sitting in the hot springs.
Where are the Ouray Hot Springs?
The Ouray hot springs are located on the most northern side of downtown Ouray. They have their own parking lot (well, somewhat shared with the visitor center).
They sit in an opportune spot with the steep mountains of Ouray all around. It's a beautiful setting!
Top Pick: If you are traveling with children, these are the best choice of Ouray hot springs. There is plenty for everyone here!
Also Check Out: 21+ Fun Things to do in Ouray with Kids!
Wiesbaden Hot Springs
Wiesbaden Hot Springs are gorgeous and have a story many locals know. Plus, if you are looking for the hot springs cave in Ouray, Colorado, this is where to find it.
Wiesbaden is a hotel in Ouray with hot springs on site. What makes it unique is that there are some hot springs inside a cave. This is known, according to locals, as the place where Chief Ouray lived. The mineral waters were often used in ceremonies and used for healing.
At Wiesbaden, there are natural mineral springs that blend in with the landscape. There is a pool area mineral spring, a vapor cave spring, and a third private hot spring that can be reserved.
Each of these springs is mineral waters from the Earth. There are a variety of minerals naturally occuring in the springs, such as sulfate, sodium, calcium, potassium, and others.
There are no additives or treatments to the water, and none of it is recycled water.
The springs pool stays between 99 and 102 degrees. The soaking spring in the cave stays between 107 and 109.
The private pool can be booked and rates vary based on if you are a day guest or staying at the Weisbader Lodge.
Cost of Wiesbaden Hot Springs
Guests of the Wiesbaden hotel can soak in the hot springs as part of their lodging with no extra cost. This includes the pool and vapor cave, as well as a discounted price for booking the private hot spring.
Day passes are also available for if you are not staying at the Wiesbaden. They run $25/per person for 2 hours of soaking. (Extra cost for the private spring).
*Note: Children under 6 cannot soak in the hot springs. However, Wiesbaden will provide a smaller plastic pool to fill next to the springs so little ones can come along, too.
Where are the Wiesbaden Hot Springs?
The Wiesbaden Hot Springs are located at the Wiesbaden Hot Springs Spa and Hotel. The hotel is in downtown Ouray, just two blocks off of Main St.
Find more info or book your stay at Wiesbaden Hot Springs in Ouray.
Twin Peaks Hot Springs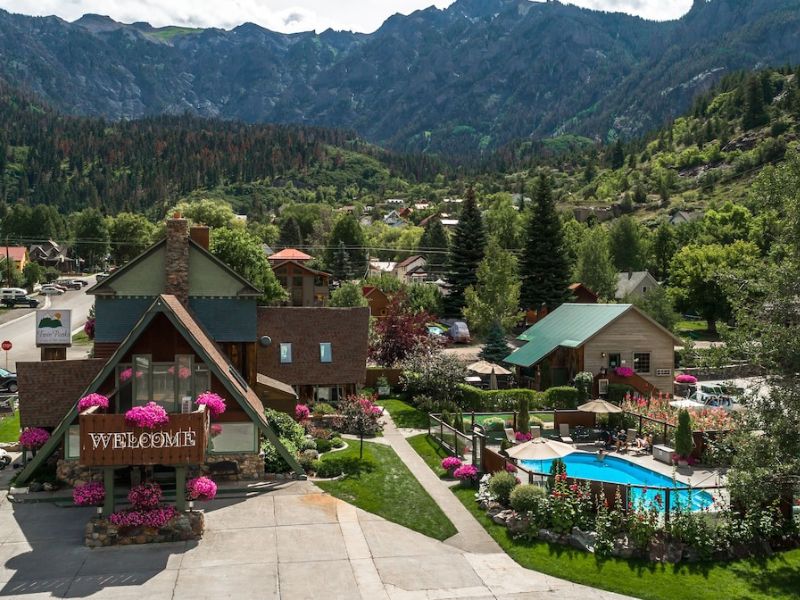 Twin Peaks is another hotel with hot springs in Ouray, Colorado.
At Twin Peaks, you can buy a day pass to use the hot springs and vapor cave.
The hot springs include 9 soaking tubs and a hot spring pool. For the day pass option, locals get a discount, while travelers pay full price to enjoy the soak.
Furthermore, the day pass does not include the vapor caves, but they can be added for an additional fee.
Kids 3-12 have discounted rates, and kids under 3 are free!
The pool area was recently renovated to give you a great, relaxing experience.
Where is Twin Peaks Hot Springs?
These Ouray hot springs are located at the Twin Peaks hotel, which is located right on Main St in Ouray. It's a nice, convenient location for going out on foot.
More info or Book Your Stay at Twin Peaks
Box Canyon Lodge
Box Canyon Lodge is named after the tall walls it sits within. It houses a few tubs of hot spring mineral water on site, but it is only for guests of the lodge.
So if you want to soak in these little tubs near the mountainside, you'll have to stay the night.
Many people say this is one of the best locations for hot springs. It's not crowded (since there are no day passes), but intimate both in setting and crowding.
Since these tubs are smaller, it may not be ideal to bring kids along. But I thought I'd mention it for the beautiful setting and high ratings of this great hotel. They are still rated some of the best Ouray hot springs.
Even if you don't use the hot springs, it is still a great hotel and it is just a short drive from Ouray Hot Springs.
Where is Box Canyon Lodge?
Box Canyon Lodge and Hot Springs is located in downtown Ouray at the south end. It is conveniently located near Box Canyon Falls.
More info or Book Box Canyon Lodge
Orvis Hot Springs
I won't go into much detail about Orvis Hot Springs as this is a family blog. What you need to know is that Orvis Hot Springs are clothing optional.
I've heard they are great hot springs, but maybe not somewhere I would personally take my kids.
Where is Orvis Hot Springs?
Orvis Hot Springs are located a few miles north out of town toward Ridgway. They are right off highway 550, and you'll see a little house with a big sign for Orvis.
Again, we didn't visit here, but they are well-known Ouray hot springs, so I thought I'd mention it in case you do an adults-only getaway 😉
Ouray Hot Springs FAQ
Are There Free Hot Springs in Ouray?
I do not know of any free hot springs in Ouray. I know how fun hopping in the riverside into a hot spring can be (as we did in Pagosa Springs), but I am not aware of that kind of thing in Ouray.
Can you Leave and Come Back at Ouray Hot Springs?
Yes! Per their website (and our personal experience), they allow you to leave and come back within the same day.
What is the Temperature of the Pools at Ouray Hot Springs?
As noted in the section above, the temperatures vary in different pools. The cooler pools are in the 80's while the hot pool gets to 100 degrees. The hottest of pools (adults only) can reach 106.
Do you need to book in advance to visit Ouray Hot Springs?
Nope! You can show up and purchase admission tickets on site when you arrive at Ouray Hot Springs.
What is the Best Hot Spring in Ouray?
For families, the best hot springs in Ouray is the Ouray Hot Springs in town. If you are going to soak without kids, try the hot springs at Wiesbaden where you can soak and head to the vapor cave.
The Best Ouray Hot Springs
When traveling with kids, the best hot springs in Ouray is definitely the Ouray Hot Springs public swimming pool in town. There are so many fun activities, and yet plenty of options for just relaxing as well. We stayed warm in the end of the shallow pool while watching our kids go down the waterslides over and over.
If you are going as a couple or adults only and have the budget, the Ouray hot springs you must visit are the ones at Wiesbaden. Enjoy soaking in the minerals and relaxing in the vapor caves.
No matter which you choose, you'll love visiting any of these great Ouray hot springs!
SAVE TO PINTEREST