21+ Activities in Colorado Springs in Winter
Colorado Springs is a popular place on the map these days. While it is filled with outdoor summer adventure, there are still so many family-friendly activities to do in Colorado Springs in winter. Whether you are looking for outdoor winter activities or indoor activities to keep warm, Colorado Springs has it.
Let's Jet, Kids! uses affiliate links.  As an Amazon (and other networks) Associate, I earn from qualifying purchases.  It is no extra cost to you.  
Both locals and those taking a Colorado Springs winter family vacation can find great, adventurous, or indoor things to do.
Find the best places to snowshoe, sled, sightsee, and unique beauties that make Colorado Springs special. For indoor activities, play a unique game of WhirlyBall or check out cool museums that only Colorado Springs offers (and much more!)
Table of Contents
Winter Weather in Colorado Springs
"Will it Rain? Will it Snow? It's Colorado, I don't know!"
That's a very common saying that goes around during the winter months in Colorado.
Colorado sees 300 days of sunshine a year, meaning that even if it does dump snow one day, there's a good chance it will be warm and sunny the next. (Ok, maybe "warm" is relative.)
Winter in Colorado Springs can bring highs in the teens or below 0, but typically that doesn't last long before it's back in the upper 30's and even into the 50's.
One thing that's good to know is that the sun is intense in Colorado. So if you see "38 and sunny" on the forecast, don't be too scared. That sunshine is going to make it feel much warmer than you think.
How to Dress in Colorado Springs in the Winter
Since the weather is so temperamental, make sure to bring layers. Always have a coat, hat, gloves, and sweatshirt on hand.
If you are participating in outdoor activities, you'll want all those things.
If you are only participating in indoor activities, you'll be able to get away with just a coat.
But I always think it's a good idea to carry it all on hand in case of car trouble.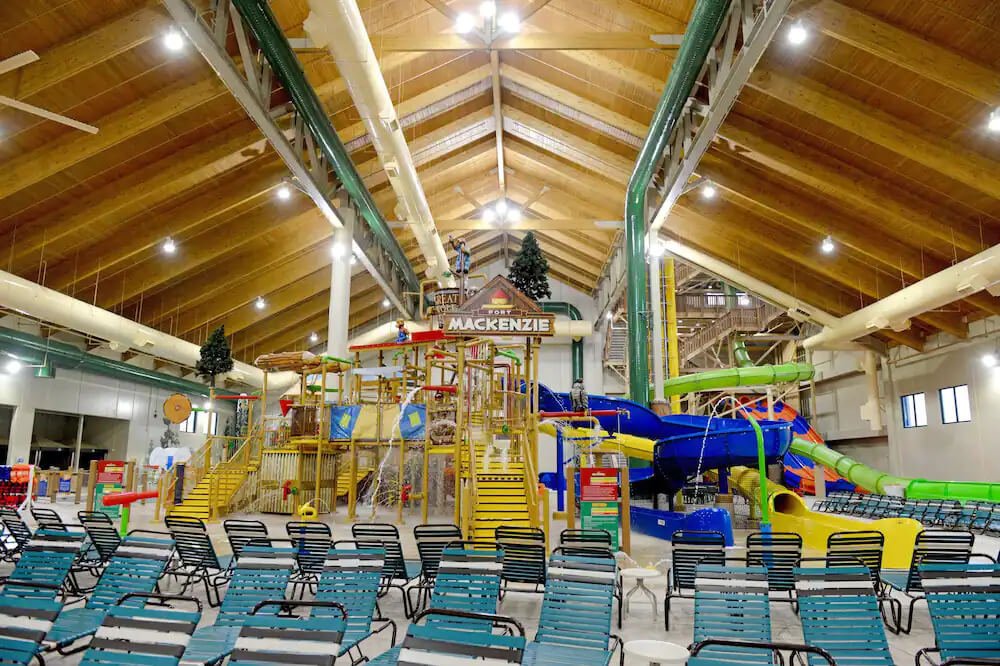 Where to Stay – Family-Friendly Resorts in Colorado Springs
The most kid-friendly place to stay in northern Colorado Springs is the Great Wolf Lodge. This place has it all! Massive indoor waterpark, arcade area, ropes course, a small food court… you'll never have to leave if you don't want to.
(But I recommend leaving to see all the cool things Colorado Springs has to offer.)
The Holiday Inn in northeastern Colorado Springs offers rooms that sleep up to 6, and while it's no Great Wolf Lodge, it does have in indoor pool.
A nicer resort on the south side of Colorado Springs is Cheyenne Mountain Resort. It has both an outdoor and indoor pool, plus a playground outside for the kids.
Where to Eat in Colorado Springs
For Families
Fargo's Pizza is a pizza place like no other. The large, saloon exterior is what you see before you enter this family-friendly pizza joint. Inside you'll get a live piano player, game room, and huge selection of pizza, sandwiches, and pasta.
King's Chef Diner- grab a hearty breakfast or an appetizing lunch. This family friendly place even sells its famous sauces. I hope you like Colorado green chili! Visit "the Castle" at 110 E Costilla St. There's also a second location at 131 E Bijou St.
Colorado Springs also offers some tasty, familiar places my kids love like Fuzzy's Tacos and ModMarket.
Outdoor Things to do in Colorado Springs in Winter
1. Cave of the Winds Mountain Park
100 Cave of the Winds Rd, Manitou Springs
This cave offers plenty of tours (including darker lantern tours), but the Discovery Tour is best for families of all ages! This includes a tour around an hour long through 15 different rooms. The walk is only around 1/2 mile and includes 196 stairs total throughout.
Why it's great in winter: Even when the weather doesn't agree outside, inside the cave at Cave of the Winds is always right around 54 degrees.
2. See Pikes Peak via the Cog Railway
While you can drive all the way up to Pikes Peak, why not make an enjoyable day on the world's highest-elevation cog rail?
The ride up is around an hour and you'll have 40 minutes to take it all in at the top before returning.
At the top of Pikes Peak, you'll find a Visitor Center which was newly done in June of 2021. It now has exhibits, a gift shop, and a cafe.
When you purchase tickets in advance, you can buy standard seats which are assigned to you, or you can spend a little more for reserved seats, which you get to pick.
Tip: Carry your baby in a pack, as there is not room for strollers.
Why it's great in winter: While possibly seeing less crowds, you will see more up at the top. Thanks to lower humidity in the winter, you'll have a better view of everything at the top on sunny days (and there will be plenty of sunny days!)
3. Royal Gorge Railway
401 Water St, Cañon City
Ride along the Arkansas River amid the 1,000 foot cliffs around you on the Royal Gorge Railway.
This train operates year round. Check out the Valentine's train in February or Santa Express in December.
If there's not a certain event or holiday you're aiming for, you can just enjoy the daily rides with your choice of class to ride in.
Children can sit in coach or Vista Dome classes, which give you access to the 403 Grill menu ($).
Strollers cannot ride on the train, but car seats can, if you'd like.
Why it's great in winter: Colorado is gorgeous year round, so why not experience winter from the comfort (and warmth) of a train?
4. Go on a Jeep Tour
There are so many geological formations, history, and mining towns in the area that you can't miss.
Take the kids on a heated Jeep tour of the area to really learn about the area around Colorado Springs.
Check out views of Pikes Peak, go through Cripple Creek, and see the old mining town on this tour. (It even provides waters and snacks to keep the kids happy).
Or take the Jeep Tour that goes up Pikes Peak. It includes your entrance fees and a great guide who'll share stories and folklore of the area.
Why it's great in winter: leave the winter driving to someone else to get you so some beautiful areas of Colorado Springs!
5. Visit the Colorado Wolf and Wildlife Center
4729 Twin Rocks Rd, Divide
Visiting the Wolf and Wildlife Center is a great experience for kids! Not only is it cool seeing all the wolves, but they have specific Kids Tours.
Combine fun with a bit of education. Offered just once a month, you do need to make a reservation for your child. The tours are at noon, so adults can sign up for another tour at noon while their kids are taken care of in the kids tour.
Otherwise, you can all join a standard tour or a feeding tour for a chance to learn about and view the wolves and foxes.
6. The North Pole
5050 Pikes Peak Highway, Cascade
If you are in Colorado Springs before Christmas, you can make a stop at the North Pole!
It's a great amusement park for kids, but if you're in Colorado Springs in winter, it's the perfect place to get in the holiday spirit with a visit to Santa.
There are rides for all ages at the North Pole. In fact, the whole village was imagined by an 8-year-old back in the 1940's.
When getting ready to build the North Pole, the 8-year-old told the artist what she thought Santa's Village looked like. And then years later, it came to life. Kid-friendly at its best!
The North Pole is fun year round, but it's especially a fun thing to do around Christmas.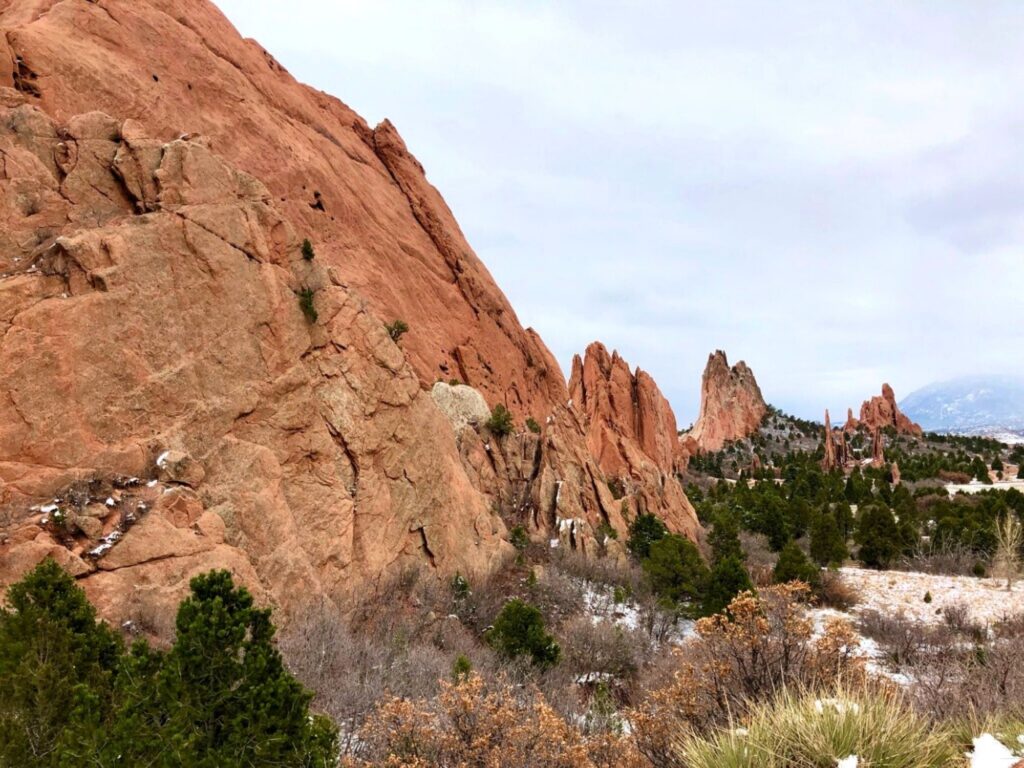 7. Explore Garden of the Gods
Garden of the Gods is definitely one of the more popular places around, but it actually makes a great stop in Colorado Springs in winter as well!
Garden of the Gods is a FREE attraction filled with large, red rock formations.
Around the main garden area, you'll get a nice, paved path that is stroller-accessible and kid-friendly. This makes is easy to look around and see the formations, possibly dusted in snow.
The snow gives the garden a whole new effect and is not to be missed.
8. Snowshoe in and near Colorado Springs
While traditional hiking may not be possible in the snow, you can always snowshoe!
Head to Garden of the Gods or Red Rock Canyon after a snowfall to explore on foot.
You can also find many groomed snowshoe trails at Colorado State Parks, so check out the nearby Mueller State Park.
Something about snowshoeing is both challenging and relaxing. Kids love the new type of adventure that is different from traditional hiking.
Plus, it's one of the perfect Colorado Springs winter activities that keeps you active and out sightseeing.
9. Cross Country Skiing
Prefer the skis to the snowshoes?
You can cross country ski in many places near Colorado Springs.
Head to Mueller State Park for a ski around Grouse Mountain campground road, an easy 1 mile trail.
Or, just north of Colorado Springs is the Country Club in Woodmoor. They have a nordic center, making it a perfect place to try the skis. Or do a combo, with some snowshoeing and some skiing.
10. Ice Climbing
Ice climbing is a bit of a bucket-list experience, but you can do it right in Colorado Springs!
Front Range Climbing Co is an experienced company that runs climbing lessons and groups all year long.
If you visit Colorado Springs in winter, check out this experience with Front Range Climbing.
They provide ice climbing lessons at Camp A (Camp Alexander) that is available for all levels. It's the perfect family-friendly activity where even kids can learn to ice climb.
They also offer beginner lessons at Lake George, just outside of Florissant. It's less than an hour from the downtown Colorado Springs area.
11. Sledding in Colorado Springs
Sledding is one of those classic Colorado Springs winter activities, or really winter activity anywhere.
And there are plenty of places to sled in Colorado Springs.
For beginners and young sledders, check out Shooks Run at Willamette Ave and N El Paso Street.
You could also head to Mountain Shadows Park off Flying W Ranch Road, where the hills are gentle and even out long before you hit a road.
To cater to all ages, head to Bear Creek Regional Park in Old Colorado City. You'll find both gentle hills for younger kids and steeper hills for the kids that like speed.
12. Seven Falls (See it Frozen)
2350 S Cheyenne Canyon Rd
Seven Falls is pretty awesome in summer. Just as it says, you'll see 7 levels of a waterfall coming down the canyon in between mountain walls.
In winter, you can visit starting in March, and it's likely you'll get a view of the seven falls, but frozen.
Frozen waterfalls have become a popular venture, and these falls are no exception!
Seven Falls is now run by the famous Broadmoor resort, so it will come at a price to visit.
13. See the Manitou Cliff Dwellings
10 Cliff Rd, Manitou Springs
The Manitou Cliff Dwellings, located in nearby Manitou Springs, are the ancient dwellings of the Puebloan people.
You can actually walk around and through the dwellings, and they are easy to get to. Plus, you'll get to visit the museum to further your experience.
Affordably priced, visiting the cliff dwellings makes a fun and unique activity in Colorado Springs in winter. You don't need to hike in to reach the dwellings; just walk along the path!
14. Ice Skating in Colorado Springs
Another classic winter activity in Colorado Springs is to choose from one of the ice rinks to go ice skating at.
The city's Sertich Ice Center offers a large indoor rink for the whole family. The NHL-sized rink has plenty of space for everyone.
Find the ice center near Memorial Park in Colorado Springs.
Also check out Acacia Park downtown at 115 E Platte Ave. It's an outdoor rink that's open from mid November through the end of January.
Kids will love skating, but also the special events held, like skating with the Air Force hockey team or learning to skate with US Figure Skating (just one of the perks of visiting Olympic City, USA!)
On weekends you can check out the World Ice Arena at the Broadmoor. Public skate is available on a schedule (check before you go). This is where champions are made. And gold medalists.

15. Cripple Creek Ice Festival
Cripple Creek is about an hour from downtown Colorado Springs, but if you are visiting Colorado Springs in winter while the festival is going on, you have to stop and see it!
Visiting the ice festival is FREE and open to the public. Watch as ice sculpting teams compete for cash prizes and check out festival vendors.
The kids will love visiting the Cripple Creek District Museum, which will host kids activities.
For an updated schedule, visit Cripple Creek's website and click the Events tab.
Indoor Activities in Colorado Springs in Winter
16. US Olympic and Paralympic Museum
200 S Sierra Madre St
Race down a track against a virtual Olympian, check out Olympic medals, try some archery, or take a family-friendly guided tour through the museum.
You may even get to meet some aspiring Olympians on your visit!
My favorite part is how the museum's goal is to inspire strong values like courage, respect, and discipline.
The USOAPM is highly regarded as one of the most accessible museums, as it is designed for wheelchair accessibility and has American Sign Language throughout the exhibits.
17. Glen Eyrie Castle
3820 N 30th St
All kids will love this cool, enchanting castle. You can even book a tea time for a full experience!
To see the castle, you'll need to book either a tour, tea time, or an overnight reservation (yes, you can stay here!) There are no drop-ins or self-guided tours. You'll need to book a tour before arriving.
Glen Eyrie Castle was originally the home of William Jackson Palmer, a man who was both a general in the Civil War and the founder of Colorado Springs.
Glen Eyrie is located next to Garden of the Gods.
18. Visit the Museums of Colorado Springs (8 ideas here!)
Check out the Colorado Springs Pioneers museum, a place that's a beautiful courthouse on the outside and nostalgic on the inside. Here you'll learn about how Colorado Springs was founded. FREE admission.
The National Museum of World War II Aviation is another one of the perfect winter activities in Colorado Springs. Stay indoors in this 40,000 square-foot hangar filled with aircraft. You can't touch, but you can get nice and close. Tip: save some money by booking tickets ahead of time.
Another place for the aviation fan is the Peterson Air and Space Museum. See Colorado Springs' first airport passenger terminal, an old hangar built in 1928, and the impressive aircraft in the airpark. FREE admission.
The Ghost Town museum is more for kids who love those old mining towns. Try arcade games from the olden days, churn some butter, and check out preserved wagons recovered in the Pikes Peak region. This is a fun, affordably indoor activity in Colorado Springs in winter!
There are so many other museums in Colorado Springs to spend a winter day. If you have an art fan, check out the Fine Arts Center museum. Motorcycle lover? Check out the Rocky Mountain Motorcycle Museum. There's even a ProRodeo Hall of Fame museum that teaches about the impact that rodeo has had on Western America.
Our favorite museum has been the Space Discovery Center. Check out astronaut gear, food, and how space travel has affected how we live on Earth today.
19. WhirlyBall (something unique in Colorado Springs in Winter)
3971 Palmer Park Blvd
I've never seen an activity quite like WhirlyBall. Basically, you are given plastic-cage type racquets (we called it "TracBall" when I was young) and you use them to throw a wiffle ball at targets.
You do all this while driving in your bumper-car like mobile! There are two teams, and the team who hits the most targets in their ride wins!
This is for older kids, as you do have to be 54″ to play WhirlyBall.
But if younger ones are present, you can still grab some pizza and have a game of laser tag or bowling.
20. The Summit
1180 Interquest Pkwy
For some more traditional indoor activities in Colorado Springs in the winter, head to The Summit on Interquest in Northern Colorado Springs.
Enjoy family-fun time with bowling, laser tag, the arcade, and lots of kid-friendly food.
21. Great Wolf Lodge
9494 Federal Drive
Also located along Interquest in northern Colorado Springs is Great Wolf Lodge. So if you need somewhere incredibly kid-friendly to stay, this is it.
Great Wolf Lodge is known for their awesome indoor waterpark. Yep. You can swim and splash year-round here.
The waterpark is all in one giant area, but has different sections made for different ages. So even the youngest kids will have something fun to do.
22. Indoor Rock Climbing
21 N Nevada Ave
When it's too cold or snowy to climb outside, check out City Rock Climbing.
This indoor climbing gym has something for every age! The typical climbing walls are open for those that want a challenge.
If the younger ones don't feel comfortable, there's a whole non-rock-wall climbing area they will love.
Rather relax? Try a yoga class.
Whatever you do, make sure to eat at the Ute and Yeti, the restaurant that's filled with healthy meals and kid-friendly meals.
23. Dinosaur Resource Center
201 S Fairview St, Woodland Park
Located about 30 minutes from downtown Colorado Springs in Woodland Park is the Dinosaur Resource Center.
This makes a perfect indoor activity during winter in Colorado Springs. It's unique and kid-friendly, but indoors so you keep warm!
The Dinosaur Resource Center features plenty of fossils and traveling exhibits which allow you to witness unique fossils of dinosaurs from around the world.
They also work on 3D scanning and printing, giving you the opportunity to own a piece of your own ancient history.
24. Children's Museum
2565 Airport Road
The Pikes Peak Children's Museum is a place that makes learning fun.
For the perfect winter activity in Colorado Springs, head to the Children's museum where kids can get lost in wonder as they discover space, machines, and why farms are important.
This museum is small but mighty (and fun) for kids. Pricing is affordable for a children's museum!
Visiting Colorado Springs in Winter
As you can see, there are so many winter activities in or near Colorado Springs. Weather and snow don't necessarily mean you can't have a great time. In fact, the snow enhances some of the winter activities! But if you don't like snow, there are still plenty of fun and unique, family-friendly things to do in Colorado Springs in winter.
---
RELATED: Awesome Things to do in Colorado Springs with Kids
---
Is Colorado Springs Worth Visiting in Winter?
Absolutely! There are so many great outdoor adventures, and if it's too cold, there are great indoor attractions as well.
What is Colorado Springs like in winter?
Weather could be warm and sunny or cold and blizzard. But if it's a blizzard, it'll be short lived and, most likely, sunny within a day or two. Colorado Springs has plenty of sites to see year round.
How bad are the winters in Colorado Springs?
The winters are much more mild than many people assume. It may snow (a bunch), but the sun shines 300 days a year in Colorado, making Colorado Springs a place with plenty of sun and mild days.
Save to Pinterest!