Hiking the Beautiful St. Mary's Glacier with Kids
Every time we drive I-70 through the Colorado mountains, we see the sign for what I know to be a popular attraction. So after hearing what an amazing place it is, we decided to take a day and check out St. Mary's Glacier with the kids.
Let's Jet, Kids! uses affiliate links.  As an Amazon (and other networks) Associate, I earn from qualifying purchases.  It is no extra cost to you.  
St. Mary's Glacier is not only a great, family-friendly hike, it's incredibly beautiful, and makes you feel like you have found some hidden gem just an hour outside of Denver.
We took our kids up to St. Mary's Glacier recently, so I'm sharing what we found, what to expect, and how beautiful it was. And of course, none of these pictures do it justice.
Table of Contents
The Hike to St. Mary's Glacier with Kids
Distance: 1 to 1.5 miles
Difficulty: Easy to Moderate
Elevation gain: 420 feet
Can kids do the St. Mary's Glacier hike?
Yes!
Distance
The hike is not very long, making it great for a quick trip up so you can spend your time enjoying the top.
St. Mary's Glacier is accompanied by St. Mary's Lake. While the glacier is impressive, the lake tends to take most of the attention away.
The hike to get to the lake is 1 mile round trip. If you go beyond the lake to the glacier, it is 1.5 miles.
1.5 miles roundtrip, 1 mile just to lake and back
Terrain
The terrain of this hike is not exactly ideal. While the hike is short, it is so very rocky. The trail is mostly a wide, road-sized path that is just covered in rock. This made it a little tricky to navigate the uneven surface, having to really pay attention to each step.
Our kids (and adults) took a couple falls. Nothing severe, it's just uneven footing most of the way.
Can kids do it? Yes, they can. We saw plenty of kids and families on this trail. Many, including us, were just taking it slow and enjoying the hike, knowing it wasn't very long.
Elevation of St. Mary's Glacier
When you start the hike, you'll already be above 10,000 feet. The start of the hike is 10,428 feet. If you are not use to elevation, you may feel this a bit. If you don't, wait till you start hiking. If you start to feel it then, slow down and enjoy the walk. Drink a lot of water.
The exact starting elevation is 10,428 feet and the elevation at the base of the glacier climbs to 10,848. While this is only 400 feet, keep in mind that the hike is only about .75 miles one way, so it's a decent incline the whole way.
St. Mary's Lake
The lake at the top is just incredible. There is a wide array of places to sit to either side when you arrive.
We packed a lunch and sat atop a fallen log right at the border of the lake and enjoyed the view, which included a group of college kids in the distance doing some cliff jumping.
You are able to swim, paddle board, or kayak in the lake. Though, personally I think it would be hard to haul up a paddle board.
The lake is really chilly. We stuck our feet in in mid July and it was quite cold! But the adventurous person who doesn't mind a quick shock can enjoy a chilly swim if they'd like.
Hanging Out at St. Mary's Glacier with Kids
We've been to some awesome mountain lakes, like in Breckenridge or some amazing lakes in Crested Butte.
But there was something different about the lake at St. Mary's Glacier being so high in the mountains that made it feel like such a getaway.
The lake was so enjoyable to hang out at for a while that my kids didn't want to leave to go to the glacier. We made them come anyway, and they immediately told us they were glad we kept going.
If you take the trail beyond the lake, you'll soon end up at the base of the glacier.
The glacier can be seen from the lake, but it's cool to get up right next to and on it.
At the glacier, we saw a summer camp practicing climbing and descending a snowy mountainside, a bunch of people and families climbing up higher in the rocky side area, and even a few skiers come down.
My kids decided they wanted in on the action and went onto the snow to do some "skiing" in their shoes.
This went on a while.
My point being- if you want to end your hike at the lake, consider going just a little further to experience snow in midsummer at St. Mary's Glacier with the kids.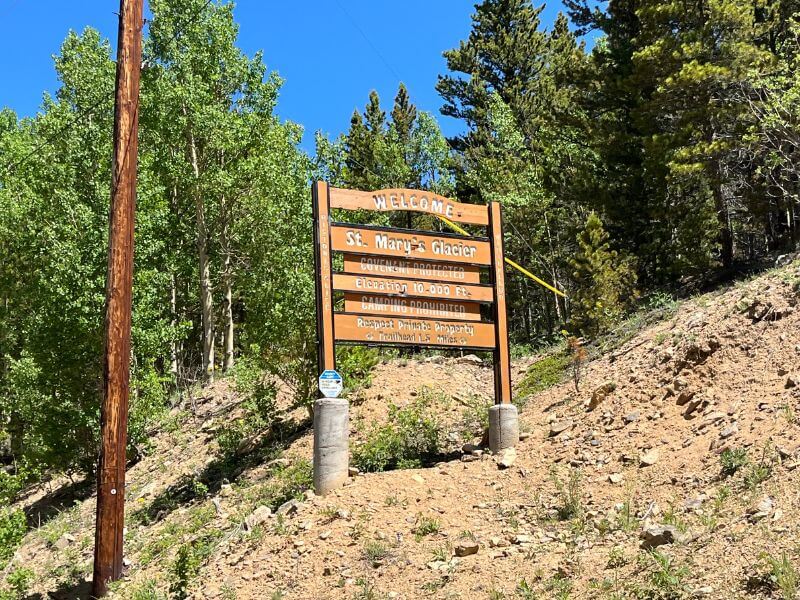 St. Mary's Glacier with kids- Video
Here's a (really) quick video about this amazing place and what you'll see. This was done in mid-July. Notice there's still lots of snow!
How to Get to St. Mary's Glacier
To access St. Mary's Glacier, you'll need to get on I-70 and head toward Idaho Springs. Just west of the town, you'll exit on exit 238. Then you'll turn onto Fall River Road. Follow the road up for almost 10 miles. You'll come to a dirt parking lot on the left.
Trailhead to St. Mary's Glacier
After you park, head to the far end of the lot (as if you kept driving on the road) and walk a short distance along the road to get to the trailhead. It will be on the left/same side of the road as the parking lot.
While I did not personally see it, there was a sign saying there is additional parking past the first lot. So if the first lot is full, drive a little farther to check out the second lot.
Parking at St. Mary's Glacier
While there is ample parking for St. Mary's Glacier, it can fill up quickly as this is one of the most popular hikes near Denver.
As you're on private land, make sure to pay the fee to park in this lot. The current fee is $20 and can be paid over near the port-a-potties.
These port-a-potties are the only chance at a bathroom you'll have, so make sure to use them before you set out. There are no bathrooms along the way nor at the top.
DO NOT PARK ON THE ROAD
St. Mary's Glacier Ski Lift
Just before the parking lot, you'll notice what looks like an old ski lift.
Well, that's exactly what it is.
St. Mary's use to be a ski resort from the 1950's to the mid 1980's (though people were skiing it since the 1930's). They had a 3 lifts- 2 tow ropes, and a t-bar to pull people up the mountain. Then, skiers enjoyed quite a few beginner, intermediate, and advanced trails in this small resort.
It was no competition for places like skiing in Telluride, but it was a quaint, charming getaway for locals and visitors alike.
The previous Silver Mountain (and later, Silver Lake) area featured a snack bar and even some cabins for winter travelers to lodge in.
There were plans for reopening the resort in the early 2000's, but eventually the plans fell through.
You may have heard of spring skiing, but what about summer skiing?
Today, there are no operating lifts. However, many people (even in July!) hike their skis up the glacier and ski down.
Fun Facts about St. Mary's Glacier
St. Mary's Glacier is actually no longer a glacier. Since the definition of glacier requires the snow/ice to be slowly moving, St. Mary's Glacier is actually a snowfield.
There is snow year round at St. Mary's Glacier
St. Mary's Glacier use to be a ski resort!
You can see the old lift near the parking lot.
St. Mary's Glacier in Winter
Should you do a winter hike at St. Mary's Glacier with kids? Probably not. The trail becomes snow covered, making it challenging in a different way. The conditions aren't ideal for kids to join along.
If you do choose to hike in winter, make sure to have proper hiking boots (waterproof and warm) and even crampons to avoid slipping on icy spots.
The trail can be much harder to find in winter, especially if you are one of the first ones on the trail. Otherwise, you can follow the footsteps of those who have gone before to lead you to the glacier.
FAQ about hiking St. Mary's Glacier with Kids
Can You Swim At St. Mary's Glacier Lake
Yes, you can swim at St. Mary's Glacier. Be prepared for chilly water temperatures, even mid summer!
Can You Take Dogs to St. Mary's Glacier?
Yes, dogs are welcome to join the hike. They must be leashed.
Can you Cliff Jump at St. Mary's Glacier?
How High is the Cliff Jump at St. Mary's Glacier?
There are a couple cliffs, with the shorter one being around 20 feet. The higher one is significantly higher, probably around 50-75 feet.
Do You Need a Permit to Hike St. Mary's Glacier?
Once you park, you must pay at the pay station near the bathrooms. This is your permit to hike and covers the cost of using the parking lot, which is on private land. You do not need to reserve in advance.
Is St. Mary's Glacier an Easy Hike?
The hike to St. Mary's Glacier is not easy, though it's not hard either. The main difficulty is the rock-covered trail that makes uneven surfaces harder to navigate. But plenty of kids and families join in on the hike and take it slow.
St. Mary's Glacier with Kids
So can you hike St. Mary's Glacier with kids? Yes, you can! Assuming everyone is in average shape or better, this is a doable hike for the whole family. The surface can be tricky, but taking it easy is an easy way to include the kids on this fun and gorgeous hike.
Enjoy the lake, enjoy the glacier, and enjoy the journey as you visit St. Mary's Glacier with your kids.
Save this Post!