We've been to quite a few airports. Some are small where you walk through security and then a few more steps to your gate. Others require very long walks through underground walkways. Figuring out how to navigate the Denver airport can seem like a big deal, but it doesn't have to be.
Let's Jet, Kids! uses affiliate links.  As an Amazon (and other networks) Associate, I earn from qualifying purchases.  It is no extra cost to you.  
Check out step-by-step of how to get through the Denver airport to the gate you need!
How Early do I need to be at the Denver Airport?
We use to leave our house 2 hours before our flight. That gave us about 1 hour and 15 minutes at the airport.
Use to.
That is not enough time anymore.
We went on vacation in October and for whatever reason, got to the airport 2 hours early. We made it to the gate as they began boarding!
I'd say 2 hours early is usually enough time. But be aware of holidays, school breaks, or other factors that would make the airport extra busy.
Last time we went and got to the gate 2-1/2 hours early, which gave us plenty of time to get snacks, go to the bathroom, and honestly, just wait around.
But we weren't stressed out at all about making our flight.
Sometimes bag-check lines are incredibly long, sometimes not. Sometimes security is 5 minutes, sometimes it's over an hour.
It's a risky guessing game, so I would arrive at the Denver Airport earlier than you think, just to be safe.
Related Post: Check out fun, FREE things to do in Denver with the kids!
Arriving at Denver International Airport- Where do I go?
When you arrive at the Denver airport, there are two sides you can go to for check-in: east and west. Each side has certain airlines at each side.
The major airlines on the West side are:
United
Copa
American
British Airways
Aeromexico
Air Canada
Lufthansa
Icelandair
Major Airlines on the East side are:
Frontier
Southwest
Delta
Alaska Airlines
Jet Blue
Spirit
It's important to know which side to check-in on so you know which side to park on (or get dropped off at.) If you end up on the wrong side, just head to the middle or either end and walk all the way across the airport. It'll just take a few minutes, and then you'll be on the opposite side.
If you end up on the wrong side (east, when you should be west), you can loop around the airport to come back into the correct side. However, this will take longer than just walking across inside.
There is covered (short term) and outdoor (long term) parking at Denver International Airport on each side. There are also parking lots nearby that run shuttles to the main terminal.
Check-in and Bags at Denver International Airport
Once you are on the correct east or west side, find the ticket counter for the appropriate airline. Check in as you would at any airport and drop your bags.
*Note- many airlines offer curbside check-in for your checked bags outside of departures. We have done this a few times when getting dropped off and it works great. There is no extra charge, and it saves a lot of time from standing in line inside! If you have already checked-in online and don't need further assistance, this is a great option.
---
Top Rated Luggage for the Whole Family!
---
Head to Security at the Denver Airport
There are 3 security checkpoints to choose from at the Denver airport.
If you are going to Concourse B or C, I suggest using the 2 main security checks right in the main terminal.
If you are going to Concourse A, you can use those checkpoints OR the third option.
To get to the two main security checkpoints:
After dropping your bags, head inward in the airport. You'll then take an escalator down a level to the security area. There is a north and south security here. It doesn't matter which you go through.
To get to the third option:
The third option is convenient if you don't mind some walking AND are taking a Frontier flight, (or other flight in Concourse A.)
After dropping your bags, head all the way to the north end of the airport. Turn into the center of the airport, and then continue north for the walkway.
There is a skybridge that you'll walk through to get the the 3rd security checkpoint. This will lead you right into Concourse A.
** We have gone through DIA with a 5 minute security line, and with an 1+ hour line that stretched back into the baggage claim area. You can check Denver security times ahead of time, but by the time you get there it may have drastically changed. Always give yourself more than enough time! **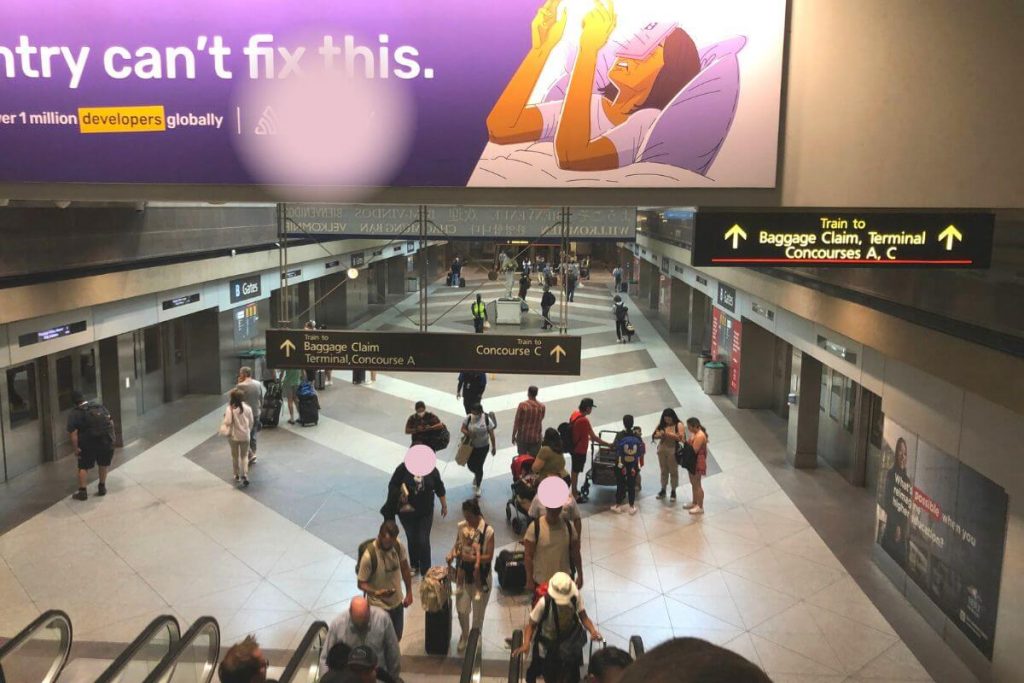 Riding the Train at DIA
If you choose one of the 2 main security checks, you will then head down an escalator to the train.
The train will transport you to concourses A, B, or C.
The train has a countdown on the display above the doors. It is not long between trains, so if you miss one, there will be another shortly.
You have to hurry onto the train, as the doors are open so long, and then close automatically. And if you force the door open to squeeze in, the automated voice will reprimand you! 😉
Arriving at Your Concourse at the Denver Airport
The train will announce which terminal is it arriving at.
Hop off, then take the escalators all the way up to the terminal. At the top, there will be plenty of screens showing you departure gates.
The gates are split in half on the east and west side. Look to the left and right to see which way your gate is.
From here it's simple. Just walk and find your gate. If it's far, there are moving walkways to help speed up your transfer.
Outdoor terrace area at the end of concourse B
Facilities at the Denver Airport
You'll see as you walk through the terminal that there are plenty of places to stop and grab a snack or meal.
Food and Shops at DIA
Choose from Newstands, bookstores, clothing shops, Starbucks, cafes, restaurants, and more.
There are plenty of bathrooms, plus you can fill your bottle at a water fill station. You'll most likely find one of these wherever you see a bathroom and water fountain.
I've even seen a few rooms and outdoor areas to take your dog to the bathroom.
Hidden Gems at the Denver Airport
If you have extra time and look closely, you'll find many hidden gems at the Denver Airport.
In the main terminal (where you have check-in and security), you can pray or meditate in the Interfaith Chapel. Find it on level 6 on the East side.
Need to entertain the kids? Try out mini golf! It's in the main terminal on The Plaza. See the big plane shaped hotel when you get to the airport? The Plaza is between the airport terminal and that hotel.
Lounges at the Denver Airport
If you are of status with an airline (or have credit card benefits with a specific airline), you can relax in one of the lounges.
The Centurion Lounge– by American Express. Find the Centurion Lounge in Concourse C near gate 46.
United Club- United Club members have two lounges in the B concourse.
Admirals Club, Delta Sky Club, and USO Lounge– these can all be found in Concourse A.
Arriving at the Denver Airport
Hopefully that answered a lot of questions about departing from the Denver Airport.
Here are a few good things to know if you are arriving:
You'll take the train (just like above) back to the main concourse. Listen for the automated voice to say "baggage claim."
Baggage Claim is on level 5, with passenger pickup on level 4. When you come up the escalator for the train, look to the sides of the airport for signs with your airline on it. Then you'll know which side to go to for baggage claim.
If you're taking a shuttle or ride share, you'll exit out level 5.
If you are riding the light rail (the train that goes from Denver to the airport and vice versa), you can catch it on level 5, heading toward the Westin hotel.
If you are arriving and laying over from an international destination, you'll have to collect your bags, go through customs, and then re-check your bags to your final destination.
Navigating the Denver Airport
Hopefully that helped you figure out how to navigate DIA! Safe travels 🙂
---
Staying in the Denver area?
Don't miss a day in Colorado Springs,
hiking in Eldorado Canyon State Park,
or other fun day trips from Denver!
---