5 Great Hikes at Castlewood Canyon State Park with Kids
If you're looking for a beautiful, but lesser-visited State Park in Colorado that's great for kids, check out Castlewood Canyon State Park. We've been here quite a few times and have been able to find some really fun trails that the kids really enjoy too.
Let's Jet, Kids! uses affiliate links.  As an Amazon (and other networks) Associate, I earn from qualifying purchases.  It is no extra cost to you.  
Castlewood Canyon State Park is a bit of a tucked-away hidden gem in Colorado. In the middle of suburban – rural area, you'll all of a sudden roll into a canyon that you might not know existed.
From easy to moderate trails, Castlewood Canyon is filled with view, hikes, water, and history. If you need a little day trip away from the city and are looking for something beautiful, check out this guide to hiking in Castlewood Canyon with kids!
---
Make sure to bring lots of water and a few snacks. Check out our favorite, light hiking packs:
---
Where is Castlewood Canyon?
Castlewood Canyon is located in Franktown, Colorado, a smaller town about 40 minutes south of Denver. The biggest towns nearby are Castle Rock and Parker, Colorado.
The Main / South entrance is about 5 miles south of the Highway 83 and Highway 86 intersection, on Highway 83. There are a few small parking lots as you enter, plus a larger one at the end of the entrance road.
The West entrance is located about .5 miles west of this intersection, on Highway 86. Turn onto Castlewood Canyon Road and drive in to the park area. There are a few dirt parking areas as you continue driving, so if you don't see a spot right away, check the next lot.
What Facilities are at Castlewood Canyon?
The west entrance has a few parking lots, with a rough bathroom at one of them.
At the Main entrance (south), you'll find a Visitor's Center as well as a few picnic areas. This entrance also hosts an amphitheater, group picnic shelter, and plenty of scenic overlooks.
Best Trails for Kids at Castlewood Canyon
Castlewood Canyon is filled with miles and miles of trails. There are 3 main areas to go hiking in: the trails at the main entrance, the west side trails, and the East Canyon Preservation area. Here are a couple trails that are my kids' favorite at Castlewood Canyon.
The waterfall is gorgeous in spring. By fall, it's a small drip, hard to see.
1. Falls Spur Trail
The Falls Spur Trail is an easy, short hike where you'll end up with a great view of the waterfall at Castlewood Canyon State Park. The shortest way is to park in the Falls Lot and hop on the trail from there.
The trail is well marked, and gives you the option to head to the viewpoint of the waterfall, and also to head the opposite direction to a little spot near the creek. I'd estimate this trail, ending at the viewpoint, somewhere between 1/4 and 1/2 a mile.
There are a couple picnic tables on the way to the waterfall viewpoint, so feel free to pack in a lunch or snack. Just make sure to pack out what you pack in!
2/3. Creek Bottom Trail and Rimrock
When you add Creek Bottom Trail and Rimrock together, you get a loop over just over 4 miles. Overall, if the kids are up for the distance, this is a very doable trail that the kids love.
There are a couple spots that are a little rough (hiking over large rocks and such) that the littlest ones might need a hand. And at 4 miles, the littlest ones might also want a ride in a carrier. (This loop is NOT stroller-friendly).
You can access Creek Bottom trail from any of the parking lots at the West entrance, but the main trailhead begins at the Westside Trailhead Parking lot.
The trail will follow the direction of the creek and take you past the viewpoint of the waterfall. After you pass the waterfall, you won't see it again. You'll end up at a higher elevation, hiking at the top.
As you come into view of the Dam Ruins, you'll continue hiking a little farther, and then start your loop around and up to Rimrock Trail. Go up a good sized, rock and dirt staircase and you'll officially be on the Rimrock trail.
And, oh, the views! Once you're at the top, the terrain evens out a little bit, as you hike over slick rock and dirt. Don't let the kids wander too far, as there are steep drop-offs. These drop-offs allow for amazing views of the canyon area, covered in trees and rock. And they are incredible.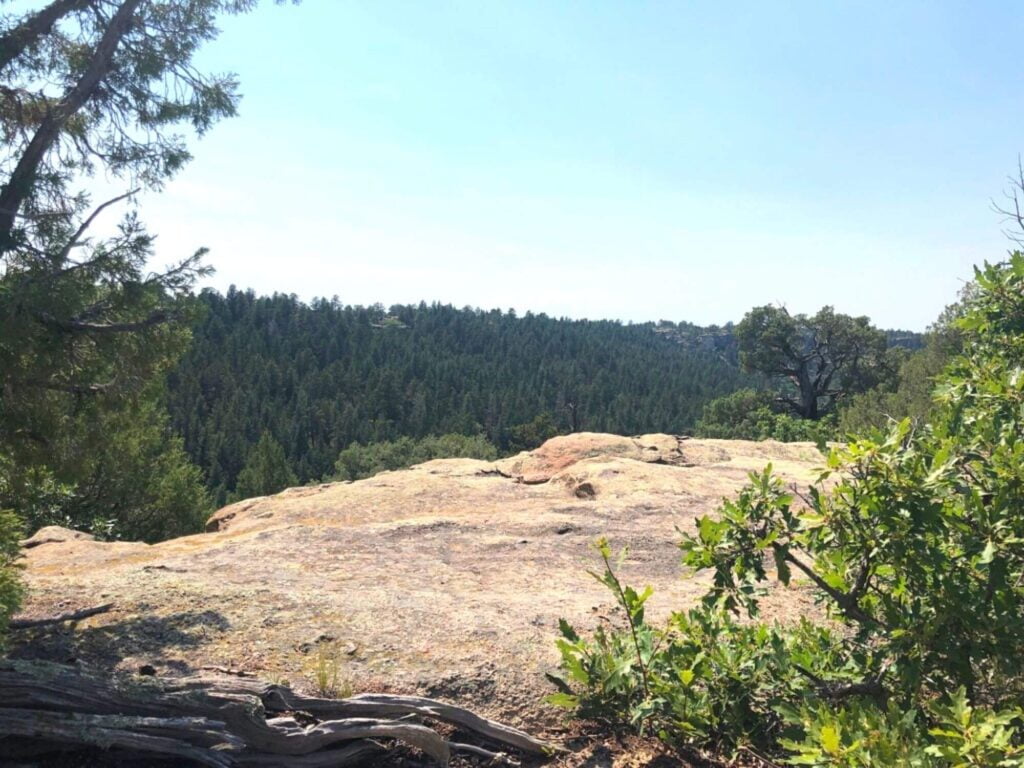 The kids can also be on the lookout for petrified wood, pieces of old trees that appear as rock. As pieces from a fallen tree get washed away by water and buried in mud, over time minerals start filling spaces where the wood has broken down. There is plenty of petrified wood pieces to find on Rimrock Trail.
(We were given these pieces!)
After about 2 miles on the top of the canyon on Rimrock Trail, you'll begin to descend and make your way back to the bottom and around, turning the loop again. This will place you back on Creek Bottom Trail. Continue your hike until you make it to the cut off back to the Westside Trailhead parking lot.
4. Lake Gulch Trail and Inner Canyon Trail
These two trails together also make a nice, scenic loop. This is great if you are looking for a shorter option than the Creek Bottom / Rimrock trail. At just 2 miles, Lake Gulch and Inner Canyon make a great kid-friendly trail at Castlewood Canyon State Park.
To access this loop, head to the Main Entrance off of highway 83. Park at the farthest lot and hop out and get hiking! You'll start on nice, paved sidewalks until you hit the trail for Inner Canyon trail. This awesome trail will take you on a scenic route through the canyon, and (my kids favorite!) there will be a couple places you can stop and get your toes wet. Literally. The Cherry Creek flows through this area, and there are spots to hop in and splash a little. It's not deep, but a perfect way to cool off and play.
Pro Tip: Bring a towel to dry those feet off so you don't have wet feet as you continue hiking.
Pro Tip #2: Last time we went, my friend showed us a cool cave area that a park ranger had showed them. It's just a bit off the main trail and really awesome. Check in at the visitor's center for inside info on how to access this cave area.
As you continue hiking, you'll eventually make the turn to come back toward the start on Lake Gulch Trail. There are great scenic views on this trail, and you'll have less than a mile on Lake Gulch.
---
Looking for more great State Park fun in Colorado? Check out my posts below!
Hiking with kids at Eldorado Canyon State Park
Roxborough State Park- best trails with kids!
---
5. Stroller-Friendly Trails at Castlewood Canyon State Park
While the aforementioned trails are my kids' favorites, there are other trails if you've got younger ones and really need to take that stroller along. One is the Cherry Creek Trail near the west entrance, which is part of a larger trail system throughout the Denver area. This trail is paved as a sidewalk.
However, it barely makes an appearance into the park. Once you are in the park, you can cut over to the Homestead Trail, which is short and easy, though not paved like a sidewalk.
Instead, I suggest heading to the Main entrance on the south side where you'll find Canyon View Nature Trail. This trail is stroller-friendly and just over a mile. Enjoy awesome scenic overlooks and picnic areas. You can still enjoy the canyon even if you have stroller!
---
---
What to Know about Castlewood Canyon State Park
Can you swim at Castlewood Canyon State Park?
No. There are spots to dip your feet in the water, which is acceptable and fun, but there is no full-on swimming in the park.
How much does it cost to visit Castlewood Canyon?
Currently (2023) a day pass for a single vehicle is $10. There is a credit card machine at the entrance, or if a park ranger is at the station they take cash as well.
Can dogs go to Castlewood Canyon State Park?
With the exception of the East Canyon Preservation area, YES, dogs are allowed and must be leashed.
Can you camp at Castlewood Canyon?
No. There are no camp spots, as Castlewood Canyon is a day-use area only.
Can you bike in Castlewood Canyon State Park?
While you can bike on the main road into Castlewood Canyon (and on Cherry Creek Trail), biking is not allowed on the trails in Castlewood Canyon.
What else can you do at Castlewood Canyon?
In addition to hiking and enjoying the creek, you can bring a picnic and really enjoy a day with the family in Castlewood Canyon. There are a few walls where you can climb at Castlewood Canyon. You can purchase a guide to the climbing walls at the Visitor's Center.
Photoshoots:
Professional photoshoots are allowed (and amazing!) with permission from the park office 303-688-5242
Also good to know: There are lots of wildflowers and birds to spot at Castlewood Canyon. There is also a lot of poison ivy! Please be careful and point out to the kids where to avoid. If it's not a blistering-hot day, you might consider wearing pants. We've hiked in pants and shorts and never had a problem, only because we made the kids aware of what to watch for.
For more info, see Castlewood Canyon's official webpage.
Visiting Castlewood Canyon State Park in Colorado
Castlewood Canyon is really a beautiful and family-friendly State Park. With a few options for shorter hikes, no matter what you choose will bring you great scenery and memories! Are you excited to visit Castlewood Canyon State Park with the kids?
Save This Post!