Best Things to do in Estes Park with Kids
If you are heading to Colorado for family vacation, there's a good chance you'll end up in Estes Park with the kids. Estes Park is the welcome mat to Rocky Mountain National Park, a gorgeous park that stretches between Estes Park and Grand Lake, CO. But when you're not off hiking in the national park, there are plenty of fun things to do in Estes Park with kids.
Let's Jet, Kids! uses affiliate links.  As an Amazon (and other networks) Associate, I earn from qualifying purchases.  It is no extra cost to you.  
Check out the list below for fun family activities in Estes Park and enjoy your stay.
Table of Contents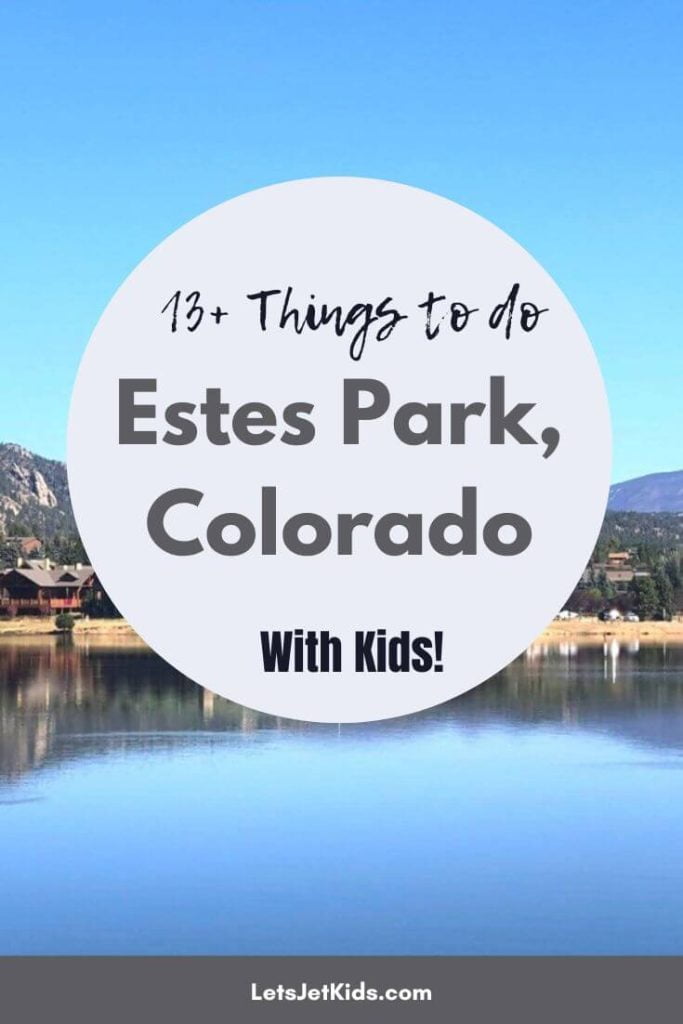 Rocky Mountain National Park
One of the best things you will ever do in Colorado is visit the gorgeous Rocky Mountain National Park. This is one of the most visited national parks in the US, and for good reason.
There are plenty of kid-friendly hikes within Rocky Mountain National Park and even a few "strolls" if you are not much into hiking.
Just make sure you visit while you are in the area, as it is one of the bigger draws to come to Estes Park, and one of the most fun things to do on an Estes Park family vacation.
If you're not sure where to start (RMNP is huge), consider booking a tour. They'll take care of all the logistics and tour guides know best where to find great wildlife.
>> Try a tour through Rocky Mountain National Park (for all ages!) <<
Fun City
Fun City is an outdoor fun-park, so it is seasonal. But if you are visiting in the warmer months, then this is one of those super fun family activities in Estes Park.
Everything within the park is priced per activity.
Fun City has huge slides (which you will easily see if you are driving around Estes Park at all) and they cost $2 a ride to go down. We're talking huge, giant, super-tall slides that have 15 different slides all together, so feel free to race your kid!
Fun city also has mini-golf, bumper boats, go-karts, bumper cars, and more.
You can even walk on the water on big clear balls.
When you're done playing, head to the gemstone mining where you pay according to the size of bag you want to fill.
See prices and schedule at Fun City
Learn to Rock Climb
If you're traveling with older kids (14+), you can learn to rock climb! Try out the indoor climbing wall first for a few lessons. Then, book a tour to get outside and practice your skills on the mountain.
Of course, you can also just buy a day pass if you're just looking for fun family activities in Estes Park.
Check out their website to find how to sign up (have to do it online as they may not be onsite everyday) and pricing.
Roller rink at the YMCA
YMCA
It's fun to stay at the… Y…M…C-A!
It really is, though.
We stayed here during our Spring break and the kids couldn't get enough (and were begging to go back again).
While I highly recommend you stay at the YMCA, you can still visit on a day pass even if you don't stay the night. Enjoy the pool, huge gym, games, and schedule of activities.
Read ALL About the YMCA in Estes Park.
The YMCA campus in Estes Park is bursting with activities and fun things to do. Day passes run $14-29 (and free for kids 5 and under).
Slab Arcade
The Slab Arcade and the Slab Pub are right next to each other and in a way, they are one in the same. At the pub you can order drinks, sandwiches, or even order Domino's pizza to be delivered.
During warm months, sit outside at the Slab Pub and enjoy outdoor games like checkers, large Jenga, puzzles while listening to live music.
The Slab Arcade features driving arcade games, pinball machines, and more.
There's something for everyone with these family activities in Estes Park.
Art Projects
Estes Park is a bit of an artsy town. Local shops show off their handiwork, and you can participate in your own art as well.
Art projects make some of the best things to do in Estes Park with kids. Adults and older kids will love learning how to pour acrylics in this painting class (highly rated) and come home with a cool 8×10 design.
Or try a metal embossing class to make a unique design to take home. This is a unique art experience!
Lake Estes
For a relaxing stroll, head to Lake Estes. It's a gorgeous view with a paved trail around it, making for a perfect stroll after lunch.
One great thing is that elk love to visit the lake. Never get close, of course, but enjoy the wildlife view from a distance.
Our favorite Estes Park hotel is located right on Lake Estes. Book this hotel so you can always have a great view of Lake Estes!
Local Hikes
While I'll admit that all the really incredible hikes are in Rocky Mountain National Park, you can still find some easy and fun hikes in Estes Park (not in the NP).
Head to Fish Creek Trail for an easy walk/hike with the kids. You'll come across a few ponds and it's only a couple miles.
Kruger Rock is a more moderate hike at just over 4 miles. Older kids or experienced younger hikers will enjoy the fun journey up and views at the top.
See The Night Sky
The best place to see the night sky is always somewhere away from the city.
Or a great observatory.
Check out the Estes Park Memorial observatory, located close to Estes Lake. Gaze at the night sky and constellations or visit during a special event (like a comet or planet visibility time in the night sky).
Find the Observatory schedule here.
Aerial Challenge Courses
There are a few cool aerial challenge courses in Colorado, and Estes Park has one of the cooler ones. Begin with an orientation and then try out a few levels of obstacles. You are safely and securely hooked in at all times, so no worries about falling.
I went here for a birthday a few years ago, and since then, they have actually added axe throwing and kayaking to the list of fun.
The kayak tour is about relaxing and enjoying the beauty around Estes Park in the national park.
If you want something more thrilling, you can book an outdoor lane of axe throwing. For 45 minutes, you and the family can take challenges, compete, or simply practice your axe throwing skills.
Check out all that Open Air Adventure Park offers
Ice Cream
No matter how you chose to spend your Estes Park family vacation, you'll all love ending each day with ice cream. One of the best things to do in Estes Park is find some ice cream, and it's not hard. There are so many places to get ice cream.
The best thing about Estes Park for kids is just choosing which place.
Try Hayley's ice cream, a very popular local spot for homemade ice cream.
Sugar Shack will give you ice cream, and soooo many more sugary snacks. They host a wide variety of flavors of fudge.
And Taffy
Often, taffy is found in beach towns. But you'll find a lot of taffy in this mountain town.
The Taffy Shop. Purple Mountain Taffy Company. Laura's Fine Candies. There are many places you can go to find taffy in Estes Park.
Blurred image as we were stuck in the back of traffic while all the elk crossed
Fun Festivals in Estes Park
Here are some family-friendly festivals that make for fun family activities in Estes Park!
Bigfoot Days festival takes place in April with tons of fun activities. Try axe throwing, Bigfoot calls, and celebrities that give attention to Bigfoot on TV. There will be plenty of food trucks and vendors. See current dates for the Bigfoot Days Festival.
Summertime brings a Scandinavian Midsummer Festival to Estes Park. Celebrate the Scandinavian cultures through live performers, crafts, food, vendors, and more. Typically in June.
For a unique festival, check out the Wool Market and Fiber Festival where you can see alpacas, goats, sheep, rabbits, and more fibrous animals. The first few days offer workshops while the days after allow you to see the animals. Yes, there are kids activities and even sheep shearing, plus tons of vendors. Early/mid June.
September brings another fun cultural celebration with the Longs Peak Scottish Irish Highland Festival. Watch performers on the bagpipes, dancing, Celtic music, and more. This festival has been going over 40 years each September. It's a weekend-long celebration!
If you've ever seen Estes Park on the news or social media, chances are it had something to do with the crazy amount of elk that go through town! Each fall, Estes Park celebrates "Elktober." This festival is filled with live music, games activities, storytelling, and more. Plus it's the perfect time of year to all-but-guarantee you'll see your fair share of elk in Estes Park.
More info and dates of Elktober
Where to Stay in Estes Park
Now that you've found all the fun things to do in Estes Park with kids, you need the perfect place to stay. Here are the top places to stay in Estes Park:
The YMCA– So many reasons this is perfect for families. It's affordable and you'll have activities alllll day long (the majority are included in the price!) (Read my full break down of the YMCA)
Estes Park Resort– I already mentioned this one (and it's pictured on the lake above), but it's worth a look. It's right on the lake and you can walk right out onto the trail. We really loved staying here.
The Stanley Hotel– Famous for Stephen King's inspiration of The Shining, some say this hotel is haunted. But you can always stay in the un-haunted part of the hotel 😉
Pine Haven Resort – This is the top rated place to stay in Estes Park. The resort is filled with mountain cabins, perfect for a getaway. There's a playground on site and it's not a far drive into town.
Things to do in Estes Park with Kids
Now you should have a great idea of some fun family activities in Estes Park to plan the perfect Estes Park family vacation.
I highly recommend getting into the national park if you can. It's truly the main attraction here. But even when you're not in the park, you can enjoy some good family fun at Fun City, doing some cool and unique arts and crafts, visiting arcades, grabbing some ice cream, stopping by a festival, or doing some of the other great things in Estes Park for kids.
Save This to Pinterest!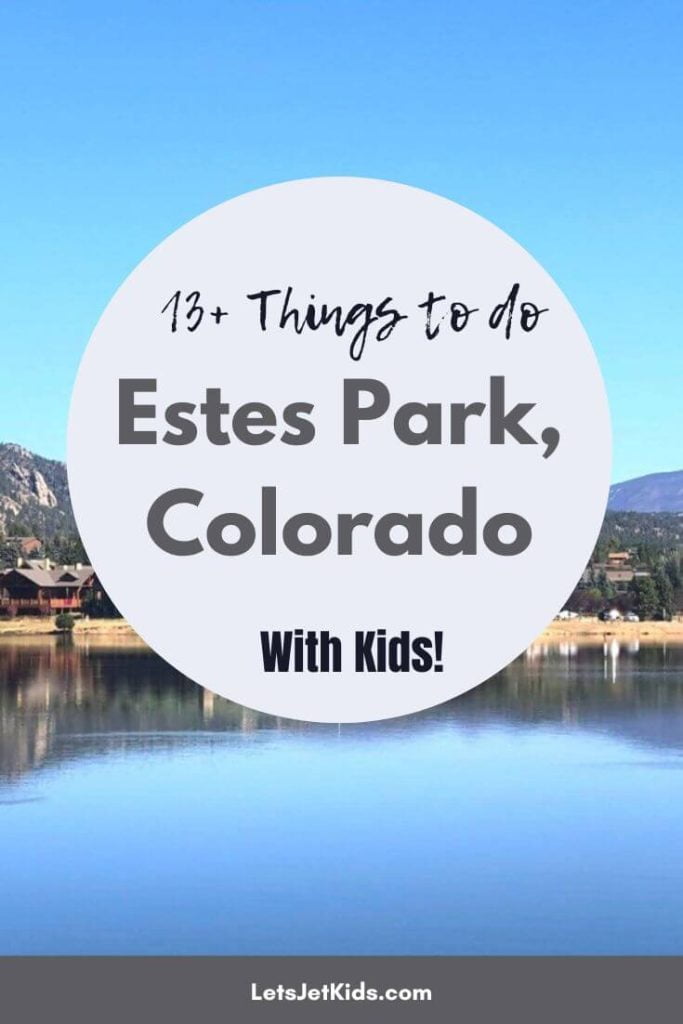 Make sure to check out
Full Guide to Rocky Mountain National Park with Kids!
Why you HAVE to stay at the YMCA for your next family trip
Free Things to do in Denver with Kids