8 Comparisons for Breckenridge vs Telluride
Both Breckenridge and Telluride are awesome towns to take a ski break, a summer vacation, or a weekend away. The towns are quite different, giving off a different vibe, different things to do, and different costs. We've visited both towns (Telluride recently and Breck many times before) and really enjoy our visits to both, filling our days with many activities and outdoor adventures. So if you are deciding between Breckenridge vs Telluride, here are a few things to know before you go so you can pick the perfect getaway.
Let's Jet, Kids! uses affiliate links.  As an Amazon (and other networks) Associate, I earn from qualifying purchases.  It is no extra cost to you.  
Table of Contents
Downtown Telluride
Location of Breckenridge vs Telluride
Looking for a week long trip or a weekend getaway? Breckenridge is easier to access for quick trips, while Telluride is a beautiful, tucked away town for those who have longer to travel. Both are deep within the mountains of Colorado, no prairie grass here!
Breckenridge
Breckenridge is located just a few miles off of I-70. From Denver, it's about 1-1/2 to 2 hours to get there. Driving down I-70 can be really fast and easy. It can also be a pain if there's an accident, construction, or ski traffic.
That can set you back an hour or two, especially if the tunnel gets closed (this recently happened, but we had made it through before an incident at the tunnel happened. My parents had been 30 minutes behind us, but and didn't make it through the tunnel in time. They ended up a few hours behind us.)
From I-70, Breckenridge is located just past the town of Frisco. The location is really easy and convenient, giving you easy access to the neighboring town of Frisco, Blue River with all the mountain hiking and lakes, and even a short drive from other ski resorts and towns.
Telluride
Telluride is located just over 6 hours from Denver to the south and west. The location is much more isolated, not having many towns around it. The largest town near Telluride is Ridgway, located about 45 minutes away.
Telluride is a historic mining town nestled among mountain peaks.
If you want a true getaway with a unique town, Telluride is your best bet.
Hanging Lake in Glenwood Springs
Day Trips from Breckenridge vs Telluride
Both towns offer pretty cool day trips. Regardless of your travel style, you can find some pretty cool places within a short drive. Here are a few fun getaways from each.
Breckenridge
Glenwood Springs- If you need a day trip to explore some more, head to Glenwood Springs just 1 hour and 45 minutes away. Here you'll find an adventure park (want to swing off the side of a mountain?), hot springs, caves, and a gorgeous hike to a gorgeous lake with a gorgeous waterfall.
Vail- You could also drive over to Vail, just over 45 minutes away. This fun town is a major ski resort (one of the best in the US). Summer will give you hikes, lakes, and a cool European style village to enjoy.
Steamboat Springs- A little farther adventure at 2 hours and 15 minutes away is the fun town of Steamboat Springs. This mountain town also has its own ski resort, hot springs, awesome lakes to play at, a cool downtown area, and a beautiful state park for paddle boarding.
Grand Lake– This is a fun town 2 hours away. It's also the gateway to the west side of Rocky Mountain National Park. Enjoy the lake, neighboring town of Granby, and beautiful hiking.
Rifle Falls- Another great outing is visiting the waterfalls of Rifle at Rifle State Park. The park is 2 hours away and once you're there, the waterfalls are really easy to access. You can also hike around and explore the caves.
Telluride
Durango– Durango is just over two hours away from Telluride. Once here, you can ride the famous and very scenic Durango-Silverton narrow gauge railroad.
Ouray– Ouray is the perfect day trip as it's only an hour away and packed with fun. Make the easy hike to Box Canyon Falls, check out the Switzerland of America, visit the Ouray Alchemist in town, or see the waterfalls in Ouray. Of course, you should also make a visit to the hot springs. There are many things to do in Ouray to pack into a full day.
Ridgway State Park– Ridgway State Park is just under an hour away from Telluride. This gorgeous park has a lake you can go out on or hang out at the swim beach. Ridgway is covered in colors in the fall.
Silverton– Even if you don't do the railway, you can still visit Silverton. At just under 2 hours away and over 9,000 feet in elevation, this beautiful town is rich in mining history. Roads can close into Silverton due to weather, so it's best to visit during summer if you're planning to drive in during your trip.
Black Canyon of the Gunnison National Park– This incredible national park is 1 of 4 in Colorado. It's steep canyons are breathtaking with the Gunnison River below. Plan about 1 hour and 40 minutes to get there.
Family Activities in Breckenridge vs Telluride
Both towns are amazing for family activities. Hopefully you like nature, because both pack a punch of outdoorsy fun.
Breckenridge
Besides hiking (covered in the next section), there are some fun outdoor activities in Breckenridge. Head to Lake Dillon (Dillon reservoir) and hang out on the awesome beach or paddle board around.
In Breckenridge, you can take the free gondola up to the mountain park. Enjoy a day of mountain adventures at the Epic Discovery park.
The coolest things to do is take the very short walk to visit the giant woodland troll build by Thomas Dambo.
There are so many fun family activities in Breck to last a while.
San Miguel River, Telluride
Telluride
Telluride has plenty of activities for the whole family to enjoy as well. You can do all the fun mountain activities like horseback riding, river rafting, and biking on the rec path.
There is also an awesome park at the end of town (named Town Park) filled with fun, festivals, fishing, horseshoes, volleyball, and more.
Find relief on hot summer days by floating down the San Miguel river that follows along the side of Telluride.
One of the most fun activities is to take the free gondola up to Mountain Village and explore there for the day.
Winter in Telluride brings fun activities like skiing, snowshoeing, ice skating, sledding, or sleigh rides. You can even book an ice climbing tour that kids can participate in as well!
McCullough Gulch Trail in Breckenridge
Hiking in Breckenridge vs Telluride
Both places have amazing hiking. If you are bringing kids, then I'd say Breckenridge has more options for easy hiking.
Breckenridge
From an easy walk to the woodland troll to miles up to waterfalls, Breckenridge has some real beauties!
McCullough Gulch is a longer, moderate hike that takes you to a very scenic waterfall and beyond.
Blue Lake is a nearby trail where you can either get out of the car and admire the lake, or walk around it to get up close to a waterfall.
Or, hike up the resort mountain for a reservoir and other great trails.
There are a lot of hiking options in Breckenridge for the whole family.
Telluride
Telluride has a lot of hiking as well, though the majority are not as family-friendly as the impressive amount in Breckenridge.
Bridal Veil Falls is the tallest waterfall in Colorado and offers a kid-friendly OHV road to walk up. It's about 2.5 miles up and then 2.5 miles back down.
Bear Creek Trail is a popular trail. It's moderate and a bit longer at 4.5 miles roundtrip. But it'll take past some cool spots (ask a local how to get to "Little Hawaii" off the trail!)
Hope Lake is longer as well at 6 miles r/t, but such a great payoff to see the gorgeous turquoise waters.
Telluride also has a river trail that runs along the San Juan and through town. This is an easy trail for walking or biking.
Telluride- nearby lodging in Ouray that's more affordable!
Lodging in Breckenridge vs Telluride
If you want luxury, you can find that in either town. If you want affordable, Telluride is not the place.
Breckenridge
Breckenridge has a great amount of hotels to choose from. Grab a beautiful spot on the mountain at Crystal Peak Lodge .
For affordable options, check out the many rentals in Breckenridge.
Looking for a great mountain experience? Grab a great cabin in the mountains to relax in.
The pricing for lodging in Breckenridge really varies to somewhat affordable to luxury. Off season can offer rentals under $100/night.
Telluride
Telluride is really not a budget location. You can expect the "cheap" hotels to be around $300/night.
Rentals in the off season start around $200/night for smaller places.
Really want to go to Telluride, but don't have that kind of money?
We felt the same.
We ended up visiting Telluride during the day, but stayed in nearby Ouray about an hour away.
Another option is to stay in Ridgway, just under an hour away.
These places offer much more affordable options. We stayed at a rental in Ouray that was a fraction of the price, but still very spacious and convenient.
See the rental that slept our family of 6 comfortably!
Telluride Hot Air Balloon Festival
Festivals and Events
From art fests to food and wine festivals, both towns offer fun year round. When comparing Breckenridge vs Telluride festivals, there are unique opportunities in each.
Breckenridge
The event Breckenridge is probably most popular for is the International Snow Carving Championships. This happens over the course of two weekends in late January each year. Professional sculptors come to take the challenge of a block of snow turned into a masterpiece.
Enjoy the Rubber Duck race in Riverwalk Center every Labor Day weekend. The race supports the arts, which provides an art festival along the same time.
The Breckenridge Film Festival comes to town toward the end of September, and the holidays start in early December with the Race of the Santas and lighting of town.
You can also grab a viking hat and join the Ullr fest in December.
See the full list of Breckenridge events year round
Telluride
Telluride offers events all year round as well. In summer, enjoy the hot air balloon festival with early morning lift offs and night glows in the colorful balloons.
Shortly after comes the Bluegrass festival, which sells out every year and brings tons of people to town.
Late June even brings a yoga festival for the yogi in you. All summer long you can enjoy movies under the stars in nearby Mountain Village.
Late summer brings a Jazz Festival as well as a mushroom festival.
Telluride's Film Festival happens in early September, with the Blue and Brews following a week or two after.
When it comes to festivals, Telluride has a more unique selection for visiting this far off mountain town.
Check out the full selection of festivals and events in Telluride.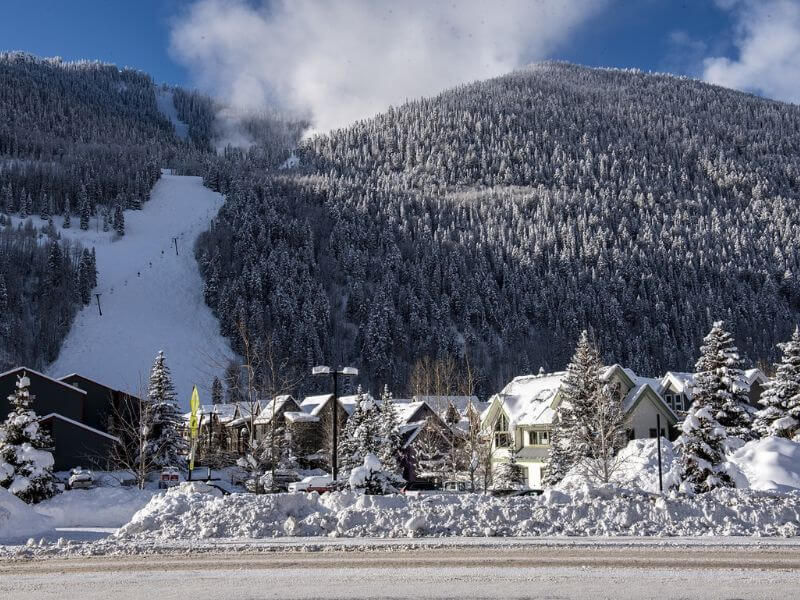 Telluride
Skiing in Breckenridge vs Telluride
Both towns are great for skiing, but it really depends on what you are specifically looking for to decide which is best for your ski trip. Do you want less crowds? Go to Telluride. To you want easier access and more family-friendly runs? Go to Breckenridge.
Breckenridge Skiing
Breckenridge is a great town, so for that reason, it's fun to ski here.
I'm in the minority here when I say it is not the best ski resort. I've been here a few times and didn't enjoy the terrain as much as nearby resorts.
But, again, it's great for families and has plenty of run options for all abilities.
Breckenridge has 35 total lifts (including gondolas and carpet runs) and 187 runs/trails on the mountain.
The summit gets just 2 feet short of 13,000 feet (so acclimate appropriately before you go!) The Imperial chairlift will take you up to 12,840 feet, making it the highest chairlift in North America.
The average snowfall at Breckenridge resort is 355″ each year.
Breckenridge Resort is about 2 hours from Denver and 2.5 hours from Colorado Springs.
( Facts found here )
Telluride Skiing
Telluride has an overall more steep terrain. The town is more isolated, making it less accessible.
Telluride features 19 lifts and 148 runs over 2,000 acres of terrain. The runs are nicely divided between beginner, intermediate, and advanced trails.
The average snowfall is 280″ per year, about 70″ less than Breckenridge.
The Revelation Lift takes you the highest at 12,515 feet in elevation.
Playing in town in Breckenridge
Overall Feel of Breckenridge vs Telluride
The feel of these two towns is very different.
Breckenridge is more popular given that it is so easily accessed from I-70 and Denver. Thus, during both summer and ski season, it is much more crowded.
Breckenridge is a larger town, providing amenities like larger chain grocery stores (City Market). You can find health clinics and a smaller ER, but if you need a hospital, you'll have to make the (very) short drive over to Frisco.
Telluride is much less crowded since it is so much farther away. This is a great place if you have a few days to enjoy. It's tough to make a day ski trip out of Telluride unless you are staying nearby.
Telluride is a smaller town with less around, though you'll still get a grocer and hospital.
You won't find many chain stores here (besides gas stations), giving it a smaller town vibe.
Breckenridge to Telluride
Want to visit both towns? Great idea!
You'll need plenty of time in your schedule as the drive from Breckenridge to Telluride is around 5 hours and 15 minutes, taking up almost a whole day just to travel.
Depending on the time of year, road conditions may add to that time.
The best route from Breckenridge to Telluride is to head west on I-70 to Grand Junction. Then head south on highway 141, then onto highway 50 south. This will take you to Montrose, where you will continue south as it turns into highway 550.
Take that until the city of Ridgway, where you'll head west on 62 via Sherman Street. Once the road comes to Placerville, take a left onto highway 145. This will take you into Telluride.
FAQ about Breckenridge vs Telluride
Is Telluride more Expensive than Breckenridge?
Yes, Telluride is more expensive in almost every way. Lift tickets, lodging, and food all add up more quickly in Telluride. To make Telluride more affordable, stay in a nearby town and drive over during the day.
Why is Telluride Colorado so Popular?
From great skiing with less crowds to a beautiful town nestled between the mountains, Telluride offers plenty of outdoor hiking, riding, waterfalls, skiing, and more for the outdoor enthusiast. And it's all within an incredibly scenic area.
Is Telluride Higher Altitude than Breckenridge?
The town of Telluride is a lower elevation than Breckenridge. While Breckenridge sites at 9,600, Telluride's elevation is 8,750.
Is Breckenridge Colorado Worth Visiting?
Yes, absolutely Breckenridge is worth visiting! From family-friendly skiing in the winter to outdoor adventures in the summer, there is plenty to do for the whole family. Climb a mountain, take an easy hike, or try the ski terrain in this popular ski town.
Breckenridge vs Telluride
So which town should you visit, Breckenridge or Telluride?
Honestly, they are both really awesome. Breckenridge has a more mountain city feel to it while Telluride has a small-town mountain feel to it.
If you have the time, a trip to Telluride is definitely a great choice. Enjoy that many things that the town offers in a stunning canyon of the San Juan mountains. You can also enjoy the many fun things nearby like the hot springs of Ouray, the mining town of Silverton, and the State Park in Ridgway.
But if you aren't able to drive that far, Breckenridge makes a great getaway with so many great hikes and entertainment year round.
Both are family-friendly, so don't worry about finding great things to do in either.
Save to Pinterest!