8 Fun Things to do in Telluride in Winter for Families
Telluride, Colorado is well known for its small mountain town vibe and mining history. When people visit Telluride in winter, they often go for the incredible skiing. But did you know there are many other fun things to do in Telluride in winter?
Let's Jet, Kids! uses affiliate links.  As an Amazon (and other networks) Associate, I earn from qualifying purchases.  It is no extra cost to you.  
From cozy sleigh rides to adventurous climbing, there are plenty of family-friendly things to during a Telluride winter.
Top Things to do in Telluride in Winter (that are kid-friendly!)
Ice Climbing in Telluride
This region of Colorado is home to plenty of popular ice climbing. Telluride is no exception!
The whole family can join in on an ice climbing excursion in the San Juans in Telluride. A half-day excursion is perfect for families and first-time climbers.
You'll get to borrow all the equipment necessary and take off on a fun ice adventure. Highly-rated guides will lead you through climbing techniques so you are comfortable.
The activity allows children 8 and up to attend, though the vendor says that they've taken as young as 5 years old to enjoy ice climbing.
Book your Ice Climbing Adventure!
Take a Sleigh Ride in Telluride
Whether you want a basic sleigh ride, a dinner sleigh ride, or a visit to see Santa, you can have it with the Telluride Wranglers. This is one of the most magical things to do in Telluride in winter for families!
Bundle up and enjoy dashing through the snow while being pulled by horses with the family. This is a memory that really helps you enjoy winter and the snow.
Go Ice Skating with the Kids
For indoor fun, head to the Hanley Ice Rink located in Town Park. There are times for public skate as well as curling on this NHL size rink.
For outdoor skating, the outdoor pond at Town Park often opens in December. It's dependent on weather, of course. It provides a beautiful winter scene for the family.
And lastly, you can head up to Mountain Village. Reflection Plaza is turned from a turf field in summer into an ice rink in the winter. This beautiful mountain town will make you feel like you've really escaped on a winter getaway.
You can rent skates at the rink for this classic winter activity in Telluride.
Nordic Skiing in Telluride in Winter
Town Park really is a central hub to Telluride. Here, you'll find more opportunities of things to do in Telluride in winter.
The Nordic Center is located right at town park. You can rent your skis here and get information about skiing in the area.
Trails are made all around Town Park (which you'll see is quite a large area), making about 8 km of space to ski on.
If you'd like somewhere other than Town Park, you can head to the Valley Floor west of town. Here you'll find many miles of trails for nordic skiing. Parking is available at the Free Carhenge lot or at the lot off of Mahoney and you can acess the trails nearby at the corner of Mahoney and Pacific.
For something pretty scenic, head to Trout Lake just south of Telluride. Trout Lake often receives more snow than any other trails in the area. Park near the lake at Lizard Head Pass.
Sledding in Telluride in Winter
On the south side of Town Park you'll find Firecracker Hill. This is a popular spot for sledding.
Grab a sled or grab a tube and spend a morning sliding down this great hill with the family. The hill is free to use. You'll need to bring your own sled. If you don't have one, you can rent one at the Nordic Center in Town Park, or head to the ACE hardware store in town and purchase one.
Make Some Tracks Snowshoeing
The best locations for families to go snowshoeing in Telluride are the Valley Floor.
The Valley Floor has 12 miles of groomed trails. You can park at the Shell gas station off 145 or at the lot off Mahoney Drive at the west end of town to access the trails.
The trails are multi use and you may encounter skiiers as well. Be sure to be courteous and share the trail.
You can rent snowshoes at the Nordic Center in Town Park.
Warm Up in Some Hot Springs near Telluride
While Telluride doesn't have any hot springs in town, you can head to Ouray for some hot spring options.
Their main pool is the best choice for families. Enjoy a few different large hot spring pools at different temperatures. There's a shallow pool for even the younger kids to enjoy and stay warm.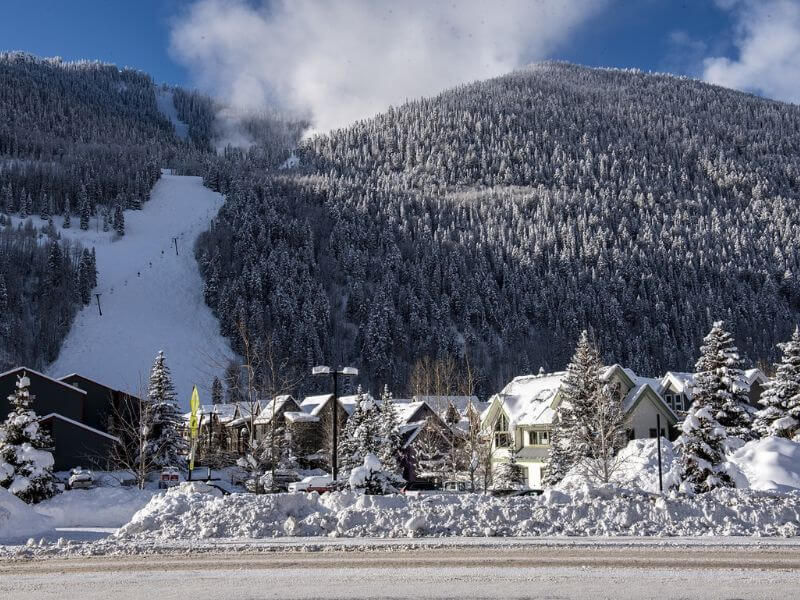 Family Skiing in Telluride
Last but not least is one of the most popular things to do in Telluride in winter. Take a day to go skiing at the Telluride resort. Park at the free parking garage in Mountain Village, or park at the free Carhenge Lot in Telluride.
Telluride Ski Resort offers over 2,000 acres of terrain accessible from 19 lifts. There are nearly 150 runs at the resort, enough for the family to have a variety of terrain just right for everyone. The bulk of runs are beginner and advanced.
What makes skiing in Telluride great? Well, it's quite a drive from Denver, meaning it's never terribly crowded. Combine that with an average of over 300 inches of snow each year and you've got the perfect ski day.
Where to Stay in Telluride in Winter
For a cozy, quintessential mountain stay, book a stay at the Madeline in Mountain Village. This will give you quick access to skiing as well as some great nordic trails. This mountain lodge is everything you dream of staying at for a cozy, beautiful, Telluride winter stay. Multiple bedroom units available.
To stay in the proper town of Telluride, check out Camel's Garden. This is a highly rated hotel that includes breakfast and has multi-bedroom options. It's located right in downtown Telluride.
Hotel Telluride is another top-rated lodging in Telluride. It's a beautiful, mountain-feel kind of hotel. Connecting rooms are an option and they provide a free ski shuttle. It's located right at the edge of downtown Telluride.
FAQ about Telluride in Winter
Is Telluride Good in Winter?
Yes! Telluride is great to visit in winter. Skiers can enjoy less crowded slopes and non-skiers can enjoy snowshoeing, nordic skiing, ice climbing, and more great winter activities.
Do You Need a Car in Telluride in Winter?
While having a car is most convenient, you can make it work without a car in Telluride in winter if your accommodations are in a convenient location. The town has a free shuttle for the downtown area, and it will drop you at the gondola to get up to Mountain Village.
Also Check out:
Delicious Bakeries in Telluride
21+ Fun Things to do in Nearby Ouray with Kids
What to do in Telluride in Summer for Families
Save to Pinterest!