All About Uruguay for Kids! At Home Learning
With only a couple more countries to learn about in South America, we are excited to explore Uruguay with the kids next. If you are looking for fun facts about Uruguay, or more hands on activities like crafts and food, keep reading to discover Uruguay with kids from your living room!
Let's Jet, Kids! uses affiliate links.  As an Amazon (and other networks) Associate, I earn from qualifying purchases.  It is no extra cost to you.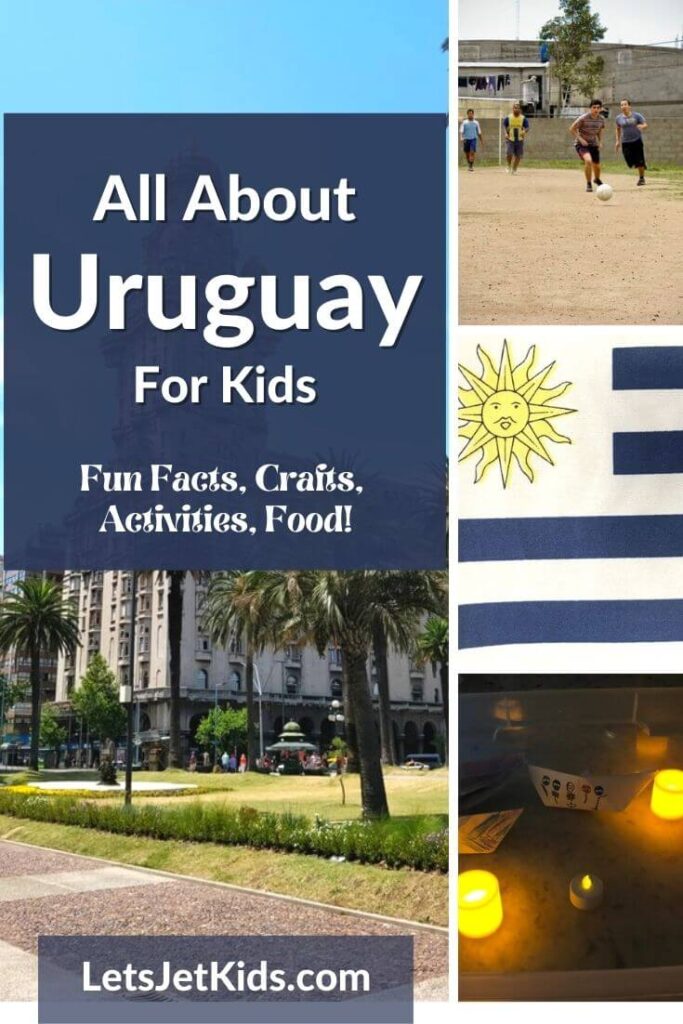 As we go Around the World at Home, we love using the Lonely Planet Travel Books. Read more about why we love using these Travel Books! Check them out for yourselves!
For our "trip" to Uruguay, we also used a few books that were full of fun information! Check them out at your local library, or see them on Amazon here (make sure to check out the used options from different sellers for a better price!)
Fun Facts About Uruguay
Uruguay is a small country in South America. It is a little smaller than the state of Oklahoma.
Montevideo is the capital of Uruguay. It is also the largest city.
Uruguay has a population of about 3.3 million. Not many native people inhabit the country anymore.
Less than 5% of the population lives in the countryside.
The majority of people live in the southern part of Uruguay, near the Río de la Plata. This is an inlet of water from the ocean, making an estuary between itself and Argentina. Montevideo is on the Río de la Plata.
Spanish is the official language of Uruguay.
Uruguay is covered in pampas, or grassy plains. These are often inhabited by livestock. While many other South American countries enjoy rainforest, Uruguay has the least forested area in the continent.
Uruguay's largest religion is Roman Catholic.
Learn more about the Río de la Plata on this NASA site!
Montevideo, Photo by Guilherme Roveda Hellwinkel on Unsplash
History of Uruguay
The indigenous people of Uruguay included the Chaná, the Guaraní, and the Charrúa. Evidence shows them inhabiting the land as early as 8,000 years ago and still remained in the 1500s when Europeans discovered the land.
An estimated 15,000 indigenous people were alive when the European settlers arrived in the 1500s. At the time of Independence in the 1800s, only 500 remained. Unfortunately, no indigenous people of Uruguay remain today.
When the Spanish first found Uruguay, they natives repeatedly fought them off. Eventually, ranchers from Buenos Aires began coming over to the rich grasslands of Uruguay. Then, the Portuguese were the first to actually settle in Uruguay, but not util 1680. After their successful settlement, the Spanish came again in 1726 to Montevideo and settled.
The battle to freedom began in the early 1800s, with General Artigas leading the army of Indians and farmers against the intruders. They were able to fend off the Spanish governor in 1814, followed by an invasion from Brazil. The fight for independence continued, which halted trading between the British and Brazil. The negative consequences to trading pressured everyone to allow Uruguay it's independence in 1828.
Education in Uruguay
Uruguay leads South America in education. School is publicly funded by the government through college. Preschool begins at age 4 and school continues through secondary school. Then the students either find a job or continue on to a University.
Working in Uruguay
Many families consist of two-working parents. Oftentimes, the grandparents will come help raise the children in these homes.
The majority of Uruguayans work in the service industry. These include stores, hotels, banks, doctors, teachers, and other jobs that help the community.
A much smaller percent of the population work on farms and ranches, or in manufacturing. Coastal farms grow wheat and sugarcane, while inland ranches will raise sheep and cows, rice and corn.
Sports in Uruguay
As with many other South American countries, soccer is a very big deal in Uruguay. Kids begin to learn soccer at a very young age, and all Uruguayans cheer on the Uruguayan soccer team.
Uruguayans also often enjoy water sports, since much of the population is along the coastline. They enjoy windsurfing, boating, and swimming and participate in various races and competitions on the water.
Photo by Greta Schölderle Møller on Unsplash
Food in Uruguay – Try this Uruguay Dish!
Thanks to the numerous ranches and livestock, beef is a very popular ingredient in Uruguayan cuisine. They enjoy barbecuing (including the organs) on a parrilla. Stews like puchero are enjoyed with mean and vegetables. Empanadas are found in many South American countries, and are little hand-pies filled with meat and cheese or veggies.
To get a taste of Uruguay, we tried the national dish, called Chivito. It's a sandwich made with steak, egg, cheese, and lots of veggies. We used this recipe for Chivito, and everyone thought it was really good. There are so many flavors going on, and yet they blend well together. Give it a try and let me know in the comments what you thought!
The Urugay Flag – Uruguay for kids
The flag of Uruguay is made of white and blue stripes, with a sun in the upper left corner. There are nine stripes, which are a symbol of the original 9 states. The sun is a symbol of independence and also represents Inti, the sun god of the Incas.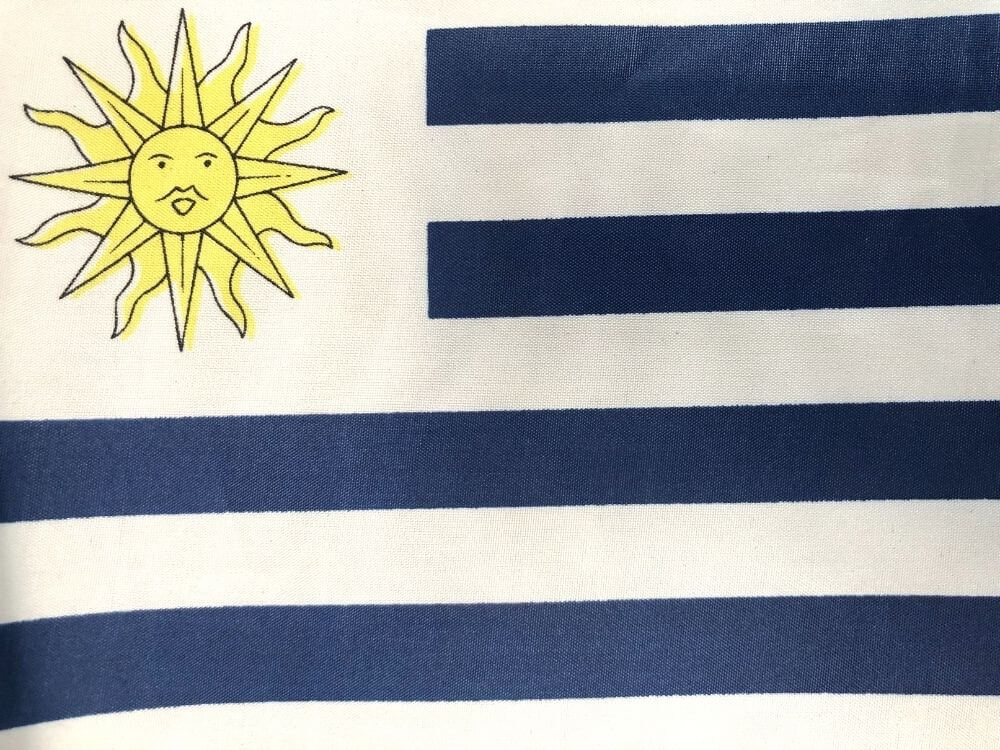 Life in Uruguay
To learn about culture, sports, and fun, here are a few fun facts about Uruguay daily life!
Uruguay is one of the most westernized countries in South America. Being mostly politically stable also makes it a mostly peaceful place. Extreme poverty is nearly gone and family values are strong.
Many people meet and bond over soccer and an herbal tea called Maté.
They also enjoy the tango, a very popular cultural dance. The tango is a dance between man and woman, which lyrics are often sad and talk about breakups or struggles of the poor. The famous "La Cumparsita" was written by a Uruguayan named Gerardo H. Matos Rodríguez. You can listen and watch "La Cumparsita" here. The dancers arrive just before the 2:00 mark.
Carnival in Uruguay
Carnival is widely celebrated in various parts of the world, and has been since the middle ages. Carnival happens just before Lent, the Roman Catholic holiday that begins 40 days before Easter. During lent, people will give up meat or some other sacrifice for 40 days. Carnival happens just before the start of lent, lending an open invitation to participate in food and celebration before the 40 day sacrifice begins.
Uruguay awards a Queen of Carnival, the most beautiful woman in Montevideo. Lights, food, and parades fill the streets.
Image by Uğur Bozdogan from Pixabay
Fiesta del Mar
Fiesta del Mar is another anticipated celebration in Uruguay. Meaning "Festival of the Sea," this celebration happens at the end of summer, which is around March and April in the southern hemisphere. At night time, you can see the beach lit up brightly and many boats decorated in colorful lights. A beach club will crown a woman Queen of the Sea as part of the celebration. A swimmer who represents Neptune, the Roman God of the Sea, will come from the water and crown the Queen of the Sea. The end of the night includes a long fireworks display.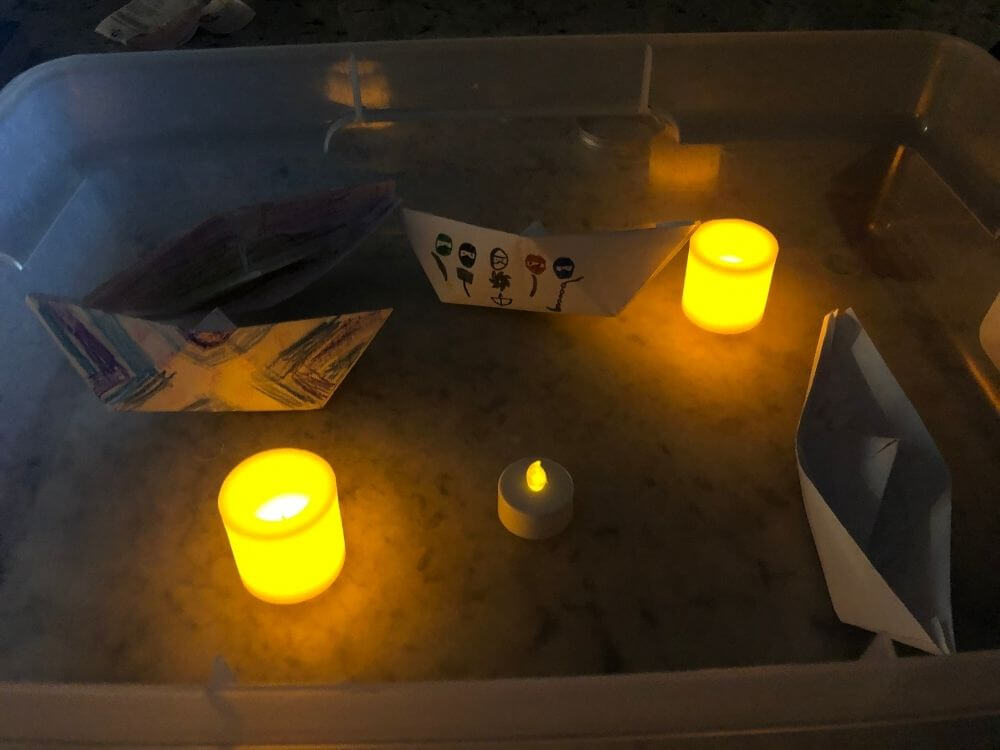 Kids Activities to learn about Uruguay
Fiesta del Mar re-enactment: Boats
To celebrate Fiesta del Mar on a smaller scale, we made our own paper boats for the festival!
You'll need:
paper
anything to color (decorate the boats)
a large shallow container
battery candles, small lights, etc.
Use these instructions to fold up a paper boat. Then place the battery-operated candles and boats in a large container. Blue or clear containers work great to make the appearance of the sea a little stronger.
Fiesta del Mar re-enactment: Crowning the Queen of the Sea
Next- choose a child to be Neptune and another child to be crowned Queen of the Sea! After the boats "sail" for a little bit, Neptune can arrive and crown the Queen of the Sea.
We used a mermaid costume we had on hand. Otherwise, just find something ocean-esque or sparkly.
We used a dress-up crown we had on hand, but you can make a paper crown with this YouTube video if you need!
Fiesta del Mar Fireworks- Uruguay Crafts for kids
Part of the Fiesta del Mar celebration is to have fireworks at the end of the night.
To make your own fireworks, you'll need:
Black paper
toothpick
paper plate (1 per child is ideal)
To make this Uruguay craft celebrating Fiesta del Mar, set a piece of black paper in front of each child (I suggest putting it on a placemat!)
Have your child pick a couple colors of paint and squeeze a small amount of each, separated, onto the paper plate.
Take the round dish brush and tap it in one color of paint, rotating the brush in a circle as you tap until the bottom is covered in paint.
Then tap the dish brush on the piece of black paper where you'd like the fireworks. We found that if you push down with the brush, it splays out the bristles as if the firework is exploding!
Rinse the brush clean and repeat with another color.
Once the main part of the fireworks are done, grab a toothpick. Swirl the end in paint and use the toothpick to make the dots that go from the ground to the firework.
Ta-Da! You're Fiesta del Mar is complete!
All About Uruguay for Kids!
I hope you all enjoyed this night in Uruguay from home. There's so many fun facts about Uruguay, a country that isn't quite as well known as other South American countries.
I'd love to hear how your Uruguay crafts, learning, and activities went! Let me know in the comments!
Save This to Pinterest!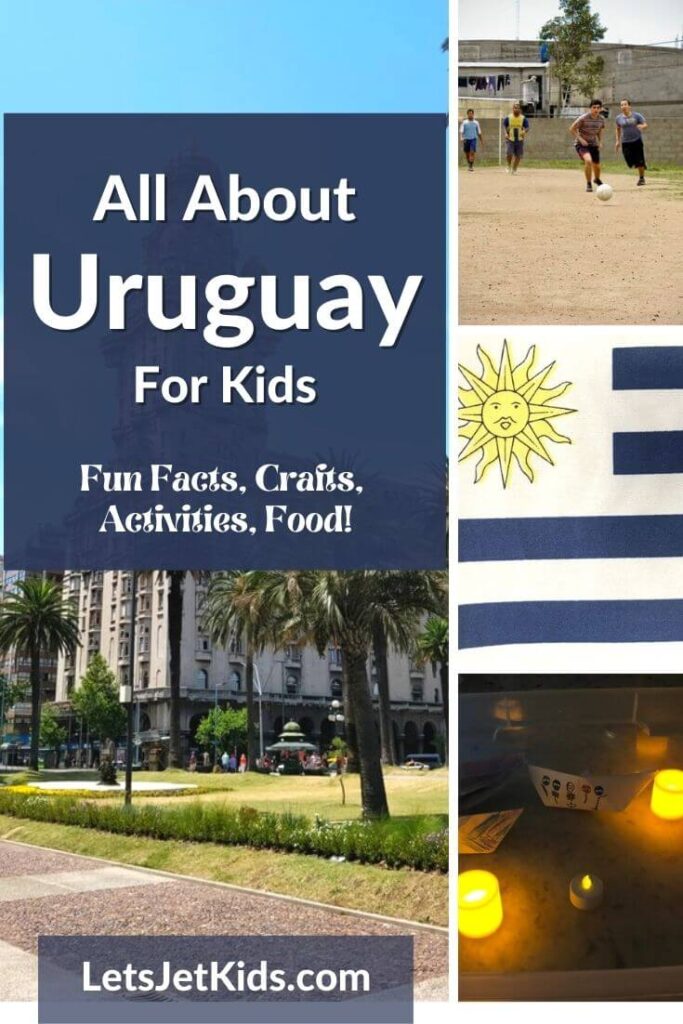 Want to continue around South America?
Paraguay: fun facts and activities for kids!