Our next stop Around the World- South America is Brazil! Brazil is a large, great place with lots to learn about. We had a great time in Brazil! Keep reading for fun facts, activities, food, and crafts in this All About Brazil for Kids!
Let's Jet, Kids! uses affiliate links.  As an Amazon (and other networks) Associate, I earn from qualifying purchases.  It is no extra cost to you.  
---
Don't forget to look at these books! They have great info and pictures!
---
Fun Facts about Brazil
Fun facts about Brazil were found in the Lonely Planet Travel Books (above) and in Exploring World Cultures: Brazil by Alicia Z. Klepeis. Check out those books for even more fun facts to enhance your time in Brazil!
Here are some fun facts all about Brazil for kids:
Brazil is the 5th largest country in the world.
Brazil has a tropical climate, which is great for rainforests and animals.
Brazil is home to a bigger part of the Amazon rainforest than other countries. Overall, Brazil is pretty flat. Though there are some areas that have mountains and river valleys in the Brazilian Highlands.
Image by TNeto
The Amazon rainforest is the largest rainforest in the world. It is home to millions of bugs, plants, animals, and fruits. Pink dolphins can be spotted in the Amazon River!
While people have lived a long time in Brazil (thousands of years!), it was later inhabited by Europeans in the 1500's. The Portuguese settled there and used natives for plantation work. The Portuguese ruled until 1822, when Brazil gained their freedom back.
Now, Brazil is run by elected leaders. Everyone between 18 and 70 MUST vote in Brazil.
Many people have immigrated to Brazil over the years from places like Italy, Germany, Japan, and others. Brazil has the largest population of Japanese people outside of Japan.
The most popular sport in Brazil is football (soccer, in America)
Christ the Redeemer is a famous statue in Rio de Janiero that is 98 feet tall!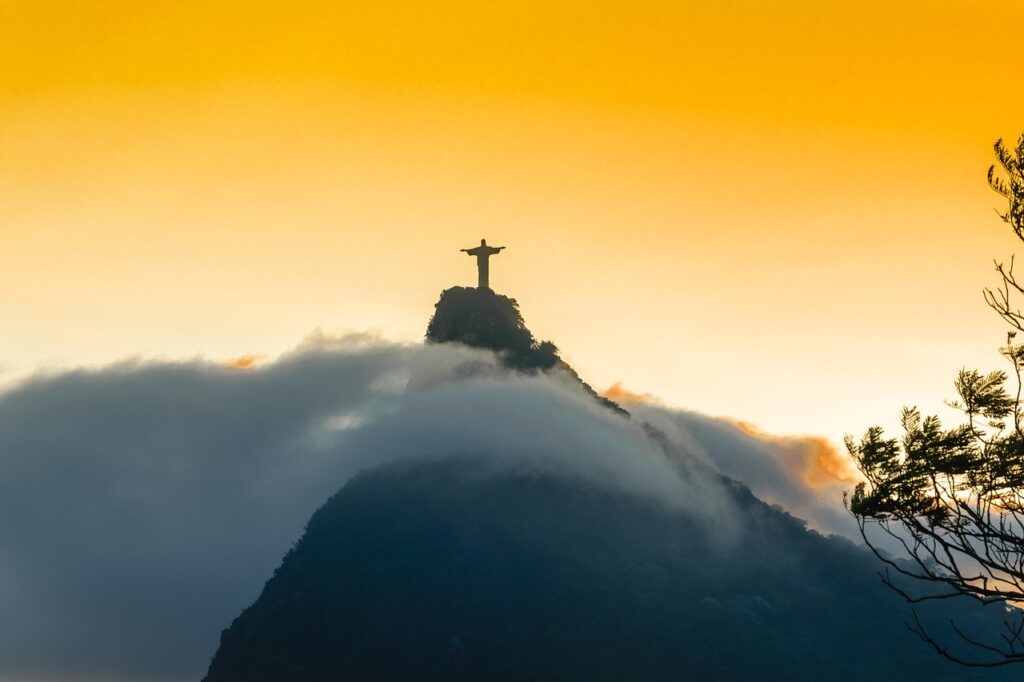 Images by Momentmal and Heibe, respectively
Brazil's population is over 200 million, more than the rest of South America combined!
The official language of Brazil is Portuguese.
Brazil has won the most world cups!
Activities in Brazil for kids at home
A great activity is to play football (soccer). My kids love when soccer is involved, so we got a small game going. Popular activities in Brazil also include jump rope, checkers, and card games.
You could also spend some time in Brazil by taking kids on a trek through the rainforest! We get binoculars (or just glue two toilet paper rolls together) and put up pictures of animals and plants everywhere! They put on their hats and and searched through the forest to see what they could find!
I put on an Amazon Rainforest CD (or I'm sure there are some good soundtracks on YouTube or whatever music streaming service you have!) It creates a fun atmosphere for walking through the trees and hearing the animals.
Language of Brazil
The official language of Brazil in Portuguese. Portuguese is part of the Romance languages. It's not quite Spanish, and it's not quite Italian. Though if you know either of those languages, you might see some similarities and be able to guess what different words are!
Hello – olá
Good morning – Bom dia
goodbye – Tchau or adeus (more formal)
how are you? – tudo bem?
I'm good – eu estou bem
Please – por favor
Thank you – obrigado/a
You're welcome – de nada
Food from Brazil
To learn all about Brazil with kids, you must learn about the food, of course!
Some of the most popular foods in Brazil include feijoada (a black bean/pork stew) and fish stew made with coconut milk. A more familiar food linked to Brazil is the açai berry.
We love using açaí in smoothies and smoothie bowls. It's high in antioxidants and gives the smoothie a unique, but tasty flavor. Blend up some coconut milk, açaí, blueberries, banana, and a small scoop of plain yogurt for a great tasting smoothie. (We get our açaí from Costco in frozen packets).
For a sweeter time in Brazil, we made some treats! Brigadeiros are a popular dessert in Brazil. Made with cocoa powder, sweetened-condensed milk, and butter, these are tasty and easy to cook up. Here's a recipe we used!
(We definitely didn't cook ours long enough on the stove, so it was more like a sauce! Make sure to cook it long enough so it has a thick, sticky texture. Don't worry, the sauce still tasted good!)
Image by Poswiecie
Brazil Crafts
Brazil is widely known for Carnival which begins prior to Lent. The Río Carnival happens in February and has over 2 million attendees. While I didn't go into great detail about what Carnival is (or show many pictures about Carnival, be careful if you do this with little kids!) I did explain to the kids that Carnival is a big event in Brazil where people dress up before Lent and have a parade and wear big decorative head pieces.
To participate in Carnival at home, we decided to make masks. I purchased some basic black, plastic masks from Amazon and we had a bunch of colorful feathers already (your local craft store, Walmart, or Amazon will have these too). We simply glued on different color feathers to create masks for Carnival!
The kids had fun picking our color patterns or simply just gluing on whatever they picked.
All About Brazil for kids!
We hope you had fun visiting Brazil! Make sure to check out the Lonely Planet books for more fun facts and pictures of Brazil!
Make sure to check out other countries in South America From Home!
Save this to Pinterest!