All About Paraguay for Kids with Activities, Food, Fun!
Today we're flying off and going to learn some fun facts about Paraguay for kids! We'll take the kids to Paraguay right in the living room and enjoy some fun activities and great food from this South American country. You can also make a fun, easy Paraguay craft the kids will love. So hop on and fly away with us as we learn all about fun Paraguay facts for kids!
Let's Jet, Kids! uses affiliate links.  As an Amazon (and other networks) Associate, I earn from qualifying purchases.  It is no extra cost to you.  
Make sure to check out our favorite resource, The Travel Book, by Lonely Planet (they have one standard one and one kids one. Both are great! See why we love them here!)
We also used the Cultures of the World: Paraguay book published by Cavendish Square, available at Amazon or possibly your local library!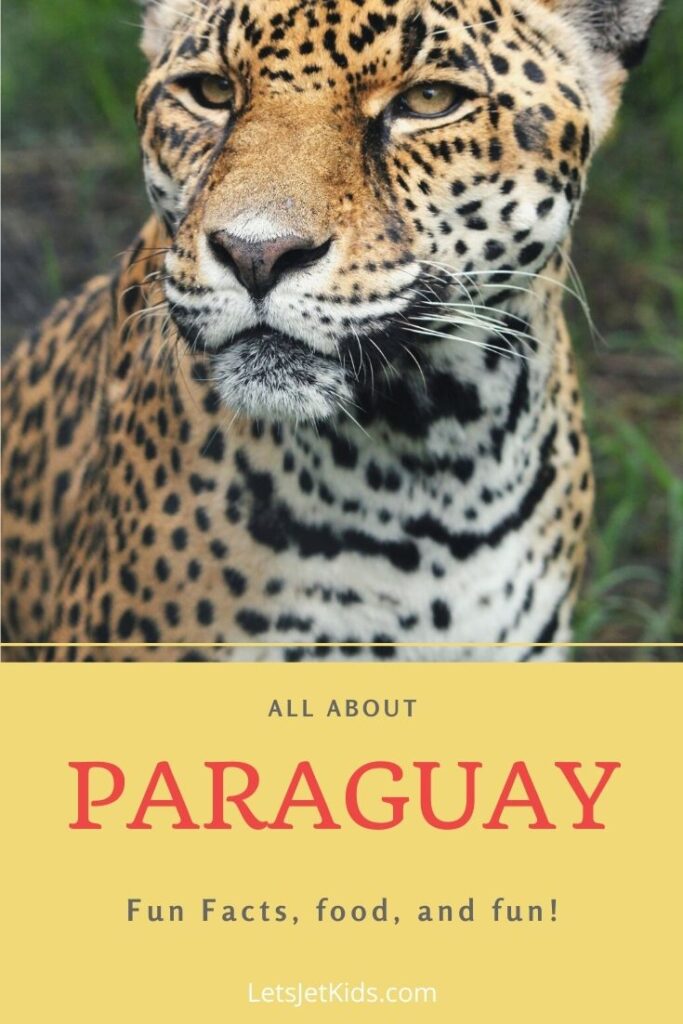 Fun Facts About Paraguay
Check out these fun Paraguay facts for kids:
Capital: Asunción
Size: 157,048 square miles (a little smaller than California)
Population: about 7 million.
98% of the population live east of the Paraguay River, though that is only 40% of the land.
West of the river (called the Chaco) has very sandy and muddy soil.
Paraguay is home to many diverse animals. Large cats, such as mountain lions and Jaguars, live in the mountains, grasslands, and forests. There are also Tapirs (which can get up to 730 pounds / 330 kg), piranhas, anteaters, and hundreds of species of fish. Paraguay also boasts nearly 7,000 species of plants!
Paraguay's national bird is the Bare-Throated Bellbird, which is one of the loudest birds in the world! Their call can reach up to 125 decibels and can be heard up to a mile away. (Check out what it sounds like in this quick YouTube clip.)
Paraguay is home to the Itaipu Dam, one of the seven wonders of the modern world. This largest (by capacity) dam worldwide produces energy for nearly 90% of Paraguay! Construction began in 1975, with 40,000 workers working around-the-clock. It was completed in 1982; pretty impressive for 141 million cubic feet (4 million cubic meters) of concrete!
More than 25% of workers in Paraguay work in agriculture. Paraguay exports plenty of soybeans, cotton, meat, wood, leather, and gold.
The economy is consistently progressing, but despite this, 22% of the country lives below the poverty line. Paraguay ranks as the 3rd poorest country in South America.
People and Language of Paraguay
About 95% of the people of Paraguay are Mestizos, or a mix of Guaraní and European.
Nearly 2% of people are indigenous and live mainly in the Chaco (west of the Paraguay River.)
The lifestyle and culture of Paraguay is largely a product of its native heritage of Guaraní.
The main language in most homes is Guaraní. Overall, Spanish is spoken in urban areas while Guaraní is spoken in the rural areas. Both languages are official languages of Paraguay.
Guaraní phrase:
Mba' eichapa = how are you?
Paraguay has relationships and land-use techniques that are bound by custom and tradition, rather than by law. Read about these Patrones and Peones relationships more in Cultures of the World: Paraguay.
Children are required to attend school from ages 6-12, but can continue until 12th grade. Public education is free.
In Paraguay, when someone goes to visit another home, they stand at the door clapping and announcing their arrival.
The flag of Paraguay is unique in that it is different on both sides. Both sides have a red, white and blue horizontal stripe. But on one side, there is a 5-point yellow star in the middle and on the other is a lion that says "Paz y Justicia", or peace and justice.
History of Paraguay
The first people to inhabit Paraguay were the Guaraní. This indigenous people lived on the eastern side of Paraguay in small villages. They farmed in the forest, as well as hunted, fished, and gathered. They often fished with wooden hooks of baskets.
Alejo García was the first European to come to Paraguay. He shipwrecked off Brazil, where the Guaraní told him about a white king who sat on a mountain of gold and silver further in the continent.
A few Guaraní led Alejo farther inland, passing through Paraguay, where the Guaraní of Paraguay sent 2,000 men with him to search for the white king. They found the Inca Empire in Peru and stole a lot of gold and silver, but were attacked by another indigenous group on their way back.
Domingo Martinez de Irala was a Spanish explorer who became Asunción's governor. While he wanted peace between the explorers and natives, he also made a system that made servants out of the Guaraní. The natives fought for their freedom over the years of Spanish rule, and gained their independence in 1811.
Music and Crafts of Paraguay
There are two popular types of music in Paraguay: The polka and the guarania. The polka has European origins. Guarania are love songs, typically sung from a man to a girl sitting in her window at night.
La Galopa (also called Galopera) is a traditional dance (not routinely done anymore, but still performed for tourists and such). It is done by a woman and she stacks bottles on her head as she dances. The bottles are connected to each other, but not to her head. A more experienced dancer can stack many bottles on while dancing! Check out THIS incredible video of a woman stacking quite a few bottles as she dances!
Paraguay Activities for Kids
Watching the Galopera was really exciting for the kids to watch. So then, we decided to try to dance our own La Galopera!
Grab a few cups (not glass 😉) and have the kids see if they can keep them on their heads while they move around!
Traditional crafts are comprised of many textiles. Embroidered ponchos are particularly popular, as well as ñandutí, or "spider's web", which is an intricate design of lace. Other popular crafts include leather work, woodwork, basket-making, jewelry and pottery.
Paraguay Craft for Kids
We made very basic versions of ñandutí at home. I bought a small wooden embroidery hoop and some white twine. First, tighten the end of the twine inside the hoop. Then hand the ball of twine and hoop to the kids, and let them wrap it around the hoop to their heart's content!
No, it doesn't look just like ñandutí, but it gets the point and image across slightly, and it's a fun craft to represent Paraguay!
*Note, you may need a little piece of tape to hold the first few so they don't slide off.
Activities in Paraguay
Popular Sports in Paraguay
Soccer is the most popular sport. It is the sport of choice throughout South America, and is particularly welcomed because it is easy to put a game together. Even in poor communities, all that is needed is a ball of a certain size and space to play!
Other popular sports in Paraguay include swimming, golf (for the wealthy), basketball, and horse racing.
For leisure, many people enjoy going fishing (if they have the means to do so).
Storytelling in Paraguay
Anyone of any economic standing can enjoy the past time of storytelling. Neighbors and families will gather and orally pass on legends and stories of their culture with one another.
Here, you can share some fun, family stories, perhaps about when you were little or stories your parents and grandparents have shared with you! It's fun to gather around and share stories together.
For a Paraguayan legend, here is the Guaraní Legend of Iguazu Falls found HERE. (Disclaimer: You will want to read thru first and edit where appropriate for kids. I re-worded a lot of the first couple paragraphs when I re-told it. It's a legend of lovers being separated by a jealous serpent. It's the most appropriate legend I found for sharing with kids!)
Food of Paraguay
Traditional food of Paraguay is a mix of Spanish cuisine and Guaraní foods. A few main ingredients are manioc and corn (both used as flour), and homemade cheeses. Manioc is often eaten boiled or roasted, and is a side at almost every meal. Soup is also a popular dish.
The national dish of Paraguay is Sopa Paraguaya (Paraguayan Soup), though it is not really a soup. It is a cornbread with onion and cheese.
Many meals that are enjoyed are too expensive for everyday meals. Many meat dishes are saved for Christmas and Sopa Paraguaya is saved for Independence Day.
Chipa Guazu
Chipa Guazu is a lighter variation of Paraguayan Soup (more like a bread-type food, though there's no flour) that is often enjoyed in Paraguay. It is made with corn, cheese, onions, oil, eggs, salt, and milk. Here is a Chipa Guazu recipe we tried from 196flavors website!
Soyo
We also tried a traditional soup from Paraguay called Soyo (recipe also from 196flavors). Originally a dish made by the poor, this filling, calorie-filled soup was perfect after a long day of work. Now, this soup is served all over Paraguay and enjoyed by all people. With ground beef, onions, tomatoes, and parsley, it's a traditional soup that's easy to make and found all over Paraguay!
All About Paraguay- Conclusion
I hope you loved getting to "visit" and learn all about Paraguay. My kids learned a lot, as did I, and we had a lot of fun, too! Try a Paraguay craft to represent the ñandutí, cook up a delicious Paraguay dish, or just enjoy learning all about Paraguay with the kids with the interesting facts.
Make sure to check out my other Around the World Posts
Save this Post to Pinterest!