Activities and Fun Facts About Ecuador for Kids
Want to teach your kids all about Ecuador? It is an interesting country with so much history. We dug in with some fun Ecuador crafts for kids, activities, and of course food. Plus, learn some fun facts about Ecuador!
Let's Jet, Kids! uses affiliate links.  As an Amazon (and other networks) Associate, I earn from qualifying purchases.  It is no extra cost to you.  
I love doing these country studies with my kids in a fun way that keeps them interested and attentive. If you'd like to do the same, take a look at the fun we had while "visiting" Ecuador from our living room.
Sources for Learning About Ecuador
Useful for this study was the Lonely Planet The Travel Book. Read more about why we LOVE these books HERE.
We also used a very cool and informative book on Ecuador titled Cultures of the World: Ecuador by Cavendish Square (I got this one from the library.)
Fun Fact- Cavendish is actually the name of a type of banana…the type that you and I most likely eat 🙂
Fun facts About Ecuador
The capital of Ecuador is Quito. Ecuador has a population of almost 16 million people.
Family is very important. Many homes are made of multi-generational families. Kids will often stay living with their parents until they are married. Usually a household will have extended relatives living there as well. Families often shares meals together at home.
Ecuador is a very diverse country. There are many indigenous people, Afro-Ecuadorians, and White Ecuadorians. Ecuador is very proud of their heritage and very patriotic.
Ecuador has a diverse geography, spanning from the Andes Mountains, Amazon Rainforest, and beaches to volcanoes, rivers and plains.
Ecuador is well known for the popular Galapagos Islands, which is home to the world's largest turtle! Some turtles in the Galapagos live to be around 100 years old!
The equator runs right through Ecuador, and is marked with a monument.
Over 20 different languages are spoken. The official language is Spanish, and in 2008, Kichwa and Shuar were also made official languages in an effort to be more inclusive to the many cultures of Ecuador.
Here's a glimpse at fellow blogger Flashpack Journal's

real experience in Ecuador!
---
Check out these fun Books about Ecuador for kids!
---
Economy in Ecuador for kids
Ecuador's economy is based on many things. Oil is a big source of income, and earnings from oil are used to run social programs. The main exports of Ecuador are textiles, wood (a lot of Balsa wood), and chemicals. Ecuador is the biggest exporter of bananas. Tourism brings in over $1 billion each year.
Many goods are the product of deforestation along the coast.
The wealthy, along with some middle-class, shop at grocery stores in Ecuador. The less wealthy do their shopping at open markets in each city. These markets provide many resources like tools and medicine, in addition to food.
The Otavalo Market is a long standing market that has been around since before the Inca. Vendors/craftsmen at the market can trace their ties to Incas. The market sells all sorts of items, like textiles, jewelry, food, pan flutes, and more!
The Arts in Ecuador
While dance is mainly a form of entertainment in Ecuador, some dances are still used as tradition. For example, during Corpus Christi in Quito, people will dance the Yumbo, which is when they dress up in certain costumes and stop traffic with pretend ambushes.
The Yumbo were a people that inhabited Ecuador before the Inca. When the Inca came along, they learned Quechua and helped with trading, making a peaceful relationship. They began dying after the Spanish arrived, catching new diseases they couldn't fight. Eventually a volcano chased out any remaining Yumbo.
Ecuador loves music. They especially love Caribbean Salsa and Cumbia. So we decided to learn a little Cumbia! We found a fun instructional video from YouTube here.
Sports in Ecuador
Soccer (fútbol) is the most popular sport in Ecuador. Next is basketball, and then tennis and volleyball.
Maybe just as popular is bullfighting and cockfighting. Up until a few years ago, bullfighting was very popular. Nowadays, bullfighting has been outlawed in many cities who chose to get rid of any sport that kills animals in sporting events.
Cockfighting is still legal, as no animals are killed. Cockfights are of ancient origin and remain very popular today. Many cities in Ecuador have their own cockfight coliseum to hold the fowl fights.
Food of Ecuador
Ecuador enjoys a large variety of fresh food. They do not have quite the spicy quality that the neighboring South American countries have, but that doesn't mean it isn't flavorful!
Common meals may include potato soup (lorca de papa), baked plantains, fried bananas, roasted guinea pig, shrimp, and fish with coconut sauce.
---
You May Also Like:
---
Ecuador Crafts for Kids
Since textiles are a big part of Ecuador's present day culture and past heritage, we decided to do some paper weaving.
You'll need:
Paper- many colors if possible
scissors
glue (optional)
That's all. Pretty simple.
To do paper weaving, choose a few pieces of paper (we chose many different colors.) Keep one piece whole for each person, and cut the other pieces into strips about 1/2″ to 1″ wide. With the whole piece of paper, fold it in half and, starting at the fold, cut a line through both layers until 1″ from the edge. Then unfold. All your cut paper should look like this: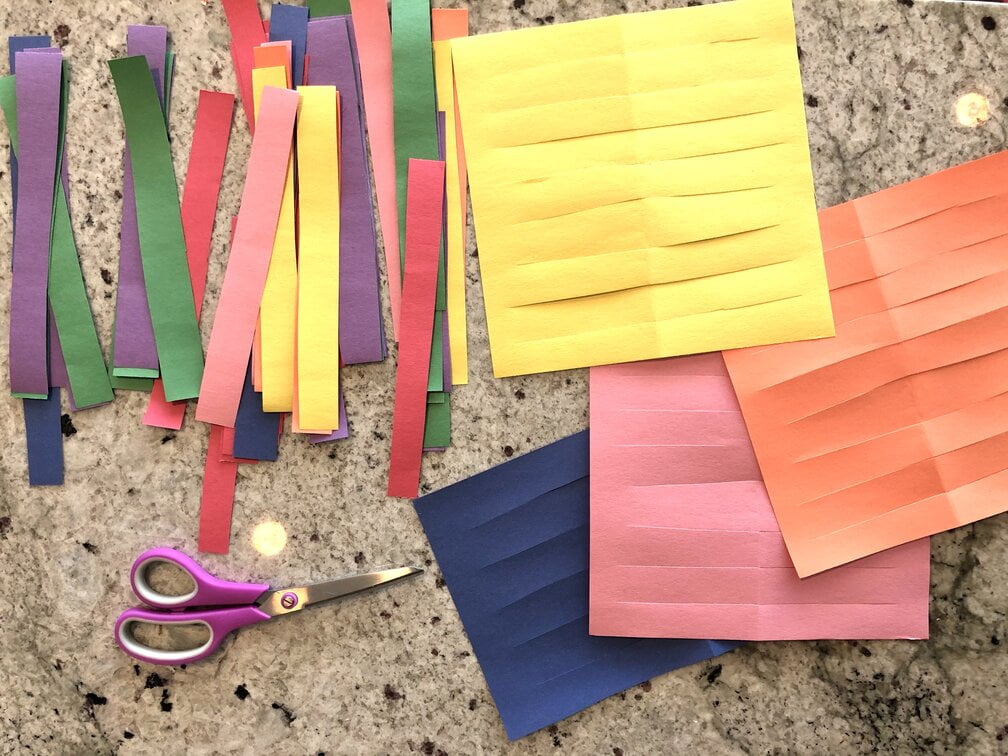 Starting with one strip, weave the strip of paper through the large cut piece of paper. Start by weaving the strip under, over, under over, until you get to the end. Then use another strip right next, but do the inverse (start over, under, over under). As you continue adding strips, it should start to look like a checkerboard pattern, until you fill the whole piece of paper with woven strips!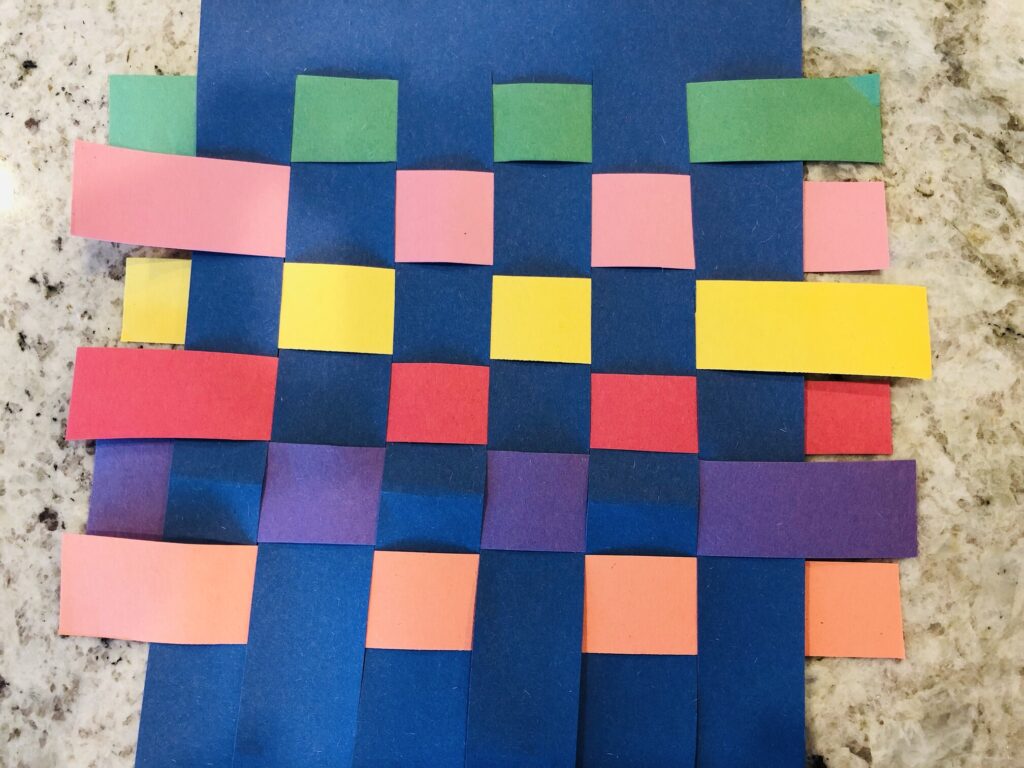 Some of us decided to trim and glue down the edges so the strips stay in place.
This Ecuador themed craft is great for younger and older kids. It works on fine motor for the little ones and creates a fun pattern.
Food from Ecuador- dinner
For dinner, we decided to make the Fish with Coconut Sauce, mainly because it sounded good, but also because we don't have a lot of access to guinea pig.
I found this recipe and gave it a try! It uses halibut (I used tilapia, because that's what I could find), spices, coconut milk, and plantains on the side. It tasted really good!
Sports and Activities
As soccer is the most popular spot, we played that for a bit. Then we practiced some basketball skills to experience the second most-popular sport.
All About Ecuador for Kids
We hope you've learned all about Ecuador and had a fun time experiencing a little bit of the culture of Ecuador! Whether it was making the Ecuador Crafts for the kids, tasting a little of the cuisine, remembering some of the fun facts about Ecuador, or trying a dance, hopefully you had fun learning about a new country.
Make sure to save this to Pinterest!
Did you enjoy learning about Ecuador? Check out our posts on
Or for more fun learning in different countries in South America, Click here!