9 Fun Facts about Suriname for Kids (plus crafts and food)
The next stop on our Around the World at Home series is to Suriname. Suriname is in the northern part of South America. Come along as we find crafts, food, and fun facts about Suriname in South America.
Let's Jet, Kids! uses affiliate links.  As an Amazon (and other networks) Associate, I earn from qualifying purchases.  It is no extra cost to you.  
Sources:
These fun facts about Suriname were found in the Lonely Planet: The Travel Book and Lonely Planet Kids: The Travel Book. Information was also found on Britannica's web page.
You can read more about why we love using the Lonely Planet Travel Books. (We use them for everything!)
Fun Facts about Suriname for Kids
Suriname is a small country on the northeast side of South America.
The official language of Suriname is Dutch.
There are just over a half-million people in Suriname.
94% of the country is covered in rainforest.
The capital of Suriname is Paramaribo and is about 9 miles from the Atlantic Ocean.
Over half of the population lives in Paramaribo.
The population is highly diverse, and very peaceful.
Suriname is part of the Caribbean community
The Surinam Toad is unique. While most toads lay their eggs, the Surinam toad's eggs hatch in her back until they are little toads. Then, they hop out once ready to go find food. Check out this cool, quick video showing this unique way these baby toads begin life!
The History of Suriname
Natives have inhabited Suriname for a long time. The original people were called Surinen, but got chased out in the 1500's and migrated to surrounding areas. When Columbus set sail, he discovered Suriname in 1498. More European settlers came to take the land, but were not able to gain power. Europeans eventually created settlements in the mid-1600's and a couple decades later was seized by the Dutch from the Netherlands. Slaves were prevalently used, until slavery was abolished in 1863.
Suriname gained independence in 1987, only to be passed back and forth through military rule and civilian rule. Since 1991, civilian rule has stood.
People of Suriname
South Asians make up about a quarter of the population in Suriname. Suriname's history brought a lot of contract-laborers over from India.
The next largest ethnicities are people who descend from different parts of Africa, whom were also brought over during the slavery era, and people who descend from Indonesia.
Descendents from the original people of Suriname make just a small fraction of present-day inhabitants.
The Economy of Suriname
The economy of Suriname is majorly made of oil, gold, and, the main industry is mining bauxite; all minerals produced from the land.
Of the land that can be cultivated in Suriname, over half of it is planted with rice. Suriname exports some of its rice, as well as fruits, coconuts, and palm oil.
Culture in Suriname
School in Suriname
Roughly 90% of teens in Suriname can read. The education system is modeled after the education in the Netherlands. Kids are instructed in Dutch and education is free for kids.
Arts and Crafts in Suriname
Fine arts have become a big part of the culture in Suriname. Arts from different ethnic groups are created, recognized, and appreciated in the country. The people also enjoy a variety of ethnic cuisines that have become fused together through the mix of backgrounds.
Surniame Craft Activity-
We made a necklace that represents Suriname. Supplies you'll need are:
string / fishline
gold star bead or adornment
round beads: red, white, green, and yellow
Suriname Necklace Directions
Cut a piece of string about 18″ long. First, thread on the gold star adornment. Then add two yellow beads down each side of the string (each side of the star). Follow with 3 red beads on each side, 3 white beads on each side, and 7-10 green beads on each side.
Your local craft store should have these supplies. I got our beads at Michael's. Here are some options at Amazon as well-
The Suriname Flag
This necklace is representative of the flag of Suriname, which was adopted in 1975 when Suriname gained their independence. The green represents the agriculture, the white is a symbol of freedom, and the red represents the hope and progression of the county. The bright star in the middle of the flag is a symbol of sacrifices made, as well as a shining beacon for the future.
Food of Suriname
While learning some fun facts about Suriname, make sure to include the best part: food!
A popular dish in Suriname is bami goreng (from Greedy Gourmet), which we decided to give a try. This is an Indonesian inspired dish of fried noddles with chicken and vegetables.
Our dish was more inspired by the recipe above, as we didn't have quite all the ingredients listed.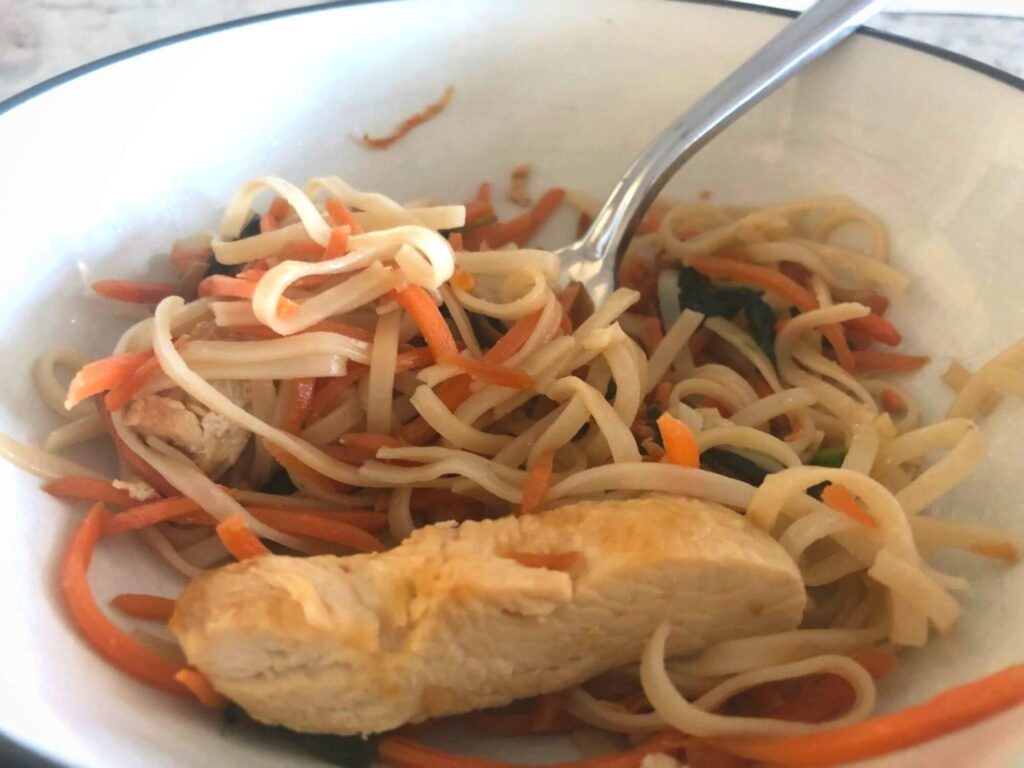 Music of Suriname
Music in Suriname is a great mix of ethnic backgrounds as well. One of the popular music sounds is Fra Fra Bigband, which mixes into an Afro-Caribbean jazz sound. Get a glimpse of Fra Fra Bigband's music!
Ronald Snijder is a famous flautist that combines jazz, melodies, and other sounds into his talent. Check out this short clip of Ronald Snijder's music (fast forward a little over a minute to hear him play).
Sports of Suriname
The most popular sport in Suriname is soccer ("football"), followed by basketball and volleyball. Suriname doesn't have any pro-sports teams, though some people from the small country have joined European soccer leagues.
Celebrations in Suriname
Every summer, the country holds a festival to celebrate Keti Koti, which translates "the chains are cut." This celebration honors the day that slavery ended in 1863. It's a colorful celebration each July.
What Did You Learn About Suriname?
Did you know Suriname was a country? Or that a country in South America mainly spoke Dutch? It's been fun getting to know fun facts about Suriname for kids and eat some delicious cuisine.
We hope you had fun learning the history and doing a little craft from Suriname for kids! Be sure to check out other countries in South America as we go Around the World from Home!
Save this post!