17 Fun Books About Italy for Kids
I recently posted about 7 great books that will take you away to Italy for adults. Today, I want to share fun books set in Italy, but for kids this time! These fun picture books and chapter books will take kids on an adventure while also learning about this beautiful country. Discover Rome, Venice, Florence, food, and adventure in these fun books about Italy for kids.
Let's Jet, Kids! uses affiliate links.  As an Amazon (and other networks) Associate, I earn from qualifying purchases.  It is no extra cost to you.  
There are plenty of young children's books about Italy, and I've also included some beginning and older-kid chapter books about Italy.
Picture Books about Italy for Kids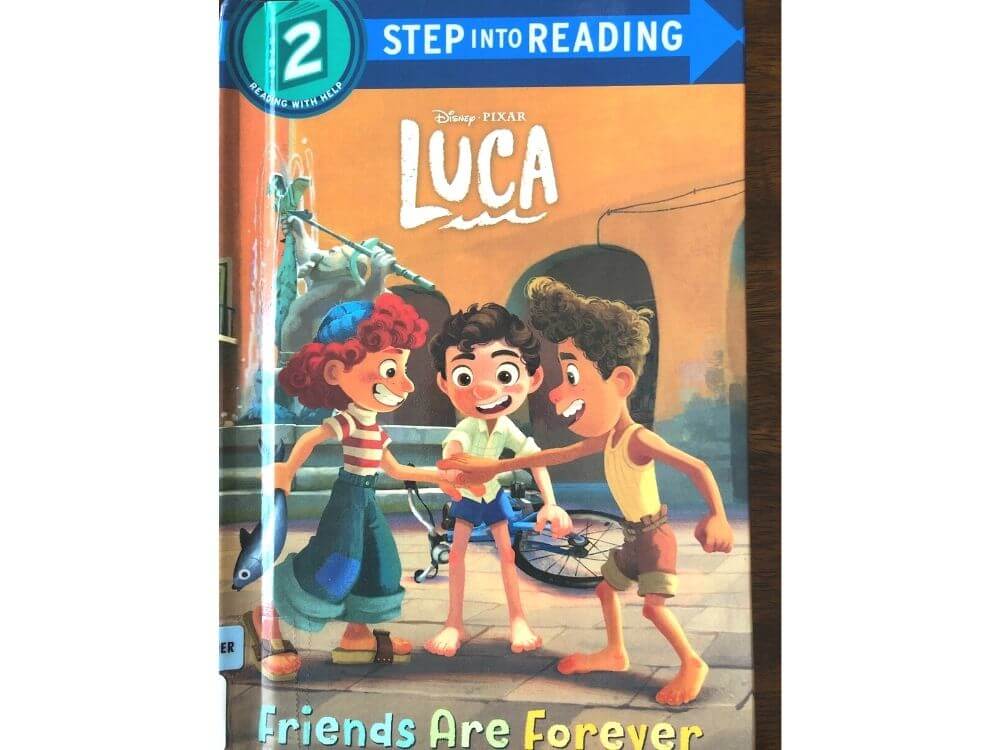 Luca: Friends are Forever– easy reader book in Italy
Luca: Friends are Forever by Natasha Bouchard
Kids will love this book set in Italy and love the familiar faces of Luca, Alberto, and Giulia. This easy book explains the many aspects of freindships, and what we do for each other as a good friend.
Living in… Italy- Books about Italy for Kids
Living in… Italy by Chloe Perkins
This is the perfect kids book about Italy to really get to know the country.
Pia tells you about her country, and takes you through a typical day for a kid in Italy. She shares some of Italy's history, a daily schedule, and activities she enjoys.
Paolo Emperor of Rome– books about Italy for Kids
Paolo Emperor of Rome by Mac Barnett
Paolo is a cute little dog that just wants a little freedom from the salon he lives in. When he escapes one day, he goes all around Rome finding his confidence and adventure.
From feeling somber at the Colosseum, standing up to cats at some ancient columns, attending an opera, and being invited to the Vatican after a heroic act, Paolo has a wonderful time exploring the ancient city.
Ciao, Sandro – books based in Italy for kids
Ciao, Sandro! by Steven Varni
Sandro spends his days on a gondola in Venice with Nicola day in and day out. One day he asks for a day to explore and jumps off the gondola.
He explores through Venice, checking in on friends and making sure they're ready for the big surprise at the end.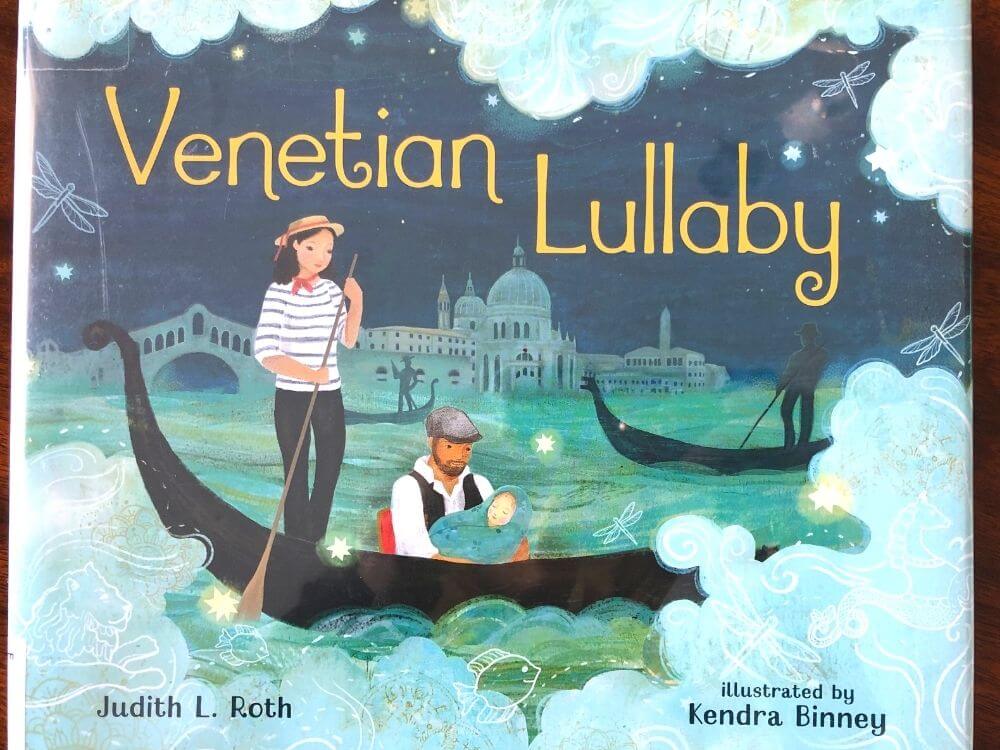 Venetian Lullaby
Venetian Lullaby by Judith L. Roth
This kids book about Italy takes you through the canals of Venice as a father holds his baby. He sings in verse, rhyming his way through the water.
The illustrations are beautiful in this lovely lullaby.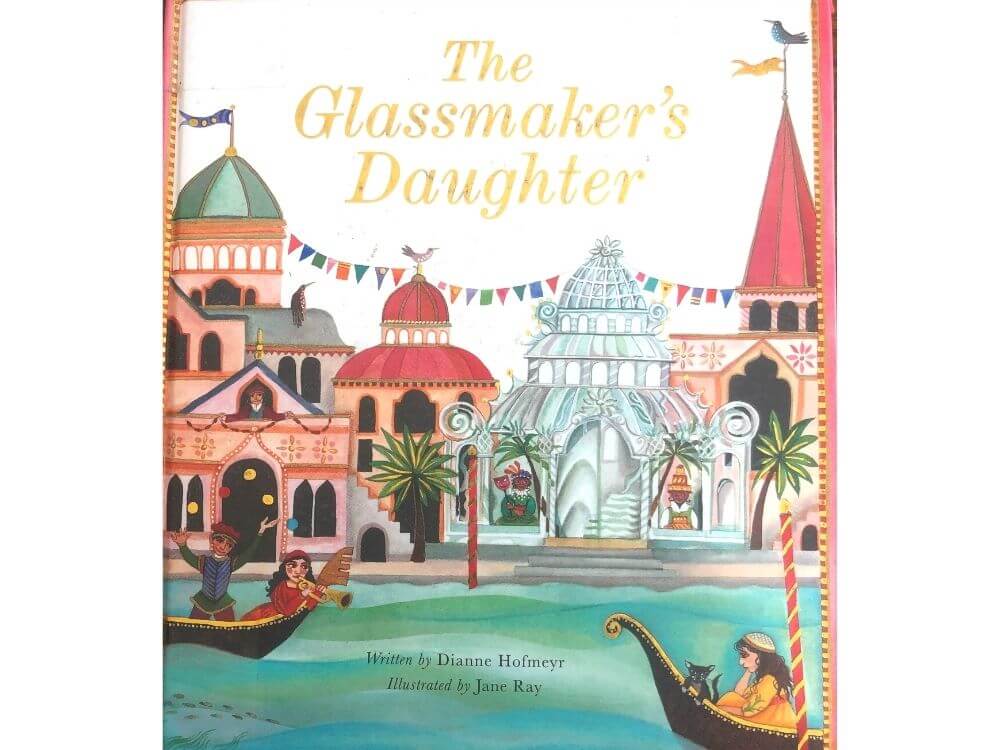 The Glassmaker's Daughter – fun books about Italy for kids
The Glassmaker's Daughter by Dianne Hofmeyr
This one of the cool books about Italy for kids. Glassmaking is popular in Venice, and this book has a cool introduction explaining how glassmaking is a long kept secret and had methods in place for a long time to keep it a secret.
In the story, a famous glassmaker in Venice is upset that his daughter Daniela is never happy. In an effort to cheer her up, he has promised a glass palace to whoever can make her smile.
Many highly skilled professionals come in to practice their trade of dragon slaying, music, baking, and more on her. Nothing works, until one last man comes to show her who she really is.
Tony's Bread
Tony's Bread by Tomie dePaola
There are few fun books about Italy for kids by Tomie dePaola. Tony's Bread is one of them!
Tony's Bread is based in northern Italy. Tony, the bread maker, has a beautiful daughter that he thinks no one is good enough for. So she sits inside all day gazing out the window.
One day, a young man walks by and falls in love with her in the window. He is warned by her aunts that no one is able to get through Tony to get to his daughter.
That's when he devises a plan. If he can make Tony's dreams come true about becoming the most famous bread maker in northern Italy, then he'll also be able to make his dream come true of marrying Tony's daughter.
Big Anthony– Books about Italy for kids
Big Anthony by Tomie dePaola
Another famous children's book about Italy by Tomie dePaola is Big Anthony.
As Anthony grows up, he has a hard time paying attention. One mistake after another leads to one disaster after another.
After working on the family farm and attending school, Anthony's family decides it's time for him to go make it on his own in the world. He heads to Pisa, then Florence, Rome, and Naples. At each place, he is too distracted with the odd jobs he takes to hold one down for long.
Finally, he ventures away to Calabria where he sees a help wanted sign for a woman in a house up the hill.
The story ends here, as the reader realizes that the woman he meets is none other than Strega Nona.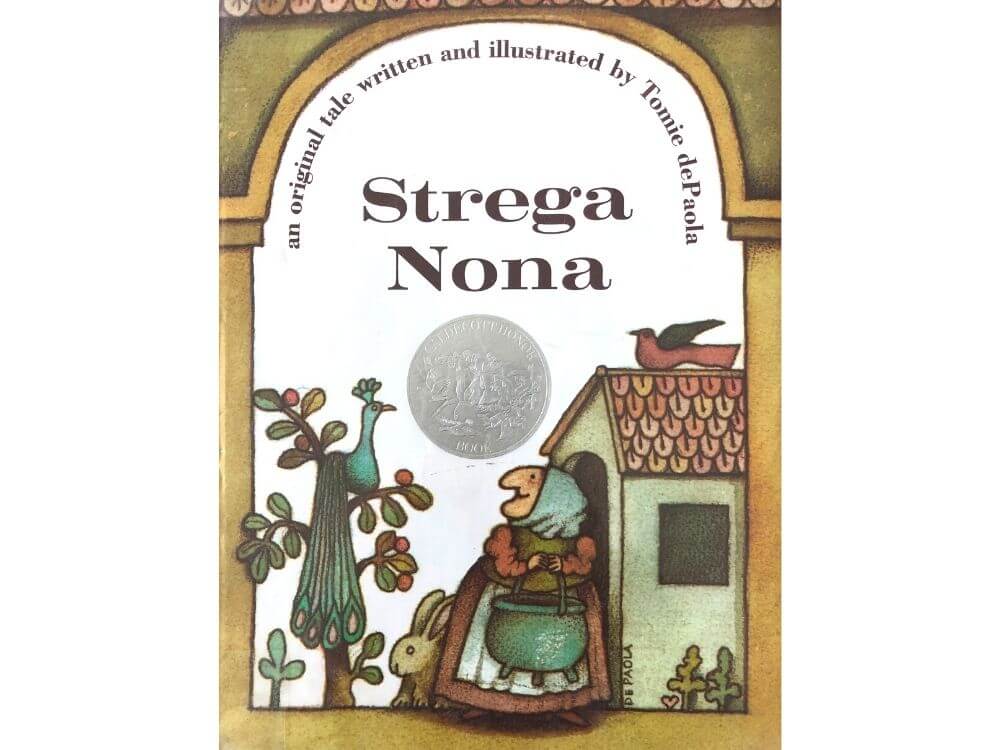 Strega Nona– a Classic Kids Book about Italy
This book about Italy for kids is a bit of a classic, and introduces you to Strega Nona. If you've read the previous book, Big Anthony, it leads you right into Strega Nona.
Strega Nona has hired Big Anthony to work for her. The only rule is that he must not touch the magic pasta pot. But of course, Anthony doesn't always obey.
Anthony tries to stop what he's done as the town floods with pasta. Strega Nona returns to see he hasn't listened, as has a punishment that fits the crime!
Olivia Goes to Venice
Olivia Goes to Venice by Ian Falconer
Kids will appreciate this familiar character. Olivia, from the children's show Olivia the Pig, embarks on a vacation to Venice with her family.
She enjoys gelato (a lot of it), riding a gondola, seeing the famous bridges, walking through the piazzas, and perhaps takes a souvenir she shouldn't have from the bell tower.
If you're looking for books about Italy for kids that are familiar, this is a great one. The pictures are realistic to make you feel like you are also visiting Venice!
Madeline and the Cats of Rome
Madeline and the Cats of Rome by John Bemelmans Marciano
Madeline and her school group gets to visit Rome!
In this book about Italy for kids, you'll get to walk through Rome, discover hidden cats, and watch as Madeline gets in a little mischief.
Chapter Books About Italy for Kids
Beginning Chapter Books about Italy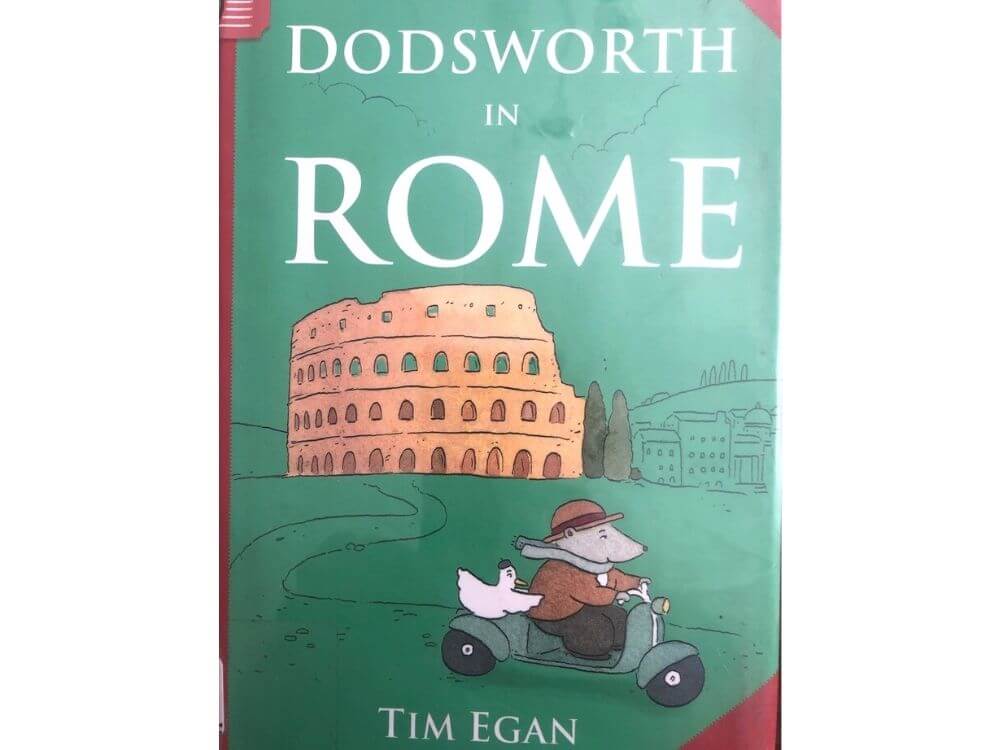 Dodsworth in Rome
Dodsworth in Rome by Tim Egan
This easy reader chapter book is all about a mouse (Dodsworth) and his friend Duck heading to Rome. Duck is a bit mischievous, though well-intentioned. From arriving to visiting the Sistine Chapel and the market, Dodsworth and Duck go on adventure around Rome.
This book about Rome for kids has 4 easy chapters where just over half the page is a picture and the bottom is text. It's a great book for kids starting to read chapter books.
Greetings from Somewhere: Mystery of the Mosaic
Greetings from Somewhere: Mystery of the Mosaic by Harper Paris
This is another of the great books about Italy for kids who are just starting out in chapter books. It's an easier read with pictures on every page.
In Greetings from Somewhere: Mystery of the Mosaic, twins Ella and Ethan move with their parents to Venice for their mom's work. While there, they receive an email from their Grandpa sending them on a mystery adventure to find a famous, 500 year old Mosaic in the streets of Venice.
They go thru the streets of Venice helping solve other mysteries before they are able to focus on finding the beautiful mosaic their grandpa told them about.
Thea Stilton and the Venice Masquerade
Thea Stilton and the Venice Masquerade by Thea Stilton
Thea Stilton is the author of many Thea Stilton books, a team of mouse sisters on the lookout for adventure and mysteries.
In this easy chapter book about Italy, the sisters visit their friend in Venice. As they explore, they find a mystery needing to be solved. There is a theft on the loose, taking various items. Their detective work shows that all the stolen items have one thing in common, and they must figure out why he's after the items.
As the mice girls explore Venice, they take you through different landmarks so you can learn about Venice, too!
Chapter Books about Italy for older readers
The Girl of Glass – Chapter books for kids about Italy
The Girl of Glass by Holly Webb
This is actually part of a 4 part series of A Magical Venice Story; however, it is able to be read alone without any problem.
(The other books in this Venice series are The Water Horse, The Mermaid's Sister, and The Maskmaker's Daughter.)
The Girl of Glass is the story of a small family that lives on the island of Murano in Venice. The father is a glassmaker and one of the magicians in Venice.
Mariana is the main character, who is saddened by the loss of her sister. Her step mother is even more saddened to the point where she can't function.
The father tries to help his wife be happier by creating a glass doll, the size of a small child. He has captured the last breath of his sweet Eliza and inserts it into the glass doll.
The doll comes alive and her and Mariana become close. But it causes contention in the family and Mariana does all she can to keep this doll, who is very much like her sister, safe.
---
*****Disclaimer******
I did not read the next two books myself. (Yes, I did read all the ones above) They come highly recommended though.
---
Ranger in Time- Danger in Ancient Rome
Ranger in Time- Danger in Ancient Rome– by Kate Messner
The star of this chapter book series is Ranger, a dog who travels back in time. Now in Rome, he befriends a boy who he is now trying to help. His new friend is scheduled to fight at the Colosseum.
Magic Tree House- Vacation Under the Volcano
Magic Tree House- Vacation Under the Volcano– by Mary Pope Osborne
While I haven't read this, my son has read allll the Magic Tree House books and loves them. They are great books for learning about real events in history, but set in a story of fiction.
Jack and Annie get taken back to the days of ancient Rome. They find out that Pompeii will soon be destroyed, and have to finish their mission before they are out of time.
Books about Italy for Kids
I hope this list about kids books in Italy has been helpful. Learning about other places around the world through books is a really fun way to discover new things.
Have you read any of these books before? Do you think your kids would like a certain one?
Let me know!