7 Books Set in Italy That Will Take You Away!
Here's how I got on my path to reading books set in Italy…
Let's Jet, Kids! uses affiliate links.  As an Amazon (and other networks) Associate, I earn from qualifying purchases.  It is no extra cost to you.  
A few years ago, we were supposed to go to Italy. That was 2020, so as you can guess, our trip got canceled. I was really looking forward to seeing the architecture of Rome, the rolling hills of Tuscany, and the canals of Venice.
I saw none of it.
I decided I still wanted to be taken away to this magical, bucket-list kind of place, so I set out to find all sorts of books set in Italy so I could take myself there, if only in my mind. So I found and read 7 books set in Italy. They were all a little different and each transported me to a faraway place.
So here, in no particular order, I give you my reviews of these books set in Italy so you, too, can escape!
**(While these books are more for adults, I've indicated if I would personally allow my own daughter to read them in a few years as a teen, due to themes or scenes in the book.)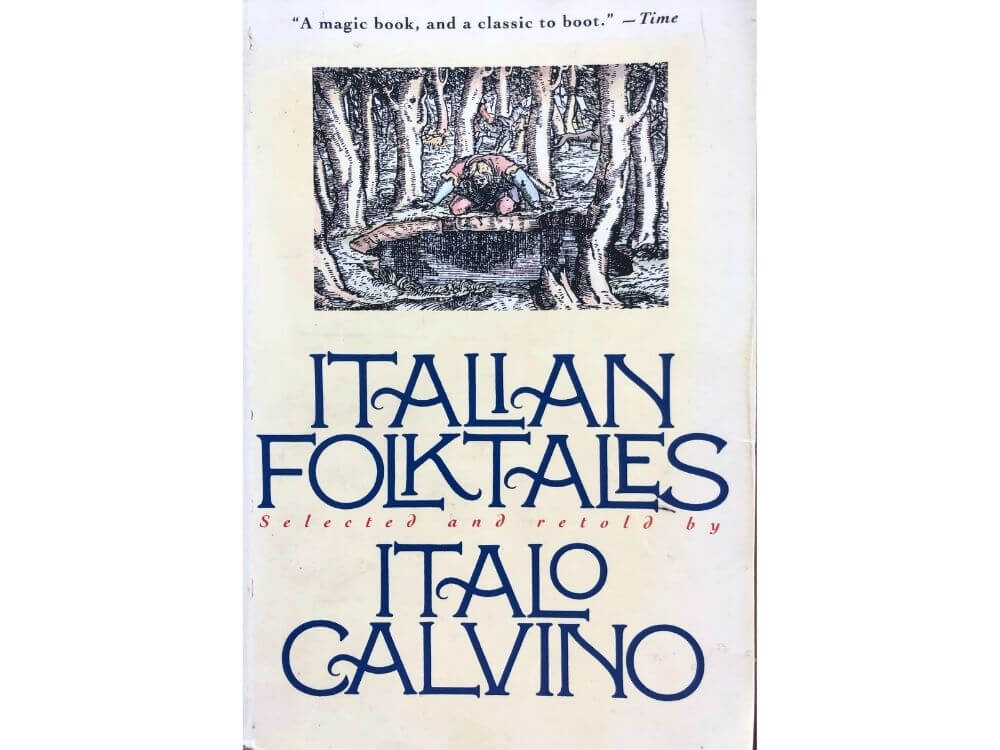 Italian Folktales
by Italo Calvino
This book is large. Hundred and hundreds of pages of classic Italian folktales fill the pages. I'll admit I didn't read every single one of them, but I read a lot of them.
The stories are interesting, to say in the least. They are entertaining and give away a piece of classic Italian stories. Here's what I mean by interesting:
A man covered in seaweed comes to reclaim his love.
A man that can do the work of 14 men.
A man who outsmarts an evil betrayer with rats, ants, and vultures.
There are a lot of entertaining and unusual folktales in this Italian Folktales book.
*I would allow my daughter to read this, as it seems like the type of stories they might read in a literature class. That said, I don't know if she'd find them very interesting.
Love and Gelato – Best of Books set in Italy
by Jenna Evans Welch
This is a more traditional novel and perhaps more geared toward young adults. I really enjoyed it! This was one of my favorite books set in Italy.
Between falling in love and finding the truth about her now-deceased mom's life, Lina creates her own little hunt for the truth as she reads her moms journal from her former days in Italy.
Lina heads to Italy under certain pretenses and finds her father, friendship, and love.
Love and Gelato also has an appealing, fun tour through Italy as the author explains landmarks and history.
This was a fun and easy read, full of Italy on every page you turn!
*I would allow my daughter to read this when she is a teenager.
Rome is Where the Heart Is
by Tilly Tennant
Kate's husband decides out of nowhere that he's moving out. Kate needs to get away and clear her head, so she heads to Rome.
She finds a new friend for life, and unfortunate events lead her to the handsome policeman, Alessandro. She's only there a short time, but it's enough time spent with him, and Rome, to realize that that's where she wants to be.
Things back home in England make her decision a tough one to commit to.
The characters go thru life's tough times of showing those you love who you really are, accepting yourself, and taking risks and adventures.
And, of course, falling in love.
I really enjoyed this one. You get a nice tour of Rome within the story, a big Italian family dinner, and a cute love story.
*I would not allow my daughter to read this due to some scenes in the book and language.
Purchase Rome is Where the Heart Is
The Star-Crossed Sisters of Tuscany – favorite of the books set in Italy
By Lori Nelson Spielman
The Star-Crossed Sisters of Tuscany has quite a unique storyline that I enjoyed.
Emelia is cursed, and so is her cousin Lucy. Generations before, sisters got in a tiff and the one cursed the second that no second-born girl in her lineage would ever marry.
So when Emelia's disowned great-aunt offers her to join her in Italy for an adventure and promises to break the curse, both Emelia and Lucy jump on the offer.
Emelia starts to see another side of her family, and begins to understand who she is (and who she isn't).
This book set in Italy takes you to Venice, Florence, and Cinque Terre as these girls slowly unravel who they are.
I really enjoyed this book. Again, it had a unique plot line, a few twists, and a crazy-old-aunt who maybe isn't so crazy afterall. It was another of my favorite books set in Italy.
*I would not allow my daughter to read this because of themes, language, and scenes in the book.
Purchase The Star-Crossed Sisters of Tuscany
Under a Dancing Star – A favorite of the books set in Italy
By Laura Wood
I loved this one. It's a young adult book, which made it a pretty quick and easy read, meant to parallel Much Ado About Nothing. This one was probably my favorite of the books set in Italy.
Bea doesn't meet the standards her parents set for her, so they send her to Italy for a few months to live with her uncle.
What they don't realize is they've sent her to a place where she is more free to be herself.
In an effort to give her more life experience, she starts hanging around Ben, the local artist who seems to have an ego. They set out on a new friendship and possible romance as they explore Italy. Bea makes friends at her Uncle's house as well, who are all-too-ready to support a romantic experiment of if Ben really is capable of swooning anyone.
Under a Dancing Star has quite a few funny moments. Bea really speaks her truth, even at moments her parents wish she could keep her mouth shut. As a sheltered child, she lacks acceptable propriety when making friends, which really leads to some funny moments between her and Ben.
*I would probably let my daughter read this when she is a teen. There is talk about older-themes (very matter-of-factly), but I can't recall any sexual scenes or language.
That Month in Tuscany
By Inglath Cooper
I felt like this could have been a good book…
Lizzy and her husband, Tyler, have a trip to Italy planned, something she's dreamed her whole life. But Tyler flakes out at the last minute (again), and Lizzy unexpectedly decides to go anyway, without him.
While there, the famous rockstar, Ren Sawyer, is traveling too, though Lizzy doesn't know who he is.
Lizzy falls into his lap, quite literally, and the two end up traveling through Italy together, trying to escape their own personal problems.
While abroad, Lizzy finds out her much-respected husband isn't actually that respectful of their marriage. After finding this out, Lizzy turns to Ren for solace and distraction, which blooms into friendship and, of course, love.
Did I like this book? Oh, I wanted to. But then so many weird things happen. First, yes, her husband is cheating on her. But by the time she finds out, she's pretty much already in love with someone else, sooo….
Also (SPOILER…)
Their daughter is what finally brings the married couple back together, as she is suddenly abducted and there are a few chapters on what her abducters are doing and have planned for her!!
And just like that…BAM…the "light summer read" is gone. That was the weirdest twist and I really think something else could have (temporarily) brought that couple back together. It turned rather disturbing since I was NOT expecting something so serious to be in this book.
*NO, I would not let my daughter read this.
Purchase That Month in Tuscany
Summer at the Lake
By Erica James
Summer at the Lake was good overall.
Floriana is sad when she gets an invitation to the wedding for the man she's been in love with. Full of thought, she's not full of caution as she steps into the road and gets hit by a car.
Luckily, older, caring Esme, as well as Adam are nearby to help her when she falls unconscious.
From helping at the hospital to helping each other afterwards, the three unlikely friends grow rather close. Esme recounts her stories of spending a summer at Lake Como. When Floriana debates attending the wedding, Esme insists on going and having Adam and Floriana be her guides since she is of old age.
This story was sweet and I loved watching the different friendships bloom from different walks of life.
It was a cute story, but personally, I thought it moved rather slow. One moment you are in real-time watching things happen, and then all of a sudden there's pages of retelling the past.
*I wouldn't let my daughter read as a teen.
Books Set in Italy
I really found all of these pretty entertaining and fun to read overall (with the exception of the crazy twist in #6…a little intense).
Is there a book you'd love to check out to take you away to Italy? I loved being transported and taking a little book vacation in these books based in Italy!
I'd love to hear if you read any of them!
Save This to Pinterest!