Crested Butte Vs Aspen: 9+ Comparisons
If you're looking to take a great mountain vacation but can't decide between Crested Butte or Aspen, here is a quick guide to help you make your choice.
Let's Jet, Kids! uses affiliate links.  As an Amazon (and other networks) Associate, I earn from qualifying purchases.  It is no extra cost to you.  
We've recently visited both, and while they have many similarities, there are some great, unique traits about each (as well as affordability differences!) It's hard to decide when both are so beautiful and worthy of a visit. So use this guide to help to pick a winner in your Crested Butte vs Aspen decision.
Where is Crested Butte and Aspen?
Crested Butte is located in the western, central part of Colorado. Aspen is nearby just to the north on the other side of Kebler Pass. Typically Crested Butte is entered from the south, whereas Aspen is entered from the north.
Crested Butte downtown
Overall Feel of Crested Butte vs Aspen
Crested Butte
Crested Butte seemed to be a laid back, old school town. Downtown was a casual area with restaurants, local shops, and nearby parks.
The ski resort was just a short drive out of the downtown area (up in the mountain village area) and the lodging areas were plentiful, but mostly contained within an area that was surrounded by nature.
The town is right next to stunning mountain backdrops and hills of trails for hiking and biking.
Aspen
Aspen was gorgeous as well. It seemed a bit more…expensive feeling. Town seemed spread out a little more among many streets, rather than just one main street. Plenty of cute, well kept, older houses were all over the downtown area.
Aspen is well known as an artsy town, for its celebrity visits, and festivals.
Plenty of mountains are all around Aspen as well. The village area is where you can catch the shuttle to Maroon Bells, play a large game of chess, or just hang out in the plaza.
How to Get to Crested Butte
Drive From the Denver Airport
To access Crested Butte from the Denver Airport you'll need to plan for about 4-1/2 hours and 211 miles in the car. You'll need to be comfortable with mountain driving as you go over Cottonwood Pass.
Alternatively, you can skip Cottonwood pass by heading south toward Poncha Springs, then turning west onto US-50 and then north in Gunnison. This route is lengthier at 250 miles (and 4 hours 40 minutes in the car).
Fly into the Regional Airport
Crested Butte also has a regional airport located in Gunnison, just over a half-hour away. United offers year round connecting flights from Denver into the Gunnison-Crested Butte Regional Airport.
There are also limited direct flights from Houston (United) and Dallas-Fort Worth (American Airlines).
How to Get to Aspen
Drive from Denver Airport
From the Denver Airport, you'll head west on I-70 for a few hours until you hit Glenwood Springs. Then you'll head south on US-82 until you arrive in Aspen.
Fly into the Regional Airport
You can also fly into the Aspen Regional Airport where United, American, and Delta all fly into. Once you arrive, there is a free shuttle into Aspen or Snowmass (as well as rental car availability)
Cost of Crested Butte vs Aspen
The cost between these two great mountain towns varies significantly. You can, of course, find affordable or luxurious accommodations in both places.
But on average, Aspen is much more expensive than Crested Butte to visit. In fact, it is the most expensive ski town in America. Many celebrities have homes in Aspen, or at least make a great vacation out of the town.
The average home price in Aspen is $2.8 million (2023).
The average home price in Crested Butte is $1.2 million (2023).
Of course there are condos and the like that aren't as expensive, but it goes to show that Aspen is a bit more expensive on the whole.
For example:
A basic burger at a favorite, moderately priced restaurant in Aspen will run $23.
A burger at a favorite moderately priced restaurant in Crested Butte is $17.
Mount Crested Butte- mountain village area
Lodging in Crested Butte vs Aspen
Cost of Lodging
Aspen
A quick search of a random weekday in October for a family of 4 showed me only 1 very basic hotel at around $160/night. The next cheapest hotel jumped to $300 and it quickly went up from there.
Crested Butte
Using the same days as above, same # of people, a quick search showed me many hotels in Crested Butte in the low-to-mid $100's. (The picture above was taken from the patio of our rental in Crested Butte).
Lodging Variety
Really, either town will offer a great variety of lodging.
Aspen
Aspen has a variety of lodging. If you are looking for hotels, you can definitely find some in Aspen. The price isn't the most affordable as they can quickly get into $1,000+ per night. But the lodging is beautiful and many have the desired pools and hot tubs.
While many hotels are very expensive, you can find some great ones for families that are a little more moderately priced, like the Limelight Hotel.
There are also plenty of rentals available. You'll have to dig to find an affordable option, but if you have the budget, there are so many gorgeous, luxury options.
**Tip: One great tip in visiting Aspen is to find a rental in Snowmass, a neighboring ski town just down the road. We stayed in Snowmass when we visited, and not only was it more affordable, but it was a beautiful, short drive up the nearby mountain with a great mountain village of its own.
Crested Butte
Crested Butte has so many options for lodging as well. You can stay in the main town area which is mostly available for rentals.
I suggest staying in the mountain village of Mount Crested Butte where you'll find hotels, resorts, and plenty of condos for rent. It's a beautiful area and if you plan on doing any hiking, it's already on the way!
My list of awesome places to stay in Crested Butte
Hiking in Crested Butte vs Aspen
Speaking of hiking, both mountain towns are full of gorgeous hikes. Hiking is mainly what we did for activities in each place as there are so many great options.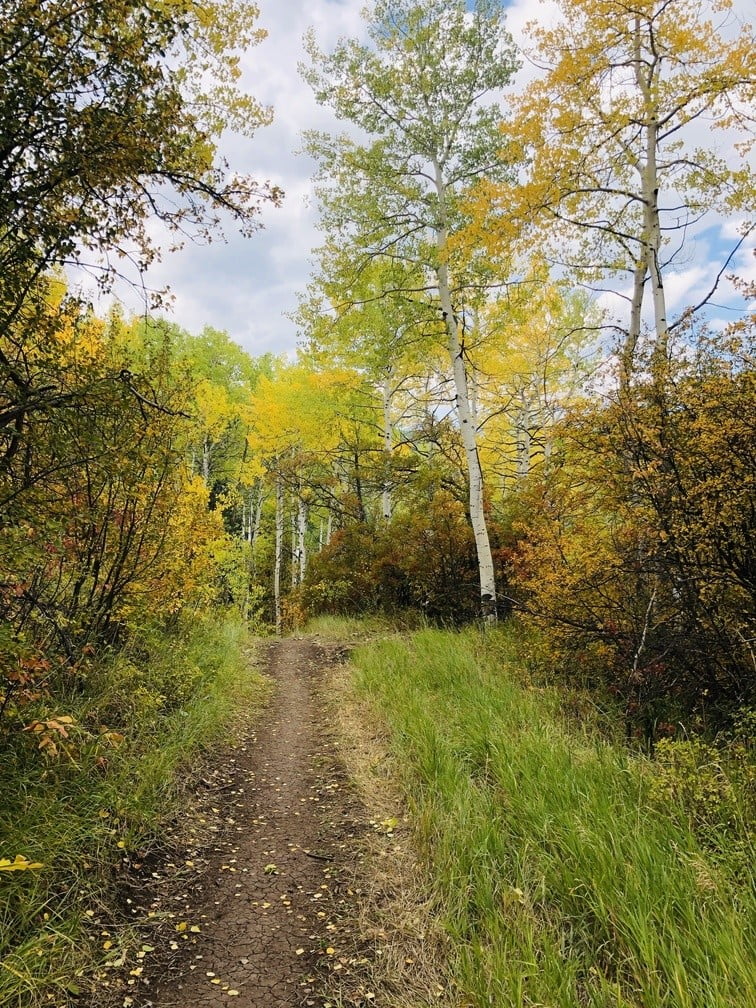 Aspen
The most classic and popular hike in Aspen is Maroon Bells. It's one of the most photographed mountains in the US. Enjoy the view of the peaks right behind the lake, which is just a short walk from the shuttle to view, or you can hike a bit more to Crater Lake for a closer view.
Note: You need to reserve your spot on the shuttle to access Maroon Bells during busy months.
Besides that, we especially loved Hunter Creek, the Grottos (Ice Caves…my kids' absolute favorite), and so many other trails in Aspen and nearby.
These areas are especially great in fall when the trees are turning and you are surrounded by a palette of colors.
Hiking through fields of wildflowers in Crested Butte
Crested Butte
I really couldn't get over the views of pretty much anywhere we went hiking in Crested Butte.
Seeing Gothic Mountain with the sun hitting it in golden hues, hiking through the Snodgrass trail area in the peak of wildflower season, and the easy hike to Judd Falls were all among some of our favorites.
You can read all about the hikes we did in Crested Butte, but know that they are all amazing!
Like Aspen, Crested Butte has a variety of trails for a variety of hiking levels.
Altitude of Crested Butte vs Aspen
The altitude in Crested Butte downtown is 8,885 feet. If you hit the slopes, the elevation at Crested Butte starts at the base of 9,375 feet and reaches its peak at 12,126 feet.
Downtown Aspen has an elevation of 7,908 feet. The ski resorts can reach above 12,000 feet at the summit.
Altitude sickness is a real thing. While many people do fine while visiting downtown areas, it's best to acclimate a bit before doing anything strenuous in the mountains if you are not use to the elevation.
Some people will stay a night in Denver (a mile above sea level) and then head to the mountains the next day. While this isn't absolutely necessary, it is an option to help you ease in.
When you stay in the mountains, you can avoid altitude sickness by drinking plenty of water, avoiding alcohol, and easing into physical activity slowly while you learn how your body is adjusting.
The "bubble bus" in Crested Butte
Shuttles in Crested Butte vs Aspen
Both towns run free shuttles and really encourage visitors to take advantage of them.
Aspen
The shuttles in Aspen run various routes around town and just outside the downtown area. Check the current schedule to help with your planning.
Crested Butte
Crested Butte also runs a free shuttle around the area. There are different routes, including routes that run up to Mount Crested Butte.
My kids loved finding these shuttles as each one is painted with a different design. Stop by the visitor center to get a brochure of different shuttle to be on the lookout for (one of the simple, free things to do in Crested Butte!)
Snowmass ski resort in Aspen, Photo by Chase Baker on Unsplash
Skiing in Crested Butte vs Aspen
Both ski towns are home to top-notch ski resorts. From atmosphere to actual terrain, you'll be happy at either place
Aspen
There are 4 ski resorts all within a short distance of each other in/near Aspen.
A lift ticket in Aspen will run an adult about $200 for a day. The good news is that you can purchase multi-day lift tickets at a slight discount. The even better news is that these lift tickets are good at all 4 resorts: Aspen Snowmass, Aspen Highlands, Buttermilk, and Snowmass.
To make it even easier, there is a shuttle that runs between the resorts. That way, if you want a half day at one resort and a half day at another, you can easily hop on the shuttle to transfer.
This gives you access to 362 runs within both Aspen and Snowmass.
Aspen Mountain is more for experienced skiers, as there are no Green runs here.
Aspen Highlands doesn't get as many people, making it better for those avoiding thick crowds. It has plenty of runs for everyone. Beginners will love hanging out around Cloud 9 chairlift.
Buttermilk is located right off the main road in Aspen outside of the downtown area. It hosts the Winter X games and is known for being a great playground for those seeking quarter pipes, jumps, and more.
And lastly, Snowmass is up the mountain in Snowmass. It's one of the best family-friendly ski resorts in the US, making it the perfect winter family vacation spot.
Crested Butte
Crested Butte is home to 1 ski resort: Crested Butte.
Lift tickets at Crested Butte for an adult on the weekend cost $165 for one day (2023 prices).
The summit at Crested Butte is over 12,000 feet. The ski resort hosts 121 runs with plenty of beginner, intermediate, and advanced (green, blue black) runs.
Activities in Crested Butte vs Aspen
Crested Butte
Crested Butte is full of great activities too. Try one of the many hikes in the area, participate in activities during wildflower season (during the wildflower festival), visit the town of Gothic and learn about the research happening in the area, walk the downtown area for great restaurants and a local museum.
Our personal favorite was spending the day paddle boarding at the lake! (Check out our awesome, affordable paddle board review)
Aspen
Aspen is a great mountain town, which means some of the best things to do are outdoors (such as hiking in the summer and skiing in the winter).
Besides the outdoor activities, you could also swim at the rec center, see a show at the theater, take the kids to splash in the fountains on Mill Street, or check out a local museum.
Aspen to Crested Butte Shuttle
If you'd like a ride from Crested Butte to Aspen, there are a few options. One is Dolly's Mountain Shuttle. Their main mission is to help hikers who hike the trail from Crested Butte to Aspen (or vice versa) by giving them a ride back to the town they started in.
Quick Look Chart:
Where Would I go? Crested Butte or Aspen?
I truly enjoyed both towns. We loved the kid-friendly hikes, various activities, and fun downtown atmospheres. The nature and scenery was highly competitive between the two.
So where would I visit again (if I could only pick one?)
Crested Butte…for summer. I truly just could not get over the gorgeous scenery on every hike we did. I felt the downtown area was so inviting and loved having so many parks for the kids nearby.
I haven't skiied in a while, but if visiting during winter, Aspen would win for ski-families. Having 4 resorts is just an awesome perk to being able to stay in one place. And to have access to 4 resorts on one ticket (a multi-day ticket) is awesome.
But honestly, you really can't lose with either destination!
Hopefully this comparison of Crested Butte vs Aspen has helped break down your decision. And if it hasn't, now you know that you can't go wrong whichever you choose.
FAQs
Is Crested Butte on the Epic Pass?
Yes, Crested Butte is part of the Rockies Epic Ski pass along with Breckenridge, Keystone, Vail, Beaver Creek, and Park City. Aspen ski resorts are NOT part of the Epic Pass.
How Far is Crested Butte From Aspen?
The distance with a straight line (or as the crow flies) from Crested Butte to Aspen is 11 miles. Experienced hikers can make the trek over the mountain peaks from one town to another. Driving takes a bit longer at 3-1/2 hours fro the 103 mile drive around the mountain that separates the towns.
Save this to Pinterest!