11 Easy Hikes in Mount Rainier National Park with Kids
Mount Rainier National Park is covered is beauty across its 370 square miles. The great part? There are plenty of kid-friendly hikes in Mount Rainier. It makes the perfect family vacation for those seeking nature and adventure, and maybe even affordability. Find everything you need to know about visiting and finding the best hikes in Mount Rainier National Park with kids.
Let's Jet, Kids! uses affiliate links.  As an Amazon (and other networks) Associate, I earn from qualifying purchases.  It is no extra cost to you.  
Find the best things to do in Mt Rainier National Park with toddlers or bigger kids. There are plenty of options for all ages!
Updated August 15, 2023
Don't forget your rental car! Find great prices here from Seattle Airport
Table of Contents
Entrance to Mountain Rainier National Park
Visiting Mt Rainier with kids is pretty easy. We were able to stay in a place just a half mile from the entrance. No need to drive forever like some national parks.
To enter Mount Rainier National Park, you can either purchase a pass at the ranger station or purchase it online and print it ahead of time.
Note that the ranger stations are only manned during daylight hours (sometimes before/after, but only guaranteed during daylight). In this case, you MUST purchase your pass online. If you have entered without a pass, head to the Jackson Visitor Center where you'll be able to access WiFi from your phone and purchase a pass.
Another way around this is to buy the America the Beautiful Pass for $80. This is an interagency pass that allows unlimited entrance to any national park, as well as many federal lands for a year.
If you are planning on visiting multiple national parks, the pass is a great idea and money saver.
---
Now for Easy Hikes in Mt Rainier with Kids :
Mount Rainier National Park Easy Hikes for Kids
Mount Rainier National Park kids hikes are plentiful and beautiful. We visited quite a bit in our couple days. For organization purposes, I'll start with the farthest stop from Nisqually entrance and work back toward the entrance in this Mount Rainier hikes for kids guide. Here are the top hikes to do in Mt Rainier with kids:
Grove of the Patriarchs easy trail in Mt Rainier with kids
Distance: 1.1 miles round trip
Level: Easy
To access Grove of Patriarchs from the west side of Mount Rainier National Park, it's actually quicker if you go around south of the park instead of thru the park. You can enter through the Stevens Canyon Entrance up through Packwood.
Tip: pull up your map before leaving your accommodation, as there is rarely a signal as you travel!
Grove of the Patriarchs is an easy trail for kids. Plus, there's a cool hanging bridge to cross. There are many posted signs to teach about the large cedars and firs throughout the trail. The firs can get up to 500 feet and reach 1,000 years old, while the cedars reach about 200 feet and were incredible resources to the Northwest Indians.
Photo ops abound as well in front of these giant trees, trunks, and exposed fallen roots. Toward the end, there is a small loop which will bring you back to the main trail after completing.
There is a large sign for accessing Grove of the Patriarchs off the road. The parking lot is decent, but not huge and could fill quickly during busy season. There is a bathroom at the parking lot as well as a picnic table.
If you're visiting Mount Rainier with toddlers, this is a great, easy trail for them.
Silver Falls – Mount Rainier National Park Waterfalls
Distance: 1 mile round trip
Level: Easy
The sign for Silver Falls is quite small…if it hasn't blown away. To access Silver Falls, park at the same place as the Grove of the Patriarchs. Then, just cross the street and you'll see the trailhead for the "East Side Trail".
Silver Falls is beautiful and so is the journey there. It's a great hike in Mount Rainier with kids with a big reward. You'll get to pass a couple cool, smaller waterfalls on the way to your destination.
It was so rainy when we visited that we were glad to have both raincoats and umbrellas! It made visiting Mount Rainier National Park with kids so much more enjoyable to stay a bit dry.
---
Weather changes quickly at Mt Rainier. It is wet!! Make sure to pack a rain coat, waterproof hiking shoes, and even umbrellas. Plus, you should always have plenty of water and snacks when you're hiking. Check out our favorite packs and hiking gear:
Box Canyon (easy stop in Mt Rainier National Park with kids)
Distance: Viewpoint or .25 miles
Level: easy
Box Canyon is a quick pullover viewpoint that kids think is pretty fun. When you arrive at Box Canyon, park in the main lot. Then walk up to the fence where you'll see a massive drop into a canyon with water below.
If you cross the street and walk for a short time to the bridge (maybe a quarter mile?), you'll have a view right over the crack. This deep 115 foot crevice has a river run through it. This little view is about the journey as well, as we felt like we were in Alice in Wonderland seeing the beautifully moss covered rock.
This trail is easy and stroller-friendly, so it makes for easiest hike in Mount Rainier National Park with kids, babies, and toddlers alike!
Bench Lake in Mt Rainier National Park
Distance: 1.4 miles round trip
Level: Easy
Bench Lake is less than a mile one-way with beautiful trails and scenery. The trail is maintained, though not smooth. It does have some elevation, but easy enough for kids. If they are up for a longer hike, Snow Lake is a half-mile beyond and brings great views as well, along with some climbing.
Reflection Lake – easy stop with kids in Mt Rainier National Park
Distance: viewpoint (or short walk up close)
Level: easy
Reflection Lake is pretty iconic when it comes to Mount Rainier National Park. This is a highly photographed area, where on a clear day you can see a pristine reflection of Mt Rainier in the water in all its glory. The best part is that kids can easily participate in this magical moment!
There is a small pull-off parking lot alongside Reflection Lake. You can simply stay on the sidewalk near the lot to take in the view. Even better, there is an opening in the short wall right in the middle where you can go down closer to the lake and walk on the trail for some great view points.
Strollers can stay on the sidewalk near the lot, but there are stairs down to the trail near the lake.
Reflection Lake, another easy hike in Mount Rainier National Park with Kids
Nisqually Vista Trail easy trail in Mount Rainier with kids
Distance: 1.2 miles
Level: Easy
(and stroller-friendly in good weather)
Nisqually Vista Trail was one of my kids favorite trails. Mainly because it's so high up that there was snow when we visited, so they took a lot of time to build mini snowmen.
To access the Nisqually Vista Trail, head onto the Paradise Loop. The parking lot is the lot just before the lot for the Paradise Inn. You can't see much in the lot until you drive further in. Then, you'll notice a private residence at the end of the lot. There are many trailheads off this parking lot; the trailhead for the Nisqually Vista loop is down by this home, all the way at the end of the lot.
This trail is paved and easy. There are some hills up and down, but nothing too strenuous. Strollers could easily come on this trail in good weather. We went in October, and it would have been hard to use a stroller as there were many patches of snow all along the trail.
There is a loop in this trail where you'll find viewpoints to stop and take in the top of Mount Rainier. It's really a great viewpoint, so make sure to take lots of pictures.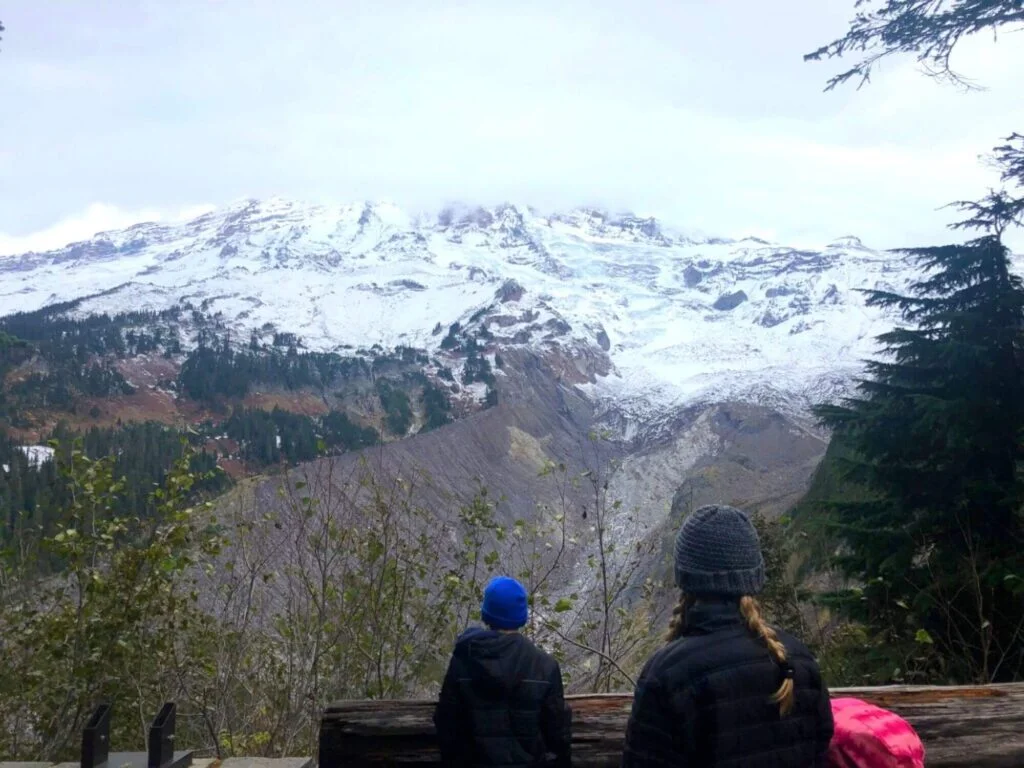 Myrtle Falls – Mount Rainier National Park Waterfalls
Distance: .8 miles round trip
Level: easy
Myrtle Falls itself if beautiful, but really the whole hike (walk) there is gorgeous. You'll have colors of different foliage all around the trail, plus great view of Mount Rainier along the trail.
To access Myrtle Falls, park at the Paradise Inn. Tip: park as far back/up as you can. There's a main lot at the bottom, and then a few parking spaces beyond that in the back. This is where access to the trail is. Up here, there are two places to access the trail. It's not a big difference on either trail as they meet up shortly.
The trail to Myrtle falls is paved and easy, though it does have a bit of an incline. You'll eventually turn off for the viewpoint of Myrtle Falls (or continue to head to the bridge to see if from above). When you turn, there are some large rock steps down.
A stroller could come on this trail until the turn off. If you're comfortable doing so, you can leave the stroller at the top of the turn off. It's a very short distance (10-20 yards, maybe) from the turnoff to the falls viewpoint. Which makes this a great trail in Mount Rainier with kids and toddlers, or the baby in a stroller.
Narada Falls – easy, beautiful hike to a waterfall
Distance: .3 miles roundtrip
Level: easy
You can see Narada Falls 3 different ways. From Stevens Canyon Road, just west of Reflection Lake, there is a pull off area where you can head all the way to the right of the lot and see Narada Falls down below.
You can also drive down to where Narada Falls is and pull into the parking lot there. You can get out and see the viewpoint which puts you right in between the top and bottom sections of the falls. You're very close, but you can't really see the bottom falls from here.
I suggest taking the short hike from this lower parking lot. It's not long, though it is a little steep. This short hike takes you to a beautiful viewpoint to see the falls from the bottom. It's totally doable with kids and they'll love the quick hike!
Christine Falls easy waterfall hike with kids in Mt Rainier National Park
Distance: ~.5 mile round trip
Level: easy
You can see Christine falls right from the road a few miles west of Narada falls. You'll go over a bridge where Christine Falls will be very close. If you keep driving west slightly, you'll come to a small parking lot. There, head to the right side of the lot and you'll see the trailhead to see Christine Falls from a bridge. You'll also be able to see more falls as they cascade into pools one after another. This is a really cool viewpoint.
The hike does have a little incline to it, but it is short and sweet, making it a great hike in Mount Rainier National Park with kids. You can continue on for another waterfall (next…)
Comet Falls Waterfall hike in Mount Rainier National Park
Distance: 3.6 miles
Level: Medium, difficult in parts
The hike to Comet Falls is gorgeous, but it is a bit more difficult. I would recommend this hike for older kids. My 9 and 11 year old did fine with it, but it did feel long to them. My 4 and 6 year old did fine for the majority of the time, but daddy did carry the 4-year-old during a few parts that were challenging. The 6 year old did it by herself, but stopped for a lot of breaks because there is a lot of incline.
This hike gains over 1,200 feet in just over a mile-and-a-half. It has some challenging parts like rocky areas and steep stairs. If you are on the forest floor, you're most likely inclining and watching for rock and roots.
At the top, you need to cross a river. You can use the rocks for this, but they can be slippery. We used a fallen log which requires a little balance. The older kids walked across fine, but we held the hands of the younger ones. And on the way back, daddy just straddled between two rocks and passed kids across!
Challenging as it is, if the kids are up for it, Comet Falls is a beautiful, tall waterfall falling off the side of a large mountain. Plus, there are a few smaller waterfalls on the way up to enjoy.
To access it: Park in the same lot as for Christine Falls. You'll continue hiking past Christine falls. The trail is pretty well defined until you get to the river. Cross the river and go left where you'll see a small sign for Comet Falls pointing left. Walk about 10-20 yards and there will be a trail that goes up. Take that trail (it took us a few minutes to realize that). It's just a short walk beyond that!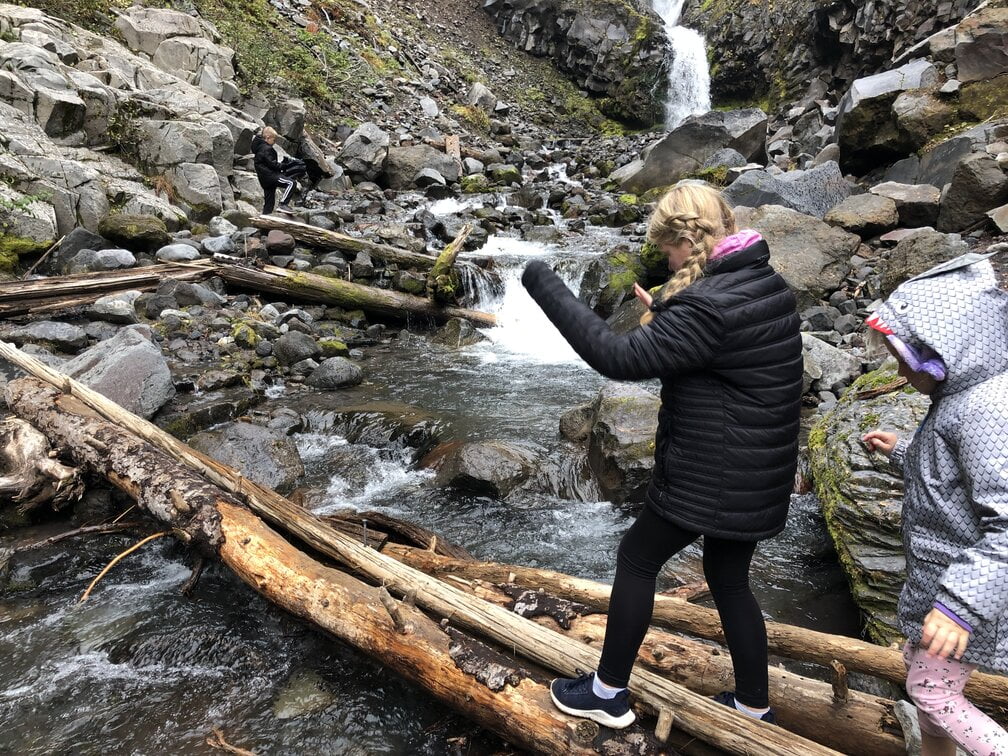 Trail of the Shadows- easy hike for kids in Mount Rainier
Distance: .7 mile loop
Level: Easy
This is one of the easiest, and most educational and interesting hikes in Mount Rainier National Park with kids. There's enough to keep their interest, and it's easy, flat, and short.
The Trail of the Shadows is located right across the main road from the Longmire museum. Park anywhere in the Longmire area and use the paths to take you to a crosswalk across the road. You'll see a sign for Trail of the Shadows. This is a really fun hike for kids in Mt Rainier National Park.
At 63 years old, James Longmire climbed Mt Rainier and during that same trip he discovered the mineral springs in the now Longmire area. Long ago, the springs were the center of a health spa where people would come stay. Only one of the cabins remains along the trail, but there are many springs still there. You'll really enjoy the rusty spring, the water color a brownish orange. You can see the carbon dioxide bubbles forming on the surface of the springs.
While they were once used for health and wellness, you should not drink any of the water in the springs today.
Along the trail, you also learn all about different components of the forest, why fallen trees are actually vital to the ecosystem, and what the edge ecosystem is.
We almost didn't do this trail because of time, but we ended up going back into the park before we left the area. I'm really glad we did! The kids loved how easy and short the trail was, but they loved seeing the springs, cabin, and learning about the forest and how everything plays a part. I would definitely recommend this kids hike in Mt Rainier National Park.
What You Need to Know About Mt Rainier National Park
Where is Mount Rainier National Park?
This beautiful national park is located in the state of Washington. To access the park, you'll want to fly into Seattle (SEA) airport. From the Seattle airport, it is south and slightly east and takes just under 2 hours to the Nisqually Entrance. The Nisqually Entrance is located at the southwest corner of the park (and where many of the listed activities above are accessed.)
The park surrounds the famous Mount Rainier mountain, a scenic spot for many photographers, adventurers, and a challenging climb for mountaineers.
But Mt Rainier with kids is easy to enjoy as well with plenty of easy hikes.
How Many Days Do You Need in Mount Rainier National Park
We spent 2-1/2 days in the park, and felt like that was a good amount of time to visit. We have four younger kids, so we enjoy our hikes and take our time. We take breaks, and we don't do anything too difficult.
If you are not traveling with kids, this may lessen your time as you may move quicker. Or, you may want more time as you are able to do longer hikes. But this is a family blog 😊, so I would recommend a solid 2-3 days to really see everything recommended above.
Is Mt Rainier National Park Crowded?
In the summer months, yes. Both the website and people we talked to say it can take hours waiting at the entrance in the summer. So if you are visiting in the summer, plan ahead, leave early, and know that parking lots may be full!
Visiting on a weekday can reduce your wait time significantly. Over 2 million people visit the national park each year, with the high season being summer. Parking can get really limited.
We visited in October, in which my answer is no! It was not crowded at all. We never waited even 30 seconds at an entrance, never had trouble parking, and rarely ran into more than a few people on trails.
How is the Weather in Mt Rainier National Park?
I mentioned we visited in October. And it wasn't crowded. Now we know why: it was quite rainy. It didn't rain 24/7 and we definitely had some patches of sunshine. But it was at least overcast for the majority of the time.
Summer will bring more sunshine with July and August being the sunniest. But the weather changes rapidly and often. It is highly recommended to bring a rain coat to stay dry and warm. If you're traveling to Mt Rainier National Park with kids, take into account if they will do well in chilly temps and rain…or not.
What is the Best Time to Visit Mount Rainier?
Do you prefer good weather, or less crowds? The best weather is July and August. Less crowds are spring and fall. I would not visit in winter as you run into road closures, limiting how much of the park you can see. If you do visit in winter, chains are required on cars that are not AWD (Nov-May).
Sunrise, White River, Steven's Canyon, and a few other roads close by mid to late October, limiting access to parts of the park.
Where to Stay near Mount Rainier National Park
There are a few great options of places to stay IN Mount Rainier.
Mt Rainier National Park Hotels
Through the Nisqually entrance, one option is the Paradise Inn. This hotel is up at a high elevation, giving great views anywhere you look. It's on the Paradise loop, which has access to a few great hikes and sites. However, this hotel is only opened seasonally, as the Paradise Loop road is seasonal.
The other choice of hotel in Mt Rainier National Park is the National Park Inn. This is located a few minutes inside the Nisqually entrance near the Longmire museum and old homestead. On site is a general store with a small selection of food items, souvenirs, and camping supplies. There is also a restaurant in this scenic hotel.
Mt Rainier National Park Accommodations- Outside the Park
Outside the park is the Gateway Inn. You could literally throw a rock from the hotel and it would land at the entrance sign, it's that close. They have cute little cabins and even a little store on site.
If these hotels aren't what you're looking for (or are booked up), try for a nearby rental. We stayed in a rental that was about .5 miles from the entrance and it was awesome!
Our rental we stayed at isn't available anymore, but the cabins/cottages in this area we stayed are so close and convenient to the park, and all have a beautiful setting. Sometimes it's nice to have a rental property when you travel with kids. They often offer much more space as well as kitchens to help with food.
---
Hiking in Mount Rainier National Park with kids
Those were our favorite hikes and things to do in Mount Rainier National Park with our kids. We covered a lot and had a blast. If you really need to keep things easier, the only hike I wouldn't recommend is Comet Falls. But again, if you've got older kids that are ripe for adventure, they will like this. Everything else is a pretty easy hike or walk. Traveling with kids is so enjoyable when you plan plenty of kid-friendly things to do at Mt Rainier National Park.
Looking for more exploring in Washington? Check out
Hiking With Kids in Olympic National Park
Road Trip! What to do in Seattle and the surrounding area with kids
Be Sure to check out:
Top 10 Best National Parks for Kids!
2 Week National Parks Road Trip Ideas
Full Guide to Olympic National Park
Save to Pinterest!