Calling USA from Costa Rica – Options and Costs
Congratulations on your plans to go to Costa Rica! While Costa Rica is filled with plenty to plan for, one thing on your mind might be figuring out calling USA from Costa Rica.
Let's Jet, Kids! uses affiliate links.  As an Amazon (and other networks) Associate, I earn from qualifying purchases.  It is no extra cost to you.  
Luckily, there are so many options for getting in touch without spending a ton of money. So here are a few ways for how to call the US from Costa Rica (as well as calling Costa Rica from the US)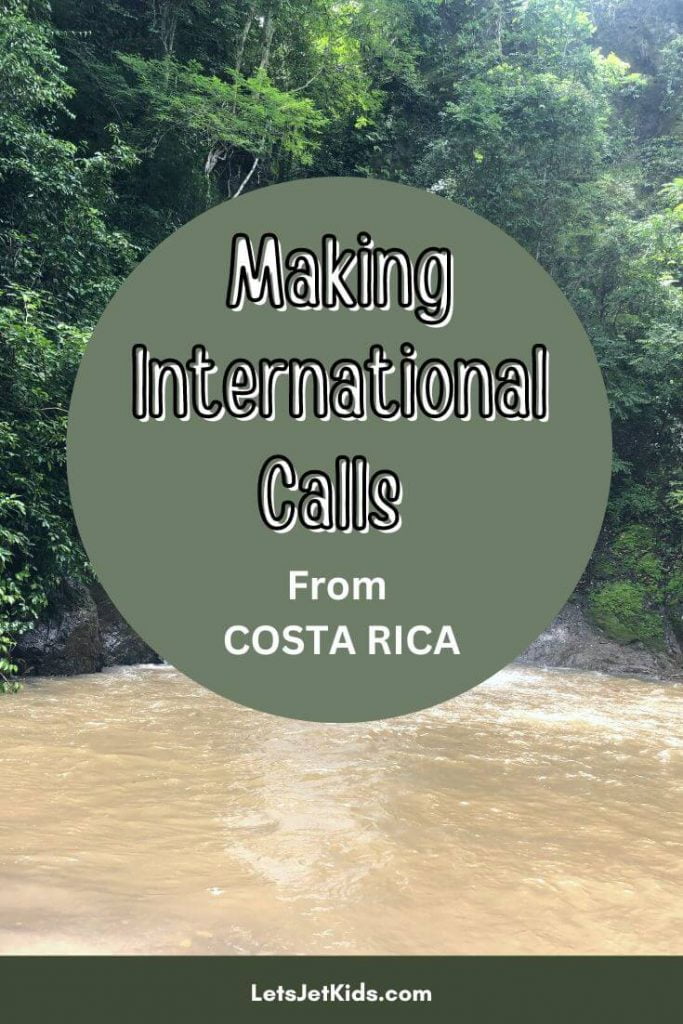 Table of Contents
How to Dial the USA from Costa Rica
To get a call made to the US, you need to first dial 001 (or "+1") , which is the US country code for calls.
Then you can just enter the 10-digit phone number as normal.
How to Make International Calls from Costa Rica
Use Your Cell Phone as Normal
You CAN just use your cell phone as normal. However, this isn't always the most cost-effective way as you'll be charged International Roaming rates from your cell phone company.
---
Planning Guides for Costa Rica!
7, 10, and 14 day Itineraries in Costa Rica
Perfect Guide to 3 Weeks in Costa Rica
Why You'll Love Samara, Costa Rica (and what to do!)
Best Places to Stay in Manuel Antonio
---
What are the International Roaming Rates from Costa Rica
Verizon- If you don't have an International plan, you'll be charged $1.79 per minute of talking and $2.05 per MB of data
Sprint / T-Mobile- A few of the T-Mobile Plans include Simple Global which make calls 25 cents/minute.
AT&T– if you don't plan ahead, you'll be paying $3/minute to make calls from Costa Rica to the US.
Xfinity – no international plan? You'll be paying 20 cents per minute and 10 cents per SMS text.
International Plans by Cell Provider so you can make calls from Costa Rica
Set up an international plan with your provider to get the best international rates. Here are a few different cell providers International Plan Rates (as of 2023)
Verizon International Plan
Verizon offers a TravelPass. This offers an international plan that charges $5/day for use in Canada and Mexico, but it is $10/day in other countries.
An international plan so you can call the US from Costa Rica will cost $10/day. That includes talk, text, and data. The great thing is you're only charged for the days you actually use your phone.
Tip: if you are traveling to Costa Rica for more than 10 days, get the $100 International Monthly Plan which will give you unlimited data and texting and 250 minutes of calling for the month.
More info on Verizon International Plans
Sprint / T-Mobile International Plan
Depending on your specific T-Mobile plan, you may have access to Simple Global, which gives you data, texting, and 25 cents/minute calls from Costa Rica.
You can also get an international data pass for $5/day which gives you data and unlimited text and talk.
See Costa Rica International Plans for more info
AT&T International Plan
AT&T has great international plan options.
If you have an AT&T Unlimited Premium plan, you're already covered for talk/text/data in Costa Rica.
If you don't have an Unlimited Premium plan you can purchase the International Day Pass plan (not available for Value Plus plans). It's $10/day and each additional line on the same account is $5/day.
Forget to sign up ahead of time? No worries, it will automatically be added to eligible plans when you are out of country (with a text alerting you and showing you how to opt out if you don't want it).
See full details of international calling on AT&T
Xfinity International Calling Plan
If you are on Xfinity, you can buy the Global Travel Pass. It'll cost you $10/day and give you 512 MB LTE data per day, and unlimited calls and texts. It'll only be activated on days when you send/receive calls and texts (or data).
More details on International Plans from Xfinity
Calling 800 Numbers from Costa Rica
Technically you can call 800 numbers from Costa Rica. BUT it may or may not be free of charge based on how the company has their number set up.
To call an 800 number, you still need to dial out with the country code first (001).
Ways to Make Free Calls from Costa Rica
FaceTime App
If you have an iPhone, you can use the FaceTime app to make free audio calls to the USA from Costa Rica. Note that you must be connected to the internet.
Skype Calls
Skype is another internet-based way of making free calls to the US from Costa Rica. It doesn't cost anything, but you do need to be connected to the internet for it to work.
Other Affordable Way to Call the US from Costa Rica
Skype Credit
Different from the other Skype mentioned, Skype Credit allows you to make actual phone calls, even when not on the internet.
The cost of using Skype Credit is affordable as well. For calls to/from Costa Rica, you'll pay about $10 for around 2 hours of talk time. If those 2 hours are spread out over a couple days, that makes Skype Credit way more affordable than the $10/day add on plans from phone companies.
You'll also get SMS messaging at just under 10 cents/message.
See more details on Skype Credit
How to Call Costa Rica from the USA
Calling Costa Rica from the USA is done by dialing out first and adding the country code. Use 011 506 and then the phone number.
FAQ for making calls from Costa Rica
How Many Digits are in a Costa Rica Phone Number?
There are 8 digits in a Costa Rica Phone Number. So if you dial out the country code and then wonder why the number looks different than US numbers, it's because it is different.
How do I stop Roaming Charges while Traveling in Costa Rica?
To stop roaming charges, you can turn off roaming in your phone's settings. You can also deactivate texting.
If someone in the US calls my US phone while I'm in Costa Rica, will they be charged extra?
Typically, only the person who is roaming (the one traveling) will be charged the extra charges. Check with your provider for details.
How do I Call the US from Costa Rica?
To Call the US from Costa Rica, dial +1 followed by the 10 digit US phone number.
Calling USA from Costa Rica
Hopefully this has answered your questions about calling the US from Costa Rica while you are on your vacation. Make sure to look into your current phone company's international plan if you will be using your phone daily for international calls.
If you won't be making daily international calls, check out one of the other great methods for making international calls at a better price.
>>> What To Know about Costa Rica before Visiting <<<
Save This to Pinterest