Visiting Mesa Verde National Park with Kids
Mesa Verde was home to the Ancestral Pueblo people of long ago and is best known for it's cliff dwellings. We recently got to visit and the kids loved what a unique place this was. From getting to run down paths, look across canyons, and get up close with ancient dwellings, they loved and learned all about the people who built Mesa Verde into what it is today. Read on to plan a trip to Mesa Verde National Park with kids.
Let's Jet, Kids! uses affiliate links.  As an Amazon (and other networks) Associate, I earn from qualifying purchases.  It is no extra cost to you.  
DID YOU KNOW: There are also Cliff dwellings near Colorado Springs, CO?
Where is Mesa Verde National Park
Mesa Verde National Park is located in the southwestern part of Colorado. How far is Mesa Verde from Denver? Quite a ways away. It'll take about 7-1/2 hours to drive from Denver to Mesa Verde National Park, so you may want to consider other airports (unless you are making a road trip around Colorado.)
If you're flying in, the closest airports to Mesa Verde National Park are:
Albuquerque: 4 hour 43 minute drive
Phoenix: 7 hour 15 minute drive
Denver: 7 hour 49 minute drive
Some smaller airports that have connections from Denver are:
Cortez: (the closest city to Mesa Verde National Park) about 1 hour away
Telluride Regional Airport: 2 hour 15 minutes
Flagstaff: over 5 hours
Colorado Springs (a possible direct flight depending on where you are coming from): 7 hours
Mesa Verde National Park is just over an hour from Durango, and under 2 hours away from Pagosa Springs
Where to Stay Near Mesa Verde National Park with kids
Lodging at Mesa Verde
You can actually stay in Mesa Verde National Park at the Far View Lodge. It's a seasonal lodging, open from late spring to early fall. There's a restaurant on site for easy meals that come with amazing views.
Lodging near Mesa Verde
The nearest city to the park entrance is Cortez, CO which hosts many hotels.
Holiday Inn has a huge indoor pool, breakfast buffet included, as well as rooms that can comfortably sleep 4 kids in bunk beds.
Hampton Inn also has an indoor pool, free continental breakfast, and can fit up to 6 people (with a sofa bed) in the studio rooms.
Best Western offers an outdoor pool, indoor spa tub, breakfast included, and can sleep up to 6 people with a sofa bed.
Camping in Mesa Verde
Inside the park is the Morefield Campground. It's open late spring to early fall and is first-come, first-served. There are a few hookups and an RV dump station. You'll also find a place to eat, do laundry, grab some basic groceries, and showers.
How Long to Spend at Mesa Verde National Park
How much time to spend at Mesa Verde National Park?
We only spent half a day at the park. However, we went during off season when guided hikes are not available and some of the trails were closed. It was still really fun for just that half-day!
If you have younger kids, or simply aren't up for hiking, a day might be plenty as you can drive to almost all the locations to see from a viewpoint.
However, if you plan on hiking in Mesa Verde National Park with kids to get a close-up of the dwellings, you may want 1-1/2 to 2 days.
Check Before you Go!
Mesa Verde has construction, winter storms, rocks falling, and more sporadic events that may cause closures. Make sure to check conditions and updates before you go so there are no surprises.
What to do at Mesa Verde National Park with Kids
There is a lot to see and do at Mesa Verde. Having little kids with you might take more time, but that's ok. That's what this blog is all about.
Luckily, most of the sites can be seen from really easy and accessible spots, making it very easy to bring kids to Mesa Verde National Park.
Here are a few fun things to do if you're wondering what to see at Mesa Verde. I'll proceed in order from when you enter the park and where you can stop along the way.
Visitor Center at Mesa Verde
Right after you turn off highway 160, you'll turn left onto the road to the Visitor Center. This Visitor Center is open year round and provides exhibits into the area of Mesa Verde, rangers to ask questions or get more info from, and a gift shop/bookstore.
There are also bathrooms on the outside of the Visitor Center.
Important:
If you plan to go to the Cliff Palace, Balcony House, and/or Long House (seasonal), you must purchase a guided tour that hikes into those places. Those tickets can be purchased here at the Visitor Center.
You can also purchase tickets 14 days before online. This is recommended, as tours fill up quickly.
These tickets are for hiking into the dwellings and are in addition to the parks entrance fee.
Stop at the Montezuma Valley Overlook
This stop may not be as exciting to kids (actually, mine quite enjoyed getting out of the car), but it is quite a view to be appreciated!
It is estimated that 35,000 Ancestral Pueblo people lived in this area within both the mesa and valley roughly 1400 years ago. The area was filled with hundreds of villages as well as farming communities.
Today, it is a beautiful view of the valley surrounding Mesa Verde.
---
After you pass the Far View lodge, you can continue on the main road to the Chapin Mesa, or turn right to the Wetherill Mesa. This will continue on to Chapin Mesa:
---
---
Chapin Mesa Sites
Walk Around the Far View Sites
This is an easy area for kids to walk around. For nearly 400 years, this was one of the most densely populated areas of Mesa Verde. The Ancestral Pueblo people actually inhabited this area for a while before constructing the cave dwellings, as well as after.
Today, the ruins remain of many of the structures of Far View.
Cedar Tree Tower
While the exact purpose of these towers is unknown, many suspect it was either a place of ceremony, or a way to enhance communication.
You can walk to the Cedar Tree Tower and then do a short, 1/2 mile loop on the Farming Terrace Trail to check out the dam and terraces. These were built to help control water run off.
---
Mesa Top Loop Sites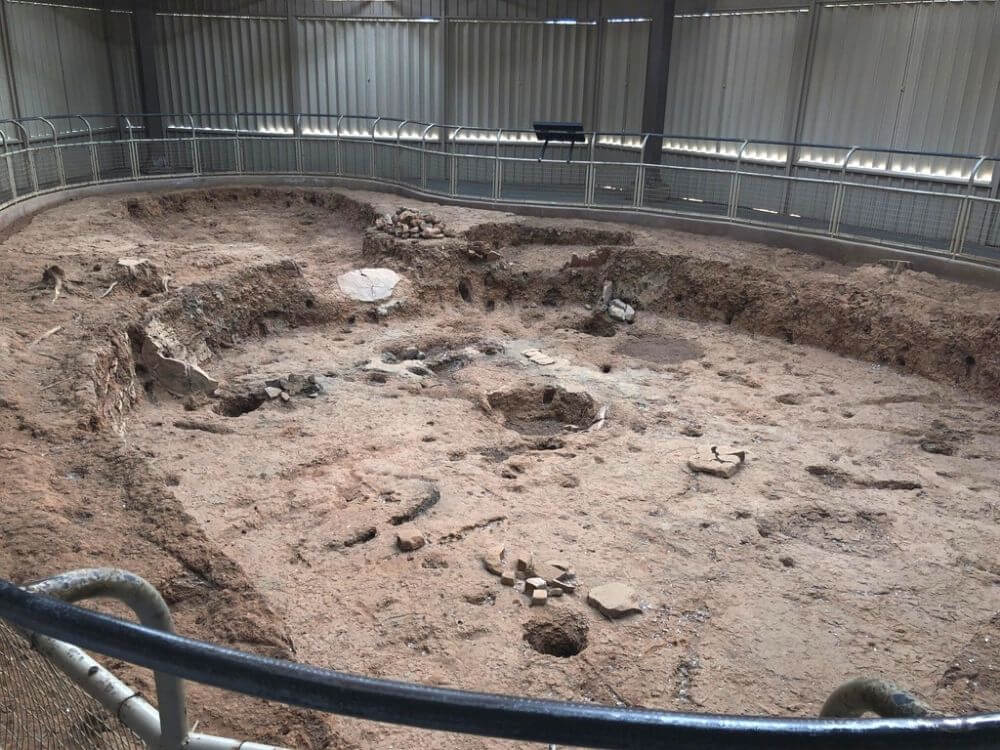 Pit House
There are a few pit houses to see, so stop and see as little or many as you'd like.
The first pit house is on the Mesa Top loop.
Pit Houses were used before the cave dwellings were built as well. These homes were built partially underground, thus keeping the temperature cooler in the summer and warmer in the winter.
The pit houses have structures built around them to protect them. While you can't jump down into the pit house, you can walk right up to it behind a rail and see from close-up.
Navajo Canyon Overlook in Mesa Verde National Park
This overlook has easy access and once again, gives you a great view of the area the Ancestral Pueblo people lived in.
Square Tower House
Square Tower House
This is the first overlook of the cliff dwellings that you will come to on the Mesa Top Loop.
Square Tower House was first discovered by a rancher in 1888. It has undergone many preservation efforts since then, but still remains 90% original.
To reach Square Tower House (for preservation), people today have to use the foot/hand holds and ladders just as the Ancestral Pueblo people did.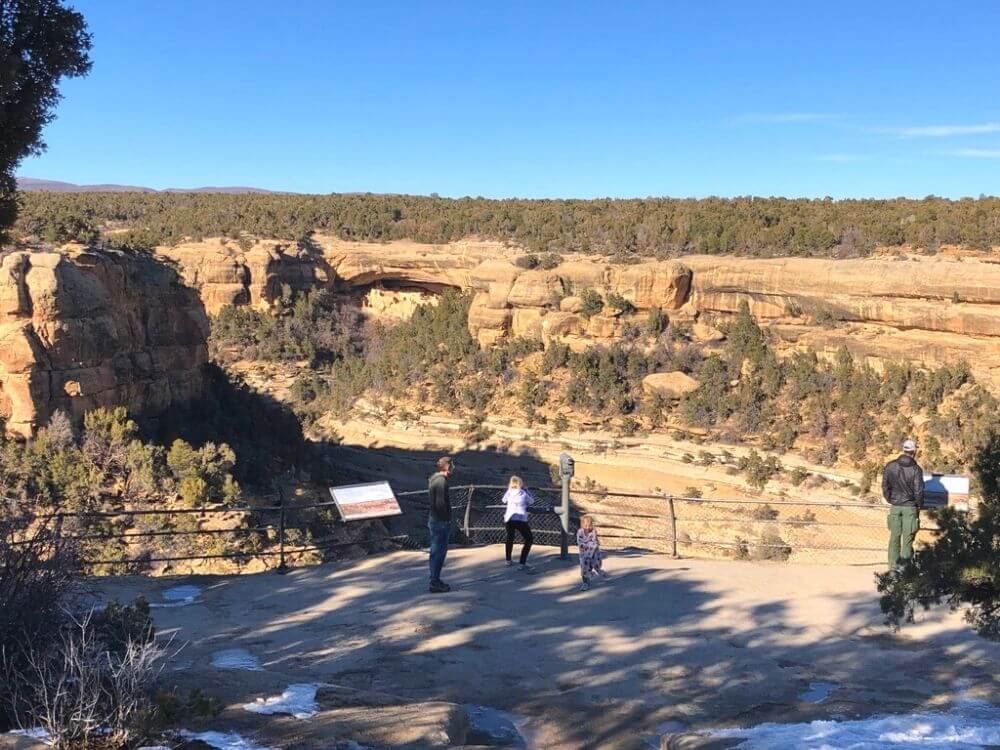 Sun Point– easy stop at Mesa Verde with Kids
Sun Point is an easy stop for kids in Mesa Verde National Park, with big views!
At the Sun Point View, you'll be able to look across and see different dwellings in the mountain right across from where you stand. You'll find both a 15-room and 20-room dwelling.
Plus, there are binocular viewers so you can really get a close look at these dwellings.
Oak Tree House
Oak Tree House was actually one of the larger dwellings, with over 40 rooms. You'll notice the storage room, kivas, plaza area, and more as you gaze at Oak Tree House.
You'll also notice the black marks above the cove. While many places in Mesa Verde have black along the ceilings due to constant burning fires, the black marks here are actually "desert varnish." Desert varnish is caused from Manganese and bacteria mixing onto the surface, and dripping water causes the streaks to take shape.
Fire Temple, Fire House
Fire Temple, Fire House,
Fire House and Fire Temple can be seen from this view point as you look across the valley. Fire Temple is believed to have been a place of gathering and celebration, while Fire House has over 20 rooms and was a domestic place to live.
Cliff Palace and Sun Temple
Sun Temple and Cliff Palace Viewpoint
The Sun Temple (listed as Fire Temple on the road sign) is a really cool structure to get out and see. It is also a quick access from the car and easy to get to.
The Sun Temple is right on the ground and while it is blocked so you can't enter it, you can look through some of the small windows to get a peek inside.
Pueblos Indians believe that Sun Temple was used for ceremonial purposes. Archaeologists guess that, though the structure never reached completion, it was nearly 14 feet tall.
At this same stop, you'll also have a great view of Cliff Palace across the way. Cliff Palace is a key feature of Mesa Verde National Park. It is estimated to have over 150 rooms and possibly the hub of government over the Ancestral Pueblo people.
---
Cliff Palace Loop
Just a short drive back onto the main road, you can turn east onto the Cliff Palace Loop.
Cliff Palace Loop includes the famous Cliff Palace and the Balcony House. You can see both up close, but both require tickets for a ranger-led tour.
You'll also have access to the Soda Canyon overlook trail. This is an easy, 1.2 mile hike has a few lookout points for the dwellings.
Unfortunately when we visited, the Cliff Palace Loop road was closed due to construction.
---
Spruce Tree House Loop
Well, technically that is not the name of the loop so I named it so you'd know where on the map I'm talking about 😉
This loop has a museum and the Spruce Tree House, a cliff dwelling that you can hike to on your own (no ticket required).
There's also a restaurant, (the Spruce Tree Terrace), bathrooms, and a few trails you can hike on.
Chapin Mesa Archeological Museum
The museum is filled with exhibits and a movie to learn more about the park. (As of April 2022, the museum is closed for renovations. Please check for closures before planning your visit. The trails were also closed when we went in March, so that is why I have a lack of pictures!)
Spruce Tree House
Spruce Tree House
You can get to Spruce Tree House on your own without a tour or ticket. (Exception is in winter when a free, ranger-led tour is available based on weather and conditions).
Access to this trail is near the museum. This short hike is under a mile and you can get up close. Spruce Treehouse is the best preserved cliff dwelling in Mesa Verde National Park and it is open/accessible from spring through fall for self-guided tours.
The trail was closed when we visited, but there is still a great viewpoint you can walk over to if you go behind the museum. This was a really cool spot, standing on top of large, smooth rock as you take it in. This was one of the best places in Mesa Verde National Park with kids.
Petroglyph Point Trail
Petroglyph Point Trail in Mesa Verde National Park is a great trail if your kids are a little older, or experienced younger hikers. It's around 2.5 miles with a moderate difficulty. You'll be able to see some petroglyphs as well as some closer views of the cliff dwellings.
Spruce Canyon Trail
This trail is more difficult, not recommended for younger kids. It's 3.1 miles overall with a lot of downhill at first, and then a lot of uphill.
---
Be Sure to check out the Top 10 Best National Parks for KIDS!
---
Wetherill Mesa Sites at Mesa Verde National Park
Those are the main sites on the Chapin Mesa. We ran out of time, but if you have more time, you can head back out toward the park exit and turn west onto Wetherill Mesa Road.
On Wetherill Mesa, you'll find a few cliff dwellings like Step House and Long House.
Hikes on Wetherill Mesa
Step House can be accessed on your own. It takes an easy-to-moderate hike of just under a mile roundtrip to get to.
Long House is a hike of just over 2 miles and requires a tour.
So is it worth visiting Wetherill Mesa with the kids? Well, there are still other sites to see even if the kids aren't up for a hike!
Non-Hikes on Wetherill Mesa
Nordenskiöld Site #16 is a cliff dwelling that can be seen from a viewpoint. You can also walk around the Badger House Community and see dwellings and pithouses that sit on top of the mesa.
You can also go to an overlook for the Kodak House, a cliff dwelling down Long House Loop.
Mesa Verde National Park with Kids
If you were wondering if it's worth visiting Mesa Verde National Park with kids, hopefully this helped give you an idea of what it's like and if your kids would like it.
My kids loved it. We visited a few different places on this trip and when I asked what their favorite part was, a few of them said "the little houses in the mountain!"
The initial drive into the park and into the loops takes a little while, but it's nice to have overlooks like Montezuma Valley to get out and get some air. And once you're in the loops, you're driving just a little and then getting out constantly.
So I think Mesa Verde National Park is a great place to take kids. You get a little history and education, cool things to look at, and plenty of opportunities to get out of the car.
Are you heading to Mesa Verde National Park with kids soon? Let me know in the comments; I'd love to hear what they (and you) think!