The Top 10 National Parks with Kids
We have visited a lot of national parks, and there are a lot we haven't visited yet but really desire to. So along with our many experiences of parks we've visited as well as research with the top places on our list, I've put together the Top 10 National Parks to visit with kids.
Let's Jet, Kids! uses affiliate links.  As an Amazon (and other networks) Associate, I earn from qualifying purchases.  It is no extra cost to you.  
It's easy to just list out a bunch of national parks. Each one of them, after all, is totally gorgeous in its own way.
But in this post, I really want to focus on the best national parks for kids, which means there's something about each park that the kids will especially enjoy.
So take look at decide which of these top 10 national parks you'd like to visit with kids!
1. Great Sand Dunes National Park (also white sands NP)
Where it's Located: Southwest Colorado (fly into Albuquerque or Denver)
Where to Stay: Holiday Inn in Alamosa for a standard hotel.
Or stay at Great Sand Dunes Lodge with options of cabins and lodge rooms. It's located just outside the park.
Why it's one of the 10 Best National Parks with Kids:
Great Sand Dunes is a GREAT national park to visit with kids. There are no hiking trails or obvious destinations to find. When you visit Great Sand Dunes National Park as a family, the whole day can be spent playing.
Great Sand Dunes is filled with the tallest dunes in America, reaching over 700 feet tall. They are reshaped each day by the wind, leaving a nice smooth surface each morning.
Rent a sand board or sand sled (no, not a snow sled) and spend the day playing away on the dunes.
We thought we'd spend an hour or two and then move on with our trip. But we were having so much fun that we ended up staying way longer.
This is by far one of the most fun, exciting, and best national parks to visit with kids.
Read all the details about Great Sand Dunes National Park
2. Yosemite National Park
Where it's Located: Central/Eastern California (fly into Fresno or Sacramento)
Where to Stay: Yosemite Valley Lodge, a GREAT location which is just minutes away from the Visitor Center
or Curry Village, which is located in the park. Choose from canvas tents or cabins.
Why it's one of the 10 Best National Parks with Kids:
Yosemite is filled with so many adventures that there will be something for every kid. Check out incredible waterfalls like Yosemite Falls, which only requires a short an easy hike. Or go into a grove of GIANT trees (every kid loves this).
There are also plenty of walking/picnicking spots that kids will love. Throw pebbles into the water, watch the ducks, and eat your snack. That's a perfect kids day.
But kids will especially love the wildlife. We didn't see too much at the time of year we went, but a bobcat did try to come join a big group of us as we ate lunch! Luckily it didn't take a seat at our table.
Description:

Enjoy a pleasant half-day hike on a relatively gentle trail in Yosemite Valley or the High Country that will allow for excellent photo opportunities and a chance to picnic perched atop a magnificent vista point or alongside a meadow, lake or stream. These

Price:

$166.67
Description:

Enjoy a private, guided visit to Yosemite National Park with an emphasis on photography, sightseeing and hiking! Family, small group or individual participants are taken to the classic sites, along with "off the beaten path" locations. Each excursion incl

Price:

$1200.00
Description:

Private Yosemite Tour at your pace. If you have more than 4 guests in your group you can use this option for up to 9 guests in a comfortable Van. All at one price. Your family and friends can enjoy a private tour instead of being, think of a sheep blindly

Price:

$1475.00
3. Olympic National Park
Where it's Located: The Olympic Peninsula in Washington (Fly into Seattle)
Where to Stay: Sol Duc Hot Springs Resort is located in the park and open about half of the year. Your stay includes access to the in-site hot springs.
Or check out the Coolest Cabins in Olympic National Park
Why it's one of the 10 Best National Parks with Kids:
Olympic really is an amazing place. While Yosemite provides so much, I think Olympic is even more diverse in its offerings. Kids will love the easy walk through the Hoh Rainforest (and yes, it really is a rainforest!)
Relaxing in a hot springs at Sol Duc may sound nice to the adults, but you'll also get a pool-sized area the kids will love swimming and playing in.
But one of the best parts of Olympic National Park the kids will love is visiting the many beaches. While some popular beaches require a little bit of a hike (Rialto), there are many that are super easy to get to. Try Ruby Beach, filled with smooth rocks and crashing waves.
Kids will also love that there are so many short and easy hikes in the park. No need to scale a mountain to see some really cool features of this park.
With so many trail options and so many diverse things to see within this park, Olympic is easily one of the best national parks for families.
Check out my Full Guide to Olympic National Park with Kids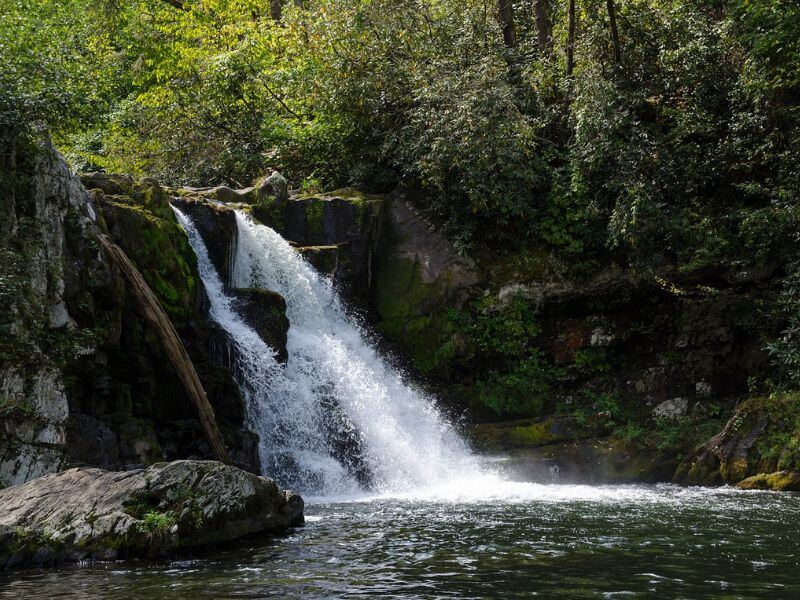 4. Great Smoky Mountains
Where it's Located: Eastern Tennessee (Fly into Knoxville)
Where to Stay: Margaritaville in Gatlinburg is a great place to stay because the hotel has a great (seasonal) pool and splash pad area kids will love. Plus, it's close to the park and highly rated.
Why it's one of the 10 Best National Parks with Kids:
While Great Smoky Mountains is beautiful all year, there are some specific times of year that make it even better. It really depends on your goal for visiting.
If you are waterfall chasers (like us), then late spring and early summer is always a better time to go. Any snow melt from northern areas is running down by now, along with spring showers that all help to fill waterfalls to their potential.
If you are going for the most gorgeous fall colors ever, then between mid October and early November is the best time to visit Great Smoky Mountains.
The best time to visit for the most unique, beautiful, and exciting phenomena that kids will love is in early June. During this time, the fireflies are mating, making a huge display of their lights and flashing patterns.
The fireflies that perform this exhibit are Synchronous Fireflies. They are one species that actually synchronize their flashing patterns. And they come in huge groups, making a beautiful light display.
Seeing the firefly event is so popular that you actually have to enter into a lottery to try and land a spot.
Where else can you watch such a cool firefly event? If there is a place, I don't know about it! This makes Great Smoky Mountains National Parks one of the coolest best national parks to visit with kids during early summer.
5. Everglades
Where it's Located: Southern Florida (fly into Miami)
Where to Stay: Home2Suites in Florida City offers more space than a standard hotel room and comes with a small kitchenette. Plus, it can sleep up to 6 people with a pull out sofa.
Why it's one of the 10 Best National Parks with Kids:
While most national parks have a good amount of animals in them, Everglades is quite different with whom it houses within its boundaries.
Most kids love seeing animals. At Everglades, you can show the kids the alligators, manatees, the American Crocodile (endangered), turtles, egrets, and more. These are the animals you wouldn't find in most national parks!
There are plenty of short and easy trails that lead you to these animals (at a higher position, of course).
The Anhinga trail is a series of smooth walkways and trails (note: stroller friendly!) that will take you through the marsh areas full of animals.
Or you can book a boat or airboat tour at the park to get closer to these unique animals.
Description:

Explore the Everglades National Park and Florida's natural eco-system on an airboat! See and experience the wild alligators in their natural habitat. Have the chance to see alligators up close in their natural habitat, as well as the many exhibits scatter

Price:

$29.00
Description:

Beautiful butterflies, abundant bromeliads (air plants), fabulous ferns and gorgeous wildflowers, including at least seven different species of wild orchids blooming at various times of the year… these are NOT the things that most people expect in the w

Price:

$117.65
Description:

Enjoy a fun, educational adventure that's perfect for the whole family on this half-day Everglades tour from the Greater Fort Myers/Naples area. Stroll through a Slash Pine/Saw Palmetto forest in search of colorful wildflowers, butterflies and other wil

Price:

$100.00
Mammoth Cave Photo Credit: NPS
6. Mammoth Cave
Where it's Located: Kentucky (fly into Louisville or Nashville)
Where to Stay: Hampton Inn (bonus: indoor pool!)
Why it's one of the 10 Best National Parks with Kids:
Mammoth Cave's crowning gem is in its name: caves! Kids will love touring through parts of the longest cave system in the world. Over 400 miles have been explored to date.
Taking a tour is the best way to see inside the caves. There are many options for tours, including shorter walks that are perfect for families with kids visiting this national park.
You can also book tickets to take a self-guided tour. This tour allows you to move at your own pace with the kids. It provides signs along the way so you still get to learn a bit about the cave, as well.
Admission to the park is free, though there is a cost for cave tours.
Mammoth is on the top 10 of best national parks for families since it offers such a wide variety of tours, making it easy to bring kids and easy for kids to have an amazing time.
7. Gateway Arch
Where it's Located: St. Louis, Missouri (Fly into St. Louis)
Where to Stay: Hyatt Regency is so close to the Arch that you can walk.
Why it's one of the 10 Best National Parks with Kids:
Gateway Arch is another of the best national parks with kids for a few reasons.
First, it's pretty educational to visit here. The museum (free to visit) is full of history and exhibits explaining what the Arch is all about. You'll also get a glimpse at engineering from an exhibit that explains how the Arch was planned and built.
Second, it's just fun. You can ride up to the top of the Arch in little trams (we call them little eggs). At the top (over 600 feet above the city floor) you can get out of your little pod and walk around the top of the arch.
While adults may feel pretty big inside the tram, kids think it's super fun riding up. It really just takes a few minutes, and then you get to enjoy awesome views of St. Louis on one side and Illinois on the other side.
Gateway Arch offers the Arch itself, the museum, and a great park area to walk around.
Voyageurs National Park, Photo Credit: NPS/Dimse
8. Voyageurs National Park
Where it's Located: Northern Minnesota (Fly into International Falls or Duluth)
Where to Stay: Kettle Falls Hotel is located in the park and you'll need to take a boat ride to get there. It is only open seasonally.
Cantilever Hotel is outside the park and has a modern/industrial vibe to it that is beautiful. It is only about 8 miles from the park.
The Cobblestone Hotel can sleep up to 6 including a sofa bed. It has free breakfast, an indoor pool, and is about 13 miles from the park.
You can even stay on a houseboat at Voyageurs National Park.
Why it's one of the 10 Best National Parks with Kids:
The northern lights make a common appearance at Voyageurs National Park.
Yep. You don't have to go to Iceland. Or Alaska.
While they don't appear every single night, it's likely you'll encounter it at some point if you stay a while at Voyageurs.
In order for the lights to appear, conditions have to be just right (lots of scientific stuff must be happening) AND the sky must be clear. They won't be very visible during a cloudy night or during a full moon.
You can actually check the Aurora Forecast to see what your chances of seeing the Aurora Borealis are up to a month before. Once you click, select "North America" and then click the arrow to scroll to the next day, and then the next. You'll see the green ring move around and hopefully, at some point, you'll see it move down to northern Minnesota.
Besides seeing the northern lights, kids will also enjoy the variety of short hiking trails that take you through gorgeous land.
And while you can get around part of the park with your car, kids will love that at some point you may need to take a boat to explore other areas of the park.
Kilauea Summit Eruption in 2023; Photo Credit: NPS/J. Wei
9. Hawaii Volcanoes National Park
Where it's Located: on the "Big Island" in Hawaii (Fly into Kona)
Where to Stay: Volcano Rainforest Retreat is a gorgeous property with guesthouses. Plenty of space, and 8 minutes from the park entrance
Why it's one of the 10 Best National Parks for Kids:
There is something about volcanoes that is so enticing to kids. While every national park has something for everyone, this really is a little more unique and fun for kids.
All those science experiments with vinegar and baking soda come to life as the kids get to look on to real volcanoes and watch the magic happen.
Take the kids to the craters to watch the lava boil or past lava lakes left after eruptions. With the park open 24 hours, it's coolest to see these volcano craters at nighttime when they really glow.
Or head to a lava tube. These are caves that were formed from lava flowing at over 2000 degrees. It left behind a tunnel, or lava tube that you can walk through today.
Try the Thurston Lava Tube Trail, which is a very short trail that leads through the trees, into the small cave, and back out all in under a 1/2 mile.
Just be sure the kids keep their hands away from the walls. Some of these tubes were once covered in lava drippings, but are now bare thanks to people breaking them off to take as souvenirs :(
This is easily one of the best national parks to visit with kids since you can see some pretty awesome things with just an easy walk.
10. Arches National Park
Where it's Located: Southern Utah (Fly into Salt Lake City, then a 4 hour drive)
Where to Stay: Springhill Suites is just amazing. They model their awesome outdoor pool with the theme of the area (big red rocks). You can sleep up to 6 in some rooms and it's highly rated. Plus, it's a very short drive to the park entrance from here.
Why it's one of the 10 Best National Parks with Kids:
Arches National Park is located in family-friendly Moab, Utah (a great town to visit with kids). It is like one big outdoor playground, making it one of the best national parks to visit with kids. It's easy to run around and explore.
Arches is filled with fun geological formations. Kids especially love the different landscapes they can explore.
Garden of Eden doesn't have a trail, so it's fun for the kids to climb up and down on this open hiking area.
Sand Dune Arch makes you feel like you are in a different world as you trek through sand inside tall red walls.
There are picnic areas with killer views, making it easy to take breaks and eat a packed lunch.
There are plenty of easy, short options for hiking to see so many awesome arches.
Plus, you'll find the famous Delicate Arch (featured on Utah license plates). If your kids don't want to make the 3+ mile hike in, there is an easy, short hike to a great viewpoint.
Arches provides so many options for kids, making it one of the best national parks for families.
Read about more great, kid-friendly hikes in Arches National Park.
Frequently Asked Questions about National Parks with Kids
What are the Best National Parks to Visit with Young Kids?
The best national parks to visit with young kids are Yosemite, Arches, Great Sand Dunes, and Everglades. Each of these have exciting things to do and plenty of options for short, easy hiking. Discover unique things at each of these parks that will keep the kids' interest without overwhelming them with difficult access.
How Can Kids Protect National Parks?
The best ways for kids to protect are to stick on the trail, which will help decrease erosion and increase vegetation. Don't approach or feed animals, and don't bring any "souvenirs" home from off the trail. Check in to the visitor center to grab a ranger program brochure for more ways to help protect national parks.
What Features do Most National Parks Have in Common?
You'll find a visitor center at each national park. While their schedules can vary by day or even by season, visit one if you get the chance. It will really enhance your visit to the national park!
What are the Best National Parks in Colorado?
Colorado has 4 national parks and each of them are so different that it's hard to pick a favorite. Rocky Mountain will give you gorgeous hiking and trails through lakes, waterfalls, and mountainsides. Great Sand Dunes provides days of fun sledding down the dunes. Black Canyon of the Gunnison offers steep cliff sides with a river below, which you can book a float down. And Mesa Verde offers views and/or hikes into cliffside dwellings.
Why Do People Like Visiting National Parks?
People love visiting national parks for a variety of reasons. It's nice to be in nature, where peace can be found. It's also great for your physical and mental health to be outdoors in such beautiful areas. People also love taking a vacation that is often a more affordable option, as National Parks are typically very cheap to enter (around $30 per car, though some are free to enter.)
Top 10 Best National Parks to Visit with Kids
There are so many national parks in the US to visit that it can be hard to narrow down which to go to next.
This list helps you start your journey of visiting national parks with kids by showing you why the kids will love each of these parks.
Each of these parks offers something unique and exciting for kids, making them just as excited to go as you are!
So enjoy your trip to some of the best national parks for families.
Happy Adventures!