15+ Fun Facts About Colombia for Kids- plus food, activities and more!
Here is our next stop in South America as we learn our way around the world. Here we'll learn all about Colombia for kids, eat some great food, and do some fun activities. Join in for interesting and fun facts about Colombia for kids and some Colombian crafts for kids!
Let's Jet, Kids! uses affiliate links.  As an Amazon (and other networks) Associate, I earn from qualifying purchases.  It is no extra cost to you.  
---
Have you taken a look at these? The awesome info in these Travel Books are what inspired the activities today! Check out why we love these books in this post!
And Check out these other fun books about Colombia for kids:
Biblioburro – Based on a true story, a boy named Luis loves reading. Eventually he collects so many books that they are taking up all the space at home! He decided to get two donkeys and start a little traveling library to share the books with others.
Five Little Arepas– This book is a cute twist of Five Little Pumpkins. The Arepas are trying hard to escape and make it to their party before the big man eats them.
Vámanos a Bogotá – an early childhood book all about Bogotá, the capital of Colombia. Search for gems and emeralds. (English.)
---
Fun Facts about Colombia for kids
Capital: Bogotá
Population: about 51.5 million
Size: 439,700 square-miles (between the size of Texas and Alaska)
Colombia is named after Christopher Columbus, the explorer who found the new world (though he never actually made a visit to Colombia.) The Spanish ruled Colombia from the 1500s to the 1819, when they won their freedom.
Its geography is diverse, going from plains and deserts to mountains and rainforests. Within these areas reside all sort of flora and fauna, as well as many lost tribes that live deep within the rainforest.
Colombia takes pride in having its own Nobel Prize winner: Gabriel García Márquez. He wrote Love in the time of Cholera.
Another well known Colombian is the singer Shakira, whom the kids might know best from her song "Try Everything" from the movie Zootopia.
In modern pop culture, you may have heard of Sofía Vergara (the actress on Modern Family). She plays a character from Colombia, and she herself is in fact from Colombia.
Did you know that Colombia has the tallest palm trees in the world? They also have the most types of lizards and frogs than anywhere!
Colombia is home to a section of the Amazon rainforest. Within it lives the Pink River dolphin.
Colombia has 60 national parks! You can find anything from pristine white sand beaches, active volcanoes, glaciers and high altitude hiking within them. Caño Cristales can be found at Parque Nacional Serranía de La Macarena (more about this colorful river below!)
According to World Strides, Colombia is the 2nd most biodiverse country in the world! (Brazil is the 1st).
Colombia is is the 3rd largest exporter of coffee. (And Volcanica is some of the best, ethically-sourced coffee from Colombia you can buy!)
Colombia is the 2nd largest exporter of flowers in the world. Their position on the equator allows roses to grow straight towards the sun, giving them nice straight stems.
The elderly are deeply respected in Colombia.
The popular Disney movie Encanto is based in Colombia (which accurately portrays how the elderly are respected leaders!)
>> Check out more great kids movies based around the world<<
Colorful and fun facts about Colombia for kids
These fun facts about Colombia for kids are all about colors, or rather the elements that make them colorful.
The story of El Dorado is known in many lands. El Dorado, meaning "the golden one," was leader of the Muisca people. He would cover himself in gold dust and go to Lake Guatavita to throw gems in to honor goddess Guatavita. He would then jump into the lake to wash all the gold off. Someone has yet to discover the gold and gems that were thrown in!
Colombia is rich with emeralds! They dig tunnels and around riverbeds to find the green stone, when is then polished into a beautiful, sparkling gem. While they don't have a monopoly on emeralds, they are close. Colombia mines about 90% of the world's green stone!
Colombia has the most beautiful, colorful river in the world. Caño Cristales ("liquid rainbow") has many plants and animals that reflect on the river, making it a colorful sight!
Tejo – Games in Colombia
While soccer is a popular sport among Colombians, another tradition is playing Tejo. In Tejo, you throw a "tejo", which is made of rock/stone. You aim for a steel-pipe target and toss the tejo. Around the pipe are little triangles…that explode!
If you hit inside all the triangles and on the target, you get 6 points. If you hit one of the exploding triangles, you get 3 points. Each team plays until someone gets 21 points!
Activities about Colombia for kids
Now that we've learned a bunch of fun facts about Colombia for kids, we are going to apply some of that knowledge into fun activities.
Here's what we did to "explore" Colombia a little bit:
We began our trip to Colombia by listening to Shakira's "Try Everything" as we sat on our airplane (pillow seats on the floor). When we landed, we read some fun Colombian facts, and added and activity where appropriate.
---
A Visit to El Dorado
First was our demonstration of El Dorado. Here's what you need:
gold or yellow shirts
little gems (I had a pack of Acrylic Jewels from Walmart on hand, but any colorful, sparkly gems will do)
Big tub/bucket of water
tablecloth or dropcloth, or do this outside!
We started by having the kids put on a gold, sparkly shirt. (Well, the girls did. My son put on a yellow button down from dad!) Then they took a seat on their "boat" (a pillow) and tried to throw the little gems into the bucket of water in order to honor Guatavita.
When they were done, they then had to step into the bucket to wash off the gold (take the gold shirt off).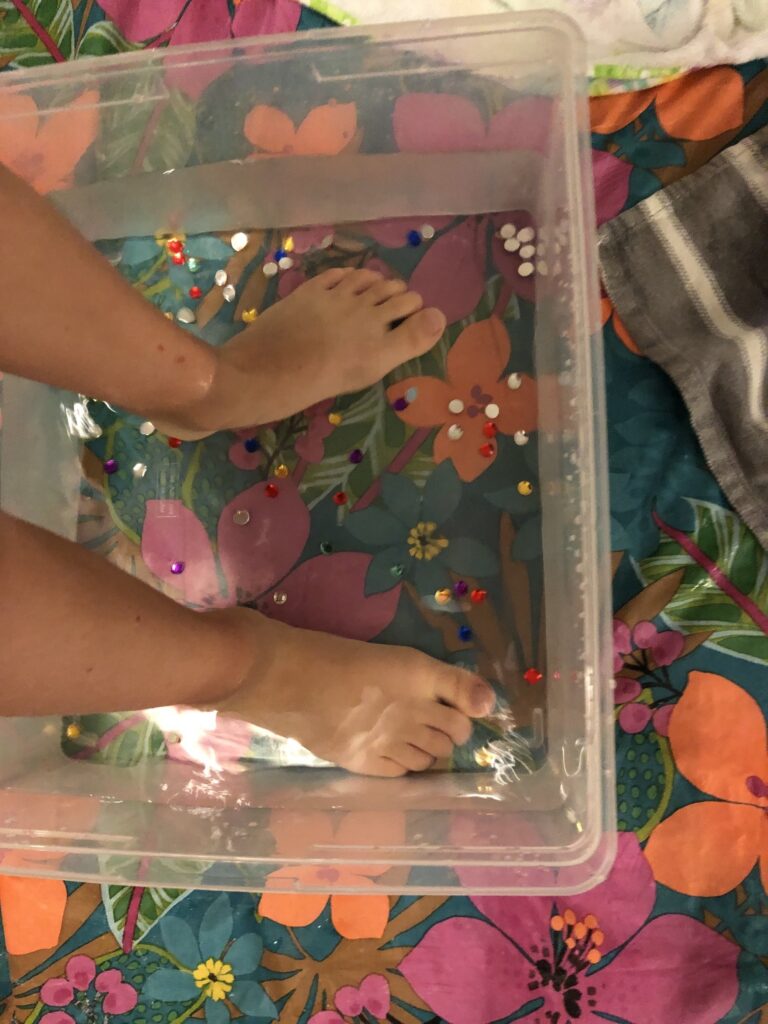 ---
Mining for Emeralds
We learned during the fun facts about Colombia for kids that emeralds are a big part of Colombia. Here's how you can apply that:
Our next activity was Mining for Emeralds
To do this, all you need is:
Blankets (bigger the better!)
Flashlights
Dark space to do this
Green stones (I got a little bag from Walmart for a couple dollars. In the floral/vase section. Or grab some off Amazon.)
I hung big blankets between the kitchen island and the counter. You could also use kitchen chairs to hang the blankets between, couches, kitchen table, etc. I spread out and easily-hid lots of these green gemstones throughout the man-made tunnel. Then we turned all the lights out and the kids got flashlights to go mine for emeralds in the Colombian tunnel!
They came out and were studying their emeralds. They had a lot of fun with this activity.
---
How to Play Tejo- the Safe Way
This was probably among the most fun facts about Colombia for kids in my house as we got to play and make a little bit of a mess.
Our next activity to explore Colombia was Playing Tejo.
This was really fun for the kids, probably because it was a bit messy (but not TOO messy). To play Tejo in Colombia, here's what you need:
Pie Pans
Flour
Table cloth
small balls (a little heavier. We used my son's balls for when he plays wall-ball. A golf ball or tennis ball would work, too.)
To play Tejo, put a few cups of flour in the pie pan. You want it to have a big mound in the middle so that you can see the "explosion" better.
Then place the pie pans on a table cloth. The kid will stand about 5-6 feet back (or closer if they're young!) and underhand toss the ball to try and get it in the pie pan. If they make it, boom! They'll will see the explosion of flour!
This is such a fun Colombian activity for kids that you can do at home.
---
Caño Cristales Colombia Activity
Next, in order for the kids to discover Colombia a little further, we did a fun visual on the Caño Cristales, the Rainbow River in Colombia. While this wasn't scientifically correct in explaining the river, it was fun in seeing what the colorful river may look like in real life.
Supplies needed are
Glass bread pans (or a different size)
water
red, yellow, and blue food coloring
tablecloths and rags for cleaning
First, fill the glass pan with water a little more than halfway of the height. Then, if the kids are old enough to handle food coloring, have each kid (or the same kid) take different colors of the food coloring. Each can squirt one or two drops into the pan, and then watch as the colors slowly blend together. You'll see red, yellow, and blue, but then you'll start to see secondary colors as they flow together.
---
Colombian Crafts
While we didn't make any crafts, it was fun just to take a look at some of the cool Colombian crafts that are made in South America.
From wool ponchos to hand painting dishes, Colombians are quite talented.
Check out some Colombian crafts.
Colombian Food
Some of the best fun facts about Colombia for kids are facts that you can taste! Head to the kitchen for this next part as we eat our way through Colombia.
The national dish of Colombia is Bandeja Paisa, a large plate full of different meats, rice, beans, and topped with a fried egg and a few veggies on the side.
Other popular foods include arepas (corn cakes with various toppings), Buñuelos (a ball-shaped snack that are fried), empanadas, and a stew called sancocho.
If you'd like to try Buñuelos, you can check out my post on Bolivia where we make them!
We chose to try these arepas! They were really good! Almost like a grilled cheese, but with corn cakes instead of bread.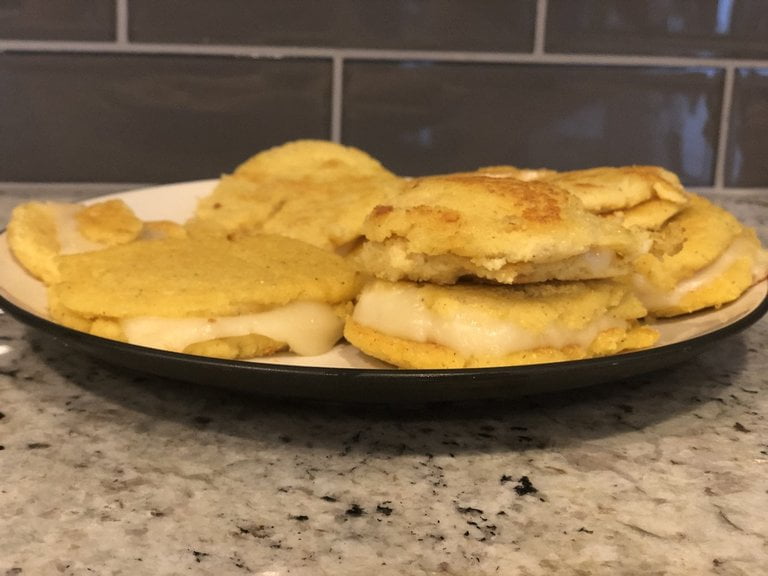 All About Colombia for Kids
Hopefully you had fun "visiting" Colombia with us, learning some fun facts about Colombia for kids, doing some fun Colombian activities, and eating some great Colombian food.
We love learning about new places, so we loved these fun facts about Colombia, as well as doing fun Colombian activities.
Save this on Pinterest!
And don't forget to check out the Travel Books post!
You May Also Like:
Fun in Ecuador with the Kids – at Home!