Fun Facts About Guyana For Kids with Crafts, Food
You've come to the right place to learn fun facts about Guyana!
Let's Jet, Kids! uses affiliate links.  As an Amazon (and other networks) Associate, I earn from qualifying purchases.  It is no extra cost to you.  
Take the kids on an at-home adventure to one of South America's smaller countries. This is filled with everything you need to learn all about Guyana for kids. This lesser-known South American country is full of fun, history, and food. Try out the Guyana Craft for kids below, or one of the activities to celebrate along with the festivals of Guyana.
This post is filled with fun and Guyana facts for kids, so you can learn all about this beautiful country.
Sources for All About Guyana for kids
The information for All About Guyana was found in Lonely Planet's The Travel Book (read why we LOVE these books here), as well as in Cultures of the World: Guyana, published by Cavendish Square. There was a wealth of information in these books. If you want to learn more about Guyana, I recommend taking a look at these books! (Your local library may carry the book on Guyana.)
Fun Facts about Guyana for Kids
Use these fun facts about Guyana as a guide to teach your kids (and yourself!) about the country Guyana:
Capital– Georgetown
Guyana isn't as well known as its neighboring South American countries. Bordering Brazil, Suriname, and Venezuela, it is the only country in South America that speaks English.
Guyana is the poorest country in South America, and one of the poorest in the whole western hemisphere. Regardless, the citizens are very proud of their country.
The few Guyanese that gain higher education usually emigrate to another country, leaving behind the poverty. This creates an inadequate healthcare system when the highly trained professionals leave to find better pay and opportunities.
Guyana is a small country, slightly smaller than the size of Idaho.
The majority of people live on a small area of land that runs next to the Atlantic Ocean. This part of the country is very fertile.
Guyana has some of the most beautiful and highest waterfalls. Kaieteur Falls is 822 feet tall, compared to Niagara Falls in the US/Canada, which is 193 feet high.
In the rivers of Guyana, you can find large, beastlike animals! The Arapaima fish gets up to 8 feet long and 200 pounds! The Black Caiman is the largest aligator, coming in at over 13 feet. You will also hopefully not find electric eels, holding 500 watts of electricity.
The Capybara, and enormous guinea pig, is also common in Guyana. Image by Elsemargriet
Guyana is home to over 2,000 different plant and animal species, thanks to both the ocean and Amazon Rainforest.
Children have access to free education from the time they are 3-years-old. A few years ago, Guyana's literacy rate was just over 88% for people over 15-years-old.
The people in Guyana find the difference in "making a living" and "making life" very important. They value making money to support their family, but also socializing and helping their neighbors and community.
Want to see awesome pictures and adventures in Guyana? Check out this post on

Adventurous Kate!
History of Guyana
To really teach kids about Guyana, it's important to knwo its history.
The first people to inhabit Guyana were known as Amerindians. They were a seminomadic group that lived off small farms, hunting, and fishing.
The first Europeans to settle came in 1616, and were led by the Dutch. These early settlements profited from tobacco, coffee, and cocoa and traded with local Amerindians for their forest goods.
The Dutch had good relationships with the Amerindians, never using them as slaves as had been done in other South American countries.
Later, they began sugarcane and cotton plantations and brought in many African slaves to work the land.
Control of the early colonies transferred between the English and Dutch many times. in 1814, the Dutch gave the colonies over to Britain and the colonies all together were called British Guiana in 1831.
Guyana gained its independence from Britain in 1966.
Economy in Guyana
The main economic industries in Guyana are agriculture (the majority is sugarcane and molasses), Forestry, Fishing, and Mining (Bauxite).
Bauxite is a key ingredient of aluminum, but as more countries start to recycle and reuse aluminum, the demand for bauxite has gone down.
Gold is another major source of mining. Guyana brought in almost $1 billion in 2017 from exporting gold.
Crafts of Guyana for kids
The crafts in Guyana are highly influenced from the Amerindian cultures. Many crafts include making baskets and chairs out of reeds and grasses. They also do many crafts and jewelry out of metals like brass and gold.
To experience some Guyana-inspired crafts, we'll make some baskets out of reeds! We did paper weaving as part of our trip to Ecuador which is great practice for basket-weaving in Guyana. To make a basket, you'll need some flat reed (we bought some from Amazon.)
Basket-Making: Craft Inspired from Guyana
Materials:
Flat reed
Hot Glue
Scissors
Packing Tape (optional, but very helpful!)
Plastic Placemat (also optional, but helpful. You can also just use your counter, but it helps to have something you can turn and isn't fixed.)
Start by cutting strips of reed into about 18 inches each. Cut about 20 strips, but you"ll probably want to add a few more to fill in when you're done.
Next, line 10 of the strips up straight, right next to each other. Tape the tops to a plastic placemat (or counter). The reeds bounce around a lot, so it's helpful to tape them to keep them in place.
Next, take the other 10 strips and start to basket-weave them horizontally through the vertical strips. Begin your first horizontal strip under the first vertical strip. Then over the 2nd vertical strip, then under the 3rd, then over, under, etc. until you reach the end.
For horizontal strip #2, start over the first vertical strip, and then continue under, over, etc. Keep alternating the horizontal strips starting over or under until you've used all the horizontal strips.
Tip: it doesn't matter which side you start weaving on (left to right or right to left,) just make sure you are alternating how you begin your horizontal strips.
Continue weaving all remaining 10 strips until you're finished! You may want to cut a few more strips to fill in any excess space and make it bigger. It's up to you!
Once you've finished weaving all the reeds, start with the top horizontal reed and move down as you push each reed up, making them as snug as you can with each other. You just don't want large spaces in between reeds.
Next, cut 4 more reeds. Two should be as long as the length, and two should be as long as the width. Adult job: Use a hot glue gun to glue a flat reed across all 4 edges, on top of all the weaved reeds. These do not need to be woven. This will give the basket edge a nice, clean border. You'll have to push onto each flat reed individually to make sure the glue sticks, as the reeds like to pop away before it makes contact.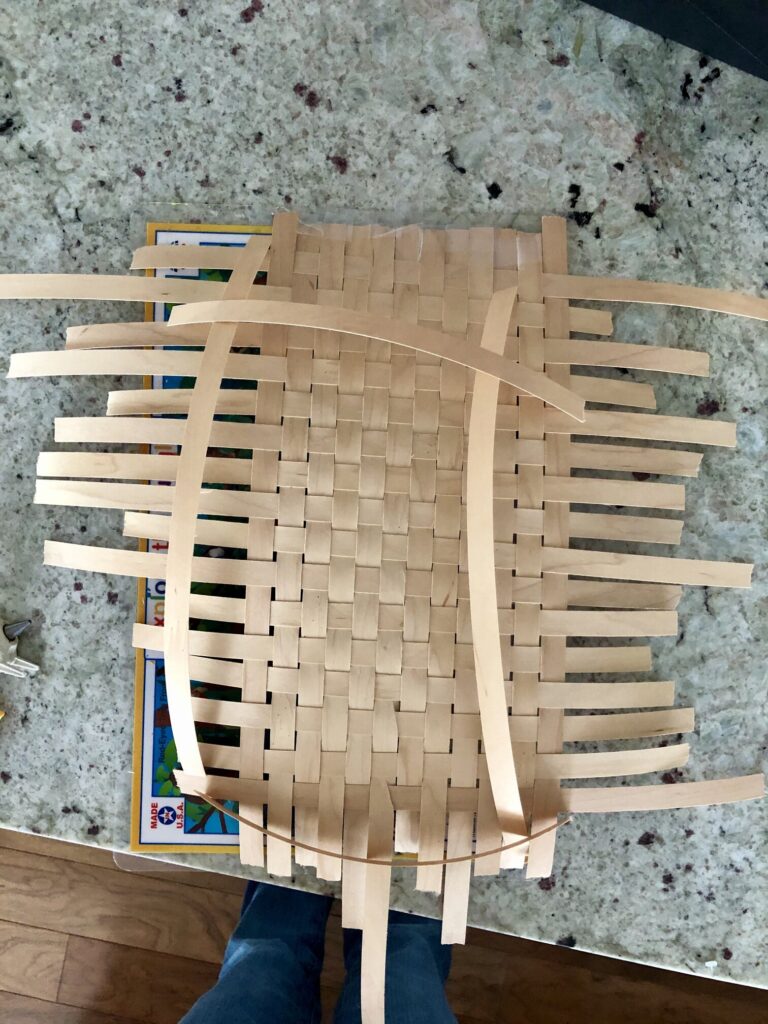 Next, we'll trim the edges. There's a lot of extra reed hanging out on all the edges, so take some scissors and (carefully! The reeds can cause splinters,) cut along the outside of the framed reed you just glued.
You can stop here and have a nice, woven placemat, or you can gently bend the reeds into a soft, two-sided basket. Then, take one more cut-reed and glue it to the insides of the basket (we also had to use some packing tape to get them to stay).
My daughter took it one step further and added some paper sides. This helped give it a little shape. 🙂
Sports in Guyana
The most popular sport in Guyana is Cricket. Guyana has impressive and nationally known cricket players, who played on the cricket team for the West Indies. Soccer and baseball are also popular.
Cricket has similarities to baseball, but contains many different elements.
Holidays and Celebrations in Guyana
Guyana has many festivals and holidays. With many Muslims, there are a few festivals and nationwide-recognized holidays for the Muslim religion. Guyana also has a few holidays celebrating its history: Mashramani is February 23 and celebrates the new constitution and day Guyana was made its own republic; May 26th marks Guyana's Independence Day; CARICOM day, or Caribbean day, is in early July to celebrate the Caribbean culture; and Freedom Day in August celebrates when slaves were emancipated in 1834.
With so many things to celebrate, we chose to celebrate Holi, a Hindu "festival of love." In this celebration, people practice forgiveness and thanksgiving. Outdoors, the people are covered in colored powder and soak each other with water guns and water balloons. People of all backgrounds and religions in Guyana participate in celebrating Holi.
Holi is a colorful holiday! Photo Credit John Thomas
Activities for Kids about Guyana
We got some t-shirts we didn't mind getting stained, then began the fun of soaking each other in them with colors getting everywhere. This was a great, simple way to reenact Holi. This is a great activity to do outside for obvious reasons.
We also went around and said a few things we were thankful for and talked about what forgiveness is, and why it's important for the person you forgive and for yourself. This fun activity for kids was a great way to teach about other holidays!
Food of Guyana
As a country that is mainly populated within the coastal region, seafood abounds in many kitchens.
With so many cultures (Guyana is the known as "the land of six peoples"), there is a large variety in the food of Guyana.
From the Amerindian culture comes bread made from cassava flour. Poisonous if eaten raw, the cassava root has to be ground and cooked to make a flatbread.
A Cassava, also known as Yuca or Manioc. Image by Brett Hondow
From East India, much of Guyana enjoys curries and rice.
China and Portugal influences the cuisine with noodle dishes, garlic pork, garlic soup with egg, and salted codfish (bolo do mel). The Portuguese also brought over pumpkin fritters.
The African culture contributes yams, plantains and okra in many recipes. Foo-foo uses plantains to make a type of cake. Metemgee is a stew made from coconut milk and produce.
We decided to make some Metemgee, found at Jehan Can Cook, as our dish from Guyana. We couldn't find every single ingredient, but did what we could. For instance, we used a potato instead of eddoe. And while you can find Green Seasoning on Amazon, we just did our own mixture of seasonings. The kids actually really liked this stew. It is topped with "duff", basically a homemade biscuit, and sits in a coconut milk base.
Fun Facts About Guyana- Wrap up
Did you enjoy learning all about Guyana? We loved getting to learn some fun facts about Guyana, enjoy some activities and crafts from Guyana, and of course, try some food from Guyana.
We hope you enjoyed visiting Guyana! Looking for more at-home, around-the-world adventure?
Check out:
Activities, fun, and food in Colombia
or other great countries in South America!