21+ Awesome Things to do in Branson Missouri with Kids
We recently paid Branson, Missouri a visit for our family vacation. I first heard of Branson about a year ago, and I feel like I haven't stopped hearing about it since. So when our original plans fell through and got canceled last minute, we rerouted the family to Branson. There are tons of fun things to do in Branson with kids.
Let's Jet, Kids! uses affiliate links.  As an Amazon (and other networks) Associate, I earn from qualifying purchases.  It is no extra cost to you.  
There are also so many unique things to do in Branson that we never got bored. In fact, if anything, we ran out of time with so much left! But all good things must come to an end sometime. Or must they? Maybe we'll return and continue the fun sometime.
Here I share family-friendly things to do in Branson, MO.
---
Find the best car rental pricing, whether you're flying into St. Louis, Kansas City, or Springfield/Branson.
---
Where to Stay in Branson
There is no shortage of places to stay in Branson. Many hotels are motel-style, with great ratings thanks to the friendly, helpful service in the area. Here are a few choice locations to make your family vacation to Branson even better.
Big Cedar Lodge
Big Cedar Lodge is located farther from the heart of Branson, Big Cedar Lodge welcomes families with open arms. Filled with activities, holiday festivities, and beautiful views of Table Rock Lake, you will not be disappointed here.
It's a great place to retire and wind down at the end of a fun filled day. Or kick it up with the arcade, drive to the top of the rock, golf, play in one of many pools.
Grand Country Waterpark Resort
Grand Country Waterpark Resort is filled with fun. It's located right in town, making it convenient. Plus, there are tons of activities inside. It's shining attraction is a massive waterpark with both indoor and outdoor fun.
Honeysuckle Inn and Conference Center
The Honeysuckle Inn isn't far from Branson's Theatre District and is a much more simple hotel. Kids will love that it has both and indoor and (seasonal) outdoor pool. This is a larger hotel with a few restaurants and free continental breakfast.
Hilton Promenade
For something a little more familiar, head to the Hilton Promenade at Branson Landing. This hotel is right next to all the shops, restaurants, and boardwalk. This Hilton has an indoor pool and is only a minute walk from Branson Landing.
Tribesman Resort – Table Rock Lake
Tribesan Resort is not in the middle of town, but a short drive away. It's located in the Table Rock Lake area, so instead of shows and lights, you'll be surrounded by trees and lake views. It's a little more rough, as it is located in a large campground area. This is where we stayed, and it ended up being pretty awesome. We could all be in one unit, with a kitchen, plus lots of great amenities.
Check out my FULL REVIEW of Tribesman Resort to see if it's right for your family!
RV Park
Taking the RV along? You're not alone!
There are over 10 million people who visit Branson each year and a huge amount of RVers are in that number. Branson is full of RV parks to choose from to get a perfect location.
Best Family-Friendly Shows in Branson
Branson is full of shows, and so many family-friendly ones! This is definitely one of the fun things to do in Branson with kids.
Dolly Parton's Stampede
Dolly Parton's Stampede is among one of the top things to do in Branson with kids.
Many people will agree that Dolly Parton's Stampede is the show in Branson to go to. Filled with horses, fire, and entertainment, it's the perfect place for the whole family to enjoy the evening. You'll also get a four-course meal served as you watch the show, and there's even meal options for those with different dietary needs.
Unfortunately, since our trip was last minute, this was sold out when we planned the trip. So make sure to get tickets as far in advance as possible to make sure you don't miss out on this classic Branson show.
Seriously. Get the Dolly Parton Stampede tickets now.
Shanghai Circus at Mickey Gilley Grand Shanghai Theatre
This was one of my kids absolute favorite things to do in Branson. Who doesn't love watching bodies contort into positions that make you cringe a little?
The Shanghai Circus is incredibly entertaining for the whole family. Watch as the Acrobats of Shanghai perform human feats that seem impossible. From bending into different shapes, taking tumbling to an extreme, extinguishing fire in their mouth, and more, the kids will be just as amazed as you are watching these acrobats and otherwise talented cast perform.
Get your tickets in advance for guaranteed seating.
Branson Belle Showboat
This family-friendly experience is great for an evening out. Head to Table Rock Lake and climb aboard the the largest landlocked vessel there is! With over 100 staff members and 25 years running, the Branson Belle is an impressive vessel. It has a 10-foot steering wheel, weighing over 600 pounds.
The show aboard the Branson Belle will not disappoint, and the whole family gets to enjoy a delicious, classic meal while aboard. The kids even have their own kid-friendly meal. Relax at your table as you are served meat, veggies, potatoes, and salad as an opening musical act welcomes you.
Then take a break to walk around and explore the boat. When you come back, the main show will entertain with music, dance, a little magic, and vocal talent. This is a fun night for everyone.
We happened to be there in a torrential downpour with high winds, so we weren't able to sail around the lake. However, on a better day, the boat will go around Table Rock Lake, giving great views.
You definitely need to get tickets in advance for the Branson Belle.
The Haygoods
Known as the most popular show in Branson, the Haygoods is a musically talented group of 6 siblings has seen over 6 million people in their audiences. Enjoy over 26 instruments and special effects in this one-of-a-kind show appropriate for the whole family.
Buy Tickets to the Haygoods here
Dublin's Irish Tenors and The Celtic Ladies
My kids really enjoyed watching the talent of the Irish Tenors and Celtic Ladies. Using both traditional and current music, this talented group brings incredible talent to songs of now and then. The group is full of song and talented dancing. You can even look for a showtime when the Irish Dancers add to the excitement!
This family-friendly show is a fun way to experience another land and culture, and is one of the very fun things to do in Branson with kids that you'll remember!
Rick Thomas Illusionist
Sometimes magic shows aren't exactly kid-friendly. Well, this one is. Rick Thomas is world-renowned, having performed in over 50 countries. His shows have sold out at Caesars Colosseum and taken the stage on Broadway. He's also been awarded "Magician of the Year" and "Illusionist of the World."
Don't miss your chance to see such a great magician that the kids can see too! Get tickets for Rick Thomas here, or (pro tip!) if you are attending the Shanghai Circus, bring your ticket stub after the circus to the box office to purchase a discounted ticket to Rick Thomas.
Unique Interactive Experiences– things to do in Branson with kids
Other fun things to do in Branson with kids include checking out some of the interesting attractions. Here are a few that might catch your interest:
Wonderworks in Branson
This place is a little wild! You'll notice it off the street by the appearance of a building that's fallen back onto Earth upside down. I have to say, this is one of those random things to do in Branson with kids, but it's fun and worth a stop.
First, walk through the colorful, spinning tunnel. You are actually on straight, flat ground, but the visuals around you make it feel like you're spinning (don't worry, you can go around if your stomach can't take this).
Head to the XD ride, where you'll experience sound, sights, and the feeling of the ride (not for younger children; height restriction applies). Also in that area is a 360 bike, where the more you peddle, the higher you go, until you finally go all the way in an upside down 360 (height also applies here.)
Other exhibits include an art illusion gallery, a bubble lab with giant bubble-making potential (one of my kids favorite stops), a STEM room, bed of nails you can lay on, and laser tag.
One of the unique spots we loved was the Hurricane Room, where you slip on some goggles and experience what 74 mile-per-hour winds feel like (don't worry, my little one did just fine in here and it's easy to walk out if you want).
We also loved the Laser course, where you select your level and try to hit buttons around the room without touching the lasers shooting across the room.
You can buy tickets in advance, but with capacity restrictions you may still have to wait in line when you get there anyway, so it's just as well to buy tickets when you get there. Even with capacity restrictions, this place was packed crowded!
Ripley's Believe It or Not! Odditorium in Branson
This building also look a little wacky on the exterior. Enjoy artifacts, illusions, crazy art, and interactive exhibits as you walk through this crazy place.
Buy Ripley's tickets online or at the door
Beyond the Lens in Branson
I was a little hesitant about this place, not really understanding what it was beforehand. But it was my kids favorite! It's kinda like Wonderworks, but also different and perhaps even more random.
Begin by downloading the Beyond the Lens App. By doing this, you can participate in an augmented reality scavenger hunt for animals around the building.
Once you're in, there tons of fun photo ops around the building. Want to look like you've landed on the moon? Or are the star of a red-carpet event? Perhaps you are giving an address at the white house, or even in the oval office itself.
There are also a few Virtual Reality opportunities at Beyond the Lens that are really fun here. One is to sword fight with light-saber type swords. Another is to go up a tall building and walk across a skinny beam high in the sky. Both are really cool.
And while one person in the family is participating the the VR game, there's plenty of oldschool games (think: Tetris, Mario Brothers, etc) on all the old-school gaming systems to play while you wait.
Continue to shoot hoops to score points, learning about the JFK assassination, a shrine to Michael Jackson, pose with Bigfoot, try out a mini 2-minute escape room, or (my kids absolute favorite) play in the 45,000 ball ball-pit that looks like a big bubble bath. I told you it was random! But tons of fun, too!
Age restrictions apply, but definitely do the FlyRide, a "techno-tainment experience". This was also a highlight for my kids, and they said it was less intense than the XD ride at WonderWorks.
You can buy tickets at Beyond the Lens, or if you're lucky, Groupon may have tickets!
Bonus: while I'm sure it varies depending on time-of-year, Beyond the Lens was not nearly as crowded as Wonderworks.
Titanic Museum in Branson
My son loves history and recently read a book that took some kids back in time to the Titanic, so he was pretty excited to see up-close what being on the Titanic was like. This was one of the best things to do in Branson with kids if your kid loves history!
You begin by getting a boarding pass for the Titanic. You each get a pass with a different passenger's name on it, which is really cool to read their story and find out their outcome at the end of the museum.
The kids get a pass that has a small scavenger hunt. As they find answers, they scratch off their guess to see if they're right. This is great at keeping the kids engaged.
Inside the museum you'll find a huge, scaled model of the Titanic that took years for the artist/architect to complete. You'll also tour replicas of what different cabins looked like, the grand staircase, and the deck.
The kids will love the interactive activities, like shoveling coal in the boiler room or driving at the wheel in a starry-filled sky. One of my kids favorite was running up ramps that are set at different inclines, representing how steep the deck got throughout the night as the ship sank. They also enjoyed sticking their hand in 28 degree water, seeing how long just their hand could last.
The staff here is great, as they are all dressed in character and have great stories and info to share.
Grab tickets to the Titanic Museum before boarding!
Hollywood Wax Museum in Branson
Great photo ops await at the Hollywood Wax museum. Find celebrities and otherwise famous people to pose with. The realistic qualities are mind-boggling.
Other Wax Museum Entertainment
Hollywood Wax Museum- Entertainment Center also offers a Maze of Mirrors, Mini Golf, and Castle of Chaos with a 5D Theatre.
Buy single or combo tickets for Hollywood Wax Museum here.
Shipwrecked Treasure Museum in Branson Landing
Kids will love seeing 500 REAL artifacts from shipwrecks around the world. Learn stories behind the shipwrecks, play some games, and have a few interactive experiences. Shipwrecked Treasure Museum is conveniently located in Branson Landing.
Walk-in ticketing
World's Largest Toy Museum
This is one of those things to do in Branson with kids that adults will enjoy as well as they feel a sense of nostalgia.
From classic train sets, old-school Barbies and Disney original toys, you'll be taken back in time to your childhood and beyond as you walk through this unique museum. The kids can even play with some of these classics at different exhibits.
Grab tickets for the toy museum here.
Branson Mountain Coaster – things to do in Branson with Kids
Looking for adrenaline-pumping things to do in Branson with kids? You have to check out the mountain coaster!
Runaway Mountain Coaster
This mountain coaster is not the one in town. It's a short drive out of town, in the natural trees of Branson. And it's awesome. We didn't do the one in-town, but only because we talked to people who did both and they recommended this one!
The Runaway Mountain Coaster is the longest, tallest, fastest mountain coaster in the midwest. Take a 5 minute scenic ride on your sled up to the top, and then shoot down the coaster at your comfort. This is both thrilling and scenic, and you'll really regret if you skip this!
Height/age restrictions apply at two levels. Must be 36″ to ride as a passenger, 9 years old / 52″ to drive yourself, and 16 years old / 52″ to drive a younger passenger.
I was able to go on this coaster with my little girl having a birthday and we had such a blast! This was by far her favorite thing to do in Branson as a kid!
Get your tickets for the mountain coaster ahead of time!!! We didn't, and the lines were long to purchase.
Silver Dollar City
Silver Dollar City is a huge attraction for visitors to Branson. Filled with both thrill rides and rides for younger ones, it makes the perfect day for the whole family. Take a thrill ride on the Outlaw Run or Time Traveler rollercoasters. Cool off on a water ride, relax as the steam train drives you around, and even the littles can play at the play place or in the splash yard.
In addition to rides, there are plenty of interactive activities to learn about the area. Watch as candy is made right in front of you or witness a glass blowing demonstration.
There's also an entire waterpark if your goal is just staying cool while enjoying some thrills.
Nature Outings in Branson
Talking Rocks Cavern
Located near Silver Dollar City, Talking Rocks Cavern is a perfect 63-degree cavern has been called "Missouri's most beautiful cave." It makes a perfect, unique stop for your family vacation to Branson.
Hike the Waterfall Trail
At less than 2 miles out and back, this trail is awesome for kids. Not only is the trail pretty easy (albeit, quite muddy sometimes), it is filled with waterfalls. Please note, there are 3 waterfalls along the trail! Some people only see the first one and think "big deal" and turn back. Keep going! The first waterfall is smaller and not as impressive. The second is larger, and beautiful in a peaceful kind of way. A short hike beyond that will lead you to a third.
This was a highlight of our trip. We wore swimsuits and the kids played in the water quite a while. You can walk in the shallow parts (older kids should be find, help the little ones!) and hunt for crawdads.
To access the Waterfall Trailhead, head to the Westgate hotel. Just across from it is a small parking area. Just to the left of the Westgate entrance is the trailhead. You'll be into the woods after just a few steps and walking along the water!
Play at Table Rock Lake
Table Rock Lake is a beautiful area covered in fun things to do with kids, plus it's free to visit! Whether you want to hike around the trails, go out on a boat, picnic, or just take a stroll on a paved trail along the lake, you'll love Table Rock Lake. I have a whole post on Table Rock Lake to find out more.
Check out more FREE things to do in Branson
Play as a Family in Branson
For a more relaxed, classic day of playing check out these attractions that the whole family can enjoy in Branson.
Mini Golf in Branson
Branson is not short on places to play mini-golf. Each on of these are filled with fun and unique courses.
Grand Country Fun Spot- choose from regular or Black Light golf, among many other activities
Go Karts in Branson
The Track – The Track features quite a few tracks to ride on. Take the 4-story steel track for a bit of adventure. Or choose the Wild Woody track for a bit of a softer experience. The Lumber Jack is a larger course, or choose a traditional concrete course that comes with tighter turns. Younger kids can participate just as much on the Rookie and Kiddie tracks.
The Track also offer bumper boats, laser tag, mini golf, and more so you can spend a while here while taking a break from the go karts! Or the bravest ones can try the Skycoaster, a 100-foot swing that will send you at 70 miles per hour.
Xtreme Racing Center– For a much faster experience, head to Xtreme Racing Center. The concrete raceway is over 1/2 mile long for high speed racing karts. Ages 11 and up can use the fast karts, while ages 7 and up can use the kids karts. No doubles/passenger rides
Other Family Fun in Branson
Cryptex Escape Room– Enjoy a great team-building experience as you work together in an escape room. Solve clues together as you work through different locks to escape as you work in space, London, and other scenarios.
Ripley's Super Fun Zone– play laser tag, find your way through 12,000 square feet of a maze, navigate through a laser course, or do a little target shooting. Enjoy unlimited play all day!
Tip: purchase Ripley's Super Fun Zone tickets online to save a few dollars. If you are going to the Ripley's Believe It Or Not as well, purchase a combo ticket.
Fun Zone- Pizza Ranch Arcade – Enjoy a huge arcade for a while, and when your stomach starts to grumble, take the kids to the buffet to fill up.
Fritz's Adventure– Play in the ropes course, tunnels, climbing wall, laser courses, treehouses and slides (and much more). Fritz's is perfect for a family with kids of all ages. Ages 4 and under are free! Get your all access pass to Fritz's Adventure ahead of time. (A limited pass to Fritz's will get you access to anything that doesn't require a harness).
Splash Country Waterpark– if you are staying at Grand Country Waterpark Resort, you can enjoy your time at the Splash Country Waterpark. It has both indoor and outdoor attractions, so you can play any time of year.
Animal Attractions in Branson
Promised Land Zoo– This unique zoo experience will make the kids smile in Branson. You can get a basic admission ticket, or choose an upgraded experience to touch and feed some animals. The Ultimate Excursion will drive you right into some habitats to immerse yourselves as well as feed the animals.
Aquarium at the Boardwalk – you can't miss this beautifully constructed aquarium as you drive by. Not only can you walk through and see amazing animals, but the kids can climb through the kelp forest or (over age 3) can ride on a submarine in the 5D ride.
Butterfly Palace – Kids will love walking through and seeing thousands of butterflies in this rainforest environment. You'll also get reptiles, amphibians, and a mirror maze during your visit.
Wild World – Feed the sharks, meet the wolves, and interact with over 180 other animal species at Wild World. You can even stick your hand in a tank of fish that will nibble health benefits right into you!
Popular Free Things to do in Branson with Kids
Fountain and Fire Show
This is one of the better-known attractions in Branson. Watch as the fountains dance to music. This free event is the product of a multi-million dollar project from the same people that gave us the fountains at the Bellagio. The show runs from noon until 10pm (9pm on Sundays) and begins on the hour. The extra element of fire is incredible. Check out the fountain show schedule here.
Take the Kids and Walk along Lake Taneycomo
If you head to Branson Landing, walk to the opposite side (you can get through right in the middle of the shopping area or at the ends) and you'll find the boardwalk to Lake Taneycomo. This paved trail is perfect for strollers and a beautiful, scenic way to wind down. Plus, it gets the kids some fresh air!
Where to Eat in Branson
Landshark
Located at Branson Landing, you can find the Landshark by the giant chair out front. It serves up seafood, sandwiches, and salads. Plus, when you're done, just walk out the door and you'll be right at the fountain show!
Famous Dave's
You've seen the BBQ sauce at the store, and now you can enjoy the full experience of Famous Dave's Barbecue. Plus, it's hard to go to Missouri and not have BBQ! This kids really liked this, too.
Paula Deen's
This was a really cool dining experience. Paula Deen's is located at Branson Landing, all the way at the north end. There is a huge dining area, so while it was busy, we didn't have too long of a wait to get in.
Paula Deen's is all about family. There are plenty of huge tables to seat large parties, and the menu is all family style. That means, you pay a price-per-person, and then you choose a couple main dishes and 3-4 sides for the whole table. You all share what is in the middle, and when it runs out, they bring you more! The food is classic recipes (roast beef, baked chicken, fried chicken, fish, ribs, mac n cheese, salads, creamed corn, etc…all the good stuff!) Plus, you each pick your own dessert. Grab a fun souvenir on the way out in the shop at the front. Do not miss going to Paula Deen's!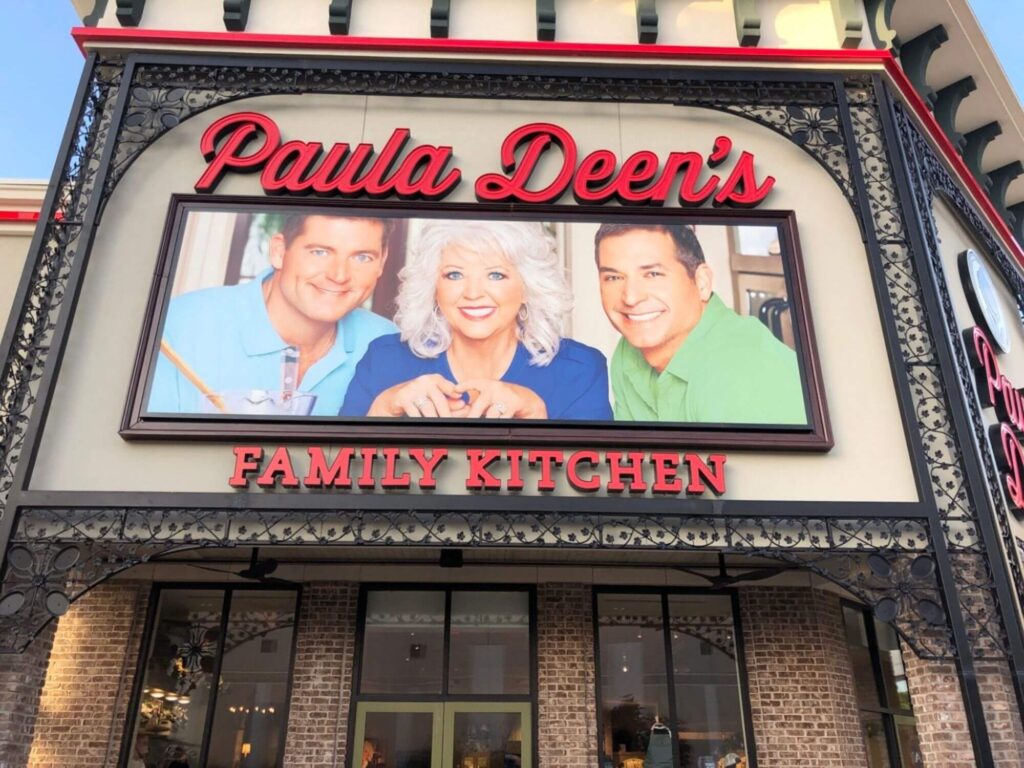 Guy Fieri's Kitchen and Bar
Guy Fieri has become somewhat of an American classic. Often known for his role on Diners, Drive-ins, and Dives, Guy has a few of his own restaurants. One is located right at Branson landing, where you can taste Guy's take on American cuisine.
Billy Gail's Restaurant
There are two Bill Gail's restaurants in the Ozarks region, and one is right in Branson. Located down highway 265, be sure to stop here and bring everyone with a big appetite. Billy Gail's serves up huge portions for breakfast/brunch/lunch. They are known for their "Billion Dollar Bacon" and their 14″ pancakes.
Pasghetti's Italian
Find a classic taste of St. Louis with toasted ravioli at Pasghetti's Italian. The dish is a classic from The Hill, an Italian-American neighborhood of St. Louis. You can find it here in Branson! There's plenty of other Italian dishes to enjoy as well.
Godfather's Pizza
This highly rated pizza joint has something for everyone. These deep dish pizzas are served in plenty of flavors, like taco pie, bacon cheeseburger, or classics like Hawaiian, veggie, and BBQ chicken.
Shop the Branson Way
Dick's 5 & 10 – Located near Branson Landing, Dick's 5 & 10 is a tradition in Branson. It has a little bit of everything, so whether you are looking for a souvenir, something practical, or something fun, they have it!
Tanger Outlets– Tanger Outlets is a name known mostly in the midwest and east US. The one in Branson is a hot spot for shopping, and includes many familiar brands like American Eagle, Michael Kors, Levi, Crocs, Adidas, etc.
Things to do Near Branson
Looking to branch out of town a little bit? Check out this post on Dogwood Canyon, an incredible outdoor experience for the whole family.
Things to do in Branson with Kids
Hopefully you have found a few things that look perfect for your family! Branson has so many things to do, shows to see, and experiences to share that it is hard to fit it all in. When you plan your trip to Branson, use this guide to make that perfect family vacation.
What look like some of the best things to do in Branson with kids for your family? Do you want a piece of history, entertainment on the stage, or a wild ride down the mountain? There are sure to fill your days with fun.
Save this post to Pinterest!