35+ Cool Stops on a Denver to St. Louis Road Trip
Road Trip from Denver to St. Louis
If you're making the drive from Denver to St. Louis, you may be thinking it will be totally boring with nothing to do along the way.
Let's Jet, Kids! uses affiliate links.  As an Amazon (and other networks) Associate, I earn from qualifying purchases.  It is no extra cost to you.  
I'm here to show you that's not true at all. There are actually so many fun stops on the way from Denver to St. Louis. You just have to plan a little and see what's out there.
Luckily, I've done all the research for you so you just need to pick a few of your favorites and start driving!
While there were more stops that what I've listed, I've tried coming up with the best stops with kids between Denver and St. Louis, and I've tried to list a variety so that any interest will find something fun to do.
Table of Contents
How to get from Denver to St. Louis
The route getting from Denver to St. Louis is pretty easy and direct: simply hop on I-70 and head east. It it about 850 miles if you drive straight from one city to another, and takes about 12 hours without stops.
Interesting Stops between Denver and St. Louis – Road Trip
The best part of a Denver to St. Louis Road Trip is all the fun stops you get to make. And these are stops that aren't as well known to the world, making them even more interesting.
These stop are all far less than 1 hour of the main route (with the exception of Wichita, which is totally optional, but fun if you have the time.) In fact, most are within 15 minutes of your main route. And they are listed in order from West to East.
So pick 1, 2, or 10 stops depending on how much time you have to drive from Denver to St. Louis and enjoy every minute.
Of course, these stops work if you're doing a St. Louis to Denver road trip as well. Just start from the bottom and work up instead.
Starting from Denver and heading east toward St. Louis, here are the best stops on a Denver to St. Louis Road trip:
---
Spending time in Denver? Check out Fun and FREE things to do in Denver with kids!
and Great Day Trips from Denver
---
35+ Stops on the Drive from Denver to St. Louis, Missouri
Hop on I-70 and start driving east. Here are the stops you can make:
Kit Carson County Carousel in Burlington, CO- Visit this antique carousel (still has a lot of original paint!) at the fairgrounds in Burlington, Colorado. This might be the most fun stop from Denver to St. Louis for kids.
The carousel is open seasonally from late May to early September.
World's Largest Easel holding a Van Gogh in Goodland, KS – from I-70 you can see 80 foot easel holding "3 Sunflowers in a Vase" painting. This installment weighs 40,000 pounds. This is one of the quirky, fun roadside attractions on the way from Denver to St. Louis.
Little Jerusalem Badlands State Park Oakley Kansas, about 30 minutes off route. This is definitely worth a stop to see the Niobrara Chalk formations in this state park. Since the area was actually covered by sea 10s of millions of years ago, there have been many reptile fossils found here.
The natural architecture of the formations contributed to its name "little Jerusalem" since it mimics the town itself.
Stretch on the 1/4 mile overlook trial, or try the 1.2 mile Life on the Rocks trail.
Lake Scott State Park– Oakley Kansas – about 30 minutes off route. Lake Scott State Park isn't far from Little Jerusalem Badlands State Park, so if you have some extra time, it's convenient to visit both parks.
Discover the natural springs, forested canyons, and archaeological sites around the park.
Cedar Bluff State Park – Ellis, KS about 20 minutes off route. You can camp here if you'd like, but even if you don't, there are lots of fun activities and beauty to see at Cedar Bluff State Park.
Part of the park runs along the Cedar Bluff Reservoir. You can play volleyball, horseshoes, do some hiking/walking, or swim in the beach area. The Agave Ridge Loop is easy and less than a mile to walk.
Hays, Kansas
Hays is a great little town to stop in both for a stretch and to get some gas. It's a bigger town along the way from Denver to St. Louis, so grab what you need.
If you are breaking your road trip into a few days, Hays is a great place to sleep for the night. Recommended places to stay are:
Holiday Inn- an affordable, but comfortable and highly-rated option. It includes breakfast and an indoor pool. Sleep up to 6 in a room.
TownePlace Suites– Highly rated, free breakfast, indoor pool, and pet-friendly!
While in Hays, check out St. Joseph's Catholic Church. This is a beautiful, large stone building that's also gorgeous on the inside.
---
More stops from Denver to St. Louis:
The World's Largest Czech Egg in Wilson, KS- If you are looking for random roadside attractions in Kansas, here is a great one. A Czech Egg is a painted or decorated egg that is exchanged or gifted during holidays. The one in Wilson, KS is a 20-foot tall fiberglass egg. It's painted black, red, white, and yellow.
Wilson State Park in Sylvan Grove, KS about 15 minutes off route. Wilson State Park is actually only about 5 miles north of I-70, so this makes an easy stop in Kansas. It's also often noted as the most beautiful State Park in Kansas, so worth a stop!
Inside you'll find Wilson Reservoir with a beautiful shoreline, birds, animals, cliffs, rock formations, and more.
Take an easy walk around the 1 mile loop on the Cedar Trail.
Mushroom Rock State Park- Brookville, KS about 20 minutes off route. While it's one of the smallest state parks, Mushroom Rock State Park is one of Kansas' 8 wonders. The small park has some interesting rock formations, including one that looks like, well, a mushroom.
---
This next stop is 1 hour 20 minutes off route, so not necessary if you don't have the time. But if you do have the time when you drive from Denver to St. Louis, Wichita is a large(r) city with some fun things to do.
Wichita, Kansas – major city on the Denver to St. Louis road trip
Wichita is another larger city with plenty to do if you decide to stop on your Denver to St. Louis road trip. Here are a few options the whole family will love:
Sedgwick County Zoo- Ride the train around the zoo, have an animal encounter, feed the giraffes, take a boat ride, or just walk around and enjoy over 3,000 animals at the Sedgwick County Zoo.
Botanica Wichita- Visit the beautiful gardens of Wichita at Botanica. Make sure to stop at the Bee House, a fun hands-on exhibit for the kids to learn about bees. Then roam around the beautiful gardens. Depending on when you visit, make sure to check for special events like the Tulip Festival or symphony in the gardens.
Wichita Toy Train Museum– Bridges, Trains, tiny train towns…you can see it all at the Wichita Toy Train Museum. Kids will love this stop on your drive from Denver to St. Louis. Everything is their size!
There are plenty of train exhibits, including a train that goes by an amusement park with a carousel and ferris wheel.
Staying the night in Wichita? Check out these highly-rated hotels:
Homewood Suites– Enjoy free breakfast, an indoor pool, and free breakfast at this highly-rated hotel in Wichita that sleeps up to 7 in a room.
Drury Plaza in Downtown Wichita– Indoor Pool (and hot tub/spa), included breakfast, small snack shop, and huge room options.
---
And Back to the route on I-70:
Eisenhower Presidential Library and Museum in Abilene, KS. Visit the boyhood home of Eisenhower, a library of Eisenhower documents, and a meditation area. This peaceful, park-like area is a perfect stop for history lovers on the way from Denver to St. Louis.
Seelye Mansion in Abilene, KS- First built in 1905, this 11,000 square-foot and 25-room home was first bought by Doctor A.B. Seelye. This home is filled with antiques, from the Edison light fixutres and music machines to original china.
Russell Stover outlet store in Abilene, KS- For a tasty stop, pull over to visit the Russell Stover outlet store in Abilene. Watch as employees make caramel apples and enjoy some hand dipped ice cream. Then choose from a large counter display of candy and confections.
Geary State Park in Junction City, KS 10 minutes south off route- Visit this 99 acre lake and watch fowl migrate in spring and summer. If it has rained a bit before your visit, the waterfall (made by runoff from Geary State Fishing Lake) will be flowing and beautiful.
Milford Fish Hatchery and Nature Center– Junction City, KS. This is a fun little nature stop on your Denver to St. Louis road trip. Kids can see (and touch!) animal furs. Plus, they'll see live and taxidermy animal exhibits. Enjoy a stroll on the nature trails, run around on the playground, or even take a Fish hatchery tour.
Milford State Park – Milford, KS about 15 minutes north off route. Head to the state park located on the shores of Kansas' largest lake! Over 19,000 acres of wildlife area and refuge (another 1,000+ acres) make your chances high of seeing some sort of wildlife while visiting.
Enjoy watching for wildlife, or stroll one of the trails. Try the short .6 miles trail (roundtrip) through the natural area on the Waterfall Pond trail.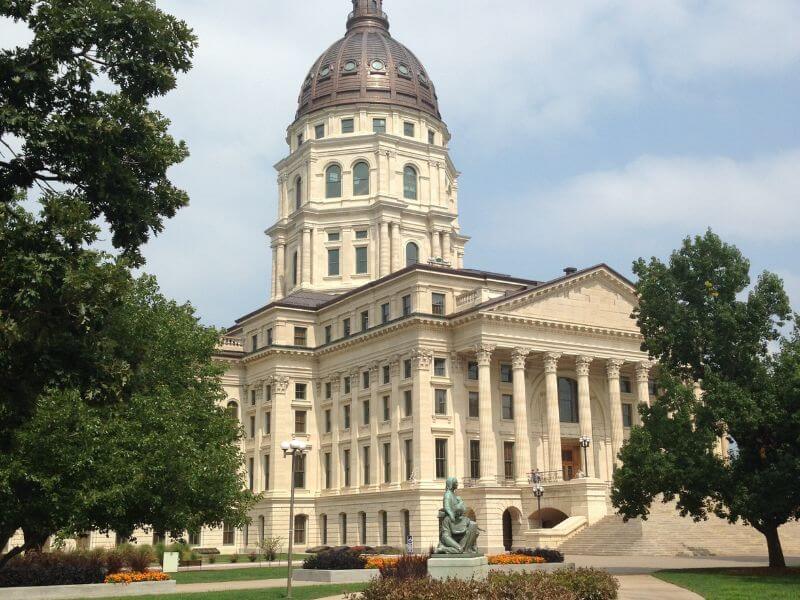 Topeka, Kansas- Major stop on Denver to St. Louis Road Trip
Evel Knieval Museum– If you're making your Denver to St. Louis Road trip with kids, this is a fun stop for the whole family.
See the biggest dare-devil's motorcycles, the Mack Truck or "Big Red", his leather/helmets, plus experience jumps yourself in the 4D theater. There is 13,000 square-feet of fun exhibits and dare-devil wear at the Evel Knieval Museum.
Kansas State Capital– Whether your kids like walking around cool buildings or are interested in government, touring the Kansas State Capital is a fun stop.
You can take a self-guided tour or you can book a tour of the Kansas State Capital. They offer both historic tours and dome tours. They are free and no reservations are required (unless you are a group bigger than 10 people).
You can also see the exhibits within the visitor center.
See more info on tour schedules at Kansas State Capital.
Kansas Children's Discovery Center– This children's museum is 15,000 square feet inside of hands on exhibits and a space for smaller kids and babies.
If you've been in the car a while, then you'll really appreciate the 4.5 acre of Nature Explore Outdoor Classroom. Here you'll get a pirate ship, playground, music garden, bikes, challenge course, and more. This makes the perfect stop from Denver to St. Louis.
Make sure to check out more info on the Kansas Children's Discovery Center.
Parks and Gardens– Topeka also has plenty of parks and gardens. Check out Gage Park, a beautiful city park where you can walk around and enjoy the rose garden, Japanese Garden, or let the kids ride the little train. Many attractions are located at Gage Park.
Where to Stay the night in Topeka:
Homewood Suites– Sleep up to 6 in a room and enjoy the indoor pool, included breakfast, fitness center, and spacious room options.
---
More Things to do on the drive from Denver to St. Louis
Clinton State Park – Lawrence, KS about 10-15 minutes off route. Visit Clinton State Park to walk around on the trails, try a game of disc golf, volleyball, or take a swim break at the beach area.
Overland Park
Overland Park Arboretum and Botanic Gardens- Stroll through 10 different gardens and 8 ecosystems. Enjoy trees, sculptures, ponds, and the new Monet garden. Admission is very reasonable at just a few dollars per person.
Deanna Rose Children's Farmstead– This is a great stop from Denver to St. Louis that kids will really love. This is open seasonally (April through October) and only a couple dollars for entrance, though activities inside each have their own cost.
Inside, you'll find animals, gardens, butterflies, playgrounds, a nature trail, a one-room schoolhouse, and pony rides and carriages. Take a tour, feed the goats, go fishing, or ride a pony!
Kansas City, Kansas
John the Baptist Catholic Church- huge beautiful building. This is a Croatian parish, so every pastor that ever worked here was Croatian speaking. Only open for mass and special events, but you can walk by the outside.
Quindaro and University Ruins
Quindaro was originally a town within the limits of Kansas City and was a stop on underground railroad. Escaped slaves hid with local farmers before continuing on to freedom in Nebraska.
In the 1860's, a local Presbyterian minister began Western University as a way to provide education to the children of escaped slaves and local black families. The Great Depression brought a closure to the university.
Today just a few ruins remain that you can walk through.
Rosedale WWI Memorial Arch
This arch is over 30 feet tall and honors the Rosedale residents who made the ultimate sacrifice in many wars over the years. The Arch sits in a small, round sitting area and provides a great view of the Kansas City skyline.
Where to Stay in Kansas City, Kansas
While Kansas City, Missouri has a lot to offer, only the Kansas side offers a Great Wolf Lodge. This hotel is super family-friendly and includes access to the huge waterpark inside (and out).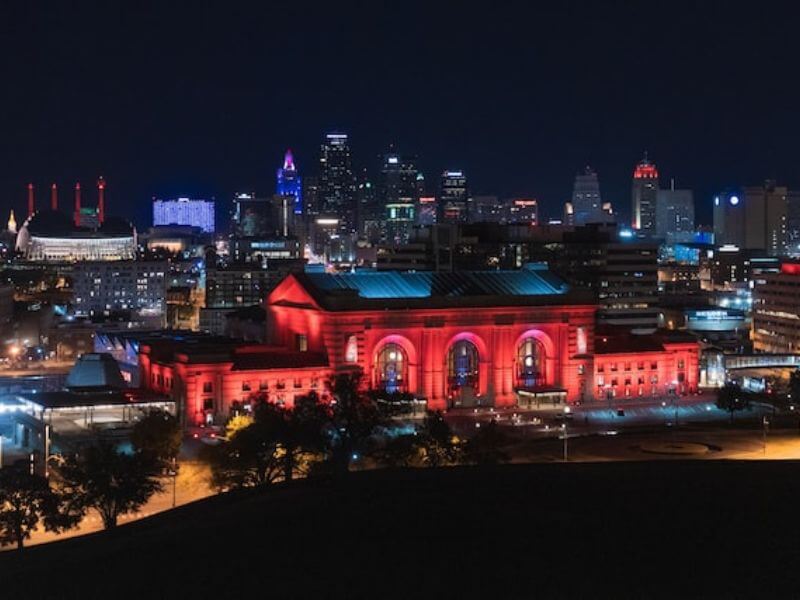 Kansas City, Missouri – major stop on a Denver to St. Louis Road Trip
Union Station– This is so much more than just a train station. Though over 100 years old, Union Station in Kansas City, MO has plenty of family-friendly activities. Kids will love visiting the planetarium or Science City where they will have hands-on learning through STEM exhibits.
Union Station also hosts touring exhibits, a large screen theater, and a model train museum. Plus, you'll have a few places to eat and shop.
If you only are planning one stop on the drive from Denver to St. Louis, this is a one-stop-fits-all kind of place.
National WWI Memorial and museum– Your history buff will love a visit to the National WWI Memorial and Museum. From exhibits about the trenches of war to the tanks and cannons used, this is a memorable experience and way to remember the sacrifices made.
Kauffman Stadium– Any baseball fan will love visiting one of the best ballparks in the country. Kauffman Stadium runs daily tours, giving you a chance to see parts of the ballpark no one else has seen before!
---
After Kansas City, check out these other stops from Denver to St. Louis
Bothwell Lodge State Historic Site- Sedalia, MO. This stop combines outdoors, nature, history, and mansions! Start with a tour through this 12,000 square foot lodge. Most of the furniture is original. Finish off by walking around the 3 miles of trails at the property.
Warm Springs Ranch– Boonville, MO. Visiting Warm Springs Ranch is quite the opportunity. Remember the Budweiser commercials with the beautiful Clydesdales? You can get up close with them at Warm Springs Ranch.
Take the basic walking tour which will bring you up close to the Clydesdales, wagons from over 100 years ago, and supplies. Or pay ($$$) for more intimate connections with the horses and even go for a ride with them.
Rock Bridge Memorial State Park – Columbia, MO. Another great place to stretch out and explore nature is Rock Bridge Memorial State Park. This awesome state park will take you to caves, sinkholes, springs, and more cool geological features.
Shorter hikes include Devil's Icebox Trail (.6 miles, easy), Springs Brook Trail (3.1 miles, easy), and Shooting Star (2.8 miles, easy).
Stephen's Lake Park– Columbia, MO. For a more manicured outdoor experience, stop by the city park in Columbia. Stephen's Lake Park has a seasonal splash pad, paved trails, a scenic lake, playgrounds, swim beach (seasonal), and picnic areas. If you drive through in winter, you can use the sled hill or even go ice skating in the right conditions.
National Churchill Museum – Fulton, MO. So much history here for the history buff. Churchill is a huge part of history for the world. In Fulton, you'll have a chance to see a church that was moved brick-by-brick from London. It was restored after being destroyed by Nazis.
You'll also, of course, get a great history and exhibits on Churchill. As an avid painter, you'll also see some of his original paintings. Plus, you'll see a section of the Berlin wall that was brought.
*Bonus* If you enjoy learning about Churchill, check out Lady Clementine. It's a behind the scenes look into his marriage and how his wife strongly influenced him. Highly Recommended (I just finished it recently).
Eco Adventure Zip Lines– New Florence, MO. For a more exhilarating nature experience, try ziplining through the forests of Missouri. The 1-1/2 hour tour is for older kids and adults, whereas the shorter tour can be done by kids as young as 3 years old.
Located just a couple minutes south of I-70. *Seasonal.*
Meramec Caverns– Stanton, Missouri, 1 hour south off route. At almost exactly an hour off-route, you can make the coolest stop on your drive from Denver to St. Louis at Meramec Caverns. Kids will love walking just over a mile through these caverns. Then, visit the candy store or pan for gold!
After visiting Meramec Caverns, you're only 1 hour away from St. Louis.
Denver to St. Louis Road Trip
Hopefully you've fully enjoyed all the stops on the drive from Denver to St. Louis. There are so many options to choose from to break up the drive. Visit State Parks, see weird rock formations or random roadside attractions, or get a good fill of history. There are so many fun things to do with kids on this fun Denver to St. Louis road trip.
---
Spending time in Missouri? Make sure to check out:
Awesome things to do in Branson for Families
Ha Ha Tonka State Park- easy hikes for kids
What to do in Lake of the Ozarks