Best Hikes with Kids in Palmer Park Colorado Springs
Palmer Park Colorado Springs is a beautiful natural area dedicated to hiking and biking. Its location seems a bit out of place, but once you're inside, you forget you're in the largest city in Colorado (by area, not population). The great part is that there are great things to do with kids at Palmer Park, with easy trails and fun activities.
Let's Jet, Kids! uses affiliate links.  As an Amazon (and other networks) Associate, I earn from qualifying purchases.  It is no extra cost to you.  
Here is a quick guide for getting to Palmer Park in Colorado Springs and what to do once you're there.
Table of Contents
Where is Palmer Park Colorado Springs
Palmer Park is located on the northwest side of Colorado Springs. It may come as a shock to drive up to it as it is not out in the wilderness. Rather, it is right in the heart of town, making it a great retreat from the city without having to travel far.
The entrance of Palmer Park begins at the crossroads of Maizeland Rd and Paseo Rd, or you can enter at Chelton Rd and Paseo Rd. From here, you can drive Paseo Rd to your desired trailhead.
Palmer Park is a beautiful area comprised of 730 acres for recreation. Altitude here reaches 6,610 at the highest point.
It's nice having a hiking area in the northern part of Colorado Springs. Some of the big areas, like Red Rock Canyon, are in the southern part and require more of a drive (depending on where you are coming from).
While Palmer Park may not have big rivers or waterfalls like North Cheyenne Cañon park does, it is still beautiful in its own way.
Palmer Park Hours
Palmer Park is open from 5am to 9pm year round. Yep, you can even visit Palmer Park in Colorado Springs in winter. This applies to the park/playground and trails within the park.
However, the restrooms are closed from October to May, so plan ahead!
Palmer Park is FREE to visit.
Palmer Park and Playground
As you enter Palmer Park in Colorado Springs from the Maizeland entrance, you'll notice there's a park/playground.
This is a great place for kids to play and run around. The park hosts many activities such as baseball fields, a soccer field, volleyball courts, and a fun playground.
As you continue driving on Paseo beyond the playground, you'll come to a dog park. This is a great place to let your dog run free, as the trails require your pup to be on a leash.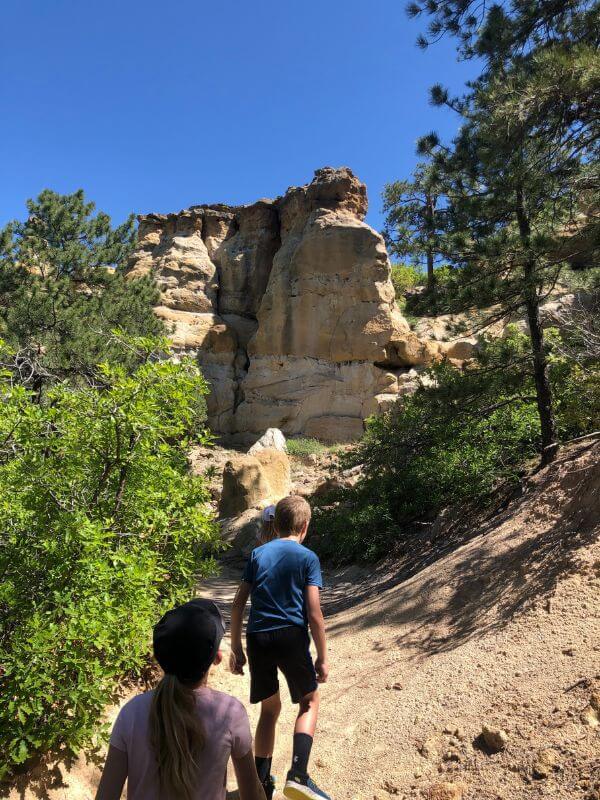 History of Palmer Park in Colorado Springs
Palmer Park was originally used long ago as the home to Native American tribes in the area. Many years later, the land was purchased by William Palmer.
William was the founder of the Denver and Rio Grande Railroad, which helped expand the area. Palmer bought the land with the intention of making it a public recreation use area, just as it still is today. By 1911, it was officially designated as a city park.
By the 1930s (during the Great Depression), the trails were constructed, as well as the roads and picnic areas.
Today it is enjoyed by plenty of outdoor enthusiasts who enjoy great hiking and great views.
Palmer Park, Colorado Springs MAP
These maps show trail options by difficulty. While I wouldn't label the "advanced" trails we went on as that hard, the map is a good reference to trails in comparison to each other.
Palmer Park Trails for Families
There are roughly 25 miles of trails throughout this seemingly small area. Most of them are easy, with some being moderate, making it a great place to go with kids.
Many of the trails also interconnect, creating a number of options to make your hike shorter or longer. Do an outer loop or an inner loop, or a combination of both.
Here are the trails we did, as well as a few others that makes for great hiking with kids in Palmer Park, Colorado Springs.
Sentinel Point- Can you see Garden of the Gods in the distance?
Grandview/Cheyenne Loop
We did a 3 mile loop that included the Grandview Trail and Cheyenne Loop (plus Sentinel Point).
As it makes a loop, there are many options for where to park throughout the park. You can park at Sentinel Point and begin from there, or at other areas along the Grandview Trail. We found a dirt parking area off of a dirt road near a pick up point.
We parked toward the upper/north part of Paseo Road off a dirt road. From here, we jumped on the Cheyenne Trail and went clockwise. This soon crossed the main road to continue on the trail, which was then Grandview Trail.
Grandview Trail
Grandview followed along the road and sometimes the road was obvious, sometimes it wasn't. Eventually the Grandview Trail will take you to the Grand View Point.
The Grandview Trail and Cheyenne Trail kinda cross paths a few times. Eventually, the Grandview Trail completely ends and the Cheyenne Trail begins.
The Grandview and Cheyenne Trail meet for the final time (when you should/can transfer to the Cheyenne Trail) toward the Grandview Lookout. You'll take a short detour up the trail and come to a paved sidewalk that takes you to the lookout.
This lookout brings a beautiful view of Colorado Springs and the background mountains.
The Grandview Lookout may be where you chose to park, and is a great option since it's easier to find. In fact, if you don't want to hike at all but want great views, you can park here, walk down the sidewalk to the view, and just walk back.
Cheyenne Trail
As you continue onto the Cheyenne Trail, you'll be graced with more lookouts, sandstone formations, and great trails. This trail turns into the West Cheyenne Trail, but is still part of the loop.
This loop isn't too hard for kids and has enough fun geological features, views (aka, places to pause and rest), and even some shade for a lot of the time. It's the perfect places to hike with kids in Palmer Park, Colorado Springs.
Lookout on Cheyenne Trail
Edna Mae Nature Trail
Another great trail for kids in Palmer Park is the Edna Mae Nature Trail. This is an easy loop (well, shaped more like a lasso, so you will repeat some of the trail on the way back) that's only 2.3 miles.
This trail incorporates some of North Cañon Trail and Templeton Trail.
To access this trail, head to the intersection of Chelton and Paseo for the entrance to the park. Just to the left of the stables (east) you will find a few parking options, as well as the start of the North Cañon Trail if you head left on the loop, or the Edna Mae Nature Trail if you head right on the loop.
You can, of course, make this hike shorter by simply doing the Edna Mae and Templeton loop and not taking the tail of the lasso onto the Templeton Trail.
Yucca/Templeton Trail
This trail is just short of 2 miles, making it a great hike for kids in Palmer Park. It's easy and still provides many of those fun sandstone features and views.
To access this trailhead, take Paseo road until you get to Lazy Land Rd. If you are coming from Chelton, Lazy Land will be on the left. If you come up Paseo from the playground/Maiseland entrance, Lazy Land road will be on the right.
Drive all the way to the end of Lazy Land and park there.
This trail provides both single track and nice wide trails. You'll also get views of the distant mountains topped in snow for much of the year.
During your route, you'll also spend a short time on the Mesa Trail.
To complete this loop, start at the trailhead off Lazy Land rd. Head counter-clockwise onto Yucca Trail and keep right when it intersects with Mesa to stay on Yucca.
Yucca will go up and loop all the way around. After the loop, you'll soon come to another intersection with Mesa, in which case you'll want to jump on this time (head left/back in). You'll come to the same intersection you did at the beginning with Mesa and Yucca making an X. Stay to the right to stay on Mesa. Soon after, you'll arrive back at the trailhead.
Templeton Trail
The route that we did (the first route explained) will take you around the lower section of Palmer Park.
Templeton Trail will make a big loop around the upper part of Palmer Park in Colorado Springs.
Templeton Trail is a moderately rated trail at 4.2 miles, making it great for those wanting a little longer of a hike in Palmer Park.
To access this trailhead, you'll park at the same place you would for the Edna Mae nature trail (at the north side of Paseo and Chelton).
Then hop on the Edna Mae Trail (to the right) and stay on that until you hit the Templeton Trail.
The Templeton Trail will loop all the way around until you get close to the end, in which case you want to get on the North Cañon Trail, which takes you back to the trailhead.
Make sure to watch for the signs at the many intersections. It's easy to miss a turn, but keep an eye for the signs/markers and you'll be fine.
Things to do at Palmer Park in Colorado Springs
Besides the obvious hiking, you can also ride horses at Palmer Park. You can bring your own or use one from the stables.
You can also do some mountain biking in the park, as many of the trails allow for bikes to share the path.
If you find you've spent enough time hiking in Palmer Park, but still have some time to enjoy, there are plenty of fun things to do in town that the kids will love.
Wildlife of Palmer Park
Palmer Park is home to many local animals. You man encounter deer, lizards, snakes, or foxes. Occasionally, a bear makes its way to roam about Palmer Park.
FAQ about Palmer Park, Colorado Springs
What is there to do in Palmer Park, Colorado Springs?
Palmer Park is a great place to go hiking without having to travel far. In addition to exploring 25 miles of trails, you can also ride horses, mountain bike, or enjoy the playground and dog park.
How Big is Palmer Park in Colorado Springs?
Palmer Park is 730 acres of recreational space that is open to the public. That includes 25 miles of hiking trails, a dog park and more inside this beautiful retreat.
Final Thoughts on Palmer Park in Colorado Springs
Finding some fun kid friendly hikes in Palmer Park, Colorado Springs was pretty fun. I thought when we drove there that we were going out to the forest, but it was kind of a fun, unique place. Driving through town and then all of a sudden being at this cool park was a surprise.
It's interesting, we forgot we were even around the city until we got to a lookout point. And then, seeing the city was a treat from above.
If you need some fun hiking trails for kids in Colorado Springs, this is a fun, easy, convenient spot to go.
Check out the perfect 3 Days in Colorado Springs itinerary
Heading to the mountains? Find your options from Colorado Springs to Breckenridge