The 3 Best Telluride Bakeries to Try
Telluride is home to a lot of great places to eat and it's fun to try different restaurants. It's especially fun to find the best Telluride bakeries and try the different freshly baked goods each offers. Whether you are looking for a snack, or looking for the best breakfast in Telluride, these bakeries don't disappoint! We loved being able to try a few different bakeries and loved what we found. So read on for the Best Telluride Bakeries so you know exactly where to get your next, fresh goods.
Let's Jet, Kids! uses affiliate links.  As an Amazon (and other networks) Associate, I earn from qualifying purchases.  It is no extra cost to you.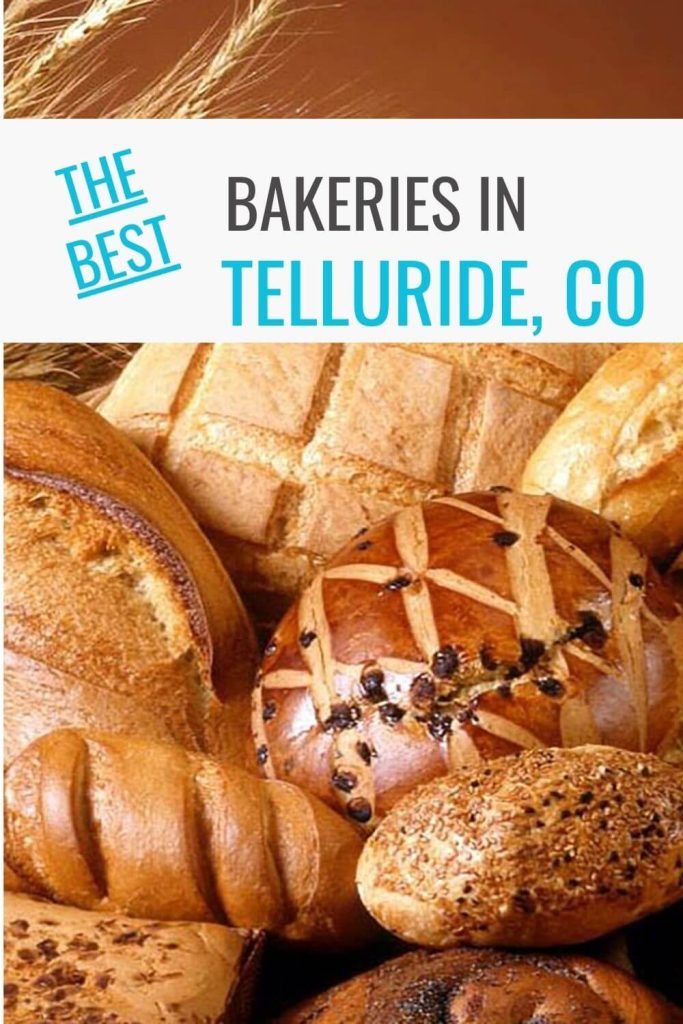 What is better than the smell of fresh bread?
Not much!
Get a great smell and even better taste at these great Telluride bakeries listed below.
We found these bakeries tasted heavenly after having an early morning at the Telluride Hot Air Balloon Festival. The welcoming aroma and comforting taste is exactly what we needed.
Baked in Telluride – THE Best Telluride Bakery
127 South Fir St
We were visiting Telluride for the hot air balloon festival. When we left town park, we got onto the shuttle and asked our driver for the best bakery in Telluride, and he immediately told us about "Baked in Telluride."
This bakery is a hot spot for locals and tourists alike. It's been a local favorite since 1977 for good reason.
The selections at Baked in Telluride are baked fresh daily, guaranteeing a beautiful, fresh, comforting taste.
The convenient location is downtown, just a block off the main road. You can stop in for any meal, as they serve breakfast, lunch, and an early dinner.
Meals include pizza, sandwiches, Mexican food, and pasta. But the real treat here is the pastries and baked goods.
When you enter, you can choose something from the huge grab and go. This includes, bagels, doughnuts, cookies, breads (plain and sweet breads), and even a few gluten-free goods.
In the morning, you can also grab a breakfast sandwich, breakfast burritos, or other quick grabs.
The popular Telluride bakery also serves up empanadas for lunch.
Really, whatever you're craving in the baked good arena, Baked in Telluride has it. And you're gonna love it.
The Butcher and the Baker
201 E Colorado Ave
The Butcher and the Baker is another of the great bakeries in Telluride. They serve up breakfast, lunch, and dinner everyday but Sunday, which is only brunch.
I consider The Butcher and the Baker a modern, boutique kind of restaurant. You'll be tempted by the avocado toast or vegetarian breakfast burritos and other dishes that use only organic, farm fresh eggs and local dairy products.
This bakery-cafe is committed to sustainability. They not only use local items, but they've actually purchased their own farm in order to do so. And whatever leftovers remain on your plate get taken to the farm where it is composted.
Breakfast goers will love biting into a croissant, whether a savory ham and cheese or a sweet chocolate one. You can also enjoy an omelette, breakfast sandwich, breakfast burrito or many other choices (including GF rolls).
The Butcher and the Baker is another of the popular Telluride bakeries. It's easy to understand when you see their homemade breads and pastries.
This bakery/breakfast place is usually pretty crowded. It's easy to drool over the food being served on tables as you wait in line.
The restaurant really works to get everyone in quickly and has both indoor and outdoor seating (even in winter, since they provide heaters).
Next time your in town, try this popular bakery in Telluride for breakfast and remember what it's like to truly enjoy a meal.
Cindybread Artisan Bakery
168 Society Drive
Cindybread isn't located in the downtown area, so if you want to try another of the best bakeries in Telluride, you'll have to take a short drive.
But if you're willing to leave the downtown area, you won't be disappointed.
Cindybread specializes in (take a guess…) bread! From traditional loaves to focaccia, they've got it. You can also enjoy other bakery treats like croissants, muffins, scones, and cookies.
If you want more than grab and go, Cindybread offers a delicious lunch menu. The sandwiches are highly rated any time of day. Try a breakfast sandwich with eggs, or a lunch sandwich with meats (or vegetarian).
They also offer soups and sandwiches. That way you can eat a light meal and stock up on treats for the ride home!
Thoughts on the Best Telluride Bakeries
Those are the top popular spots to get some great baked goods in Telluride. Of course, you can find baked goods at many restaurants you go to as well.
Some little shops also have a few baked good options, like little coffee shops. You can also find specialized (and incredibly gorgeous) cakes at Fig and Blossom Cakes (the cake artist was on the Kelly Clarkson show!) or Sage Brush Cakes.
But if you really just need a good place to find a wide selection of breads and pastries, check out one of the best Telluride bakeries listed above, and you won't be disappointed.