Fall is my favorite time of year. I love the crisp air, the smell of apple cider, the sight of pumpkins, and the warmth of a sweater on a crisp day. One thing I really love is getting to drive around and search for the fall colors. The changing leaves create a magical palatte that only comes around briefly, and you have to catch it before it's gone. Sometimes it can be hard to find the best fall colors in Arizona, Colorado, Idaho, Montana, Utah and Wyoming. Here is a guide where to find fall colors in each of these states!
Let's Jet, Kids! uses affiliate links.  As an Amazon (and other networks) Associate, I earn from qualifying purchases.  It is no extra cost to you.  
Where to Find the Best Fall Colors in Arizona
Coconino National Forest- Flagstaff
Drive Time to get there: 20 minutes from downtown Flagstaff
Image by David Mark from Pixabay
Coconino National Forest is filled with great hiking trails, but you can easily drive through and witness plenty of yellow and golden leaves. The best time to visit is in late September to October. Drive along the Snowbowl scenic route, which will take you to 9,5000 feet. The climb up takes you through thick trees, but is paved for an enjoyable drive.
Grand Canyon North Rim
Drive time to get there: Begin at Jacob Lake, AZ about 3-1/2 hours from Las Vegas or 3 hours from Flagstaff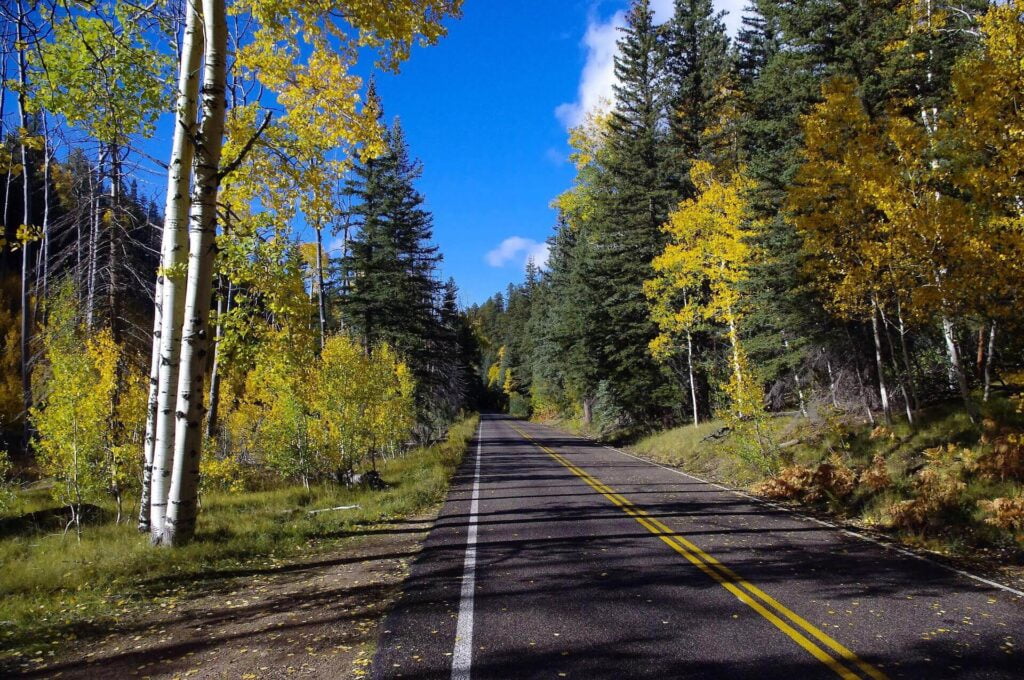 Image by Mike Goad from Pixabay
Drive along route 67 to experience bright yellow Aspens mixed amid the evergreen trees at Grand Canyon's North Rim. As if the Grand Canyon couldn't get any more beautiful. You'll drive through the Kaibab National Forest when you begin your drive from Jacob Lake to the North Rim entrance (or vice versa). The drive is about 42 miles one-way.
Where to Find the Best Fall Colors in Colorado
Million Dollar Highway
Drive Time to get there: Between 6 and 7 hours from Denver, depending on which end you start at.
The Million Dollar Highway stretches from Durango to Ouray and is filled with trees and colors in the fall. This is a popular scenic drive year-round. Take caution as you drive, as the scenery can take your attention and there are no guardrails. The whole drive will take about 2 hours (one way). It is open year-round, though is subject to weather closures. Make sure to check ahead, because in Colorado it could be summer or it could be winter in September.
Aspen / Snowmass
Drive Time to get there: 3-1/2 hours from Denver
Aspen is home (and second home) to many celebrities, and for good reason. This scenic mountain town is bursting with beauty, and in fall it only gets better. Aspen has great family hikes to do in fall, but our favorite place to drive is actually in Snowmass.
Enter the Snowmass area from highway 82. Turn up Owl Creek Rd and you'll experience colors of all sorts as you drive up the mountain. The mountain is mostly covered in (you guessed it!) Aspens, giving a strong yellow presence, but there are plenty of bursts of red and orange as well.
Check out more Great Places to see Changing Colors in Colorado!
Where to Find the Best Fall Colors in Idaho
Salmon River Scenic Byway
Drive Time to get to Stanley: 2 hours 45 minutes from Boise
Some of Idaho's best fall colors are seen along the Salmon River Scenic Byway. You can find this scenic drive in the Salmon-Challis National Forest, near the border of Montana. Allow a few hours to enjoy the drive starting north of Challis on U.S. 93, to Challis and to Stanley (and back, if needed) along Idaho 75.
Fun fact: The Salmon River Scenic Byway follows the same path of Lewis and Clark.
Ponderosa Pine Scenic Byway
Time to get there: a few minutes outside of Boise to begin on Highway 21
Take a drive through the Stanley Basin, located not far from Boise. Colors brush this forest in the fall, making this a great place to view fall colors near Boise. Head northeast on highway 21 toward Idaho City to begin your journey through the fall colors in Boise National Forest.
Check out more things to do in Idaho on this road trip itinerary!
Where to Find the Best Fall Colors in Montana
Bitterroot Valley
Drive Time to get there: Begin 1 hr and 18 minutes south of Missoula in a town called Darby
Photo by Emma Smith on Unsplash
To take this scenic route, hop on highway 93 and head south from Missoula. You'll pass through a few small towns and a wildlife refuge as you head toward the town of Darby, where this scenic drive really begins. Continue south on 93 for about 30 miles for this beautiful scenic drive in Montana.
Here, your drive will run along the Bitterroot River and through the Bitterroot National Forest. Trees turn golden in the fall, and you might see a variety of wildlife in the National Forest as you drive.
Check Out More things to do in Montana
Paradise Valley
Drive Time to get there: Begin in Livingston, about 30 minutes east of Bozeman
Beginning in Livingston, head south on highway 89. You'll enjoy driving between two mountain ranges, inside a beautiful valley filled with yellowed Cottonwood trees. The highway also follows along the Yellowstone River, making a beautiful scenic foreground to the mountain backdrop.
Where to Find the Best Fall Colors in Utah
Sardine Canyon
Drive Time: 1-1/2 Hours from Salt Lake City
Located north of Salt Lake City, Sardine Canyon was rated the top place to see fall colors by the Salt Lake Tribune in 2017. Its location right off I-15 makes it a convenient drive on a fall day. Sardine boasts vivid, beautiful colors and is praised by many visitors for the scenery in fall.
Big Cottonwood Canyon
Drive Time: 40 minutes from Salt Lake City
Photo by Alex Lamb on Unsplash
Popular for summer hiking, Big Cottonwood Canyon only gets better in the fall when the colors start changing. Filled with many colors, including those bright reds, you can take a scenic drive on 190 (Cottonwood Canyon Road). You'll enjoy over 10 miles until you reach the ski resorts, Brighton and Solitude.
Where to Find the Best Fall Colors in Wyoming
Grand Teton National Park
Image by David Mark from Pixabay
Drive Time to get there: Just outside of Jackson, Wyoming (about 10 minutes to initial sign/entrance)
Grand Teton is stunning year round, so driving through this national park in the fall is an extra bonus. The park is filled with Aspens, Cottonwoods, Hawthornes, and Willows, yielding an array of colors. And it's all set against a beautiful backdrop of the Teton Mountains, water, and open spaces. Try driving along Teton Park Road for a scenic drive of changing colors along the base of the Tetons.
Snowy Range Scenic Byway
Drive time to get there: Begin the drive outside of Centennial, which is about 30 minutes west of Laramie
Drive the family along highway 130, which will take you into the Medicine Bow-Routt National Forest. In addition to some great colors, you'll also drive along lakes, peaks, and wildlife. According to Visit Laramie, the best fall colors are at the east and west ends of the byway.
Find more fall drives near Laramie on Visit Laramie 's website.
Scenic Fall Color Drives in the Mountain States
I hope these recommendations have been helpful to find the perfect fall colors in Colorado, Utah, Idaho, Arizona, Montana, and Wyoming. Where is your favorite place to see fall colors?
Items to keep the kids happy while you drive to your destination:
Save this Post!