Each state has so much to offer. Sometimes we think of certain states as fun in certain seasons. But I'm here to show you fun your family can have year-round in Colorado. This post is all about fun things to do in Colorado every month of the year!
Let's Jet, Kids! uses affiliate links.  As an Amazon (and other networks) Associate, I earn from qualifying purchases.  It is no extra cost to you.  
Looking for a specific month? Click below on which month you're looking for.
What to do in Colorado in January
Colorado is often thought of for the Rocky Mountains and skiing. While January is a great time to go skiing, there are so many more things to do in Colorado in January!
International Snow Sculpture Championships– Breckenridge
Visit Breckenridge, Colorado for a fun, family-friendly adventure in snow sculpting. Sixteen teams from around the world come to downtown Breckenridge, where they are given an enormous block of snow. Each team then has about 5 days to carve their block into a piece of art, using only hand tools. The competition begins on a Monday morning and ends Friday. Try and get there Thursday to watch the final touches be made. See here for updated event details each year.
You May Also Like: Breckenridge Hikes in the Summer
Ice Castles in Dillon
As long as you're in Breckenridge for the snow sculptures, make sure to stop and feel like Queen Elsa with the famous Ice Castles in Dillon. Typically running from December thru March, you'll have a little more flexibility with timing. But make sure to get tickets, as they do sell out. Tickets on the weekdays, not during the holidays, are a little more affordable. Here is the website for purchasing tickets ahead of time. Tickets will go on sale before the event opens for the season.
Dress warm and wear boots, as it is quite chilly and you'll be walking through snow. Bonus: Go at night to see them all lit up in colorful lighting!
Winter X Games in Aspen, Colorado
The next awesome thing to do in Colorado in January: X Games. If you are looking for some awesome competition and showcasing of winter sports, take your family to Aspen for a long weekend of the X Games in Aspen, Colorado. With a festival feel (think: popular music groups, food, entertainment- all extra charge), your whole family can have a great time! And while sometimes Aspen isn't the most affordable place to visit, the X Games are free to the public to watch!
Check out the X Games event info HERE.
You May Like: Great Hikes in Aspen, Colorado
National Western Stock Show in Denver
The Stock show is a big deal in Denver. Many Coloradans use the beginning/opening day of the stock show as the appropriate time to turn off Christmas lights and continue on from the holidays.
The Stock Show lasts 16 days and features entertainment, heritage, and education. It hosts a popular rodeo and one of the country's largest horse shows. Its focus on agriculture aims to help educate people in horses, livestock, farming, and more. Around 700,000 people attend the stock show each year. The event begins with a parade that leaves the streets on Denver packed with spectators (canceled for 2021). Find out more HERE.
What to do in Colorado in February
Go Snow Tubing in Copper
Copper Mountain is a great place to ski. But did you know Copper is also a great place to take the family tubing? Head to the East Village and take your pick of 4 different lanes, varying in steepness and difficulty, to have fun all evening with the family!
At the base of the tubing hill you'll find Critterland, which has small hills and snow playgrounds for kids to go tubing on. Copper is really perfect for all ages to have a fun experience! Each tubing session is an hour, and begins on the hour. Get all the details HERE.
Steamboat Winter Carnival
Steamboat is a great mountain town, but farther away from the typical ski resort areas (about 1-1/2 hours off I-70. Read more about Steamboat HERE). In February, Steamboat hosts their winter carnival down Lincoln Avenue (the main street of the town). The main road is closed down and snow is brought onto the street to prepare for shovel racing, street slalom, donkey jump (kids getting major air and distance off a ski jump), a parade, and more all morning. Then at night, fireworks are lit, and skiers go down the mountain at Howlsen Hill lit with lighting or flares. This is such a fun event and brings a strong sense of community.
More details HERE
Celebrate Your Sweetheart in Loveland, Colorado
You and yours can get some cool Sweetheart Swag when you run the Sweetheart Classic in the city named appropriately for Valentine's Day! To run this 4 mile race in Loveland, Colorado (not to be confused with Loveland Ski Resort.) Loveland is north of Denver, a little more than halfway to Wyoming. Whether you race as a couple or individual, you'll have fun on this Valentine's tradition.
Ice Climbing Festival in Lake, City Colorado
Lake City, Colorado has its own ice park, set against a mountain wall that is covered in ice! While the ice park is accessible to the public for climbing and has easier courses to practice on, the big kahunas come in February to rise to the challenge! There are men's and women's challenges, and prizes in store for the winners. The festival is put on by non-profit organization Lake City Ice Climbs as a means to fundraise.
Celebrate the Chinese New Year While Supporting Education
If there's lots of room in the budget and you'd like to help support rural education around the world, head to the Grand Hyatt- Denver to celebrate the Chinese New Year. Celebrate with karaoke, Chinese market, acrobats, food…this is not to be missed! Tickets can run $150-$250 for reserved seating and require advanced purchase. (Purchase tickets HERE)
The party goes late! Book a night at the Hyatt HERE.
What to do in Colorado in March
Spring Skiing
March is the snowiest month in Colorado, followed by April. So if you want to get some great skiing in, March is a great time to visit! Catch fresh powder, and if you're lucky, you'll also get sunshine. Win-win! Coloradans always look forward to spring skiing.
For the best ski terrain, visit Vail or Beaver Creek, each about 2 hours from Denver. Vail is the largest ski resort in Colorado (and top 5 largest in the US) with 31 ski lifts and 195 runs. The snow is great, the terrain is great…it's a skiers dream. You can spend all day here and not cover half of it!
Beaver Creek is top notch as well. It's a large resort (150 runs and 23 lifts) and has an upscale feel to the village area. I loved Beaver Creek as a kid: I remember the variety of runs and ending a run on a spring day at the bottom with live music playing at the bottom of the Bachelor Gulch Express lift.
Other favorite ski resorts include Keystone, Copper, and A-Basin. Each are about 1-1/2 hours from Denver (without traffic!) While Breckenridge was never my favorite ski resort, that doesn't mean it isn't many other people's favorite! Breckenridge does have a GREAT town and variety of activities for the whole family (I do love Breckenridge in the summer!)
Since the resorts are a good distance from Denver, AND ski traffic on the weekends can (and usually do!) add HOURS to your commute, I would strongly advise staying the night up in the mountains.
Where To Stay If You're In The Mountains
Beaver Creek
If you've got the budget, check out the Ritz-Carlton, Bachelor Gulch at Beaver Creek. With the standard luxury the Ritz comes with, you'll also be able to rent skis on-site and have ski-in, ski-out so you don't have to haul your equipment through town!
If you need more space and bedrooms, check out Avon Village. These condos have the beautiful mountain feel and are just a short distance from Bachelor's Gulch in Beaver Creek.
Vail Accommodations
The convenient Grand Hyatt Vail has Ski-in, ski-out access to Vail resort as well as on-site ski rentals. Spend the day skiing and the night relaxing in one of two outdoor pools. Highly rated by past guests!
Go To Leadville For Ski Joring and Crystal Carnival In March
The winter carnival in this mountain town is loaded with fun! Chances are, you've never seen ski joring before. Basically ski joring is a rarer sport where a skier is pulled behind a horse and raced down Harrison Avenue. Trucks bring in snow to cover the road and create large jumps that the skiers go off as they are pulled.
But the fun doesn't stop at ski joring. You'll also have fun watching (or participating in) the winter mountain bike ride, paintball on skis (the paintball biathlon), the Backcountry Film Festival, downhill skiing, sledding, ice skating, and more!
Get more details HERE.
Where to Stay
While in Leadville, stay at the Delaware Hotel, right on Harrison Avenue in town where all the action is! This smaller hotel has both history and a custom style to it, and is within walking distance of many places of interest (such as museums, the opera house, railroad, and more!) if you want to experience more than just the carnival.
St. Patrick's Day Parade in Denver
If you're wanting to stay in the Denver area, be sure to attend the St. Patty's Day Parade, as Denver will have the biggest one in all of Colorado! With floats, performers, music, and more, the whole family will enjoy this fun and long-running tradition in Denver! The parade begins on Wynkoop and 19th.
(Tip: If you find yourself in Colorado Springs, they do a parade, too!)
Monte Vista Crane Festival
A bit to the south, you'll find the town Monte Vista (not terribly far from the Sand Dunes). If you're here in March, you'll have the pleasure of witnessing the sandhill crane migration. Head to the Monte Vista Wildlife Refuge, where thousands of cranes will also be heading and spend the month. After admiring the cranes, head to the Monte Vista Crane Festival, where both adults and kids will enjoy guest speakers, wildlife tours, crafts, and more to celebrate the migration! More details HERE.
(Note: The festival has been canceled for 2021)
What To Do In Colorado In April
Don't be fooled, April is still ski season in Colorado! You'll have plenty of resorts to choose from and a good chance of less hostile weather (though we make no promises!) So if skiing is on your "list," go for it in April! Skiing in Steamboat Springs in April is possible, just get there before closing day. Here are a few other things to do in April in Colorado.
Cardboard Classic in Steamboat Springs
Steamboat knows how to have fun, and they definitely know how to bring the community together. In April, they host a fun event where each team makes a sled…out of cardboard! You can use some basic craft supplies to jazz it up a little, or you can be one of many spectators to watch the fun! Don't miss this fun event in Gondola Square though, as it's unique and a family event to remember!
(Steamboat is a GREAT town to spend a few days in. You can ski, snowshoe, experience the fun downtown, and more! We highly recommend the Steamboat Grand Hotel and have stayed here many times!)
Hot Springs in Steamboat Springs
As long as you're visiting Steamboat in April, head to the Strawberry Park Hot Springs. April can be chilly, and what better way than to soak in a natural hot spring. Strawberry Park Hot Springs is about 7 miles from downtown Steamboat, and is cash only. They have stone-lined soaking pools, cabins, and even offer massage. Bring the kids in the daytime, as it is adults-only after dark.
If you want to stay in town with a more manicured experience with hot springs, head to Old Town Hot Springs right on Lincoln Avenue. These pools bring in water from Heart Spring, which temperature naturally comes out at 102-103 degrees. With a waterpark-like vibe, the kids (and adults!) can enjoy the water slides and various pools at Old Town.
Pondskim Closing Day Celebration in Steamboat Springs
It looks like Steamboat is a pretty fun in April with lots going on! The pondskim celebration is a friendly competition of skiers at Gondola Square. The skiers/riders each try to ride across a pond and are judged on how far they go, their creativity in assembling their outfit, and the crowd's reaction as they go across. Pondskim in Steamboat is a fun activity for kids and adults to be part of the community events in Steamboat!
Durango Bluegrass Meltdown
Heading to the southern part of Colorado, you'll find fun festivals as well. Durango hosts a Bluegrass Festival each April (scheduled for 2021 still so far, check HERE for updates). The music series runs for an entire weekend, with music a kickoff on Friday, morning 'till night music on Saturday (plus a band contest and barn dance!), and morning 'till early evening music Sunday. There's even a few bands playing gospel music Sunday morning!
The Durango Bluegrass Meltdown may sound fun to the adults, but the kids will also be excited to participate in kids workshops. For something that may be new, but highly enjoyable, make sure to stop at the Durango Bluegrass Meltdown.
Staying the weekend? Check out the affordable, but highly-rated Hampton Inn, with a pool the kids will enjoy and great views!
Or check out the Historic Strater Hotel, which is conveniently located in downtown Durango and features a few restaurant, hot tub, and ski storage should you decide to hit the nearby slopes!
Denver in April
During select months (including April), you can purchase tickets for a guided tour through the RiNo (River North) neighborhood of Denver. Learn all about how this neighborhood has been revitalized and witness some cool art murals, graffiti, and 3D art. You'll stop for a treat from a local business. You'll also go through and experience art from the CRUSH Walls Festival, which supports local artists.
Attractions in Denver that are Great in April
April is kind of a wild card in Denver. It could be in the 70's, it could be a snowstorm. More likely, it could be both within 24 hours. Here are a few picks that will work regardless of what Mother Nature has in mind!
Denver Museum of Nature and Science– this museum is pretty cool. Spend a few hours, or all day here with the kids as they (and you!) explore and learn. There are many hands-on exhibits. We recently went and saw an exhibit on mummies that was well done! There's an upper floor for kids to practice parkour/X Game style activities, a huge water table section for the littles, and sections to learn about Earth, health, space, and more! The space area has staff doing demonstrations explaining ideas like black holes, and there is always a featured film in the IMAX ($) that never disappoints! From LEGO exhibits to learning about how a dog thinks, the DMNS is always exciting!
THIS page will give you pricing and details. If you scroll all the way down, you can check out when the Free days are! It's a bit crowded on those days, but it could save a bunch of money, too! (IMAX not included in free days).
The Denver Aquarium is also a big hit with the kids. If you're lucky (or plan just right), you'll be able to catch a mermaid show, where highly trained mermaids have a choreographed performance in the Under the Sea Exhibit. If you don't catch the mermaids, there's still plenty to see. Enjoy the walk through the exhibits of the beach, desert, North America, Rainforest, and others. This aquarium houses fish, turtles, sharks, stingrays, and even tigers! For a real treat, stop and watch one of the featured 4-D films. And to top it off, you can eat at the sit-down Denver Aquarium Restaurant with an atmosphere all will enjoy. Find details on The Denver Aquarium's website.
Hotel Picks for Denver
Hilton Denver City Center is beautiful, highly rated, and has an indoor pool for the kids to play!
Hyatt Place Denver Downtown– pool, fitness facility, and within walking distance to many attractions such as 16th street, Union Station, Denver Art Museum, and the United States Mint!
What to do in Colorado in May
Though it's not a surprise to have a late snowstorm in May, it's typically pretty mild weather. (And if it does snow, it's back to beautiful by the next day!) May is a great time to visit Colorado if you want to start to experience the outdoors. Denver will have that near perfect weather, while the mountains may still be a bit chilly.
Hike Through Rocky Mountain National Park
For a fun outdoor adventure the whole family will enjoy, plan a trip to Rocky Mountain National Park. You can spend days there and still not cover everything there is to see! (Park info HERE)
At RMNP, you can enter through the west side or the east side. The west entrance is near Granby and Grand Lake area. While there is quite a bit to do on this side, I recommend starting on the east entrance in Estes Park.
At the east entrance, you'll find great hikes you can do with small children, such as Bear Lake, Lily Lake, and Sprague Lake. These are easy hikes (more of a stroll!) around lakes that have beautiful backdrops and scenery around them.
Check out more about hikes the whole family will enjoy at Rocky Mountain National Park in THIS post.
May is the perfect time to go if you want to see some great waterfalls in Rocky Mountain National Park. Chasm Falls and Horseshoe Falls are short and easy hikes that lead to a waterfall, and they should be nice and full due to the melted snow in May!
Great Hotels Near Rocky Mountain National Park
The Estes Park Resort is located right on Lake Estes. The view is incredible and there is a great trail right outside and around the lake for those evening strolls!
If you need a little more thrilling stay (and the kids are older), try out the famous Stanley Hotel. The movie "The Shining" had a hotel that was based on the Stanley Hotel, and Stephen King stayed in room 217 at The Stanley Hotel. The hotel is known to have paranormal occurrences.
Denver Botanic Gardens
After spending a day or two (or three or four!) in Rocky Mountain National Park, head back to Denver for spring blooms at the Denver Botanic Gardens. With both art exhibitions, tours, and a 3-acre children's garden to explore different ecosystems, the whole family can enjoy this educational experience. Check prices and calendar of free days HERE.
Garden of the Gods in Colorado Springs
Not only is Garden of the Gods beautiful, but there are so many ways to experience it. Years ago, my husband and I were able to see it on horseback. You can also take Jeep tours through, rent a bike or rent e-bikes, sign up for classes and activities, or watch presentations. Of course you can just hike your way around Garden of the Gods as well. Any way you choose, you won't regret it.
For a day trip to Garden of the Gods from Denver, check out this tour.
Olympic Training Center in Colorado Springs
Stick around in Colorado Springs and be sure to visit the Olympic Training Center. The complex hosts up to 500 athletes at a time. And by hosts, I mean houses, feeds, and trains. As a visitor, you can watch a presentation that brings the nostalgia of the Olympics, have the chance at meeting some competitors, and tour the training center. Your family will be able to see the hard work, dedication, and sacrifice it takes to compete as an olympian.
Visit The Air Force Academy in Colorado Springs
And one last stop in "The Springs" you must make is the Air Force Academy. It is located in the northern part of Colorado Springs and visitors can take some self-guided tours, as well as watching the Academy during their Lunch Formation (if you time if just right). Visit Arnold Hall with Academy and military exhibits, Honor Court has aircraft memorials, or hike Stanley Canyon trails during the daytime hours. (Cadet Chapel is great too, but currently closed for repairs.) Also be sure to take the kids to the museum and planetarium! Find more info HERE.
Hotel Recommendations in Colorado Springs
For a budget friendly option that is close to the Academy, try Motel 6 or the Hilton Garden Inn. Motel 6 is basic, but updated. Hilton Garden has a pool! Both are located in the Briargate area, which has plenty of shops and restaurants.
If you're looking for something a little LOT more exciting, consider staying at the Great Wolf Lodge (see why we LOVE Great Wolf Lodge HERE).
What to do in Colorado in June, July, August
Summer is a great time to be in Colorado. Snow has said goodbye for good (except in very rare cases). The mountains have beautiful temperatures and the waterfalls and lakes are full. Even if it is sweltering hot during the day, it always cools off at night.
As Colorado is one big outdoor playground, here are some recommendations for finding the best things to do in Colorado in summer. We'll break it down by a few cities, as each city has great things to do in the summer!
Denver Area and Beyond
Attend A Jazz Concert- Denver
Through the summer (June – August), take the family to City Park where you can all enjoy a FREE jazz concert every Sunday. Grab some take-out and lay out a blanket to enjoy some smooth music to end the weekend.
Chalk Art Festival – Denver
For two days in June, walk down Larimer Square in Denver to see artists create masterpieces from chalk! Filled with color, illusions, and 3-D art, this is something kids and adults will both enjoy! Check here for event details.
Cool Off At a Waterpark – Denver
Close to Denver are two different waterparks that the family will love.
Pirate's Cove is the smaller of the two, but also slightly more affordable. It features waterslides, beach area, pools (including a zero-entry), lazy river, and more.
Water World is much bigger and a bit more adventurous. One day probably won't even be enough time to visit all the attractions! Water World features rides for all ages. Young ones will enjoy a large, playground-like structure with a few slides and areas to play, or head to Wally World where it's shallow and has easy, fun and short slides for the young ones. Most ages will also enjoy the wave pool and lazy river. For the family members seeking a little more thrilling ride, there are plenty of waterslides where you can use a tube and go solo, tubes with four people, or tubeless slides that are more of a straight-shot down. You can also try your hand at surfing at The Wave attraction.
Renaissance Festival in Larkspur
Reserve tickets for the whole family to attend the Renaissance Festival in Larkspur, about 45 minutes south of Denver. This annual event is filled with fun for the whole family! You can watch knights on horseback fight to win the jousting competition, be entertained at the Washing Well Wenches show (dirty laundry, but clean, family fun), see a world-famous mime who will juggle and make you laugh, learn and listen to Celtic music, and so much more! Both kids and adults will enjoy a day at the Renaissance Festival!
Catch a Concert at Red Rocks Amphitheater (Morrison, CO) – MUST DO!
Red Rocks is about a half hour west of Denver. This is one of those great opportunities that you cannot pass up. The schedule is ever changing, but find a concert at Red Rocks that your family will enjoy and DO IT! Red Rocks is a natural amphitheater created from the rock that surrounds the seating. The sound bounces off and creates a perfect concert experience, all while under the stars!
Can't find a concert the family will all love? Check out the Film on the Rocks series that happens throughout the summer. You can even come for Yoga on the Rocks! Whatever your interests are, make sure to not only visit, but experience Red Rocks!
Visit Dinosaur Ridge- Morrison, CO
Dinosaur Ridge is located in Morrison, CO, less than a half-hour west of Denver. (Not far from Red Rocks). Founded in 1989, Dinosaur Ridge was created to help preserve dinosaur fossils that were found. This experience is both educational and super fun! You can walk your way around, or take a tour by bus ($) to experience everything! You'll be able to see over 300 dinosaur prints, some dinosaur bones, and other fossils as you explore. There are ongoing events, lectures, and tours (ie. Walk with a Geologist) that the whole family will enjoy.
Hike Roxborough State Park
About 50 minutes south of Denver, Roxborough State Park is made of over 3,000 acres and is surrounded by redstone formations. Roxborough has hikes for beginner, intermediate, or advanced hikers. It's a great place to take the kids to discover plant species and wildlife. Take your camera for some great, scenic photographs and to capture birdlife in the area as well.
See details for the park HERE.
Southern Colorado
Experience History at Mesa Verde National Park (Mesa Verde, CO)
Mesa Verde National Park is home to over 600 cliff dwellings, made by the Ancestral Pueblo people, who lived here for 700 years. The archeology is preserved by the National Parks System and the dwellings are some of the best preserved in the US.
Book a tour for the cliff dwellings and get the whole experience. Be sure to check out their website for updates and closings.
Surf and Sled at Great Sand Dunes National Park (Mosca, CO)
The Great Sand Dunes are located in the southern part of Colorado. The Great Sand Dunes are the tallest dunes on the continent. While they may be dry and arid, they are surrounded by lakes, tundra, aspens, and grasslands for a beautiful scenic backdrop. Take the family to the Great Sand Dunes and rent a sled or surfboard to play all day! If it gets too hot and dry (and it does!), head to Medano Creek beach to play and cool off. Whether you camp or grab a hotel, make sure to step out and experience the dunes at night where you can see a star-filled sky!
Need a place to stay? The closest town is Alamosa, CO, about 15 miles from the Great Sand Dunes. Check out the highly-ranked, but budget-friendly Fairfield Inn and Suites or Holiday Inn Express & Suites. Both have pools 🙂
Telluride Balloon Festival
Telluride is a great western town that was once a mining town. Visit in June to watch the Telluride Balloon Festival, where you can watch 2 different sunrise lifts of hot air balloons. The scene is magical and worth the drive.
And there's plenty to do in Telluride, so when the Balloon fest is over, there's plenty of hiking, biking, an outdoor fun to have!
Glenwood Springs
Take a Family Rafting Trip in Glenwood Springs
There are a few different places to go rafting in Colorado. But if you want the BEST scenery, head to Glenwood Springs to take the family river rafting. When you drive through Colorado on I-70, Glenwood Springs is the most beautiful part of the drive, and about 3 hours west of Denver. So stop and have an adventure!
Rafting feeling a little too extreme for the little ones? Consider just doing a half-day float down the Colorado River in Glenwood Springs.
Hanging Lake- Beautiful Hike in Glenwood Springs
If you want to do the rafting day trip, don't worry about having to drive so far just for rafting. There is PLENTY to do in Glenwood Springs.
One of the most beautiful hikes any Coloradan will tell you is Hanging Lake. This is both a journey and a destination, and the destination is worth it! I wouldn't recommend bringing small kids on this as it is NOT a beginner hike, but the older ones could handle it. The rules for visiting Hanging Lake have changed recently, so make sure to visit HERE to see what permits are needed or restrictions there are.
Glenwood Cavern Adventure Park- For Family-Friendly and Thrill Seeking Fun
While in Glenwood, you can also visit the Glenwood Cavern Adventure Park. This is the only mountain-top theme park in America. If that wasn't high enough, you can dare to get on the Giant Canyon Swing, which will pendulum you back and forth beyond the mountain's edge. Don't worry, there plenty of kiddie rides, a mountain coaster, caves, events, and family-friendly rides to enjoy if swinging high off of a mountain isn't your cup of tea.
Glenwood Springs Family Accommodations:
Best Western Antlers– This hotel has a pool, playground, and you can get adjoining rooms for the family. Though, you can also choose a room with up to 3 queen beds. That makes it both convenient, and a great deal! This hotel is walking distance to Glenwood Hot Springs and the Caverns Adventure Park,
In The Mountains
Go Pro Mountain Games
Every year in June, Vail hosts the Go Pro Mountain Games. They start the weekend a little early and feature adventure sport competition, art, music at nightly concerts, and even events for dogs! Your family will enjoy watching fishing, stand up paddle boarding, biking, climbing, kayaking, and more. This is a festival that is jam-packed with fun for everyone and you can score some swag! The event is FREE for spectators! See HERE for updated info.
Hiking in the Mountains
Anytime during the summer is a great time to go hiking in Colorado. Once you get up to the mountains, the temperatures aren't as intense as in the city. There are a lot of great family hikes throughout the mountain areas of Colorado.
Breckenridge with Kids
Breckenridge is a popular mountain town to visit and it is surrounded by hiking for all ages! You can go to the mountain itself (the ski area) and use the trails during the summer to hike. Or you can go to an old mining area where there have some hands-on interaction along the trail that the kids will love. You can also go a bit beyond Breckenridge and find some more challenging hikes if you have older kids. We did McCullough Gulch, which was slightly challenging for our young ones, but they still did great. And the waterfall at the top was a great pay-off for their hard work!
See more details about hikes in Breckenridge HERE.
Hiking in Aspen with Kids
Aspen is another great mountain town to visit. We did quite a bit of hiking in Aspen, Colorado with the kids. We saw old mining cabins, cascades, caves, and more. There is a lot to see in Aspen and so many family-friendly hikes. Check out the details HERE!
Hiking in Steamboat Springs
Off the beaten path a little bit (or at least farther from I-70) is Steamboat Springs, Colorado. This town has so much to do and explore. As far as hiking, you can take a leisurely stroll on the Yampa River Trail with all ages (and stroller-friendly). You can also take the family to Fish Creek Falls, which isn't too far out of town. Fish Creek Falls is a very short hike (maybe a quarter to a half-mile?) to a picture-perfect waterfall. The littles can easily do this, but even if you have to carry them, it's not far. Though it is a tad steep, so only bring a stroller if it's good off-road!
While you're in Steamboat, you can also hike at Spring Creek Trail. The trailhead is not far from downtown and parking is by donation. This hike is easy for little kids and takes you to two small, but scenic, ponds.
A little farther out of town is Fiddlehead Trail, which is up the mountain and about 15 minutes from town. There are plenty of trails up the mountain that are both family-friendly and more adventurous and challenging. See THIS POST for more details about hiking in Steamboat Springs.
Fourth of July Parade in Steamboat Springs
As long as you are in Steamboat for all the great hiking, make sure to attend the annual Fourth of July parade downtown. Held each year on Lincoln Avenue, the parade features floats, dance teams, sports teams, fire trucks, horses, and more! Many throw popsicles, candy, or other swag out to the crowd. This is a real treat to experience and a lot of fun! Our kids look forward to this as we've been many times.
At night, the whole family can attend the Pro Rodeo series down at the arena at Howlsen Hill. Kids will love watching (or perhaps participating!) in mutton busting. After the rodeo, Steamboat puts on an impressive fireworks show, which has made national headlines in the past. They really do Fourth of July right! (More on Fourth of July in Steamboat in THIS post).
What To Do in Colorado in September
See The Changing Fall Colors
Usually the last weekend in September is the best weekend to see the leaves changing. The closest place to Denver to see leaves change are at Guanella Pass (a little over an hour from Denver). This pass is bursting with colors from the aspen trees along the winding road.
Check out the top scenic drives in Fall in Colorado or
Where to Drive and Hike for the Best Fall Colors in Colorado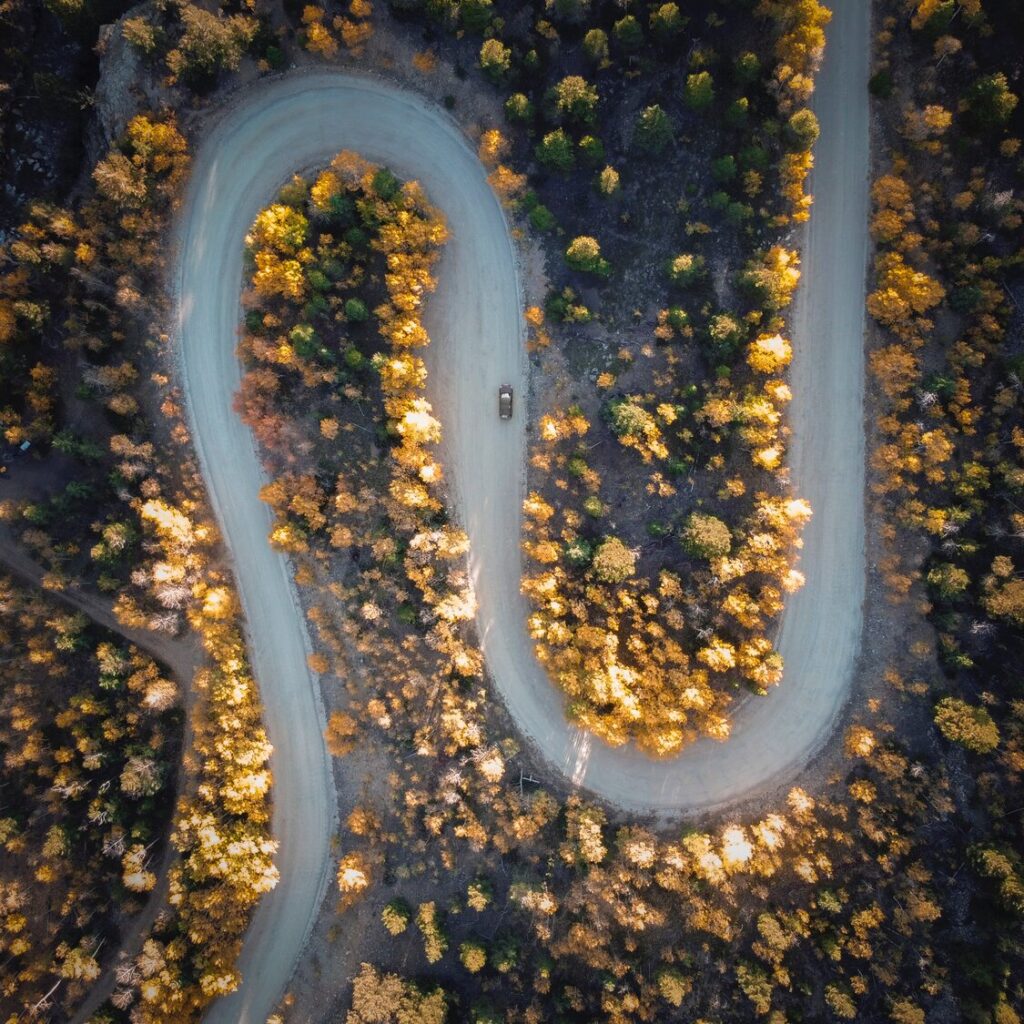 If you have time to get a little farther, head to Vail where you can see the vibrant colors right from I-70.
Or go beyond to Aspen, where the town is flooded with (you guessed it!) Aspen trees. Hiking in and around Aspen is really rewarding in the fall!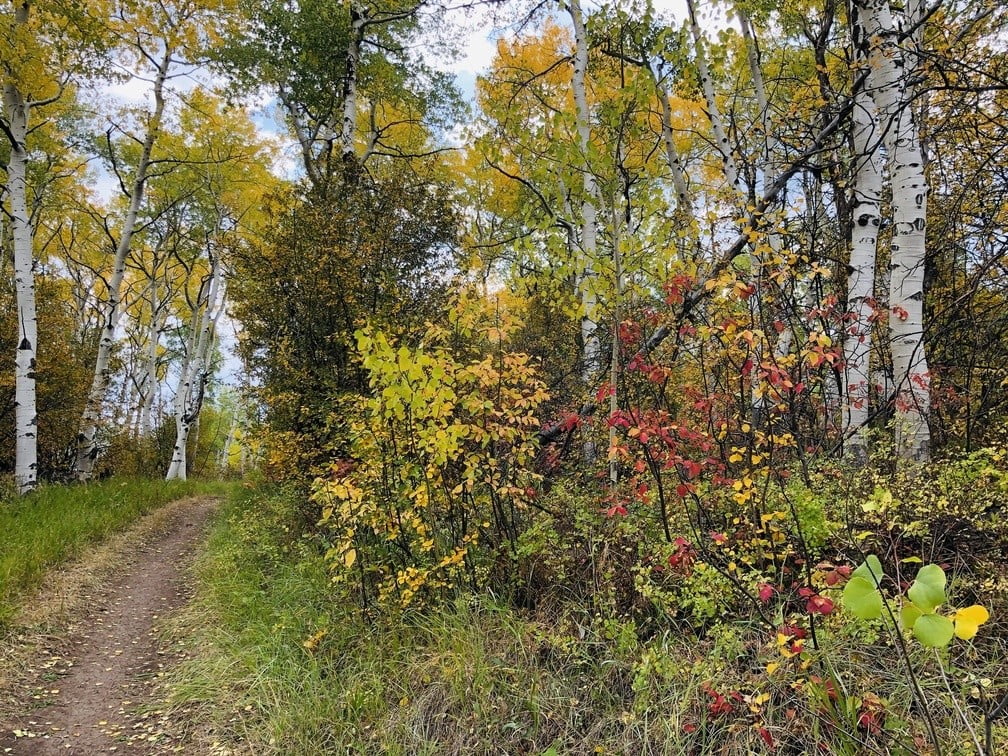 You could also head farther south and west to Telluride to see some great colors! Telluride is filled with hiking to enjoy welcoming fall.
Telluride Film Festival
After spending the day hiking and taking in the colors, check out the popular Telluride Film Festival. For almost 50 years, the Telluride Film Festival has run and now become on of the most popular film festivals in the country. You can usually spot a celebrity or two and a few film makers during the festival. Takes place Labor Day weekend; details here.
Bring the Family to Taste of Colorado in Denver
Located in Civic Center Park in downtown Denver, A Taste of Colorado is a longtime tradition that the locals look forward to each year. It's held over Labor Day weekend, and the festival itself is free to attend. The whole family will enjoy music, arts, games, and of course, food. You'll find vendors and booths for arts and crafts and over 50 booths for food. A Kidszone will feature magic, food, dance, and music catered to the young ones in your party!
Longs Peak Scottish-Irish Highlands Festival in Estes Park
Give the whole family the gift of cultural learning and fun at this fun festival in Estes Park. Learn about the heritage of Scotland and Ireland through Celtic music, dance, and jousting in Estes Park, the Celtic Capital of North America. You'll also enjoy concerts, a parade, and a Ninja Warrior course. More info HERE.
You May Also Like: A Day With The Kids In Rocky Mountain National Park
Head to Castle Rock for an Art Fest
Castle Rock is about 30 minutes south of Denver and is a booming suburb filled with family-friendly activities. In September (Labor Day Weekend), over 150 artists from around the country come to show and sell their fine art creations. The whole family can walk through this festival with live music and fun exhibits for the younger ones. Food and drinks are also available for purchase.
Epic Sky Trek – Castle Rock
After you enjoy the art festival, head over to the Phillip S Miller Park in Castle Rock and buy tickets to either zipline, wall climb, or try out the Epic Sky Trek. This multi-level obstacle course is the largest in Colorado. You'll be hooked into a harness and free to play around on the obstacles on this aerial park. The kids can participate as well, with the youngest ones allowed to use the first level. Check out this awesome Sky Trek attraction HERE.
What To Do In Colorado In October
Anderson Farms With The Family- Erie, CO
There are so many pumpkin patches to choose from in Colorado. The number one, hands-down awesome pumpkin patch that everyone chooses seems to be at Anderson Farms in Erie, CO. Located just about a half-hour north of Denver, Anderson Farms is the top-rated pumpkin patch for the whole family. The kids (and adults!) will enjoy the classic wagon ride, corn maze, and petting zoo. But there is so much more! Kids will have fun on the slides, the wooden train, climbing a mountain of huge tires, finding their way through the rainbow maze, riding the pedal karts, or shooting pumpkins from a cannon. At the end of the visit, relax by a fire pit (by reservation) and make some s'mores, or head to the patch to pick out the perfect pumpkin. There's plenty of fun for a day at Anderson Farms.
Visit the Elk Fest in Estes Park
This is a one-of-a-kind festival that will be memorable for the whole family. Estes Park is right at the base of Rocky Mountain National Park and wildlife is rampant. It's common to see herds of elk, moose, and even a bear right in town. So in October, Estes Park takes the weekend to celebrate elk. Browse vendors who bring arts and crafts, foods, and other elk-themed souvenirs. The kids can go to the children's area for elk-themed stories, dancing, and activities. The fest will be full of educational opportunities (learn about elk, raptors, and hear stories from Native Americans), and will feature live music…and a bugling contest! See schedule events and details here.
Attend the Coffin Races in Manitou Springs
Not far from Colorado Springs, the family can join a fun, if not strange, tradition in Manitou Springs. The Coffin Races began in '90s as a way to increase tourism. That it did! About 12,000 people attend the Coffin Races, and it usually has about 70 teams participate. Each team has up to 5 people: 1 "Emma" and 4 who dress up and carry Emma's coffin in the race. Teams are awarded prizes based on time, costumes, and coffins.
Manitou Springs has Halloween based activities throughout the month of October, including finding skeletons across town, a costume contest, and ghost tours. Get the family ready for Halloween with a visit to Manitou Springs in October!
Conquer the Incline in Manitou Springs
The Incline is a popular fitness achievement in Colorado. While it would be appropriate to bring older children who have a good level of fitness, I wouldn't recommend this for younger kids. The Incline makes an elevation gain of over 2,000 feet in less than a mile. It's basically a big staircase into the sky. You'll most likely need to take quite a few breaks on your way up, and that is totally normal! Right now (2020), reservations are required, and free. If you've got the fitness capability and like a good challenge, stop at The Incline in Manitou Springs!
Note: BRING WATER. Colorado is already at a high elevation, and you will quickly be gaining elevation even more. Do not get dehydrated!
Visit the Manitou Cliff Dwellings – Manitou Springs
The Mesa Verde Cliff Dwellings are pretty awesome. But if you're not heading that far south, then make sure to visit the Manitou Cliff Dwellings. Just outside of Colorado Springs, the kids will enjoy climbing through and exploring these cliff dwellings that were actually relocated from southwest Colorado in 1907. Explore the dwellings and learn about the Taos Pueblo Indians, and then visit the museum and gift shop with artifacts, pottery, and jewelry.
What To Do in Colorado in November
As the holidays approach, the list of activities grow! With many seasonal things to do in Colorado around the holidays, it's the perfect time for the family to visit!
Christkindl Market- Denver
What better way to feel the warmth of the holidays than to visit a traditional Christkindl Market. Beginning the Friday before Thanksgiving, the whole family will enjoy this free celebration for the holidays in Skyline Park in downtown Denver. Admission to the market is free, and you can enjoy music, dancing, and perusing both local and international vendor booths. The warmly decorated wooden huts add to the ambiance, as well as the European cuisine available. Start the holiday season with this beautifully done Christkindl Market, and make sure to stop and see St. Nikolaus. More details here.
Take the Family Snowshoeing in the Mountains
There are so many great places to go snowshoeing in Colorado. One great place that makes it easy is in Frisco, about an hour-and-a-half from Denver. Frisco has a nordic center that has groomed snowshoe trails. If you don't have the luggage capacity to pack your own snowshoes, you can rent them there. We took our kids snowshoeing at the Frisco Nordic Center this past year and they had such a great time (see this post).
If you are looking for your own, fresh, wilderness powder, you can head to:
North- Rocky Mountain National Park. Make sure to stop at the visitor's center for trail conditions, avalanche conditions, and of course, a trail map.
West- Steamboat Springs. On the way to Steamboat, you pass through Rabbit Ears Pass, which has many trails open to the public. One side of the pass is for snowshoeing and skiing, while the other is for snowmobiling. You can also go into Steamboat Springs and find many fresh trails to snowshoe. Howlsen ski area has trails for all levels of snowshoers! Check out this site for latest trail details and maps.
Check out these awesome snowshoes for kids! Our kids use Tubbs Snowshoes and they worked great!
Our Favorite Kids Snowshoe Brand
Adult picks
Snowmobiling with the Family in Steamboat Springs, CO
While you are up snowshoeing in Steamboat, book a snowmobile adventure with Steamboat Snowmobile Tours . We did this tour years ago and had a blast! This company offers a free shuttle pick-up from numerous stops in Steamboat including many hotels, and will transport you to the cabin in Rabbit Ears pass. At the cabin, you'll get your equipment and maybe a hot drink before you head out to Routt National Forest for your ride!
Tours start at Thanksgiving weekend; weather dependent. Children 16+ can drive their own snowmobile. Under 16 may ride with an adult.
Run the Denver Turkey Trot
Typically drawing 20,000 people to Wash Park, your family can get some pre-feast wiggles out by participating in the annual Turkey Trot in Denver. When you register, you'll get a cool turkey trot shirt, and you'll be helping United Way work for social justice, education, and other great causes. (Virtual Race 2020).
What To Do In Colorado In December
December is prime-time for Holiday festivities. You can see my full list of Christmas Events in Colorado here. Here's some of our favorite
Zoo Lights at the Denver Zoo
This event fills up quickly, so grab tickets ahead of time! This is a really fun experience for the whole family. With over 80 acres filled with over a million lights, this is a magical experience to walk through. You'll see decorated trees and plenty of animal light displays. You may even see some of the animals out and about at night. Details Here
Trail of Lights at Chatfield
Denver Botanic Gardens has a second campus to the west of Denver at Chatfield. Here, they really light up the gardens and trees with synchronized music in some parts, tunnels of lights, and antique tractors lit up. This is slightly more affordable than the Zoo lights, and we like it every bit as much! Enjoy the holiday lights at Trail of Lights! Purchase tickets HERE.
Gaylord Rockies Holiday – Denver (near Airport)
Gaylord is a mega-hotel located in a few states across the country, and now there is a Gaylord of the Rockies. Every year, Gaylord does a really cool Holiday exhibit of some sort. One year it was an exhibit of ICE where you could walk through and slide down structures made of ice. This year (2020) is the I Love Christmas Movies exhibit, featuring high quality scene creations from movies like How the Grinch Stole Christmas, Christmas Vacation, and more. It is quickly turning into a holiday tradition to visit Gaylord during the holidays.
Visit HERE to see what exhibit is showing this year. Tip: Gaylord is located near the Denver Airport. Stay the night at The Gaylord when you land at DIA or on your way back to the airport the night before!
Nutcracker at Denver Center for the Performing Arts
Downtown Denver, there are many holiday shows that are worth looking into. Our favorite has been The Nutcracker, performed by the Colorado Ballet. Every year, this shows at the DCPA complex and pretty much sells out every night, so make sure to grab tickets well in advanced.
Holiday Train Rides
Colorado has a couple Holiday trains that run during the holidays. There's one towards the mountains in Georgetown, where you can ride through a lit-up holiday town and meet Santa. The ride is about an hour and you can choose different seats/classes to sit in. Info Here
You can also head south to Royal Gorge for their annual Holiday Train rides. This ride will take you through the created-North Pole village, decorated with 50,000 lights, where Santa will climb aboard and greet the children. He even has a special gift for each. You can choose different classes of seats, night rides, a breakfast-with-Santa ride, and more. We did a Holiday Train ride at night and sat in the club car. Less people ride in this, and you are seated at a table which you can order dinner from a menu ($). During the ride, the elves entertained the kids with songs, dancing, and activities. The kids loved it! Tip: Have the kids dress in pajamas for the ride! Choose your ride HERE
Lights Around Denver
Take the family to downtown Denver for a magical, bright experience! Union station and city buildings are lit up during the holidays for everyone to enjoy! Start by bringing the family to see the Mile High Tree, a man-made, cone-shaped tree on 16th street. The tree is lit each night, but on Thursday, Friday, and Saturdays (and select Sundays), the tree is programmed to do a show with music that lasts about 5 minutes (but plays a few time an hour throughout the night).
Then move along toward the Capital Building where the lights are always impressive. 16th street will be lit, as well as Union Station, the D&F Clocktower, Larimer Square, and much more! Spend time walking around the heart of downtown to experience Denver at Christmas!
Lighting of Breckenridge and Race of the Santas
If your family is heading to the mountains for the holiday season, Breckenridge is a must. Discover the Lighting of Breckenridge during December. The town uses over a quarter-million Christmas lights to light up the charming streets at the beginning of December. Combine that with a light winter snow and you've got a movie-perfect picture!
After the town is lit up, you can also take the family along the Blue River Recreation path where local businesses and non-profits each have a tree to decorate in the Festival of Trees.
For a real treat, take the family to The Race of the Santas, where participants in this race down Main Street are dressed like Santa! Just keep tabs on your kids, as The Race of the Santas could quickly turn into a "Where's Waldo?".
Holiday updated info for Breckenridge HERE.
Family Sleigh Ride – Breckenridge
Another wonderful family activity to do in Breckenridge in December is to take the family on a sleigh ride. What screams magical Christmas more than that!? Nearby Breckenridge is Two Below Zero Sleigh Rides, central to many ski towns. This is a real treat to create those deep, family memories.
Choose from a 1-hour sleigh ride with hot cocoa, or select a private (up to 4 people) 45-minute ride. You can also add an option for dinner and a show. Details here.
Breckenridge Winter Accommodation Picks for Families:
Welk Resort– Condo style, where the whole family can be in the same unit with a kitchen, living space, and multiple bedrooms.
Village at Breckenridge Resort– another beautiful, condo-style hotel with a pool and hot tubs. This is a 2 minute walk from downtown Breckenridge and located right at the resort!
Need something more cozy? Check out the BEST cabins in Breckenridge for the family!
Colorado Every Month!
Those are some of the highlights that Colorado has to offer every month of the year! From January to December, I hope you've found some fun, inspiring, and unique things to do when you visit Colorado!