10 Fun Things to Do to do in Colorado in Winter with Kids
Colorado is filled with top-notch ski resorts. These get most of the attention come winter time. But if you're not a skier, should you still visit? There are plenty of great things to do in Colorado in winter with kids besides ski. Come visit this winter wonderland, even if you don't ski.
Let's Jet, Kids! uses affiliate links.  As an Amazon (and other networks) Associate, I earn from qualifying purchases.  It is no extra cost to you.  
Read on for great winter activities in Colorado!
---
Visiting during a specific month? Take a look at What to do in Colorado Month-by-Month!
---
Table of Contents
What's the Weather in Colorado in Winter
That's not an easy question to answer. If you go to Colorado in winter, it really depends where you are going. If you head to the mountains, it's pretty much guaranteed it will be chilly and you'll have plenty of snow. The cold days will be cold, but if the sun is shining, it's not terrible.
Down near Denver or lower elevations, it's actually quite nice through the winter. Winter storms may come through, and it may snow. But it's a good bet that within 48 hours, the sun will be shining again. Since Colorado is at such a high elevation, when the sun shines, the temperature is quite agreeable.
Come February, there has been a history of negative temperatures for a streak of time. Not every year though.
See? It's a difficult question to answer. Overall, when you are near the city/lower elevation, you'll most likely have relatively decent weather. If snow is what you're looking for, head to the mountains for a snowy trip.
It a good bet that you'll find good weather at some point during your trip to enjoy the winter activities in Colorado.
Flying into Denver Airport? Compare Car Rental Prices Here
What to do in Colorado in Winter
Skiing / boarding is a lot of fun. But sometimes it can be a hassle (and expensive) when the whole family is vacationing together! Don't worry, there's still plenty to do in Colorado in winter besides ski. Check out these perfect activities for families.
1. Check Out all the Holiday Events in Colorado
Colorado is not short on holiday festivities. From the Mile Hi tree in Denver, riding the Polar Express at Royal Gorge, to the Race of the Santas in Breckenridge, be sure to check out all the great, family friendly holiday events. For more details, see my Christmas Events in Colorado post.
2. Walk Through the Ice Castles in Dillon Cripple Creek
339 Irene Ave, Cripple Creek
The famous Ice Castles are a bucket-list item, and they only come to a few states. Colorado is one of them! They have a new location for the coming 2024 year… Cripple Creek.
Cripple Creek is about an hour from Colorado Springs. It's worth the drive though, as you can walk through castles and caverns, crawl through tunnels, appreciate the ice sculptures, and slide down the ice slides!
They usually appear in January, so it makes the perfect winter activity on your visit to Colorado. Grab your tickets early, as it does sell out!
Check out more awesome things to do in Colorado Springs in the winter.
3. Join the Energy of the Snow Sculpture Championships
Riverwalk Center- 150 West Adams Ave, Breckenridge
Each year, the International Snow Sculpture Championships come to Breckenridge, CO. Teams from all over the world have 5 days to work on a 20+ ton brick of snow and create something marvelous. The sculptors come in January, and the sculptures stay for a week after they are finished.
Find the perfect place to stay in Breckenridge!
Did you Know: Cripple Creek also hosts an Ice Festival?
4. Take A Sleigh Ride with the Family in Colorado
6061 Tiger Rd, Breckenridge
In the mountains of Colorado is a company that offers legit sleigh rides through White River Forest. Choose from a sleigh ride with hot cocoa, or go for the full experience of a sleigh ride and end the night with a dinner and theater experience after.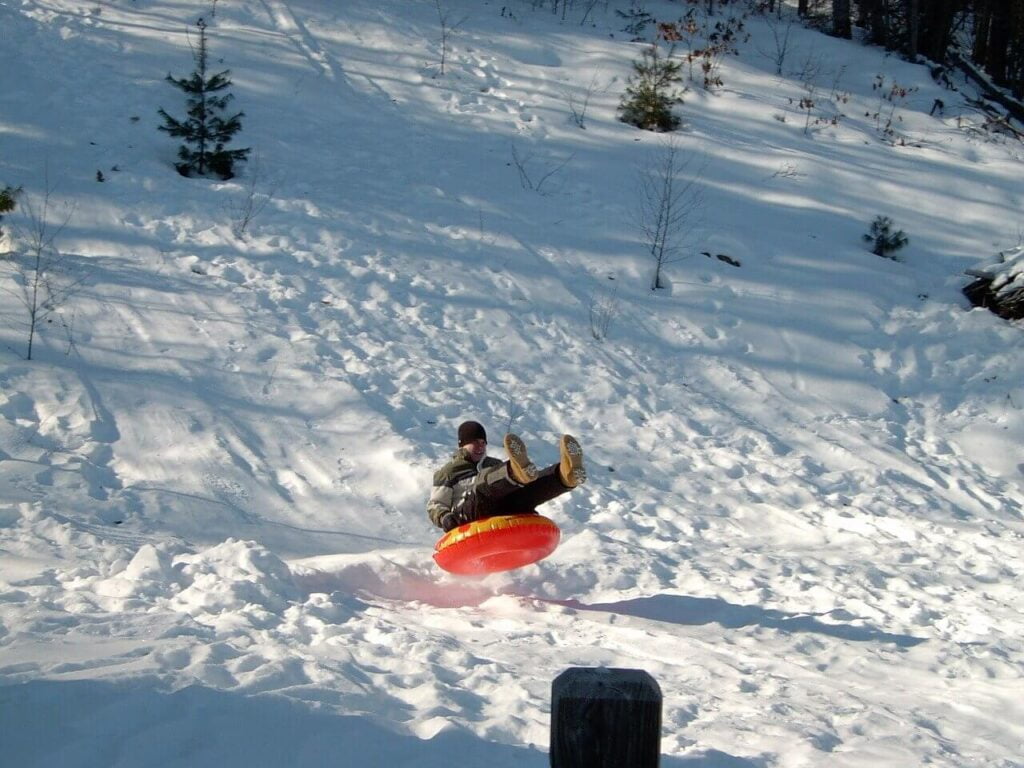 5. Find the Perfect Tubing Hill in Colorado in Winter
Copper Mountain Tubing Hill
East Village at Copper Mountain, Frisco
Colorado has plenty of sledding hills to choose from. One of the best and popular sledding hills is at Copper Mountain. This tubing hill has 4 lanes, bumps, and turns. If you need a sledding hill for kids in Colorado, you have access to Critterland. Critterland is made for kids under 36″. It's a cute play area with a mini tubing hill. Tubing sessions last an hour, and plan to be there extra early!
Frisco Adventure Park
621 Recreation Way, Frisco
There are a few different lanes to choose from at the Frisco Adventure park. Choose a lane that's a bit mellow, or one that's a little steeper. And no lugging your tube up; just hop on the lift to get back to the top. Each session is an hour. Reserve your spot in advance.
Colorado Adventure Park
566 County Road #721, Fraser
Rent a single or double tube by the hour at Colorado Adventure Park in Fraser. This tubing hill also has a variety of terrain to go down. Children under 18 must wear a helmet. Kids 3-5 must ride with an adult (double tube).
YeeHaw Hill Tubing
37350 RCR 179, Steamboat Springs
Sit and relax in your tube as you are towed up to the top of Yee Haw Hill. There are three routes you can take, each a different level. Black (steeper), Blue (moderate), and Green (easier) ratings will help you choose. Yee Haw hill is located 15 miles west of Steamboat Springs. Transportation is included with a 2-hour reservation, and you will be picked up off Mount Werner Circle at the gondola parking. If you need to warm up, head into the new lodge at the bottom to grab something to eat. Kids under 4 are FREE (but must ride with an adult).
Find the Perfect Place to Stay in Steamboat for families
Is there commercialized snow tubing in Colorado Springs? Not really, but there is some great sledding and places you can haul your own tube nearby!
6. Snowshoe through Beautiful Scenery – Colorado in Winter
Our family loves to go find some fresh snow, strap on the snowshoes, and make a day (or morning) of it. There are plenty of places to snowshoe in Colorado.
Snowshoeing in Rocky Mountain National Park
Did you know you can snowshoe in Rocky Mountain National Park? For an easy snowshoe trail with kids, head to Bear Lake, and easy loop less that a mile around a gorgeous, scenic lake. There are plenty of kid-friendly trails in Rocky Mountain National Park and the shorter ones would make for great snowshoeing with the kids.
State Parks in Colorado for Snowshoeing
Many of the state parks have great, flat trails perfect for brining kids snowshoeing. Try the School Pond Trail at Mueller State Park for 1.5 miles of snowshoeing on an easy trail.
For a perfect, scenic snowshoe hike, head to Roxborough State Park for the Fountain Valley Loop. It's just over two miles for the whole trail. If that's too long, just head to the left at the fork to walk in front of the beautiful formations and turn around when you'd like.
Head to Golden Gate Canyon State Park for a trails. Consider the short Dude's Fishing Hole route, just about a mile round trip.
Snowshoe in National Forest Land
One of our favorite places to snowshoe is up near Steamboat Springs. On the way to Steamboat (from Denver), you'll pass through Rabbit Ears Pass shortly before you get to Steamboat. Here, you'll find plenty of pull-out spots. You can get out and snowshoe on the West side of Rabbit ears pass. There is fresh snow, though since it's a popular spot, the trails are usually paved from the person before.
>>Here are the snowshoes my kids use and they are perfect! (make sure to check the size recommendation)<<
---
Can kids really snowshoe? YES! And it's fun! My tips for taking kids snowshoeing:
Keep those hands and feet warm- Wear proper snow boots and thick, warm socks, and good gloves/mittens. My kids have gotten wet, cold toes before and it abruptly ended our adventure.
Dress in layers– That said, toes can be cold and the body can be warm in the Colorado sun. Dress where you can easily remove and add on layers when necessary.
Bring snacks– snowshoeing is more effort that hiking, so make sure to be able to refuel when needed.
Bring water– it's important to keep warm, but sometimes it ends up getting hot in the Colorado sun. Bring plenty of water to stay hydrated.
Keep it short- again, snowshoeing is different than hiking. Stick to short trails. They'll take longer than you think.
Packed Trails– while fresh powder is really fun and ideal, kids just starting may have an easier time on a packed-snow trail.
Wear sunscreen– I'll say these two words again: Colorado Sun. Yes, you can get a sunburn in winter in Colorado.
---
7. Rent A Yurt to Stay in– Colorado in Winter
Staying in a Yurt in Colorado would be quite the memorable experience and one of the unique things to do in Colorado in winter. There are yurts all around the state. If you're hoping to stay in a state park, book as early as possible as there are only a few available at various parks.
You can also find yurts at Tennessee Pass in Leadville that are gorgeous for that winter getaway in Colorado. Enjoy a log bed with linens and down comforters to keep warm. They have woodstoves to keep warm, plus a kitchenette for convenience. Plus, they sleep up to 6 people so all the kids can fit in one space with you!
8. Stay Warm at the Hot Springs during Winter in Colorado
There's something magical about being outside in the snow, and yet feeling nice and warm sitting in a hot spring. Colorado has a few hot springs to choose from.
If you're in Steamboat Springs, check out Strawberry Hot Springs. It's family-friendly during the day, but leave the kids back once it's dark.
The closest hot springs to Denver are in Idaho Springs, off I-70. Indian Hot Springs has geothermal caves for men and women, but they also have family-friendly pool. It's an indoor-outdoor experience, topped with a see-thru dome, but surrounded by plants to make it feel tropical.
Pagosa Springs is another great destination. Stay and play at the Springs Resort and Spa, where you can enjoy 25 different hot spring pools, each at different temperatures.
Glenwood Springs is located about an hour west of the popular mountain resorts. Here, visit the Glenwood Hot Springs Resort, home to the largest hot spring pool in the world! Kids will love playing here or hopping on a tube through the lazy river.
9. Enjoy a Winter Carnival in Colorado
Just because it's winter, doesn't mean that every huddles inside. Check out some of these towns that offer outdoor entertainment in winter.
Steamboat Springs– One weekend in February, Steamboat Springs will cover Lincoln Avenue in snow and invite the town down for the winter carnival. Young kids participate, as well as experienced athletes. At night, skiers come down Howelson Hill with their bodies illuminated. We've been to this many times and the kids love watching the events down the street!
Keystone Resort- At River Run Village at the end of November, head to Keystone for their winter carnival. You'll be greeted with jugglers, stilt walkers, and other fun acts as Keystone gets ready for the holidays. The carnival includes a tree lighting, hot chocolate, sugar cookies, and Santa.
Visiting around the Holidays? Check out some of the Best Christmas Events in Colorado!
10. Hit the Cross Country Trails
I don't consider this a ski activity since it doesn't entail the cost of riding up a lift and skiing down a mountain. Cross Country skiing seems different, even though you're still gearing-up much the same.
I've saved it for last just in case you think I've cheated the "non-ski" activities though.
While it may be fun to hit the backcountry, it's easy and fun to check out nordic centers around Colorado to go cross country skiing with the kids.
Book a session of cross country skiing at the Breckenridge Nordic Center. Kids are welcome to join, and it's one of the great ways to experience Cross Country Skiing in Breck!
Just down the road from Breckenridge is the Frisco Nordic Center. This is a great place that's well-kept for family-friendly snowy adventures. Take to the easy, groomed trails in the area for a fun family winter outing.
Crested Butte also has trails great for the family. Kapushion Alley offers free access to a groomed area and is also rated easy.
If you're closer to the Aspen area, you'll have cross country choices galore. Take the kids cross country skiing on over 60 miles of trails between Aspen and Snowmass. Head to the Aspen Cross Country Center for easy options to boot up and enjoy plenty of trails with the kids.
Winter in Colorado- with Kids!
Just because you don't ski doesn't mean you can't have a great winter trip to Colorado with the family. There is plenty of things to do in winter in Colorado besides ski. Whether you head out for a snowshoe morning, catch a carnival, or relax in some hot springs, there is plenty for the whole family in Colorado.