San Antonio is a beautiful, fun-filled city. There are plenty of things to do with kids in San Antonio, making it a great vacation for families in the US. In fact, it made my list of affordable vacations for families!
Let's Jet, Kids! uses affiliate links.  As an Amazon (and other networks) Associate, I earn from qualifying purchases.  It is no extra cost to you.  
Take a look at the long list of things to do in San Antonio for families, and pick a few (or a lot) to plan your trip to San Antonio.
Where is San Antonio?
San Antonio is located in the bottom half of Texas, and about 200 miles to the west of Houston. It's a charming town with a cool vibe. San Antonio has a lot of Spanish influence, from the architecture to the landmarks and history that helped create it.
What is the Closest Airport to San Antonio
The San Antonio International Airport (code SAT) is the best and fastest way to get to San Antonio. Don't forget to reserve a car!
First- Save some $$$
GoCity Pass
San Antonio can be kept in a budget with lower cost things to do, or if you've got the budget, you can go all-out for a fun-filled adventure. There are so many activities in San Antonio to choose from.
To help with the cost, consider purchasing the GoCity Pass, which has discounted rates built into it. You'll be able to choose a pass that includes 2-5 attractions (depending on which level you choose). Some attractions include Six Flags, Sea World, Legoland Discovery Center, caverns, the zoo…and so many more options. The savings will add up quickly!
Ok, now here are alllllll the fun things to do in San Antonio with kids!
Major Family Attractions in San Antonio
Photo by Mick Haupt on Unsplash
1. Sea World – San Antonio with kids
10500 SeaWorld Drive, San Antonio
Explore 250 acres of marine life at Sea World San Antonio. You'll be able to see Beluga whales, orca whales, sea lions, dolphins, turtles, and more. Plus, there are plenty of rides for both big and small. You'll get wet on a few rides, which will be a welcome experience if you're visiting during the summer.
2. Six Flags Fiesta Texas
17000 W I-10, San Antonio
Is it just me, or have rides gotten bigger and faster since I was a kid? Coming Summer 2022, Six Flags Fiesta Texas will have the steepest dive roller coaster in the world. Fast or slow, there are both options so that all ages will enjoy this fun attraction in San Antonio. Kids rides, thrill rides, water rides, and shows. There's something for everyone.
3. Legoland Discovery Center – Fun Things to do for Kids in San Antonio
849 E Commerce St # 910, San Antonio
Legoland Discovery Center is another of the top kid-friendly attractions in San Antonio. Spend some time in Miniland, then head to rescue the princess at Kingdom Quest. Pedal away on Merlin's apprentice, or go to the 4D cinema for an action packed adventure. Legoland Discovery Center is made especially for kids from toddler to 10, so it's the perfect kid-friendly thing to do in San Antonio!
Tip: Get your tickets ahead of time, as they do sell out!
Photo by Rafael Hoyos Weht on Unsplash
4. San Antonio Zoo – fun attraction for kids in San Antonio
3903 N St Mary's St, San Antonio
Go behind the scenes with hippos, giant tortoises, or feed some giraffes. The San Antonio Zoo is a really fun thing to do in San Antonio for kids, as the zoo has so many experiences in addition to just walking around and looking at the animals. If you do just walk around, that's ok, too.
Kids will love seeing animals of the rainforest, birds from all over the world, animals from Australia, and animals from the savannah.
Eating and Shopping in San Antonio with Kids
5. Riverwalk San Antonio
849 E Commerce St, San Antonio
No trip to San Antonio is complete with out going to the Riverwalk. You can simply stroll around the area, but I recommend getting on the water. Plenty of boats will float down the river. If you need a nice way to see San Antonio, I recommend the hop-on hop-off tour that includes a 35 minute boat ride.
Walking around is fun, too. You'll find shops, restaurants, and attractions like Legoland Discovery Center.
---
Need a place to stay? Check out these Great Hotels for Families in San Antonio!
---
6. The Pearl District- great place for families in San Antonio
The Pearl District is an extension of the Riverwalk, and is well worth a visit. It's filled with shopping, restaurants and frequent farmer's markets for the adults. Find the local coffee shop and watch the kids play at playgrounds and splash pad.
Things to do in San Antonio with Kids– History and educational
7. The Alamo with Kids in San Antonio
300 Alamo Plaza, San Antonio
The Alamo is another thing to do in San Antonio that you basically have to do.
Both kids and adults will love the live demonstrations and guided tours of the Alamo, walking the Long Barrack, and seeing the largest cannon of the Alamo on display. This historic church is free to visit, but you must make a reservation.
8. DoSeum
2800 Broadway, San Antonio
The DoSeum is a popular children's museum and a great place for the kids to have a little fun in San Antonio. It's full of interactive exhibits that feature STEM, arts, and literacy. But they might not realize how much they're learning when they're having this much fun.
Exhibits are innovative and fun. They'll get to say hello to kids at a museum in Mexico City. They can play in the outdoor museum-park area. They'll definitely love playing with sound and light, or learning about force and motion. Grab tickets at the door or ahead of time.
9. Go on a Safari
26515 Natural Bridge Caverns Rd, San Antonio
It might be Texas, but you still can take an African Safari! This is the perfect thing for kids to do in San Antonio.
>>If you are able to go to the Natural Bridge Caverns, this is right across the street.<<
Over 500 animals roam the 450 acres at Wildlife Ranch. Drive slowly and enjoy spotting animals from your car. You might not even need to look that hard if any animals' curiosity brings them right to you! Have your chance at lemurs, wildebeasts, ostrich, bison, wallabys and more. Plus, when you're done driving, you can park and walk around to visit giraffes up close.
Photo by Tim Sorbera on Unsplash
10. Japanese Tea Garden
3853 N St Mary's St, San Antonio
Why not take a lovely stroll through an impeccable garden. Find the waterfall, pond, pavilion, and all sorts of plants on your journey. It's one of the FREE things to do in San Antonio with kids, which is a great bonus!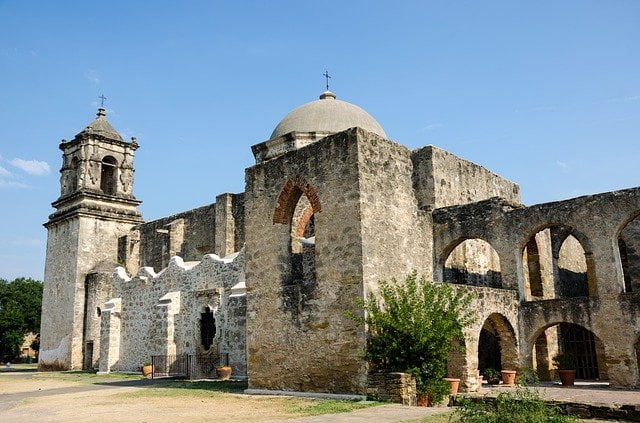 Image by USA-Reiseblogger from Pixabay
11. San Antonio Missions National Historical Park – educational Things to do with kids in San Antonio
6701 San Jose Dr, San Antonio
The San Antonio Missions Historical Park is the only UNESCO World Heritage site in Texas. It tells a story of history from hundred of years ago. They were used by the Spanish to spread Christianity and most of the buildings remain preserved today.
They are actually still active and used today by Catholic Parishes. They are open as long as a service is not being held. FREE to visit.
>>Need Transportation to see The Missions? Check out this tour<<
Pure Family Fun in San Antonio
12. Aquatica Water Park – Things to do with kids in San Antonio
2291 N Ellison Dr, San Antonio
Race each other down fast, steep slides; play in the wave pool; or lazily drift around. Whether you are looking for thrills or chills, there's something for all ages at Aquatica. Aquatica is open seasonally, which is a great way to keep you nice and cool during the hot summer!
The waterpark is owned by SeaWorld, and is located nearby.
13. Guinness World Records Museum
329 Alamo Plaza, San Antonio
Kids can explore artifacts, watch videos, and play games all about world records. They'll even have a chance at breaking a record themselves in the new Attempt Arena. Plenty of ticket combo packs are available in case you'd also like to visit Ripley's, the Wax Museum, or take a 4D Tomb Rider ride. Purchase tickets here
14. Andretti Karting- family fun in San Antonio
5527 N Loop 1604 W, San Antonio
Your family can have a fun, bonding, thrilling experience at Andretti Karting. Choose from the indoor go karts, laser tag, ropes course, bowling, virtual reality, or a motion theater. It's a fun center for the whole day!
15. Hopscotch – fun family-friendly art museum
As a kid, visiting art museums was a little…boring. Those days are gone. This art gallery is full of fun, interactive, exciting exhibits. HopScotch is 20,000 square feet large with innovated, curated exhibits that come on a rotating basis. Click here to see the excitement.
Things to do in Nature in San Antonio
16. Explores through some Caverns with the kids
Natural Bridge Caverns
26495 Natural Bridge Caverns Rd, San Antonio
My kids always love exploring caves whenever there's one nearby. The Discovery Tour at Natural Bridge Caverns is perfect for kids. It's just 3/4 of a mile inside with plenty of exploring.
Once you're done exploring underground, come into the daylight with fun climbing and obstacle adventures aboveground. Play on the aerial ropes course, do some zip-railing, or go through a large maze. There are rope courses perfect for kids as well; only 3 feet off the ground.
Don't miss the opportunity to mine for gems and fossils!
Depending on what time of year you go, you may also be able to get tickets to witness the great Bat Flight (summers).
Cave Without a Name
325 Kreutzberg Rd., Boerne
The name is kind of Ironic. Anyway…
Enjoy a guided tour through this cave in Boerne, which is just under an hour outside of San Antonio and in the Texas Hill Country. Some call it the most beautiful cave in Texas.
They strongly suggest reserving in advance. You can select dates and purchase thru Viator, which makes canceling easy as well if plans change (24 hour cancellation). *Check terms at booking in case cancellation policy changes.
Photo by Volodymyr Hotsyk on Unsplash
17. Take a Hike with kids in San Antonio
There is a bit of hiking to be done around San Antonio! If you enjoy hiking, it'll be hard to decide which hike to do. Here are a few beautiful areas with kid-friendly hikes in San Antonio.
Government Canyon State Natural Area
12861 Galm Rd, San Antonio
Make sure to stop at the playscape area: a very basic, natural area to run around and climb for kids. But don't miss any of the beautiful kid-friendly hikes like the Savannah Trail Loop, just over 2 miles.
*Note: Park is open Friday-Monday
Medina River Natural Area
15890 TX-16, San Antonio
Another beautiful area to get some fresh air is the Medina River Natural Area. There are 7 miles of trail in the area. Does you child like learning fun facts about history? The interpretive trail will teach them about the El Camino Real wagon trail.
Eisenhower Park
19399 NW Military Hwy, San Antonio
Try the Cedar Flats Trail at Eisenhower Park. It's just about 2 miles, mostly paved, and easy for kids. Plus, you'll get great views of San Antonio from the observation deck.
Great Parks for families in San Antonio
18. HemisFair Park – things to do with kids in San Antonio
434 S Alamo St, San Antonio
Now this is a park. HemisFair Park has the typical playground and room to run. But it also has a splash pad, large checkers, fooseball tables, climbing obstacles, ping pong tables, and a sand area for playing.
19. Brackenridge Park – perfect kids activity in San Antonio
Brackenridge Park is huge. It's the location for many things, including the zoo and Tea Garden.
Plus it has a carousel, skyride, and playground. There are plenty of birds and egrets to watch for. There's also a little train, open air theater, walking trails, picnic areas. This is the perfect way to spend some family time in San Antonio.
20. San Pedro Springs Park
Declared a park in 1852, San Pedro Springs Park is the 2nd oldest park in the US. The park is full of history, both from Native American times and Civil War times. Enjoy 46 acres of park space, plus a huge pool that is open seasonally.
Just Outside San Antonio
21. Visit New Braunfels – family-friendly San Antonio
New Braunfels, TX
New Braunfels has been kept a bit of a secret. If you want something a little less crowded, but just as fun, spend a day in New Braunfels. Located just over a half-hour from the Riverwalk, New Braunfels is filled with something for everyone in the family. Here are just a few family-friendly activities in New Braunfels:
What to do in San Antonio With Kids
As has been made clear, there are so many things to do in San Antonio with kids! Is your family more into nature, or more into thrills? How about history? No matter what you and the kids love doing, you can find plenty of things to do in San Antonio as a family.
Don't forget to purchase the GoCity Pass. If you end up doing a few things on this list, it will really save!