San Diego is packed with fun things to do; so much that it is easy to spend a lot, quickly. So if you're looking for things to do in San Diego that are FREE, read on! San Diego is filled with free attractions and adventures. Pick a free thing to do in San Diego with the kids below, and let us know how you enjoyed it!
Let's Jet, Kids! uses affiliate links.  As an Amazon (and other networks) Associate, I earn from qualifying purchases.  It is no extra cost to you.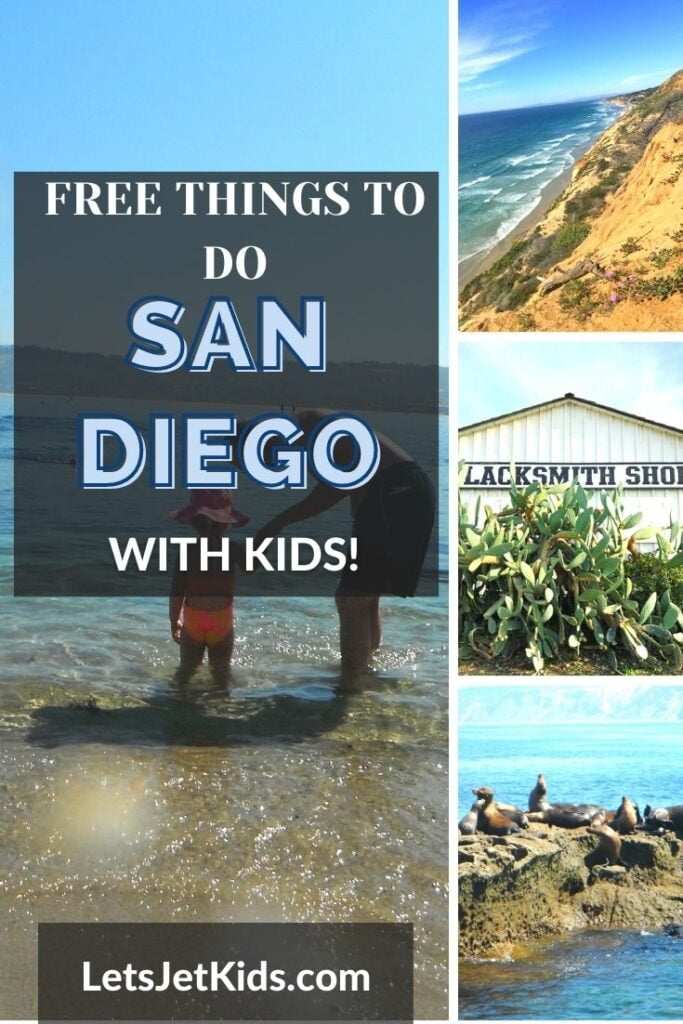 ---
Grab a great deal on a rental car in San Diego <——-
---
Free Things to do in San Diego
#1 – The Children's Pool and La Jolla Cove in La Jolla
1100 Coast Blvd, La Jolla
We actually got this tip from the person who helped us as the car rental place. She saw we had a few little kids with us and let us know The Children's Pool was the perfect spot to spend a morning. She was right! Get there early so you can find a spot on the beach at the Children's Pool, nestled in a little cove with a wall to provide safety for swimming. All around you'll see seals and sea lions basking in the sun and taking a swim. This little spot is incredibly fun and the kids will love seeing all the sea life! Dip your feet in, play in the sand, and enjoy the view of the seals.
Nearby La Jolla Cove is also great for watching marine life and has a great beach area, though it is not recommended to swim here.
Nearby: Shell Beach- a great beach with plenty of shells to discover!
#2- Visit the Beaches
Pick a beach, any beach! (Well, maybe not Blacks Beach with kids, as it is unofficially clothing-optional). The public beaches in San Diego are free to visit. There's plenty of play at the beach, whether it's building sand castles, boogie boarding, throwing a frisbee, or chasing seagulls. Beach time is always a good time.
Top beaches in the San Diego area:
La Jolla Cove – Plenty of beaches in this area, including the Children's Pool mentioned above
Widansea Beach– lesser known with a tiny parking lot! It's beautiful, but more for enjoying from the shore as the waves are unsuitable for swimming. Widansea is great for watching surfers tackle the waves.
Mission Beach– A popular beach, filled with people, shops, and even an amusement park.
Pacific Beach – A SoCal tradition, this beach is filled with shops and restaurants, plus a few miles of boardwalk.
Mission Bay Park – Choose a grass spot or a sandy spot near the water. Mission Bay Park is another popular destination with beautiful views and great beach.
#3- Balboa Park
Enjoy the beautiful Spanish Colonial architecture throughout Balboa Park. You can even take a free park tour, offered daily. If you happen to be there on a Sunday, you can enjoy a free organ concert, as San Diego has one of the largest outdoor pipe organs in the world. And there's even plenty of free parking! Check the Visitor's Center for more info and parking for these classic free things to do in San Diego.
#4- Flying Leatherneck Aviation Museum
Currently Closed (July 2021) Check here before visiting for re-opening info.
*New update: Museum will be relocating to Irvine, CA by 2023.
Kids will love getting to see nearly 50 aircraft in the museum. Planes are constantly being restored and exhibits rotated, so if you've been before, you can go again and most likely see new exhibits. The museum is free, closed on Mondays, and even has free parking.
#5- Take a Picnic to Kellogg Park
We spent a lot of time at Kellogg Park. There's a little something for everyone here. Kellogg Park is a beachfront park with a playground, plenty of grassy space, and path, and a great beach (La Jolla Shores). We ordered a pizza one night and took it to the park to enjoy the sunset. I wrote a youth novel years ago, and actually used the sunset picture from this park as the cover. The kids will love playing on the swings, slides, and marine life statues while the adults enjoy a gorgeous view and smiling faces.
We stayed in this beachfront hotel, just steps away from Kellogg Park. And we'd totally stay there again.
---
Need a place to stay? Check out the best hotels in San Diego for families!
---
#6- Take a Scenic Hike at Torrey Pines State Natural Reserve
Photo by Jon Doerr Jr on Unsplash
I need to note a technicality here. Many places in California have paid-parking, and this is one of them. To keep this as one of the free things to do in San Diego, keep your eyes peeled for street parking nearby so you don't have to pay for the lot.
Once inside Torrey Pines State Natural Reserve, there are a few beautiful trails you can take the kids on. Check out the Torrey Pines Beach Trail Loop, which is an easier, well-marked trail the kids will enjoy. This nearly 2-1/2 mile loop will give you incredible ocean views, and great scenic rock all around you.
For another easy trail that is half the distance, take the kids on Yucca Point Trail. This out-and-back trail will give you all the great views. Catching the sunset is amazing…and everyone else thinks so, too. So make sure to get here a bit before sunset (especially on the weekends) to ensure a parking spot, and be prepared for the trail to be busy.
#7- San Diego Model Railroad Museum
Have a train enthusiast in the family? Head to Balboa Park and check out the San Diego Model Railroad Museum. It's technically free, but donations are accepted if you choose so. It's currently opened on the weekends (Fri-Sun). This awesome museum features model trains like The San Diego & Arizona Eastern, The Southern Pacific, a Toy Train Gallery, and more. Kids will love watching the model trains go through their respective habitats.
#8- Swim with Leopard Sharks
It may sound intimidating, but this is no JAWS movie. Leopard sharks are harmless, and incredible to see. Bring your snorkel and hop in the waters at La Jolla Shores beach at the end of summer, when the sharks visit to find warmer waters.
#9- Stroll Through Old Town San Diego
Photo by Emilie Young on Unsplash
We love getting a bit of history and culture wherever we visit. Old Town is the place to experience that, and is a fun, free thing to do in San Diego with the kids. There are colorful restaurants and stores, which make fun photos and excitement. You can also walk into a few free historical stops, a blacksmith shop, and see the oldest schoolhouse in San Diego. If you're looking for a bit more thrill, stop by the Historic State Park or Campo Santo Cemetery, which have been rumored to be haunted.
Want to stay in Old Town San Diego? Check out the Best Western, right down the street from the final attraction, Presidio Park.
#10- Discover History at Presidio Park
Presidio Park is located in Old Town San Diego, and is full of history. The historic church at the park was used by the first European settlers as a fort, and also as a capital during Mexico's rule of the area. Forty acres of green space fill the area, perfect for picnicking, relaxing, or playing. Then visit the free (donations accepted) Junipero Serra Museum to delve into San Diego's history. This park even has free parking available at a parking lot on Presidio Drive.
Free Things to do in San Diego with Kids!
If you're wondering "what is there to do in San Diego for free?", wonder no more! Whether you are looking for history, water, play, or adventure, there are plenty of options that you don't need to spend a dime for.
Which free thing are you most looking forward to? Comment below!
Make Your Trip to San Diego Better with These:
---
>>> Want more US beach destinations? Check out South Padre Island in Texas!
>>> Check out the best places to stay in San Diego
---
Looking to visit top attractions in San Diego? Save with the City Pass!
SAVE THIS POST