When you head to Olympic National Park for a family vacation, you have a few choices of where to stay. You may have your eyes on the park at the Lake Crescent Lodge right on the lake or Kalaloch Lodge right on the beach. These are stunning properties…that book out far in advanced. If that leaves you wondering where to stay at Olympic National Park, check out this cozy lakefront home! It was perfect for our family and held both adventure and charm.
Let's Jet, Kids! uses affiliate links.  As an Amazon (and other networks) Associate, I earn from qualifying purchases.  It is no extra cost to you.  
Don't forget a rental car! Compare prices here
Convenient Location- Lake Sutherland Rental Home
One of Olympic National Park's famous charms is Lake Crescent. Right next door is Lake Sutherland, which long ago use to be part of Lake Crescent. Lake Sutherland is surrounded by stunning landscape and charming lake homes. Where we stayed was on the south side of Lake Sutherland. It turned out to be a perfect location for accessing plenty of activities in Olympic National Park. We were close to many of the beautiful sights in the park and within 2 hours of the farthest planned stops.
This may sound far, but one of the biggest towns near Olympic National Park is Port Angeles. However, staying in Port Angeles will add at about 20 minutes to your daily drive.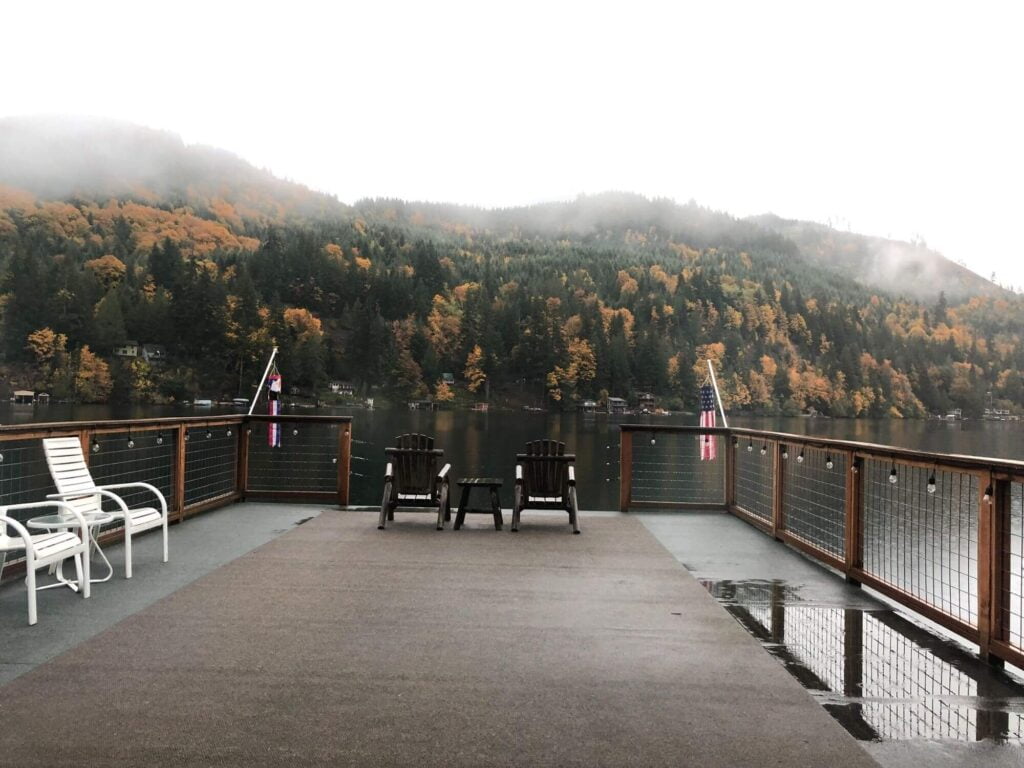 Why This Lake Sutherland Rental is Perfect for Families
This rental near Olympic National Park is perfect for families for many reasons.
It Sleeps the Whole Family
First, it can sleep 6 people, including 4 kids. It's so nice to be able fit the whole family in one place, rather than a couple hotel rooms. Upstairs is the main Master Bedroom with a perfect lake-feel to it. Just across the hall is the kids' room. Here, there are 2 large beds to sleep up to 4 kids. The beds are low on the ground, so I don't recommend putting adults in here unless they are very agile!
When we vacation and stay at hotels, we often have to book 2 rooms and stay separate from each other. It's doable, but somewhat of a pain. It's nice to have a rental home where we can not only be together, but actually have space to move about.
Rental Homes Have Kitchens
Second, having a kitchen is so nice for making meals, storing snacks, and prepping for the day out. Whether you are heading out for a day of hiking in Olympic or to check out the beaches, you'll need plenty of food to bring. To save money on vacations, we like to avoid eating out as much as possible. With a family of 6, it adds up quickly every time we go out. We like to stop at the grocery store on the way to the rental and stock up for the week. When we arrive, we can store all our groceries and enjoy our meals with a fully stocked kitchen.
This home had a cute and well-stocked kitchen. It turned out perfect for our family to save some money and plan our meals according to our own schedules.
Laundry Piles Up Quickly
No matter how much I pack, I always seem to worry about if I've packed enough. Enough for me? Enough for the kids? Anyone else's kids just throw their used clothes back in the suitcase and now you're unsure which socks are clean and which are used?
Well it happens to us.
This rental has a stacked washer/dryer (and detergent) so that when those mix ups happen, we could easily throw some laundry in and start fresh. I didn't realize how convenient this would be, but I was so glad to have laundry machines.
Sunrise- no editing!
Location Location Location
I've already explained how this property is so convenient to Olympic National Park. We were just a short drive away from a bunch of great hikes and sights.
But the actual location of this place was incredible. This cute lake house sits right on Lake Southerland. I mean right on it. The beautiful, large deck is built right over the water. You can sit outside on the chairs and watch the sunrise.
We rented this home in mid October and the colors all around the lake were incredible. I imagine in spring and summer it is vibrantly green. The view was just about the best part of this home. Sitting in the kitchen eating you could overlook the lake. The family room had large windows overlooking the lake. The deck was intensely beautiful to sit on. There wasn't a bad view anywhere.
A great view with calm waters reflecting the colors
Bonus Activities at this Olympic National Park Rental Home
The views were incredible, but it's the activities that really got my kids. The owners of this home are kind enough to leave a few kayaks available for use by the guests. Upstairs are a big rack of lifejackets (required) you can borrow. Down on the lower deck are the kayaks and oars.
We launched the kayaks one morning before we left for the park. We enjoyed the peace of the lake and the recent sunrise. My kids' favorite part about this house was getting to go out in the kayaks and enjoy the water. We even spotted a Bald Eagle on the other side of the lake, perched high in a tree. In fact, there were binoculars right inside the door we could use to get a good view of the Eagle.
In summer when it's warmer, you can also jump right off the dock and enjoy a refreshing swim in the water. Enjoy those summer barbecues with the outdoor grill.
There's something about being on a lake that is so peaceful, and yet so energizing. And fun.
Lake Front Rental at Olympic National Park
Upstairs here and there, the ceiling got a little low where it slope with the A-frame. Other than that, there really wasn't anything about this property that warrants a "need-to-know." We found this lakefront rental to be so charming and perfect for a family. The ambiance really felt like a charming lake home. The one time I corresponded with the owners was wonderful and friendly. I highly recommend this charming, beautiful lake front home in Olympic National Park.
Interested in this lake front rental near Olympic National Park? If this review has been helpful, please use the following link to
Find out more or start your booking!
You'll also like:
Check out beautiful beaches the family can visit in Olympic National Park
Easier hikes and things to do for families in Olympic National Park
Would You Stay Here? Comment Below!