When I first discovered the Space Foundation Discovery Center in Colorado Springs, it was when we drove by to Garden of the Gods. It looked like an old office building, pretty unappealing from the outside. However, I realized it might be something the kids would enjoy, so we made plans to visit it. If you are looking for things to do for kids in Colorado Springs, this is definitely worth a stop!
Let's Jet, Kids! uses affiliate links.  As an Amazon (and other networks) Associate, I earn from qualifying purchases.  It is no extra cost to you.  
Planning a Trip to the Space Foundation Discovery Center
You can purchase tickets to the Space Discovery Center online for contactless entrance when you arrive. Your tickets will be emailed to you with a link to access the barcodes. Prices are very reasonable (we paid $5/kid and $10/adult.)
The center is not open on Mondays. You can visit all other days from 10am to 4pm.
How do you get to Space Discovery Center in Colorado Springs?
Getting to the Space Discovery Center is really simple. Exit I-25 at Garden of the Gods Road. Head west for about two miles and turn left onto Arrowswest Rd. The building sits right off of Garden of the Gods Rd, so it's really easy to get to. There is plenty of parking as well.
Study up!
Learn what you can about space before you go. Or, more likely, your child will be really excited about space after you leave. Here are a few fun books about space to carry the interest longer!
Arriving at the Space Discovery Center
Right as you enter, you'll check in with your pre-purchased tickets (or purchase them there.) On the left is a small gift shop area. Before you do anything, make sure to ask to participate in the scavenger hunt for kids. This is a fun way to get the kids involved a little more in learning. Our scavenger hunt was all about the technology used for space travel, and how it's influenced products we use here on Earth. The kids have a lot of fun with this, and when they are finished they can bring the completed paper to the front desk for a small prize.
Exhibits on the Main Floor at the Space Discovery Center- The El Pomar Space Gallery
As you begin and continue through the Space Center, you'll find all sort of interesting and educational space exhibits. Right as you enter you'll find a spacesuit. A whole section is dedicated to different suits (did you know astronauts wear different suits for different parts of travel?)
Continue on to find various space exhibits. The scale model rockets are impressive and display a couple Ariane, Atlas V, and Delta IV models.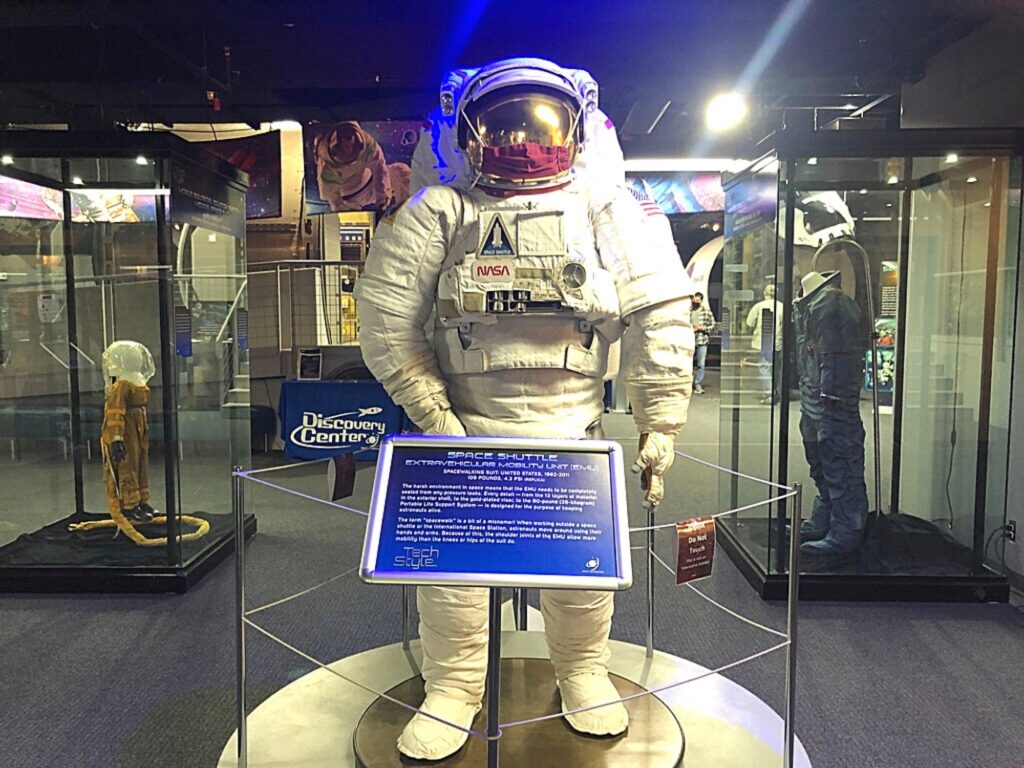 Mission to Europa
At the Mission to Europa exhibit, you'll learn about one of Jupiter's moons. While you marvel at the Scott Carpenter Station, you can use an old-school Ninntendo remote controller to drive an underwater drone. Use the controllers to try to catch a ring onto the drone. It's much harder than it looks to get a drone to do just as you wish under water.
Solar Weather
Learn about the sun and how it's more than just heat. On the sun, solar flares happen, which are a result of magnetic fields twisting and stretching. This impacts weather and sometimes communications on Earth.
Space Lab
The space lab was where scientific discoveries happened aboard the space shuttle. Get a close look at the inside of the space lab. You'll also learn all about how astronauts bodies are affected from flights into space: from stretching 3 inches, impacted vision, and risk of kidney stones, being an astronaut is a lot more than floating in a gravity-free zone.
The Rocket Booster Segment
This ginormous segment is only one of six that would be used to complete a whole booster. At 150 feet in length, this "small" piece give you an idea of the enormous size and power that is required to launch into space. This exhibit also teaches about many people who have gone to space, including the first-woman Sally ride, senators, and more who all played a role on their mission.
Mars Viking Lander
You can see the Viking Lander used on Mars to research the atmosphere are search for any signs of life. This near-8,000 pound piece of machinery was used in 1975 and costed the equivalent of about One billion dollars!
Other Exhibits at the Space Discovery Center
There are many other exhibits, including how technology has advanced and impacted our daily life, an interactive exhibit on temperature and pollution, space food, and more. There is so much to walk around and learn about at the Space Discovery Center.
Space Education Center
Near the back corner of the center you'll find the Lockheed Martin Space Education Center. There is a simulation laboratory where various scheduled classes and programs happen.
Appropriately situated near the bathrooms you will find educational video on how astronauts relieve themselves in space. With zero-gravity, something as simple as relieving yourself requires technology as well!
Mars Robotics Laboratory
The Mars Robotics Laboratory was one of my kids' favorite experiences at the Space Discovery Center. A large room is modeled to look like the surface of Mars. On the side, your child will have a tablet with a program on it designed to control a rover around on the surface. A staff member will teach you how to program the drone, as as you finish the command you can watch and see your drone travel at just the angle, speed, and distance that you programmed it!
Northrop Grumman Science Center
This was one of the adult's favorite parts of our visit, and the kids really enjoyed it, too. Inside a room is seating for an audience to watch a presentation. The presentation takes place on a 6-foot sphere centered in the room. Four projectors all align perfectly to present information, graphics, and replicas of space topics.
At our visit, we learned all about the Artemis. While past missions have been labeled "Apollo" missions, missions of the future will be called "Artemis." In the next decade or two, there are plans to return to the moon and walk upon it again.
There are different topics presented at the spherical theater. I highly recommend stopping by.
The Gift Shop
On the way out, walk through the little gift shop area. There are really fun items to purchase to remember your visit by. We picked up a space-ice cream sandwich. That gave us the opportunity to chat with the kids about if they think they could eat food like this for a while if they were to travel to space. The ice cream sandwich wasn't what they were expecting, but really showed how technology and advancements have gotten us so far in the space game.
The Space Discovery Center
If you are looking for fun things to do with kids in Colorado Springs, you must stop at this Space Discovery Center! We really enjoyed our visit to the Discovery Center. We learned so much and the kids had a great time learning in such a fun way. There were plenty of interactive things to do, and usually there would be even more interactive exhibits (if not for Covid). Make sure when you take a trip to Colorado Springs that you bring the kids to the Space Foundation Discovery Center!
Save This Post to Pinterest!
Looking for more fun in Colorado? You may like:
Exploring Garden of the Gods with Kids
Fun things to do in Colorado Springs with kids!
9 Awesome Stops on a Family Road Trip Through Colorado