Valentine's Day can be such a fun holiday for crafts for kids. In this post, you'll find lots of paper heart crafts. You just need minimum supplies, but can make so many Valentine crafts! And you'll find heart templates for some of the crafts. I don't have a steady hand and am not good at cutting symmetrically, so I find templates useful.
Let's Jet, Kids! uses affiliate links.  As an Amazon (and other networks) Associate, I earn from qualifying purchases.  It is no extra cost to you.  
You can help your child with as many steps as they need. The older kids should be able to do all the steps. For toddlers, you may want to pre-cut some things. And for preschool, this is a great chance to practice cutting skills on the larger items!
Enjoy all the many Valentine designs and paper heart craft designs below!
3D Heart Decorations
We use these to decorate the mantle during Valentine's Day. We tried saving them year-after-year, and they eventually get too smashed in storage. Which works out just fine, because then we have a fun craft to do!
Supplies
Colored Paper- any color is fine, but designs can be more fun!
Scissors
Glue
Heart Template (for symmetrical hearts, which is important in this craft. Download link right here:)
Yarn
How to Make 3D Heart Decorations
Begin by cutting out 4 hearts on your colored paper (using the template to trace) for every 1 complete heart you'd like to make (so if you want 4 decorations, cut out 16 hearts). Using 4 different colors makes it a little more fun and visually pleasing, but isn't mandatory.
Fold each heart in half gently, right sides facing each other.
Put the 4 hearts together: Now you will glue half of the heart, and stick it to half of the next heart, back sides glued together. Repeat this with the remaining hearts until you have have just one side left to do.
Before you glue the final halves together, insert the end of piece of yarn (about 2″ of an end) into the center of the hearts inside. Then glue the final paper heart, including some glue on the yarn.
This is where symmetry is important. If it doesn't align perfectly, wait until they are all glued together and then trim them around the edges.
And there is one, 3D paper heart craft you can make at home with minimal supplies! Make a few more to really have a great Valentine display! You can hang them on the stairs, on the mantle, or wherever your 3D heart desires!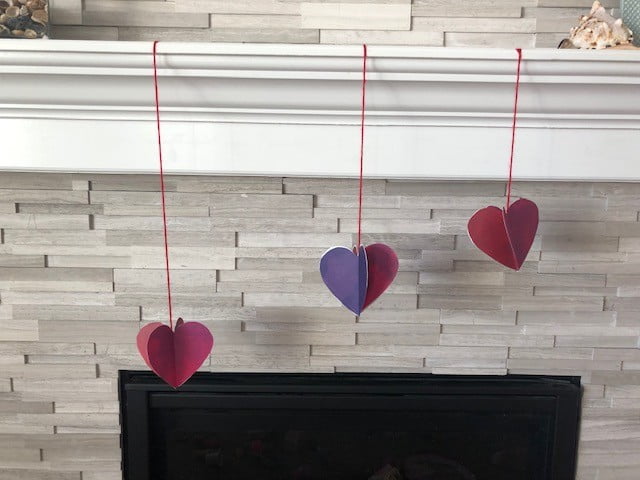 How to Make Paper Heart Wreaths
We made two versions of a paper heart wreath. The first version is definitely more simple toddler-friendly!
Paper Plate Heart Wreath
Supplies
Colored paper
A Paper Plate (one per person)
Scissors
Glue Stick
How to Make a Paper Plate Heart Wreath
Cut out lots of hearts from the colored paper. You'll need about 12 if you make them about 3-4 inches in size. You can do smaller, but you'll need more than. You can cut them free-hand if you'd like, or use a template (find one in the Valentine Cards section below). We just did the method where you cut half of the heart on the fold of a paper.
Parent job: Take the paper plate and cut the entire center out. You should be left with about a 1-inch thick ring from the perimeter of the plate.
Now that you have all the hearts and plate ready, the child can glue the hearts around the paper plate! It makes a nice, circular design that they can proudly display on their door!
To Take It Up A Notch for the second version-
My 5-year-old decided to make her wreath 3D (without prompting from me! I was so proud 😉 ) Once her wreath was done, she used the method from the 3D hearts Decorations instructions (above) to make her wreath POP, but only used 3 hearts instead of 4. It looked great!
---
You May Also Like:
FREE Printable Valentine Cards for Kids
Valentine Shirts the Whole family will love!
---
Hollow Paper Heart Wreaths
These paper heart wreaths are really fun. We've made these for years, and I even brought in prepared supplies to my daughter's Valentine party last year for the whole class to make some. They are simple and my 3-year-old handled the glueing and folding just fine. I did cut all the strips for her though.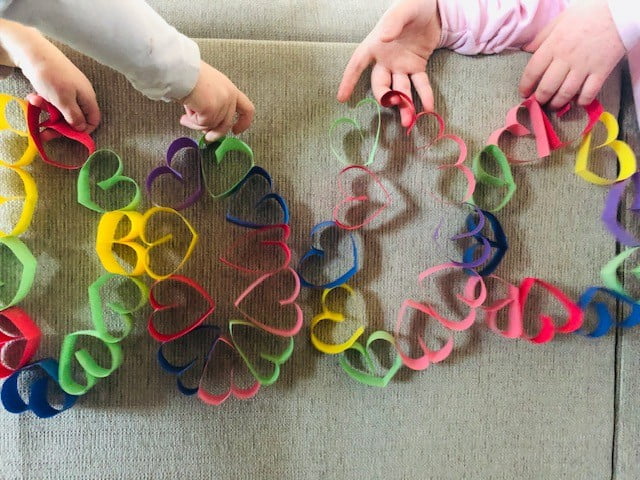 Supplies
Colored paper (at least a few different colors, if you want)
Scissors
Glue Stick
Ruler
How to Make a Paper Heart Wreath
Begin by turning your colored paper horizontal/landscape. Make marks using a ruler every inch across the top, and then across the bottom. Use the ruler to connect the marks top-to-bottom. You should have lines 1″ apart on the paper. Cut along the lines to make 1″ strips. Repeat with other colors.
Taking one strip of paper, fold it in half "hamburger" style. Make a good crease at the fold. Then take the two edges of the strip and roll them in toward each other so that they touch. Glue about 3/4″ of the ends of the strip together. You now have 1 heart. Repeat the folding and gluing to make at least 10 hearts.
Now that the hearts are all made, use your glue stick to connect the hearts. You don't want to glue too high up; just glue a little above halfway on the side of the heart, right before the heart starts to curve at the top. Connect two hearts together, and then continue glueing. It will form more of a line, but that's okay. When you glue the last and first heart together, it will be flexible enough to round out and make a circle.
Glue the first and last heart together, and you've completed your paper heart Valentine wreath!
Tip: Don't use too many more than 10 hearts. When you hang it, it may sag a little if there is too much weight pulling it down!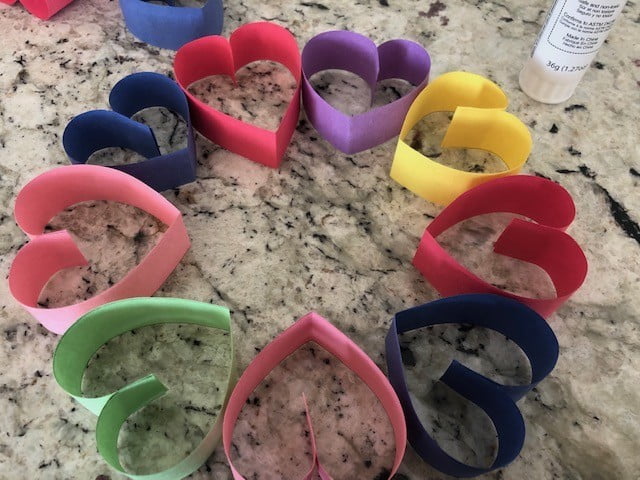 Paper Heart Valentine's Count Down Chain
We had cut out more strips than we needed for the Paper Heart Wreath, so we decided to create a count down chain with a Valentine's flare to it!
Supplies
Colored Paper, cut into 1″ strips. You'll need 14 strips total (see Paper Heart Wreath beginning directions for perfect strips!)
Scissors
Glue
How to Make a Paper Heart Valentine's Day Count Down Chain
Form one strip into a heart: fold a strip in half "hamburger" style so the two ends are now touching. Make a good crease on the fold. Gently roll the two ends in towards each other and glue the top 3/4-inch together. This will form a heart shape.
For the next strip, thread it through the completed heart, and then repeat the process above to make a second paper heart that is linked. Repeat until you have 14 hearts in the chain!
You now can cut off one heart a day, beginning February 1st, until the last heart takes you to Valentine's Day!
DIY Valentine Cards
Valentine Cards are great because any child of any age can make them! I have kids from 3 to 10 that all made cards and their designs varied. To make the cards, we use this template for different size hearts:
Supplies
Colored Paper, Glitter Paper, Computer Paper…whatever you have works!
Scissors
Glue
Heart Template (link above)
Markers, Crayons, etc.
DIY Valentine Card Ideas- Folded Card, Heart-Shaped Card and a Pop-up Card
We cut out both the outline and the solid hearts on the template. This gave us ideas for some really fun designs! And my daughter let us use her awesome glitter paper pad that she got for Christmas, which really added some sparkle.
Just mix and match the hearts onto a piece of folded paper (for the card) and see what your little one comes up with!
Here are some fun designs the littler ones could make:
And here are some fun designs the older ones made:
My Daughter got some cool, metallic markers that dry with a colored outline for Christmas and they have become a big hit! These are the ones we have (they look really cool up close!)
To make a pop-up Valentine card, just fold a strip of paper and glue on a heart! Smash it down so the card will fold shut, and when the receiver opens the card, the hearts will pop out at them!
The opportunities for fun Valentine's Crafts and Paper Heart Crafts are endless! Hopefully these templates and ideas can help you and the kids to have a fun, crafty day filled with lots of love!
Supplies we used to add some pizazz:
Valentine Crafts for Kids!
Those are the easy, fun Valentine's crafts that use minimal supplies! We'd love to hear how your little ones like them!
Check out more Valentine activities for kids!
Ultimate list of Valentine's Activities
Free printable School Valentine Cards