Though I've been in Colorado quite a while, it was only recently that I heard of the Paint Mines Interpretive Park. Even chatting with other visitors, many people who live in the relative-area of the park hadn't heard of it for some time! This geological wonder is a bit in the middle of nowhere. You drive past flat, though somewhat rolling hills toward Kansas when all of a sudden there seems to be a hole in the earth. This beautiful, white and colorful canyon is quite a surprise. The best part is that the Paint Mines in Colorado is a great place to take kids.
Let's Jet, Kids! uses affiliate links.  As an Amazon (and other networks) Associate, I earn from qualifying purchases.  It is no extra cost to you.  
Where is Paint Mines Interpretive Park? The Paint Mines is located somewhat outside of Colorado Springs, in a city called Calhan. We decided to take the time to visit one weekend and were amazed with the geological and colorful formations this hidden wonder contained. If you are looking for hidden gems or fun things to do in Colorado that kids can enjoy too, make sure to stop at Paint Mines Interpretive Park.
What is Paint Mines Interpretive Park?
Tens of millions of years ago, soils existed where the Paint Mines are today. Through time, the soils were covered with white sandstone and granite from the area. Weather like wind and rain have helped the formations take shape, applying pressure to the clay and stone formations. For thousands of years, people used this area for the resources to make tools and pottery. Today it is open to the public to walk through and enjoy the colorful formations.
How to Get to Paint Mines Interpretive Park
Address: 29950 Paint Mine Rd. Calhan, CO 80808
From Denver- about 1-1/2 hours
If you are going to the Paint Mines from Denver, take I-25 south to Palmer Divide Road, which is before you get into the Colorado Springs area. From there use your Maps app, as you'll be in some backroad-type streets for a while.
From Colorado Springs -about 45 minutes from central CO Springs
The Paint Mines are not far off of highway 24, so head east on highway 24 until you get to Calhan. Take a right on Calhan Highway and a left on Paint Mine Road.
Parking at the Paint Mines
There are some large windmills on the land just behind the Paint Mines, so if you can see those in the distance, you are heading the right direction. As you approach the Paint Mines, there are a few different parking lots you can choose. The main/lower lot probably has the most parking. It also has some bathrooms in the lot if you are in need.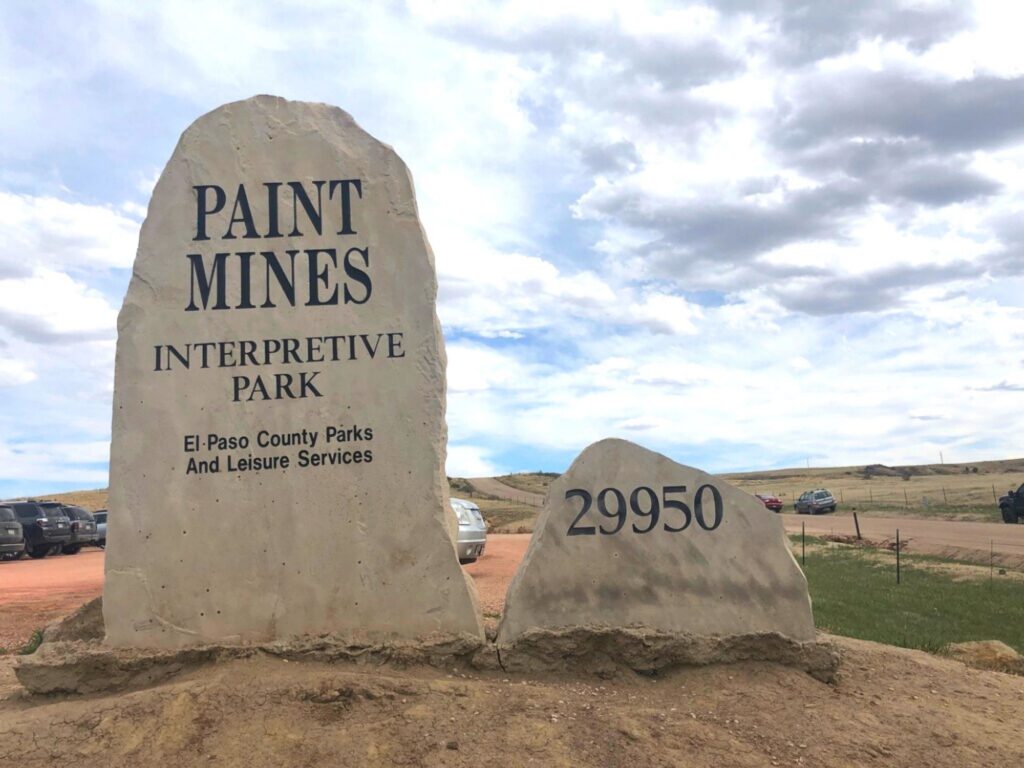 If you keep driving, you can park at the Viewpoint / Overlook Lot. Here you'll get (obviously) a great viewpoint from above of the whole park area. You can also park and take a trail down from here. It's a little over a half-mile from the parking lot to the main trail that runs through the park.
There is also an Upper Lot about a mile past the main lot, but it was closed at the time we went.
The Paint Mines are FREE to explore and park 🙂
---
You may enjoy:
Hiking Gear to Make Sure Your Hike Is Enjoyable
14 Awesome Things to do in Colorado Springs with Kids!
All You Need to Know to Visit Garden of the Gods with Kids
---
Taking Kids to the Paint Mines in Calhan
The Paint Mines is not a huge area that takes all day to cover. Because of this, it's a great spot for families! Kids can manage their way around pretty easily. There is one main trail that goes through the park, with little, short trails that will take you up close to the formations.
In a very large banner as you enter is posted DO NOT CLIMB on the formations. Unfortunately, we saw many, many people climbing around to play or to get that perfect picture. PLEASE respect the rules. Erosion is real. I explained to my kids they needed to keep off so that the park will last a long, long time for others to enjoy. It's definitely hard to keep the kids off because it looks like a big outdoor playground at times. But try to do your part!
Using Strollers at the Paint Mines
Can you use a stroller at the Paint Mines? That depends on what stroller. An around-town kind of stroller will not work well. The main trail through the Paint Mines is basically sand. We saw a few people having to carry their stroller through. However, if you have an off-road type of stroller (a Bob, for instance would probably be fine), then you'll probably be fine. If possible, I would recommend leaving the stroller in the car, though. The trails aren't that long, so if your child is an older toddler, they'll be just fine. Or, try to take a younger baby or child in a pack.
If you do take a stroller, use the Main / Lower lot, as the trail to get down from the overlook lot would be a little tricky with a stroller (and has just a couple steps as well).
See here for a map of the Paint Mines Interpretive Park.
Hiking Around Paint Mines Interpretive Park
The trail through the Paint Mines is rather easy. My four kids (youngest is 4) all handled it just fine. Make sure to bring water, though, as it does get rather hot. We parked at the Viewpoint Lot and hiked down, though the trail is not much longer when you park at the Main lot.
The sandy trail leads first to spectacular formations that are incredibly white. This sandstone is incredible and provides a great backdrop for some photo ops.
As you continue walking, you'll come across many little trails both on the right and the left that you can explore a little further into. The farther down the trail you go, the more purplish colors you begin to see. It is amazing seeing the layers of color from millions of years of formation.
Take an hour or two (or three) to let the kids really explore, learn, and soak in the geological marvels right in front of them. It's easy to touch and feel the different formations, as well as get up-close to ponder the different natural colors. Even the trail itself is made of very red rock, then white sand, and upon exit/entry you'll see dark soil. The color contrasts in this whole area is incredible!
Great Water bottles and packs the kids can use over and over!
Up Close to the Paint Mine Formations
The cool thing about the Paint Mines is that most of the park is open to explore. There are just a few fences to guide you away from certain areas. Otherwise, you can get up close to the rock and really discover the beauty. It is fun for kids to see the sandstone sparkling in the sun. Then, walk just a couple steps and see the reddish hues on rocks right next door. Touch and discover the Paint Mines up close!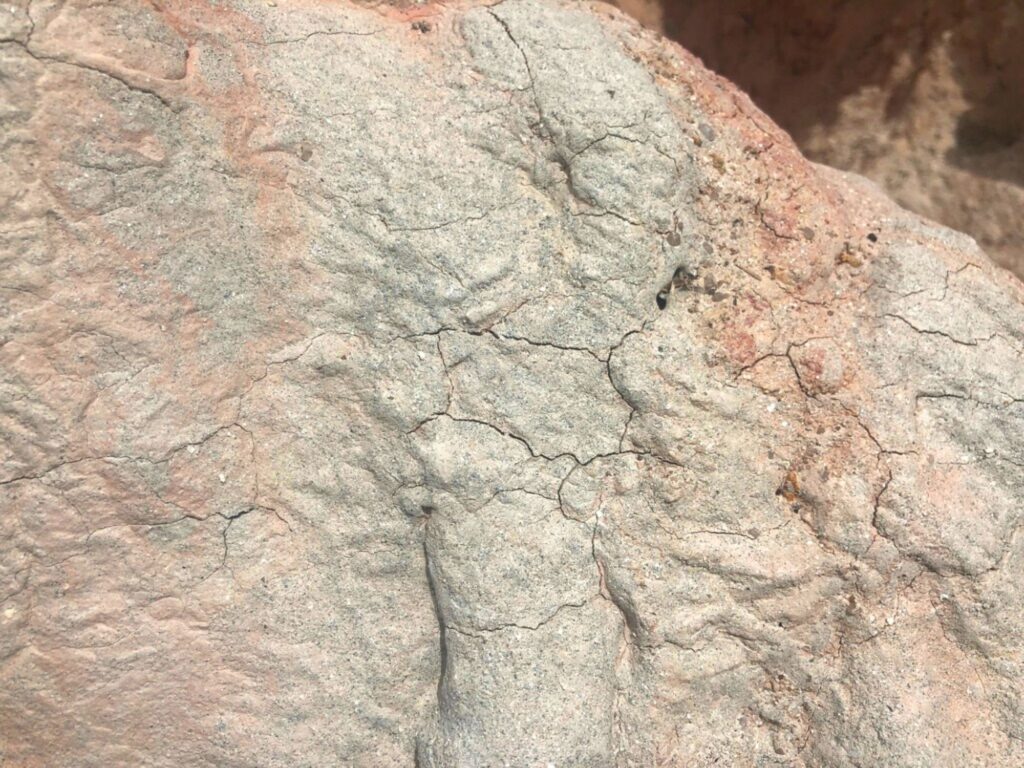 Paint Mines Interpretive Park for Families
Are the Paint Mines somewhere you would love to visit? We are glad we finally made the time to see this extraordinary geological marvel where we would least expect! Here are a few final things to keep in mind to plan your family visit to the Paint Mines:
Bring Water (it gets hot!)
A couple Parking Lots to choose from
Easy for kids to come along and walk!
Do NOT climb on the formations! Do your part!
Free!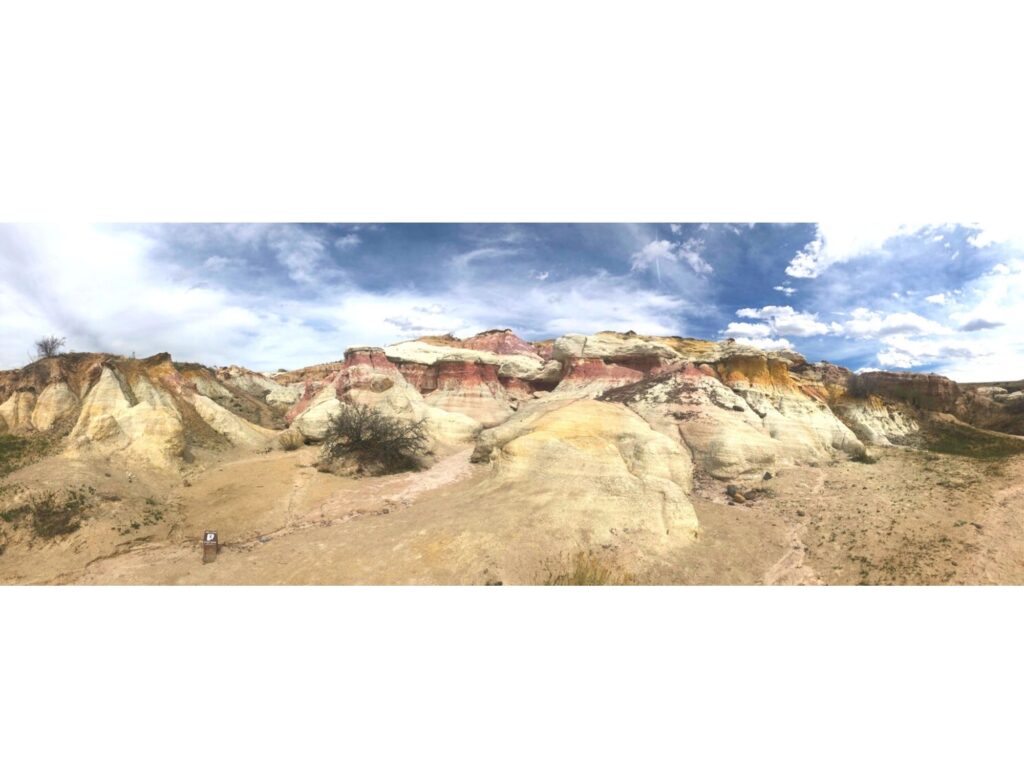 Save this Post!