11 Best Overnight Summer Camps in Utah
As the warm weather approaches, it's fun to find some exciting things to do for the kids. And what better way to spend the summer than at one of the many overnight summer camps in Utah?
Let's Jet, Kids! uses affiliate links.  As an Amazon (and other networks) Associate, I earn from qualifying purchases.  It is no extra cost to you.  
It can be overwhelming trying to find the best summer camp that fits your child's needs or interests. So here I've broken it down by interest so you can find the best overnight camp for your kid.
There are many sleepaway camps in Utah to choose from. Find a traditional summer camp, a sports-based camp, horsemanship camp, and more in this fun list of 11 Best Overnight Summer Camps in Utah!
Table of Contents
Traditional Sleepaway Summer Camps in Utah
YMCA Camp Roger
Located: Kamas (east of SLC)
Duration: 2-6 days
Rating: 4.5/5 from 44 Google reviews
YMCA provides some of the most fun overnight summer camps in Utah.
Camp Roger is located east of Salt Lake City in the Uintah-Wasatch-Cache National Forest. The YMCA is a classic program of outdoor adventure and education and provides overnight camps for various age groups.
The youngest campers (age 5-7) can have their own adventure without leaving home for too long. This "Little Rogers" camp goes from Thursday morning to Friday night, making a great away-from-home experience.
Kids slightly older can participate in overnight camps that are 4 days long, and the older campers (ages 8-16) will be able to stay the entire week.
Older kids can also add on a trail ride or horsemanship program ($).
Kids 14 and up can also choose to register into a leadership focused camp session.
If you've been to any YMCA overnight location before, then you know the fun is endless.
At Camp Roger, kids will get to make crafts, practice archery, swimming, cook outs, mountain biking, learn to build fires, and really dig into nature. It's fun all around!
YMCA Camp Roger offers sessions all summer long, with each week being a different theme.
YMCA Mill Hollow
Location: Kamas (east of SLC)
Duration: 2-6 days
Rating: 4.2/5 from 13 Google Reviews
Another of the great sleepaway summer camps in Utah is YMCA Mill Hollow. This is a different, though not far away location from Camp Roger.
The options for different camps are similar to the age groups in Camp Roger. Mill Hollow doesn't offer as many sessions as Camp Roger.
At this overnight camp in Utah kids will learn survival skills, enjoy water activities, learn about ecology and geology, make some fun arts and crafts, archery, and more.
One great thing about the YMCA is that they really focus on some core values. These include caring, honesty, respect, and responsibility. Your child will be building character all while having a super fun time.
Don't forget these camp essentials!
Aspen Grove Family Camp
Location: Provo; near Sundance
Duration: 3 or 6 nights
Rating: 4.7/5 from 337 Google Reviews
Aspen Grove is one of the popular overnight summer camps in Utah since it offers a fun experience for the whole family. You'll have plenty of time all together, but there are also leader-run kids programs that will allow mom and dad to have some kid-free time as well,
There are family activities galore, from the swimming pool to arts and crafts. Food is all taken care of as well so you can truly relax.
Choose from a full camp of Saturday to Friday, or a mini camp which is just 3 nights / 4 days.
At under $1,000 for an entire week (per person), it's one of the more affordable family camps I've seen.
Check Out Aspen Grove Family Camp
Photo by Nadiia Ganzhyi on Unsplash, not a photo of the actual camp
All Ability Overnight Summer Camps

in Utah
National Ability Center
Located: Park City
Duration: varies
Rating: 4.7/5 from 39 Google Reviews
National Ability Center is amazing at providing a fun experience for everyone in their inclusive camps. There are many to choose from to get the right fit!
Xtreme Action Camps are for those with physical disabilities or vision impairments. This camp is open to those aged 12-18. Kids will get to experience ropes courses, zip lines, climbing, water challenges, and more in this camp.
The Crusaders/Adventures camp is available to anyone aged 16-30. This 4-night camp is for neurodiverse teens/young adults and provides activities like games, mountain biking, paddling, arts and crafts, archery, equestrian activities, and so much more.
There are a few other camps available (including a family camp where anyone age 4+ can attend) to provide a safe, inclusive, and fun experience for everyone!
Check out the National Ability Center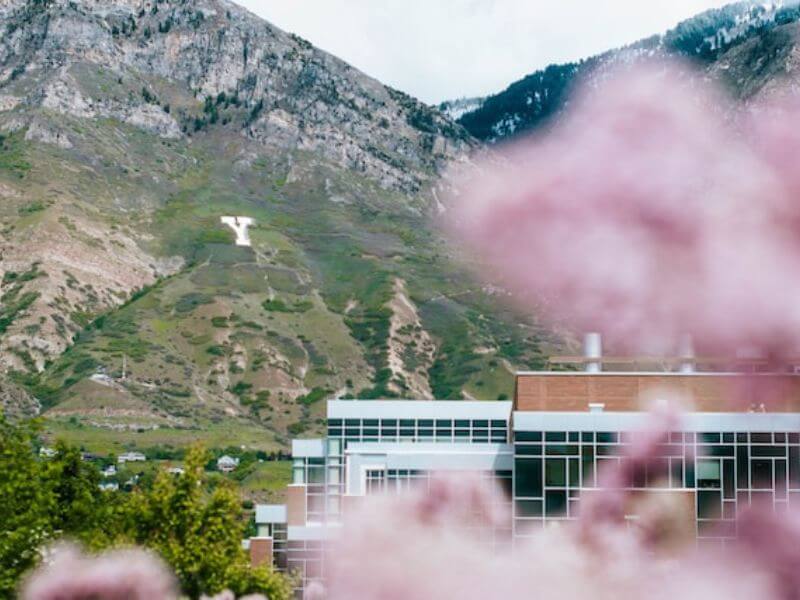 BYU Campus, Photo by Brie Odom-Mabey on Unsplash
Volleyball Overnight Summer Camps in Utah
Volleyball Camp – BYU
Location: Provo at BYU
Duration: 3 days
BYU hosts an array of sports camps. While not all are overnight camps, some are.
This volleyball camp has a few sessions that include lodging for kids entering 6th grade and above.
During the day, the BYU head coach and team will work with kids on skills like serving, blocking, setting, and hitting. They'll then get to participate in live matches during the course of the camp.
Check out the girls camp or the later co-ed camp
Volleyball Camp – USU
BYU isn't the only one to host volleyball overnight summer camps in Utah.
Utah State University also provides overnight camp options for those wanting to strengthen their volleyball skills.
While there is a 1-day camp for boys, girls have the option of the overnight camps. Choose from the 3-day All-Skills camp which includes a variety of training for girls starting at 12 years old. Or choose the 4-day TEAM Camp which runs clinics, training, and matches to practice what you've learned for high school girls.
Check out USU's Volleyball Camps
---
Also Check Out Nearby Overnight Summer Camps in Colorado
---
Leadership Camps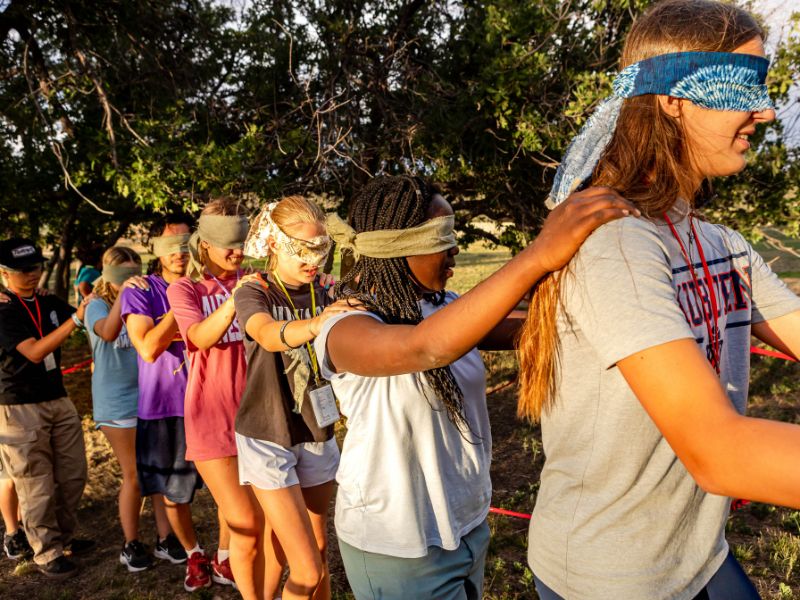 Youth for Freedom Summer Camp, photo used with permission
Youth for Freedom Summer Camp
Location: St. George
Duration: 4 days
Rating: 5/5 from 16 Facebook Reviews
Youth for Freedom is a sleepaway summer camp in Utah that is dedicated to building leadership skills in youth.
A typical day involves waking up, doing a workout, workout (basketball, yoga, etc), listen to engaging speakers, paddle boarding, pickle ball, and participate in simulations. The camp also includes fun nights of activities like a treasure hunt or a dance.
Youth will spend 4 days in the wilderness as they build relationships and participate in leadership trainings.
Camps are broken into age groups, so your child will always be with kids their age. Kids starting at 12 years old can participate.
Handmade meals are all included, as well as lodging, which ranges from lodges to tents (and anywhere in between).
There are fully trained camp leaders that will guide activities and stay with the kids.
Check out Youth for Freedom Summer Camp
Leadership Development Camp – American Red Cross
Location: Coalville
Duration: 5 Days
Rating: Great Reviews but no official ratings
This Leadership Development Camp is a fun overnight summer camp in Utah that focuses on strengthening confidence and motivation.
Learn leadership skills, but also make friends that become families. Kids love the feeling of belonging at camp, the connections, and how they loved it more than they thought.
Check out Leadership Development Camp by Red Cross
Special Interest Overnight Summer Camps in Utah
Photo Credit: 777 Ranch, used with permission
Horsemanship Camp at 777 Ranch (Christian Camp)
Location: Ferron
Duration: 1 week (Sunday-Saturday)
Rating: 4.8/5 from 19 Google Reviews
Located approximately between Salina and Green River is 777 Ranch ("Three 7s Ranch").
Here your child aged 12+ can participate in a week long, overnight summer camp of horsemnship. This program consists of horse training, trail rides, games on horses, roping, and even learning how to ride for beginners.
(*Note, younger kids age 8-11 can participate in day camps.)
This is a serious business, as your rider will actually be tested on different horse skills and horse knowledge in order to pass to the next level. They'll be prepared with both group instruction and one-on-one instruction.
But don't worry, it's not all serious business. There's also fun, creative, and free time available for building friendships. Kids can swim, kayak, do some crafts, and have the typical campfire time.
As this is a Christian camp, campers are encouraged to bring their bibles and notebooks for both study and chapel times.
Check Out Three Seven's Ranch Camp
Young Authors Academy – Writing Camp
Location: Provo at BYU
Duration: 6 days
BYU provides a host of sleepaway summer camps in Utah in many areas of interests. This one bring out the author in your child.
You can register here as just a day camp, or for a reasonable fee you can add 5 nights lodging on BYU campus and all meals to make this a fun overnight summer camp.
At this writing camp, campers will have plenty of opportunities to learn different aspects of the writing process. They can also choose from different electives like how to write a villain, writing fantasy, fiction, or mystery.
Different authors are brought in each year to teach and provide opportunities to learn from (and get autographed books).
Overnight campers will have free time in the evening to build friendships, all led by a camp counselor.
Check out Young Author's Academy Camp
Photo Creit: Canyonland Field Institute, used with permission
Canyonlands Field Institute Camps
Location: Moab
Duration: 3+ days
Rating: 4.6/5 from 10 Google Reviews
Canyonlands Field Institute hosts a few really fun overnight camps in Utah in the Moab area.
Explorer Base Camp is a more traditional overnight summer camp for kids 5th grade through 8th grade. This 5-day camp has a base at Warner Lake campground. Campers will learn different outdoor skills, go hiking, fishing, and even participate in arts and crafts.
The Youth River Skills is a 3-day camp open to incoming 7th, 8th, and 9th grade kids. They'll be given a great experience rafting down a river and packed with knowledge on ecology, river dynamics, gear, and safety. No experience is needed to participate.
For more adventure, Whitewater Academy Camp provides a great time for incoming 10th, 11th, and 12th graders. This 4-day camp takes you through some of the best whitewater on raft. They will get to experience up to class 3 and class 4 rapids on this adventure. These older campers will not only learn about safety and rivers, but about quick water rescues, decision making, and leadership.
Check out these (and more) summer camps from Canyonlands Field Institute
And Find super fun things to do in Moab for families for anyone not attending the camp!
The Best Overnight Summer Camps in Utah
No matter what interest or ability you are looking for, there is something available in one of these awesome overnight summer camps in Utah! Do you want a typical summer camp experience, a specific interest, or a week of learning about horses? You can find it here
So enjoy your summer filled with fun at one of these sleepaway summer camps in Utah.
Save this to Pinterest!
Read More:
Best Sleepaway Summer Camps in Colorado