The Best Things to do Near Mount Rushmore With Kids
Mount Rushmore is one of those places that I never thought would be a "fun family vacation." The monument is cool, but are there many attractions near Mount Rushmore? It is incredibly impressive and everything, but I didn't know if the kids would appreciate that, or if a long drive would be justified for an hour or two of site-seeing. But There are actually so many fun things to do near Mount Rushmore with kids!
Let's Jet, Kids! uses affiliate links.  As an Amazon (and other networks) Associate, I earn from qualifying purchases.  It is no extra cost to you.  
I'll summarize by saying YES. Mount Rushmore makes a great family vacation. There was so much to do and see in the area that we ended up having a blast when we visited.
If you're looking for a fun family vacation, you'll find plenty of fun things to do near Mount Rushmore for the whole family!
How We Decided to Take the Kids to Mount Rushmore
One day I was chatting with a friend and somehow, I randomly mentioned how it would be fun to go to Mount Rushmore sometime. I thought it was just casual talk, one of those rhetorical conversations you are not planning on actually happening. But she basically said "Yes! That would be so fun! Let's go together!" I figured, more rhetoric. But she followed thru and called me to look at calendars and schedule a long weekend to drive up and before I knew it, our family had plans to go to Mount Rushmore.
Today, it's still one of those trips that when someone else mentions Mount Rushmore, I say "yes! You should totally go! It is SO much fun!"
It wasn't JUST fun. It was educational. It was adventurous. It was beautiful!
AND, there was a lot more to do than just look at the carved mountain and come home.
Where to Stay Near Mount Rushmore
There are so many hotels around the greater area. But if you are looking for where to stay near Mount Rushmore, you'll want to be in the city of Keystone.
Since we booked so last minute, we didn't have a lot of hotel options.  We ended up at the Rushmore Express Inn and Family Suites.  It was a pretty typical, budget hotel.  The nice thing is that we were on the 3rd (top) floor, which had high ceilings in the bedroom. 
Just make sure you ask for an exterior room.  We were in an interior room (didn't know that existed) and didn't have any windows to the outdoors…just one to the hallway.  But the room was pretty big and had all the typical amenities (fridge, tv, pull-out couch coffeemaker, microwave) plus it had a fireplace and a nice, updated bathroom. 
There was a typical continental breakfast. Not the best ever, but the kids didn't mind it one bit and it was nice not having to always go somewhere for breakfast. The staff was SO courteous and polite.
Other hotels really close to Mount Rushmore
I'll admit that when we drove into our hotel, I was a little envious we weren't staying at the Roosevelt Inn, which was right next door. This cool exterior was inviting and it is a little step up in comfort.
If you need budget, Super 8 is also next door and an affordable option.
What to do AT Mount Rushmore with Kids
See The Monument
First, we saw Mount Rushmore up close. The creators of the monument wanted it to be accessible to all people for free. So, there is no entrance fee to go see Mount Rushmore. HOWEVER, there is a fee to park. Kinda a tricky thing, BUT it's only $10 for the whole car to enter and park. And it it good for a year, so you can come at night to see Mount Rushmore lit up, and then come back in the morning to see it in the daylight.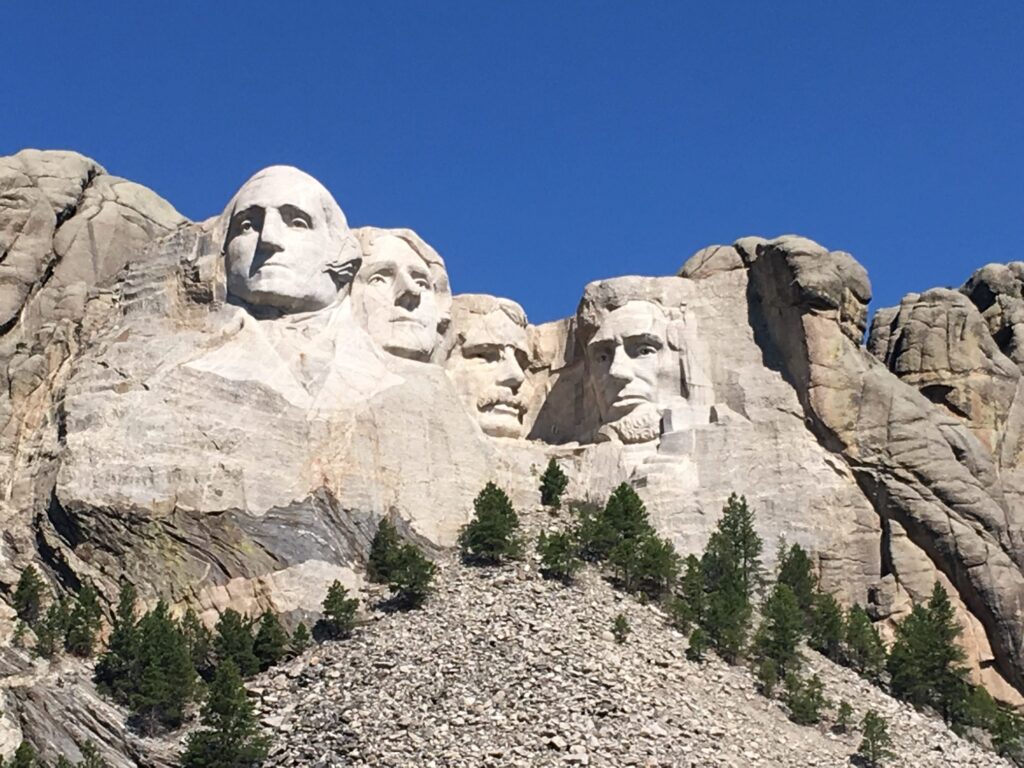 We took a lot of great pictures here. I've seen Mount Rushmore a thousand times in a picture, but in person it is majestic! It is huge, and detailed, and beautiful!
Visit the Creator's Studio
We stopped by the creator and artist's studio while we were there. This is full of fun information on the creation of Mount Rushmore as well as displays and lesser known facts (did you know there are hidden vaults in the monument?!)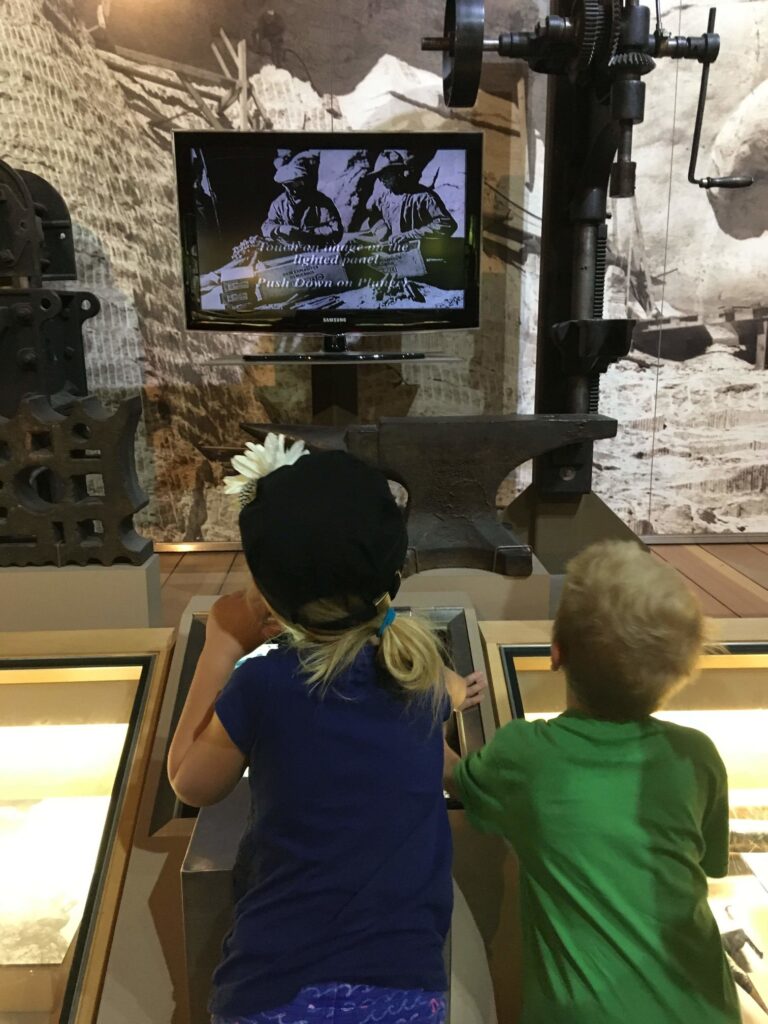 Go up the Presidential Trail at Mount Rushmore
We tried to get as many views as we could. The standard spot is right in front, but we also took the Presidential Trail which takes you a bit closer and farther up.
There are quite a few stairs, but it's not too bad and the kids can handle it fine.
Presidential trail
Things to do Near Mount Rushmore with Kids
Near the Rushmore Express Inn
The location of the Rushmore Express Inn was the best part. This hotel was steps away from other restaurants, an ice cream shop, and an alpine slide and ropes course. And of course, it was just a couple miles to Mt. Rushmore.
Wildlife Loop and Black Hills – Cool drives near Mount Rushmore
We were able to see Mount Rushmore quite a few times at a distance just from driving back and forth to the hotel. The first day, we got up and made our way to Wildlife Loop Road, which is definitely one of the best things to do near Mount Rushmore.
We got there by going thru the Black Hills Forest (a few miles from Mount Rushmore) and took about an hour thru nature to access the Wildlife Loop. It's basically driving through a national forest for an hour, and it is gorgeous! Once you actually get to Wildlife Loop, it's about another hour.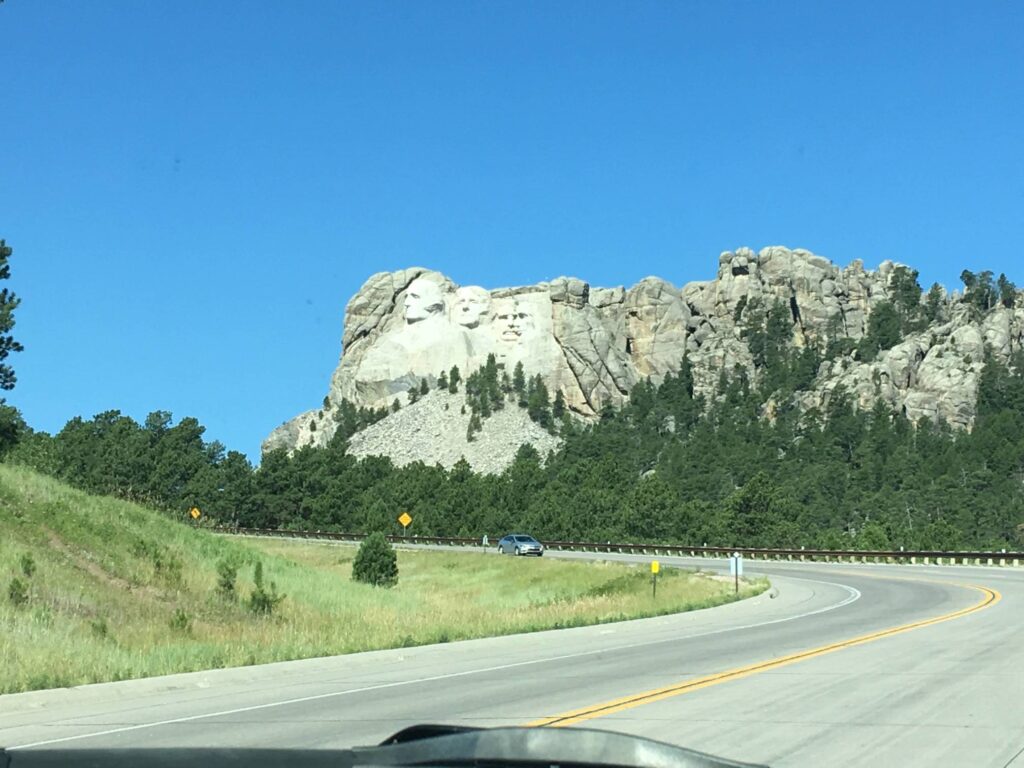 The great thing about Wildlife Loop Road is…you guessed it…all the wildlife. We saw herds and herds of buffalo!
There were also donkeys, which we were told had been brought over domestically to the area way back when, but now are roaming wild. The donkeys WILL come right up to your car and up to you if you have food. So don't stand behind them or you risk getting kicked!
The park says the best time to see the most wildlife is right after sun-up or right at sun-down.
Legion Lake with the Kids – cool attractions near Mount Rushmore
This was one of our favorite, fun things to do near Mount Rushmore with kids.
As we were driving through, we stopped at Legion Lake. The main building here has a shop, bathrooms, food, and non-motorized rentals. We took the opportunity to rent a canoe and load the kids in! It was a little over $20 to rent the canoe for an hour (rates may have changed now) and included lifejackets.
The lake was beautiful to go around; tall rock mountainsides on one end and a nice beach on the other (and a park!). The kids had a blast canoeing for the first time! This is a must do activity near Mount Rushmore.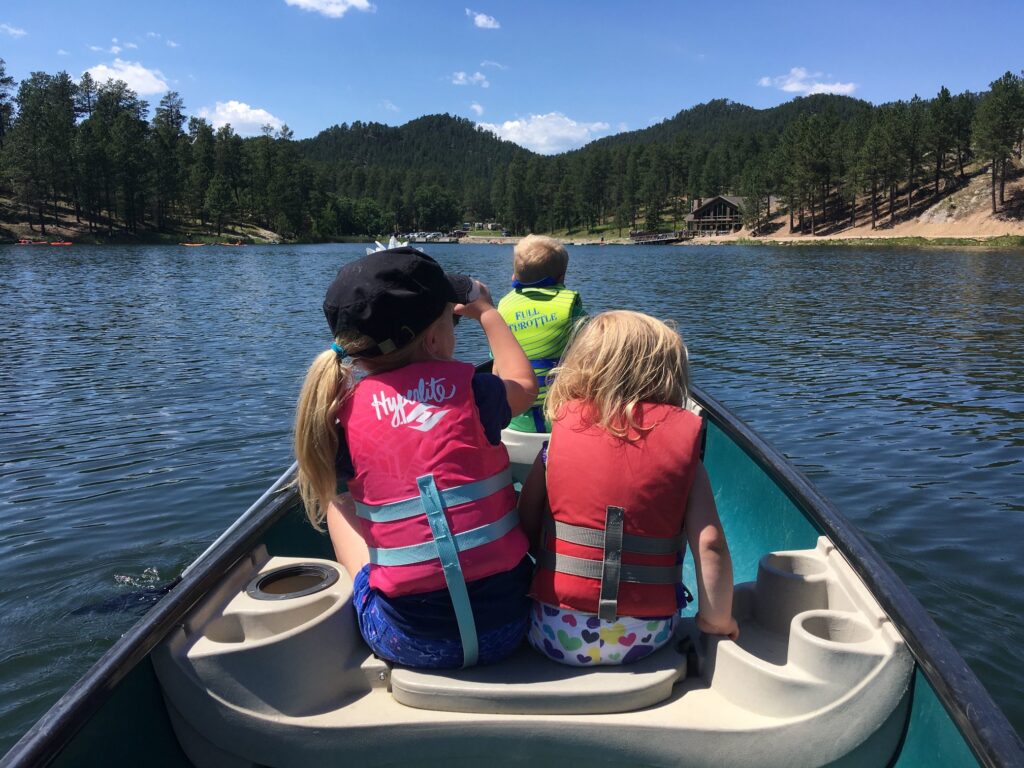 Jewel Cave– Things to do near Mount Rushmore with kids
We also took a short drive over to Jewel Cave, one of the best attractions near Mount Rushmore. Since we had a bunch of littles with us, we opted for just the Discovery tour. For just a few dollars per person, we took a long elevator ride down to the cave.
A guide shared some knowledge of the cave system (only a small fraction of this giant system has been explored) and let the kids hold different pieces of limestone, stalagmite, and other rocks.
It was a little chilly in the cave. I was fine in short sleeves, but many had sweatshirts on. With the Discovery tour, we stayed in the main cavern the whole time. A different tour would take you up and down steps to explore a little further.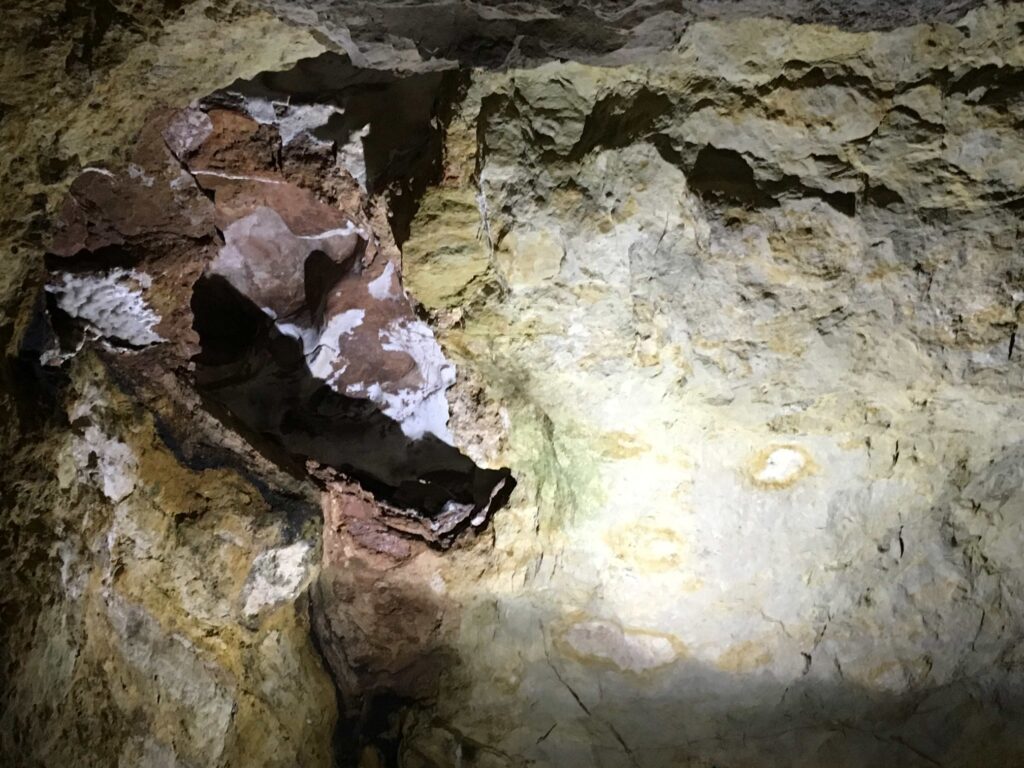 Looking up in Jewel Cave
Cool off at Sylvan Lake – things to do near Mount Rushmore with kids
This lake is gorgeous, but is Sylvan Lake swimmable?
YES!
The next day, we spent the majority of our time at Sylvan Lake. This lake is gorgeous! In the second National Treasure movie, the camera quickly pans over this lake. It is beautiful from the road, and even more gorgeous when you are close and experiencing it.
To Hike Around Sylvan Lake:
We parked and went clockwise (around the lake the long way) to the beach area. We had a stroller so some parts got tricky and we had to collapse the stroller and carry the baby thru narrow areas. It was tricky with tiny kids, but really pretty. It you don't have stroller-age kids, I would recommend going clockwise for an extra adventure.
But if you do have a stroller (or just don't want the longer hike around), park and head counterclockwise to take you quickly and easily to the beach area.
---
Love Lakes? Check out 13 awesome lakes to play at in Colorado
---
The water here was chilly, but not freezing. It is shallow for a bit, and then suddenly drops. The setting is spectacular. The lake Is beautiful in and of itself, but then there are tall rock formations jetting tall out of the water really adding that "wow" factor. The landscape was gorgeous and made it a really peaceful way to end the trip.
There are so many other places to see while near Mount Rushmore! While I thought there would be nothing to do, it ended up that there was SO much to do and we didn't have time for everything! Here are some more ideas if you have more time:
Already mentioned- Fun Things to do near Mount Rushmore with Kids
Black Hills (drive thru this beautiful forest and make sure to hit the Wildlife Loop! note- small entrance fee)
Legion Lake (fee to kayak or canoe!)
Sylvan Lake
Jewel Cave (small fee per-person)
Additional Ideas of Attractions Near Mount Rushmore
Big Thunder Gold Mine– learn about the Gold Rush in 1876, witness a large display of mining equipment, and pan for gold! Free under 5, $9-$12 child/adult
Needles Highway– a scenic drive with great, sharp rock formations.
Crazy Horse Memorial– ($12/person, less for 3 or more people in a car) The face of "Crazy Horse", a leader among the Lakota tribe, carved into the mountain.
Bear Country USA– this is quite a drive up to Rapid City, but sounds amazing. A few hours from Mt. Rushmore, this will require the whole day and the price is a little hefty at $12-18 per person (or $65/vehicle). But once you're there, you could experience wolves, bears, buffalo, badgers, beavers, bobcats, and more in this wildlife park where the animals roam free. As long as you've made the drive, be sure to stop at…
Reptile Gardens- also in Rapid City ($12-17 per person). Here you can experience flowers and plants, but also crocodiles, eagles, turtles. Reptile gardens hosts more venomous species of reptiles than any zoo in the world!
Tours and Experiences in Mount Rushmore
Mount Rushmore and Black Hills Tour and Live Commentary– Black Hills, Crazy Horse Memorial, Custer State Park, Iron Mountain Road, Mount Rushmore National Memorial…this tour has it all, and you don't have to plan or drive!
Pinnacle Zipline Tour in Keystone– For families looking for a little more adventure, you can see the faces of Mount Rushmore from a unique view!
Mount Rushmore with Kids
With so many things to do near Mount Rushmore with kids, it makes the perfect family getaway. Whether you have a weekend or a week, you'll have plenty of options for making memories. So if you're on the fence, know that the monument itself is amazing, and when your time there is done, there are so many more things to do and attractions near Mount Rushmore.
Making a long car ride to visit Mount Rushmore? Check out these games for the car to help kids pass the time!
Save This to Pinterest!