12 Fun Lake of the Ozarks Family Activities
There are plenty of things to do in Lake of the Ozarks with kids in tow. Here is a guide on how to spend your time with these Lake of the Ozarks family activities.
Let's Jet, Kids! uses affiliate links.  As an Amazon (and other networks) Associate, I earn from qualifying purchases.  It is no extra cost to you.  
We made our way through this area on our way from Branson to St. Louis, and it was such a fun stop. It was fun exploring the state parks, caves, and water of the area.
Whether you are looking for water, hiking, or other exploring, this is filled with beauty and wonder for the whole family. In addition to grabbing a boat and playing on the water, you can hit up some fun attractions, see some history, explore through a cave or two, and have a blast with this guide to Lake of the Ozarks for families.
Table of Contents
---
Make sure to reserve your car rental early! You can find a deal on a car rental whether you're flying into St. Louis, Kansas City, or Springfield/Branson.
---
A Little About Lake of the Ozarks
Lake of the Ozarks is a central area in Missouri that provides vacations and weekend getaways for over 5 million people each year (with around 10 million escaping to the area during 2020).
Worried that's a lot of people? With over 1,100 miles of shoreline, there is space for everyone. The lake itself covers 54,000 acres, and from one end to the other stretches 95 miles. The north side stays the busiest, as it accounts for nearly 73% of the dollars spent by tourists.
Lake of the Ozarks is famous for being one of the largest manufactured lakes on Earth. It holds around 600 billion gallons of water, created from the Bagnell Dam (more on that below) along the Osage River.
It's a great getaway for locals, but even if you're not local it's worth a stop to see this incredible landscape. Here are a few great Lake of the Ozarks family activities for your next visit.
Here are the Best Lake of the Ozarks Family Activities!
Check out these incredibly fun activities for when you visit Lake of the Ozarks with kids. From caves to parks to water fun and everything in between, this is a trip you'll remember.
1- Bridal Cave – Camdenton, MO
Some of the most fun Lake of the Ozarks family activities are within thick, underground walls.
There are a few caves at Lake of the Ozarks. After researching a few, we decided to visit Bridal Cave, and it did not disappoint.
Going underground turned out to be one of our favorite Lake of the Ozarks family activities.
Bridal Cave is located under Thunder Mountain. It is believed to be originally discovered by the Osage Native Americans, and that they held weddings inside. True to its name, Bridal Cave has hosted over 4,000 weddings within its cavern.
Tours at Bridal Cave run all day long. Your admission includes a guided tour. The guides are fun and interactive, full of information and interesting facts, and ours was great with all the kids in the group.
Our kids loved seeing the wishing well, the glow-in-the-dark rocks (glowing because of the phosphorous make-up), and the incredible rooms filled with stalagmites and stalagtites. The guide was great about teaching about formations, compositions, and telling stories of history within the cave. This was a highlight for the kids and adults.
You can buy tickets right at Bridal Cave. Right now, adults are $22 and kids are $11. Check the Bridal Cave website for updated info.
Bridal Cave Good-to-know:
While the path has been roughly laid with concrete, strollers would not work in here.
There are few spots that are tight (though very short).
There are a couple stretches with low ceilings that adults will have to duck as they walk. These are not very long stretches.
The whole cavern is lit; you do not carry flashlights. The guide has a remote controlling the lights in the cavern, and will warn you if he turns them off to show glowing rocks. The kids in the group loved this and actually requested he turn off the lights a few times.
There is a really cool gift shop, showcasing myriad rocks of different types, colors, and sizes.
2- Stark Caverns
Another great cave in Lake of the Ozarks is Stark Caverns.
Stark Caverns are located in Eldon, which is on the northeast side of the lake. It is open year round and stays at 57-58 degrees (F).
There are a few tour options at Stark Caverns, but the best one to take with kids is the regular daily tour. This tour is free for kids under 4 and will explore stalagmites, stalactites, formations, artifacts, and more.
On the regular tour, you'll be walking on a comfortable walkway for about 85% of the time. The last final stretch of the cave tour is not a walkway.
A Black Light tour is offered as well, but kids under 8 are not permitted on this tour.
Ever done an escape room? How about in a cave? Stark Caverns offers private group escape rooms inside the caverns. You'll pay a flat-rate for the group, and then you'll have an hour to escape.
Good to Know:
Bring a sweatshirt and even a light coat
No flash photography of little creatures you might encounter
No photographing the artifacts
Open year round- first tour at 10am and last at 4pm
Find out more about Stark Caverns.
3- Visit Ha Ha Tonka State Park with the Kids
Ha Ha Tonka State park is filled with exciting hikes that the kids will love! Try the nicely-paved Castle Trail to visit remains of a mansion built in the early 1900's. By the 1940's, the castle was destroyed by fire. The exterior walls remain today.
Other great (but not completely paved) trails include the Colosseum Trail and Island Trail. Each are less than a mile, and can easily be mix-and-matched.
If the kids are up for a challenge, take Spring Trail, which will walk alongside the water. It does, however, include a 316-step staircase in one portion. My kids found it fun and exciting, and we weren't the only family there enjoying it. It's definitely doable with kids if they find challenges fun!
Ha Ha Tonka is filled with exceptional beauty. Whether you want water, history, or greenery, Ha Ha Tonka is a great family day out.
This was one of our favorite Lake of the Ozarks family activities.
Read more details about hiking with kids in Ha Ha Tonka State Park
Good to Know:
Bring snacks and water. It's easy and very enjoyable to spend a few hours here. Pack out what you bring in.
There are bathrooms at the Castle Trail parking lot
Admission is FREE (woo hoo!)
There is a Visitor's Center with just a couple souvenirs, a staff member to answer any questions, and a few animal displays to learn about native wildlife.
---
Check out my Amazon picks for hiking day-packs and hiking essentials!
---
4- Big Surf Water Park
Located in Linn Creek on the eastern side of the lake, this makes one of the fun Lake of the Ozarks family activities.
Older kids will love sliding down a 4-story halfpipe or shooting down a 300-foot tunnel slide. Younger Kids will love the zero-entry pool and activity pool catered just to them. And everyone can play in the wave pool and lazy river!
With 8 different attractions, there is something for everyone.
If you need a nice pool day, Big Surf Park is perfect for your trip to Lake of the Ozark for kids.
Good to Know
Rates are around $30-$40
3 and under are free
Discounted rates for end of day entrances
Food available for purchase at the park (hamburgers, hot dogs, pizza, sandwiches, kids menu, and snack foods)
Open Seasonally beginning in late May
5- Jolly Mon Indoor Water Park
This indoor waterpark is located at the Margaritaville Resort, but you don't have to be a guest to visit. Day passes are $25 for non-hotel guests (2 and under are free).
Enjoy waterslides, a large whirlpool, a 3-story treehouse for the younger kids, lazy river, and more.
Whether you need a day off from the sun or want some splash time during the colder months, this indoor waterpark makes the perfect activity in Lake of the Ozarks for kids.
6- Leman's Family Fun Parks
Take the kids for some fun go-karting in Lake of the Ozarks.
Leman's Family Fun Park is located in Lake Ozark, not far from Bagnell (see the next activity below after you visit!)
Go Karts come in single or double so you can drive a younger child. People love that it's not usually crowded, so you don't spend your day waiting in line.
As a bonus, Lemans Fun Park also has bumper boats!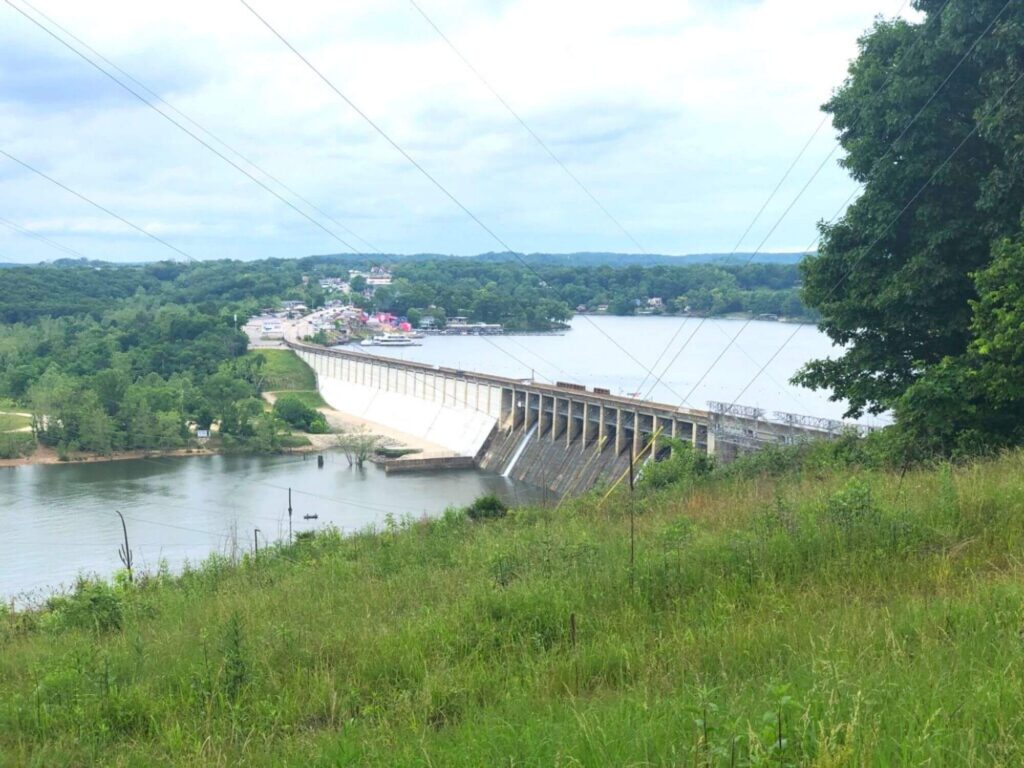 7- Take the Kids to see Bagnell Dam
The History of Bagnell Dam
Bagnell Dam has an interesting history. It is located on the Osage River in Lakeside, MO. Construction began in 1929, just two months before the start of the Great Depression. However, the local area was booming with work. Over 20,000 people were with jobs working on the construction, coming from many states and even a few other countries. Since so many men were needed for work, another construction project was building accommodations like housing, a hospital and schools for families that had moved to the area. Even then, many men still slept in tents.
The location of the dam was chosen due to its proximity and practicality of construction. Missouri is home to one of the nation's major waterways, and hydroelectric power had great potential on the Osage River. There is enough water flowing through the area that damming the River was an economically viable decision.
In addition to creating power, Lake of the Ozarks was another result of the dam. Lake of the Ozarks is one of the largest manmade lakes in the world, with 600 billion gallons of water.
How to See Bagnell Dam
Scenic Overlook
On the far side of the dam, you can go to the city Ameren and drive up to a scenic overlook. There you will find informative boards explaining some of the history and workings of the dam as you witness it in front of you. Kids will love seeing the old Turbine, used from 1931-2001. The turbine had 33,500 horsepower and spun at 112.5 rpm; it was replaced in 2001 with an even more efficient turbine at the Osage power plant.
After the kids explore at the scenic overlook, hop back in the car and continue driving down the road just a bit. As the road drops, you'll have some more great views of the dam.
8- Stop at the Wilmoor Lodge
Wilmoore Lodge was used as an administration building during construction. Today it is the Lake Area Chamber of Commerce Visitor's Center, as well as a museum for the Bagnell Dam.
Walk through many sections of history and construction of the dam, and then enjoy views from the large sitting area. Then make the steep but short trek down to the gazebo and garden area for more stunning lake views.
9- Play at Lake of the Ozarks State Park
There are plenty of easy trails to hike with the kids at Lake of the Ozarks State Park. Rocky Top Trail is an easy hike just over 2 miles, and provides great views of the lake.
However, if you need a rest from hiking, head to Grand Glaize Marina for fun recreational activities. The public beach there is a beautiful place to relax or play and cool off in the water. Watch for ducks, geese, and other wildlife as they take refuge in the calm beach area. Or, rent a kayak and play on the water for a bit.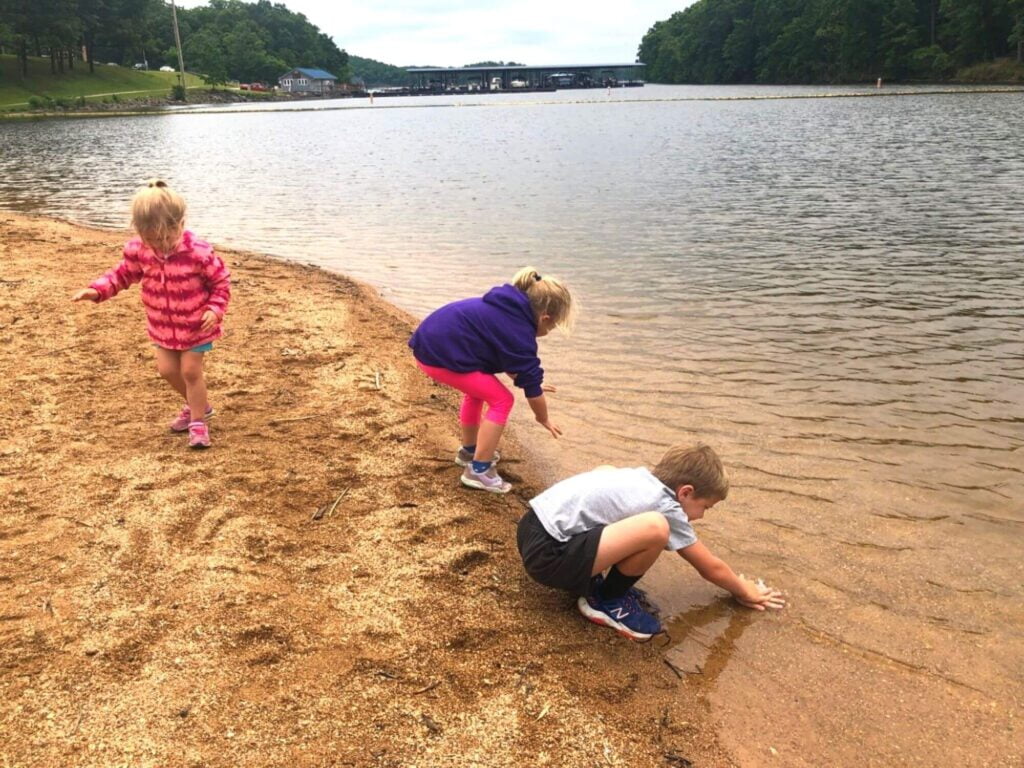 Just across the little bridge from the public beach area is a playground that the kids can burn some energy on. It has room to run, climb, slide, swing, and play for all ages.
Good to Know:
Admission to the Lake of the Ozarks State Park is FREE!
There are bathrooms at the public beach area at Grand Glaize Marina
We saw lots of baby goslings and ducklings at the beach. It was very cute…until one parent-goose became a little more aggressive and approached us. Leave plenty of space between you and any baby animals you come across.
10- Kayak on Lake Ozark
Rent a kayak from River Monkey Kayaks and spend the day on the lake. Kids love kayaking as it's easy and gentle. It's the perfect activity for families at Lake of the Ozarks where everyone can participate.
They can bring the kayak to you at your hotel if you are at a lakefront location. If your hotel isn't lakefront, then just let them know which public beach you'd like it delivered to and you can meet them there.
11- Ziplining in Lake of the Ozarks
Experience Lake of the Ozarks from above!
Book a zip line canopy tour that kids down to 4 years old can participate in. You'll glide over the hills of the Ozarks on 8 different lines, plus go over a swinging bridge.
Tours begin in Camdenton.
12- Stroll Through the Ozarkland Store in Camdenton
Known as a road trip tradition, make sure to stop at the famous Ozarkland Store in Camdenton. This huge, red-barn is filled with souvenirs of all kinds. The kids can pick a shirt, jewelry, candy…the store is huge.
Fudge is very popular in the area, and at the back you'll find a huge selection of fudge. From Raspberry Cheesecake to Butterfinger, there are tons of flavors to choose from. Pick a few to be boxed up and enjoy throughout the trip. Perhaps it will make a great reward after a long day hiking and playing.
Where to Eat in Lake of the Ozarks
One cool thing about Lake of the Ozarks is that it is filled with fun restaurants. By that, I mean that you not only sit down and eat, but there are plenty of activities to enjoy at the restaurant! Here are a few family-friendly, fun-filled restaurants at Lake of the Ozarks.
Malted Monkey
Located near Bagnell Dam, you can take the family to Malted Monkey where you can enjoy a large ropes course. For $25, you can stay and play as long as you'd like on the ropes course (but once you come down, your turn is up!)
After you wear yourself out, sit down and grab a burger, unique mac 'n cheese combo, salad, hot dog, or sandwich.
Larry's on the Lake
Whether you drive a car or a boat, there is parking available at Larry's on the Lake. Come aboard the floating dock (pretty stable; you won't get seasick) to enjoy a delicious meal. The large menu offers huge nachos, salads, burgers, sandwiches, wraps, pizza, and more. There's a great selection of items on the kids menu as well.
While you are waiting for your food, start a game of giant Jenga or cornhole. Music and fresh air will keep your spirits high.
Oh, and bring a quarter. The kids will love purchasing a large handful of fish food to throw over the edge and watch the catfish (or a sneaky duck) flock to the food.
Bear Bottom Resort
Enjoy Missouri's longest waterslide at Bear Bottom Resort in Sunrise Beach. Live music picks up the mood and fireworks appear each Saturday at 9:45 all summer. Kids are welcome to play while the adults enjoy the swim-up bar in the pool.
There's plenty of food selection, from salads and chili to burgers and tacos.
Where to Stay in Lake of the Ozarks
There are a few main areas in Lake of the Ozarks, and plenty of options to rest at the end of a long, fun day. Here are a few favorite hotels in Lake of the Ozarks.
Read: Why we LOVE using hotels.com
Camdenton
Camdenton is a pretty central location for all the activities listed above. Just a few miles from Bridal Cave, a short drive from the Dam, and not long to Grand Glaize marina, Camdenton is a great location for all adventure in Lake of the Ozarks.
We stayed here at stayed at the Sleep Inn. The hotel was comfy, had an indoor pool, outdoor pool, small workout room, and was very clean. We are a family of 6 and were able to stay in one room, due to a pull-out sofa bed (and our kids being young and able to sleep on a pull-out sofa.) Breakfast is included in your stay.
The room had a mini fridge and a microwave, which was convenient because it was located just across the street from a Wal-Mart, which helped us save a little on lunches.
Osage Beach
Osage Beach is another great area to stay in. It's proximity to various activities, including the ones listed above, is also ideal.
Check out Lake House Hotel for a family stay in Lake of the Ozarks. This hotel is a family-fun getaway. The kids will love the onsite playground, indoor and seasonal outdoor pool, basketball, mini golf, and a couple waterslides. Adults will love that breakfast is included, hot tubs, and the nightly rate doesn't break the bank! This highly rated hotel is perfect for the whole family.
Lake Ozark
If you're looking for something a bit nicer to really relax and indulge, check out the 4-star Lodge of Four Seasons Golf Resort and Marina. This large resort has 300 rooms, but it also boasts 6 different restaurants on site. Enjoy the indoor pool, the seasonal outdoor pool with a swim-up bar, golf course, spa, fitness area, yoga, and water / boating activities. This resort has it all, and is sure to make your family vacation memorable.
Visiting Lake of the Ozarks with Kids
If you are heading for a weekend in Lake of the Ozarks with kids, there is plenty to keep you and the kids busy. From beautiful nature, caves, beaches, hikes, and unique dining experiences, there are plenty of Lake of the Ozarks family activities!
---
More fun nearby:
Make the drive down to Branson, Missouri for endless fun
What to do at Table Rock Lake
---
Save this post to Pinterest!