San Francisco is a wonderful city full of life, color, history, and fun things to do. From riding the trolley to heading back to your childhood of watching "Full House," there are plenty of classic things to do in San Francisco. Luckily, this town is full of charm and fun, so there are plenty of things to do in San Francisco with kids!
Let's Jet, Kids! uses affiliate links.  As an Amazon (and other networks) Associate, I earn from qualifying purchases.  It is no extra cost to you.  
Whether you're looking for a San Francisco weekend getaway or a slower paced week-long adventure, there is something for everyone. Read on for the top things to do in San Francisco.
Closest Airport to San Francisco
Conveniently, the San Francisco International Airport is only about 30 minutes from the main San Francisco area. All major airlines fly into this popular airport, making getting there pretty easy.
Once you are there, grab a ride share (Uber, Lyft) into town, or make sure you have a reservation to rent your own car.
Need to rent a car? Compare rates here!
Is San Francisco a Good Place for Kids?
Sometimes a city can have so much "adult" stuff. Shopping, old buildings, schedules… San Francisco has all of this. But it also has so many fun things to do that kids will enjoy! So Yes, San Francisco is a great place for kids to visit, and they will have a great time!
That said, locals have mentioned that the amount of homeless has soared recently. I'm not saying homeless=bad, but I know people have different comfort levels with activities their children may see on the streets. So just something to keep in mind!
What Should I Bring to San Francisco?
Here are a few things we were glad we brought, as well as things we ended up buying there!
Raincoat– I wouldn't say it's excessively rainy in San Francisco, but we were glad we brought rain coats as it did rain a bit! We visited in February, where about a quarter of the month is wet. In summer, it's pretty dry.
Hat– I bought a hat while I was there. It was helpful both when it was raining, when it was sunny, and on days I didn't wash my hair, ha!
Sweatshirt– Temperatures are pretty mild year-round in San Francisco. That said, it can get chilly, especially at night. This is another item I bought while I was there.
Walking Shoes– You can Uber everywhere, but some places we actually found were way faster to walk. Between getting around the city and dealing with traffic, taking the car can take a while. It's sometimes only worth the drive if you're going far.
Camera– Of course you'll probably have your phone, but if you have an inner photographer in you, make sure to bring that camera. There are a lot of great things to photograph in San Francisco.
Where to Stay in San Francisco with Kids
There are no shortage of hotels in San Francisco. Depending on if you are wanting location or luxury, here are a few that work great for the family.
The Wharf Inn– Affordability and location. This is not about luxury. It's a long, funny story (well, now it's funny) about how we ended up here. This place is older and it's just 2.5 stars. If you are not planning on spending much time at the hotel, this makes one of the most affordable options. The staff was great and the location at Fisherman's Wharf is what won us over in the end.
The Fairmont Heritage Place – Luxury and Location. This place is located at Ghiradelli Square, right near Fisherman's Wharf. The hotel is beautiful inside and it can accommodate a big family with multi-room options in one unit.
The Alton– Affordability and location. Located at Fisherman's Wharf, this hotel is quite nice considering it's one of the more affordable hotels in San Francisco. You might get lucky with a room that has a view of Alcatraz Island. Even if you don't, it's only a 10 minute walk to the pier to hop on the ferry and see The Rock up close.
Handlery– Affordability and Location if you're wanting to stay near the popular Union Square, the Handlery makes a great option. It's nice, but still reasonably priced. Plus it has an outdoor pool the kids will love.
The Four Seasons– Luxury and Location. Located at Union Square. It's reputation precedes it…Four Seasons takes no shortcuts. A family up to 4 people can get by in one room here and enjoy the many amenities that come with it.
And now to plan your long weekend getaway in San Francisco with kids:
You can of course visit the classics like the zoo and aquarium, but I wanted to make a list of things unique to San Francisco to see while you visit.
Here is a (large) handful of really fun things to do in San Francisco that the kids will love!
Top Things to do in San Francisco
1- Ride the Trolley San Francisco with Kids
Did you know that the trolley in San Francisco is the last manually-operated cable car system in the world? Yep, there are still drivers that you can watch push and pull the lever to get the car going. Plus, the trolley is a classic piece of San Francisco that you have to jump on.
This fun San Francisco experience will set you back just a couple dollars/person. You can pay in cash when you board, or buy your ticket ahead of time.
Find trolley schedules and tickets here.
2- Ride Bikes Over the Golden Gate Bridge San Francisco with Kids
Bike Rental at 610 Old Mason St
I'll note right away that if your kids are too little to ride a bike, you can also bring your stroller to the pedestrian side of the bridge and walk over the bridge!
Stop at a bike rental place and grab a few bikes for the morning (or evening). Try Sports Basement, where they have kids' bikes, road bikes, or even e-bikes available. You can even rent a bike trailer.
After you are geared up with your bike and helmet, head toward the bridge for a magical ride. Being up close with the structure and pedaling with the water below is quite an experience.
If you've got an e-bike (or you're all pretty fit on a regular bike), continue up the long hill when you get to the other side of the bridge. It will take you to an incredible lookout point of the Golden Gate Bridge.
3- Taste the Fresh Air at Golden Gate Beach San Francisco with Kids
Now it's not a Miami-type of beach that's giant, but Golden Gate Beach is a cool little beach area across from Crissy Field. A bike path runs right along, making it a great stop if you've completed the bridge ride (#2).
Golden Gate Beach is a beautiful, fun area that the kids can run around and play with a gorgeous water and beach background. Plus, it delivers a great view of the bridge anytime of day.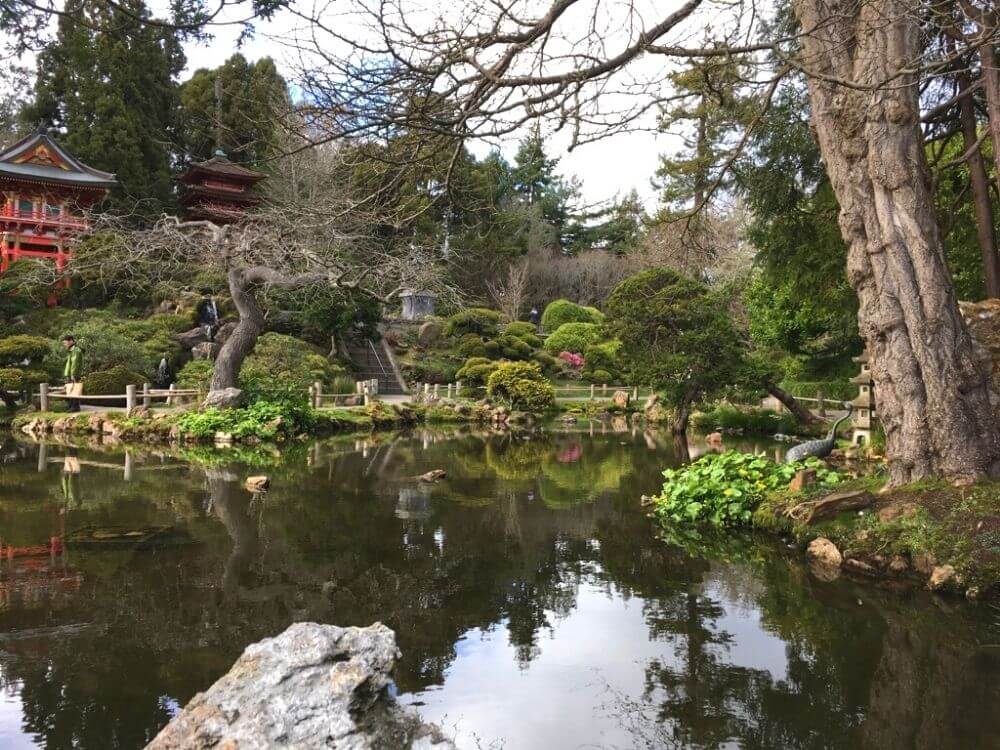 4- Stroll Through the Japanese Tea Garden San Francisco with Kids
75 Hagiwara Tea Garden Dr
Another great outdoor, fresh-air option is to head to Golden Gate Park where you'll find the Japanese Tea Garden.
I hadn't been to a Japanese Tea Garden before, so I was blown away by what I saw! Incredibly manicured plants, ponds, statues, bridges, structures… it was no ordinary garden!
The Japanese Tea Garden is a fun family-friendly thing to do in San Francisco. The kids will love finding the different features of the garden, flowers, and plants. There are fun photo ops (those wood people-pictures that you put your face in) and you can even enjoy tea at the tea house.
You can purchase tickets in advance here.
Bonus: If you'd like more nature and gardens, head to the Botanic Gardens, also located in Golden Gate Park.
5- Dig into History at Alcatraz San Francisco with Kids
Ferry access at Pier 33
Got a history fan in the family? You can take a ferry out to Alcatraz, former home of a high-security prison for people such as Al Capone.
The tour includes an audio tour, which you can pick up there or you can download the app once you are on the island and use your own earbuds. It's narrated by one of the prisons former officers. The tour is full of stories of life on the island as an inmate, but also as the people and families who worked and lived on the island.
While the audio tour is more geared for adults, kids will still enjoy the ferry ride over, the beautiful grounds, and and even getting to walk through an old prison. Yes, Alcatraz is recommended for kids, even by the National Parks Service.
The tour lasts roughly an hour and is self-paced.
Grab your ferry and tour tickets here.
6- Sweeten Up at Ghiradelli Square San Francisco with Kids
900 N Point St
Candy Candy Candy! But this is candy the adults will like, too.
What better things to do in San Francisco with kids than head to Ghiradelli Square and eat a bunch of chocolate!
Ghiradelli Square is not far from Fisherman's Wharf. Head here at the end of a long, fun-filled day when the lights have lit up the plaza and a large "Ghiradelli" sign welcomes you with its lights.
Then head inside one of the entrances to discover that there are way more flavors and varieties of Ghiradelli than you ever knew!
7- Visit the Walt Disney Family Museum
Do your kids like Disney? I thought so.
Take a walk through Disney history at the Walt Disney Family Museum. Here, you'll find galleries that take you from the beginning of Walt Disney's journey all the way to the big success he's known for today.
From sketches on paper to the creation of huge theme parks, kids will enjoy the familiarity of this Disney stop.
8- Gaze at the Palace of Fine Arts
3601 Lyon St
Ok this stop is quick, but it's quite spectacular! This was a little gem we didn't know about, but our Uber driver thought we'd enjoy. And we did! This is the perfect thing to do in San Francisco with kids for a little fresh air in a grand place.
The Palace of Fine Arts was originally built in 1915 for the purpose of displaying art. The original palace was destroyed in the '60s and only the exhibit hall structure remains.
It's a grand site to walk into and you can still enjoy the tall dome and giant columns that still stand today. And it's all outdoors to walk through, so kids can enjoy the fresh air and run around (as long as there aren't too many people, of course).
9- Get a Little Dizzy on Lombard Street
Talk about a tight turn! Lombard Street is famous for the 8 tight turns it takes going down one block.
You can drive it in your car or take a taxi if you'd like to experience the turns yourself. Otherwise, there is a nice staircase that goes up along the crazy section where you can watch the cars drive down like marbles in a track: back, and forth.
10- Have a Fun Food Experience in San Francisco with Kids
San Francisco is not short on great food. Here are a few fun areas to eat that the whole family will love.
Fisherman's Wharf– filled with great sea food and great scenery. Fisherman's wharf is right on the water and full of both food stalls to order from and restaurants to sit down at.
Chinatown– find something unique in Chinatown. Like Magical Ice Cream or Dragon's Breath. If nothing else, it's really fun to watch these unique items be made.
Little Italy– for delicious, authentic Italian food, you'll of course need to head to Little Italy. Full of pasta, pizza, and more. Plus, don't miss the great desserts and pastries.
11- View Sea Lions Basking in the Sun on Pier 39
Pier 39
Head to Pier 39 where you'll most likely see plenty of sea lions taking their afternoon sunbath. The water has plenty of little floating docks where these giants take up residence. San Francisco really comes to life for the kids as they watch sea lions sunbathe, swim, and interact with each other.
Check out these helpful transport and tours
San Francisco Bay- Sailing Cruise
Go City Pass– save on Top Attractions!
Bike Tour- San Francisco to Sausalito
Top Things to do in San Francisco with Kids!
The 11 things above would make plenty to do for a long weekend in San Francisco with kids. Pick a few of your favorites and really enjoy them. Create those memories, and have a great time in San Francisco.
Looking for more California fun? At 3-1/2 to 4 hours away, check out:
Great Hikes in Yosemite Kids Can Do Too!