Honest Review of Worldmark by Wyndham Granby Hotel
Granby is a town in the mountains of Colorado, not far from the more-popular Grand Lake. We recently planned a trip to Grand Lake, and while there are plenty of Grand Lake lodging options, we ended up finding the perfect and more-affordable option in Granby. This Granby hotel was just a short drive from Grand Lake, and provided what our family needed. Here is my review on the Worldmark by Wyndham Granby hotel.
Let's Jet, Kids! uses affiliate links.  As an Amazon (and other networks) Associate, I earn from qualifying purchases.  It is no extra cost to you.  
Flying into Denver? Make sure to reserve a rental car
Where is Worldmark Granby Located?
Worldmark Granby is located, of course, in Granby, Colorado. While nearby Grand Lake is home to a popular town and popular lake, Granby hosts the large Lake Granby. Boats and fishing are permitted on Lake Granby. Trout and kokanee Salmon swim in the waters, perfect for anglers.
Within the town of Granby, Worldmark Granby is just off Ten Mile Rd in Grand Elk Ranch. The location isn't crowded; it's beautiful and peaceful, and yet not a far drive from town. Right down the road is a grocery store, should you need anything. Granby tends to be a little more affordable than Grand Lake, but is just a short drive away.
Worldmark Granby backs to a golf course, giving it a beautiful landscape all around.
How is the Service at Worldmark Granby
I really can't speak much to this as we didn't need anything during our stay. The one contact we did have was at check in. The lady who was working the front desk was incredibly friendly, helpful, and did a great job briefly explaining the property to us. They even provide you with a cart to load your luggage on to make it easier!
Amenities at Worldmark Granby Rocky Mountain Preserve
Is Worldmark Granby Good for Families?
The Worldmark Granby is full of fun for the whole family! Amenities include an outdoor heated pool and spa, a game room, a fitness center, and vending machines.
The Pool at Worldmark Granby
The pool was wonderful. In addition to being very clean, it was also warm. I am a bit of a baby when it comes to getting in pools that aren't perfectly warm. This one was perfectly warm. It's kept at 86 degrees (F), so there's no shock when you jump in. The pool was a great size for plenty of people to swim and not be overcrowded. Note: Pool is seasonal.
Steps away is the spa, which was also large enough for a group. There are plenty of chairs and tables to hold your personal items while you swim and play.
There is also a barbecue grill right outside the pool. It backs to a small pond and beautiful landscape.
The Game Room at Worldmark Granby
We found this to be a really cool feature of Worldmark Granby. Inside the game room was a fooseball table, ping pong, and a billiards / pool table. It was very clean inside as well. Right outside the game room were the vending machines, perfect for grabbing that late night snack or feeding those midday munchies.
The Fitness Center at Worldmark Granby
I personally didn't use the fitness center (we hiked all day long, so that was good 🙂) but it had the core fitness equipment you might want: a treadmill, elliptical, stationary bike, and weights.
How are the Rooms at Worldmark Granby?
We were instantly impressed when we walked into our room. There are different types of rooms, anywhere from a studio to a 4 bedroom condo.
The Kitchen
We walked into a nice, fully-supplied kitchen. It included a coffee maker (with coffee packs), stove, oven, microwave, large fridge, and a dishwasher. There were plenty of plates, bowls, etc. and utensils for our family. Having a kitchen is so beneficial for our family. We love to have breakfast at the hotel, prep and pack a lunch for the day, and eat dinner when we return. This really helps save money when traveling with a large family. Having a kitchen is a big part of that.
The Living Room
The whole floor plan was open between the kitchen, dining area, and living room. That made it really easy to call for (or yell to) my kids to come get food. The living area had a couch, coffee table, two chairs, a fireplace, and a TV.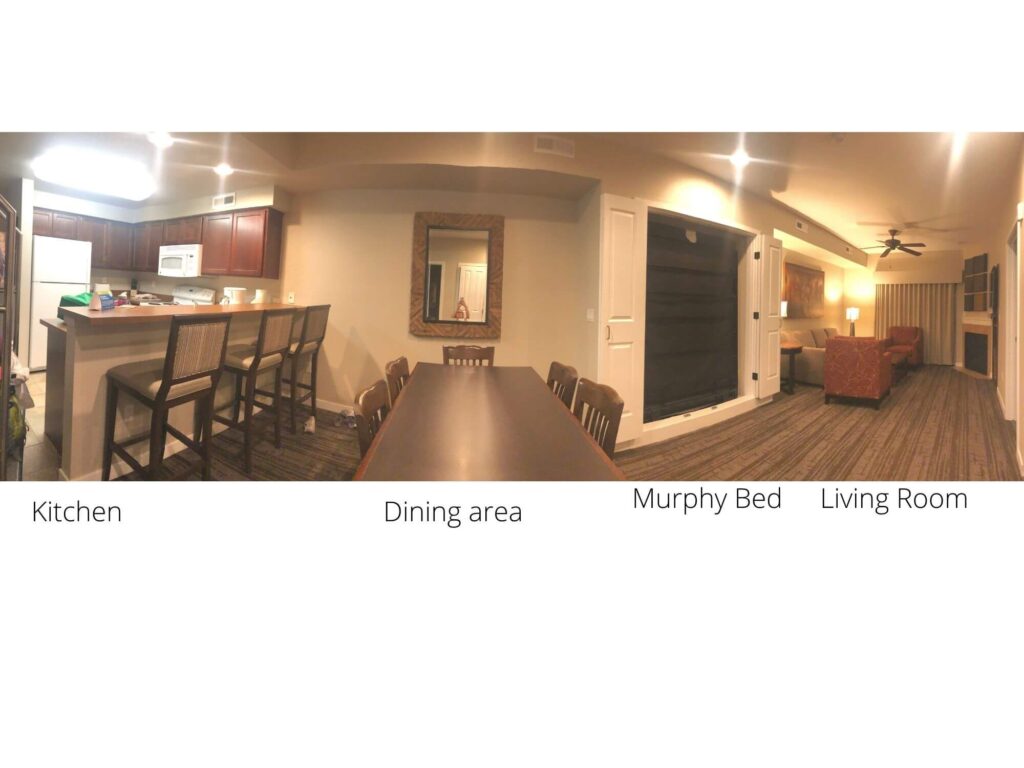 In between the dining area and the living room was a Murphy bed. This was great as it provided extra space for high occupancy, but folded right up during the day. Although, we didn't even put it up during the day. There was plenty of room for the thoroughfare to get by. We commented many times on the great use of space of this unit.
Also in the main area you'll find two closets. One had a washer and dryer. The other had an iron/ironing board. This unit really had everything!
The Bedrooms
Our unit had two bedrooms. The doors were along the wall, along with a bathroom off the living space. The bedrooms were great. They were clean, functional, and had everything we needed. The main bedroom even had it's own bathroom inside. The bathrooms were stocked with regular towels, as well as pool towels (nice addition, I thought!) It was so nice to have 2 bathrooms in the hotel room. That rarely happens!
Suggestions
My only suggestion would be the wifi. I've never been to a hotel where wifi isn't free/included. I know, I know, many hotels make it an extra charge. I just haven't been to one of them. I don't have unlimited data (again, I know, I know) so it would have been nice to have that little perk added. That said, it was only $5 a day (as of 2021) for wifi access.
I'd say that's a pretty small issue though, and it was just about the only thing that caught my attention that wasn't perfect.
Worldmark Granby for the Family
We still are making comments about what a perfect place Worldmark Granby was to stay for our family. It had plenty of space, multiple bedrooms, and enough beds for everyone! We loved having a full kitchen to use and a dedicated dining space. We were so impressed by how large this unit felt.
>> Make sure not to miss great family hikes in Rocky Mountain National Park's West Entrance when you visit!
Was this review helpful? Please consider using my link below to book! It costs nothing extra to you (in fact, find out how you can earn free hotel nights and more rewards through hotels.com!)
>>Check here for pricing and dates for the Worldmark Granby Hotel!<<