The beginning of this story is going to be all-too-familiar. Back in March, Coronavirus made it's introduction to our home state and quicker than a snap-of-the-finger, everything went a little crazy. The kids came home for Spring Break, and never returned to school.
Let's Jet, Kids! uses affiliate links.  As an Amazon (and other networks) Associate, I earn from qualifying purchases.  It is no extra cost to you.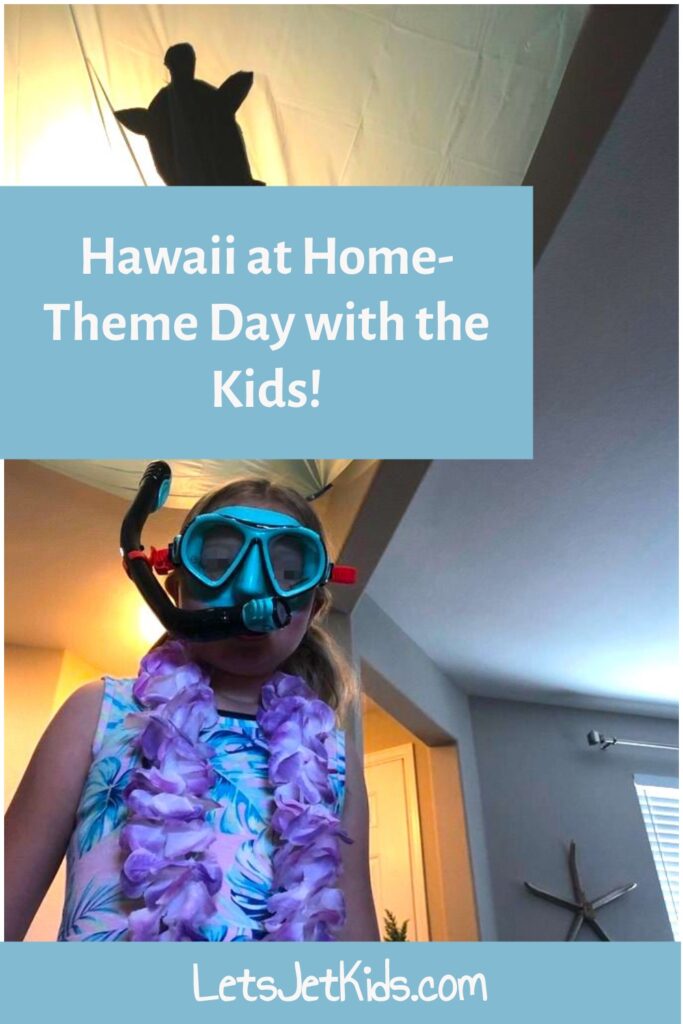 We dealt with that and we were so grateful to the teachers that made that happen with a moments notice. And if I'm being totally honest, I actually really enjoyed having the kids home a little more. (A LOT more.)
The ultra-sad part? The longer Coronavirus stuck around, the quicker we saw our booked trip to the Oregon coast fade away like a dream. Until it was completely canceled. That was sad.
I decided I wasn't going to let that stop us from having any sort of fun vacation. And even though it's not quite what we had in mind, I decided we would go and have a great time in Hawaii.
Plan for a Hawaii Staycation
I left it as a surprise, only letting the kids know I had something big up my sleeve for them since we could no longer go to Oregon. Then I began reminiscing on the trip to Hawaii us adults had taken almost a decade ago. What could I incorporate into our staycation to make it feel tropical?
I began making a list of the fun activities we could do. Here it is:
Snorkel
Limbo
Piña Coladas
Hula Dancing
Luau
Tiki Hut
Scenery
I'll admit this took a bit of preparation, but I got really excited about looking at Hawaiian decor and scenery. (Who wouldn't want to spend all day wanting to feel like they were in Hawaii?) Here's how the day went-
I had the kids go play in the basement for a while. Meanwhile, I spent an hour or two decorating.
Hawaiian Decorating Supplies
I bought incredibly long lei garland from Oriental Trading company (I can't find the same one anymore, at Oriental Trading). That managed to go all the way around my living room ceiling, and then some! I bought grass skirt-type decor to hand from our "tiki hut". Cute plastic clings to cut out and tape around for the tiki hut, volcanoes, etc.
I went on eBay and found some artificial banana leaves and put them around the house in vases I already had on hand. Also on eBay I found some vine-wisteria to make a cool back drop. My daughter didn't know exactly what was going on, but she knew in the week leading up to it I was doing something tropical, so she helped me make a bunch of large, paper flowers.
Here were my favorite decorations though-
I got two long, blue, plastic table cloths from Walmart (I'm sure most places would have them) and hung them from the ceiling horizontally. Then I drew an outline for a sea turtle on some cardboard, cut it out, and threw it up on the tablecloth. I was so proud of that! It was a great scenic visual for the snorkeling! You can't spend time in Hawaii without snorkeling!
Another favorite were the tapestries I bought off Amazon. I bought a big sea turtle one to put in our snorkeling area, and a beach scene to put in the main-event area. These were so fun to use as photo backdrops!
Serving Up Hawaiian Food
After decorating, I began making some simple food for our luau (more just a Hawaiian-themed dinner though. I did not have a pig!)
First, I should mention that my family loves fresh pineapple. So for two weeks, I bought a few fresh pineapples and after eating the fruit, I would freeze the shell. When Hawaii staycation came, I was ready with some great, themed serving dishes. I used one pineapple as a hollow bowl for strawberry-pineapple salsa.
As the main dish, I made Hawaiian coconut grilled chicken with Coconut rice. This was SO good!
Hawaiian Activities at Home
Before we had dinner, we did a few activities to kick off the day. I found a fun Hawaiian Music channel on YouTube and just let that play in the background.
While the kids were in the basement, I threw down some "Hawaiian Clothes" (basically just their tropical-looking dresses or shirts we had used the year previous for a family picture in Mexico, along with a few leis I had.) Then when they came up, they got to look around and take in their new destination. We did some photo-ops with some of the scenery and backdrops. This was really fun to them, so this went on a while.
Snorkeling at Home
Then we started snorkeling! I had either thrown around little ocean figures, making them easy to find, or I had slightly hidden some so they had to really explore. They used some kid-snorkel equipment they had from the year before (they are actual, good-quality snorkels from Costco, but who knows if they still carry it!)
At Home Tiki Bar
Then they came to hang out at the Tiki Bar. They listened to music as I blended up the Piña Coladas for them. My daughter helped serve them over the "counter" of the bar. They really enjoyed eating out of a pineapple, and getting to eat a sugary drink!
I'd been saving pineapples for weeks. After I cored and took out the middles, I put them in a ziplock bag and put them in the freezer until our Hawaii Staycation came.
I slid a plastic kid cup into the hollowed pineapple so the drink didn't seep or drip
Try out The Limbo at Home
After they finished up their Piña Coladas, I put on some limbo music and we took a balance beam (thought a broom or mop or stick would have worked!) and did the limbo. I had to teach them about what "the limbo" was! I hadn't realized we had never played this simple game before!
Hula Dancing While Visiting Hawaii at Home
For this, the girls put on some grass skirts and I put on an instructional Hula Dance video from YouTube. Not only was this fun to do together, but we learned a lot about Hula and what the different movements mean. This was really fun!
We wrapped up our time in Hawaii by letting the kids pick whichever activity they wanted and taking some more pictures. They had so much fun that they wanted me to leave the decorations up for a few days after.
Hawaiian Staycation at Home
So maybe we didn't get the big trip to the Oregon Coast like we had planned, but we all definitely had fun with our staycation in Hawaii!
Did you do any fun activities during Covid lockdown? Share your experiences in the comments!
Save this to Pinterest!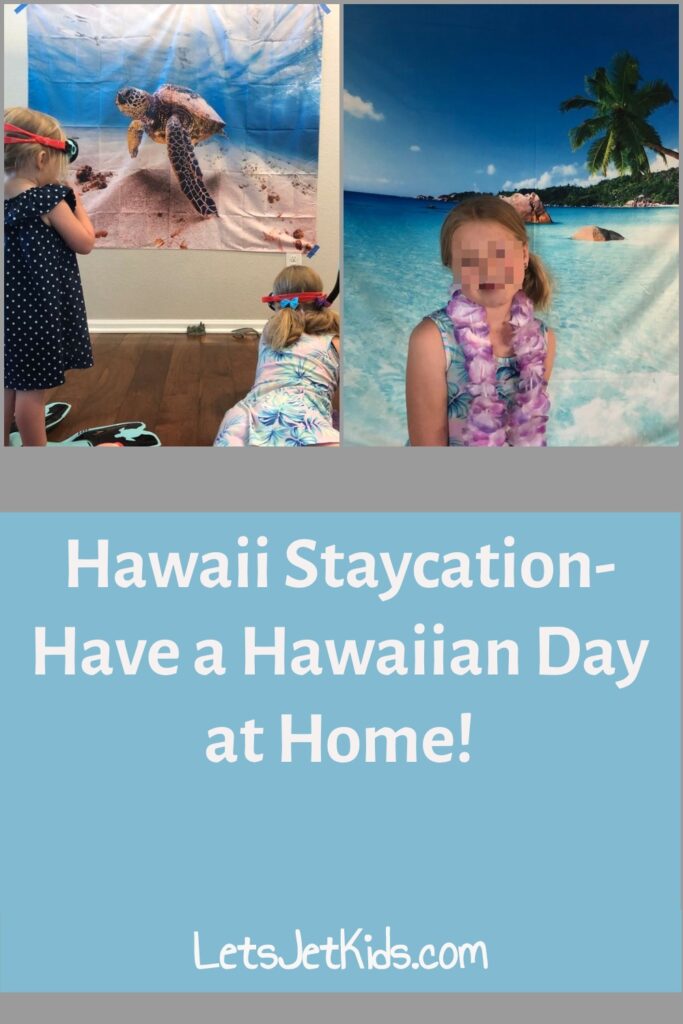 Enjoy theme days at home? Check out our Harry Potter Day at home!