Ciao! We love to have theme days at home once in a while. If you're looking for theme day ideas, come with us on our trip! This time, we pretend to go to Italy and visit a few major cities and cites.
Let's Jet, Kids! uses affiliate links.  As an Amazon (and other networks) Associate, I earn from qualifying purchases.  It is no extra cost to you.  
Here, I'll show you how to set up your home so you can take your kids on a magical, at-home trip to Italy. Learn all about Italy and its sites from the comfort of your home!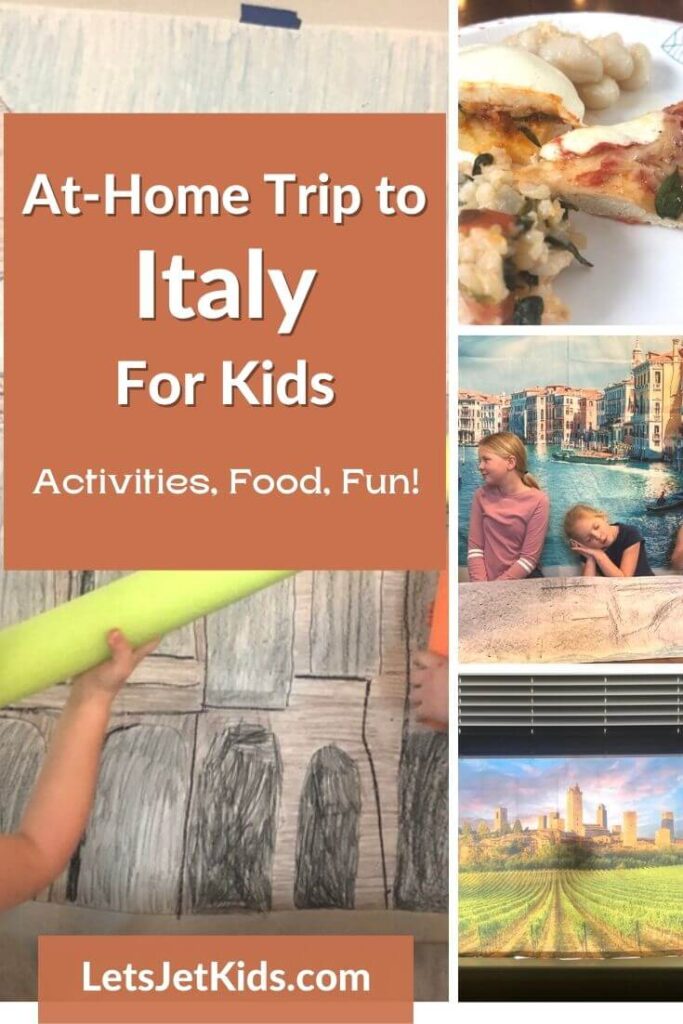 Starting Our Tour of Italy at Home
To begin our tour, I put on some fun Italian music from a channel I found on YouTube. It set the mood and made it feel a little more Italian during out "trip."
I also made a large flag of Italy for a backdrop for a photo booth. I used butcher paper as the back. Then, cut out red a green pieces of paper so that it's equal thirds of white, green, and red. Glue them on according to the pattern on the Italian flag.
For photo props, you can use the Italy Photo Booth Free Printable right below here and print off some props. Then just tape them onto some wooden craft sticks, skewers (with the ends blunted!), or other stick that isn't pointy.
Visiting Rome from Home with Kids
The first place we "flew" into for this theme day idea was Rome, of course. With so much to see and do in Rome, I chose just a couple.
Colosseum Make Believe With Kids on Italian Theme Day
Butcher Paper
Pencil
Crayons
Tape
Pool Noodles
First, we stopped by the Colosseum. To do this, I had my husband draw a replica of the Colosseum on large white butcher paper. (If you plan to do lots of kids activities, I highly recommend getting some. We've used it so many times.) If you're good at drawing, take a swing at it. We just pulled up a picture of the Colosseum and drew it freehand and colored it in.
Tape it up to the area where your Colosseum will be. Then set out some pool noodles. This is where the kids can fight. We set a timer for 30 seconds and had each child fight each other, which was basically just whacking each other with pool noodles (head and below!) until someone gave up. We'd declare a winner each round and have the winner go on to the next player.
---
Find fun books about Italy:
Books to take you away to Italy (for adults)
---
Trevi Fountain Make Believe with Kids
Blue Disposable Table Cloth ($1 at Walmart)
Drawing or picture of Trevi Fountain
Coins
Visiting the Trevi fountain was quick, but fun. I explained the tradition behind the Trevi Fountain.
The Trevi Fountain is one of the oldest established places to get water in Rome. As far as tradition goes, if you throw one coin in, you will return to Rome. If you throw 2 coins, you will return and fall in love. 3 coins, you'll return, fall in love, and get married.
My young children quickly decided they only wanted to throw 1 coin in 😂.
Set up the blue tablecloth on the floor with the picture of Trevi Fountain behind. Bring some coins and let the kids pick a coin (or two or three) to throw in the fountain.
Visiting the Sistine Chapel for Italian Theme Day ideas for kids
Visiting the Sistine Chapel for pretend was a fun activity for the kids on this Italy Theme Day. To do so, you'll need:
To visit the Sistine Chapel, I first explained a little about Michelangelo and how he had to paint upside down to get those cool pictures on the ceiling. Michelangelo painted in a time of human anatomy. The printables above are kid-friendly versions for the kids to color (that way, you can have "the talk" later at a time of your choosing and not in the middle of Italy Theme Day.)
Tape the pictures under a chair for each child. Provide some crayons and have them draw their Sistine Chapel drawings laying down on the floor.
Drawing Mona Lisa in Rome for kids
We found an easy tutorial on YouTube for making our own Mona Lisa drawing for our day in Rome. You just need some paper and pencil, and a permanent black marker to outline it if you'd like.
They turned out pretty good, and they were simple enough that it was the perfect amount of time!
Here is the Mona Lisa tutorial we used.
Visiting Florence for pretend on Italy Theme Day Ideas
To set the mood for visiting Florence, I purchased this beautiful Tuscany Tapestry and hung it in the window. The sun really made it light up, and it gave a beautiful backdrop of the rolling hills and stone buildings.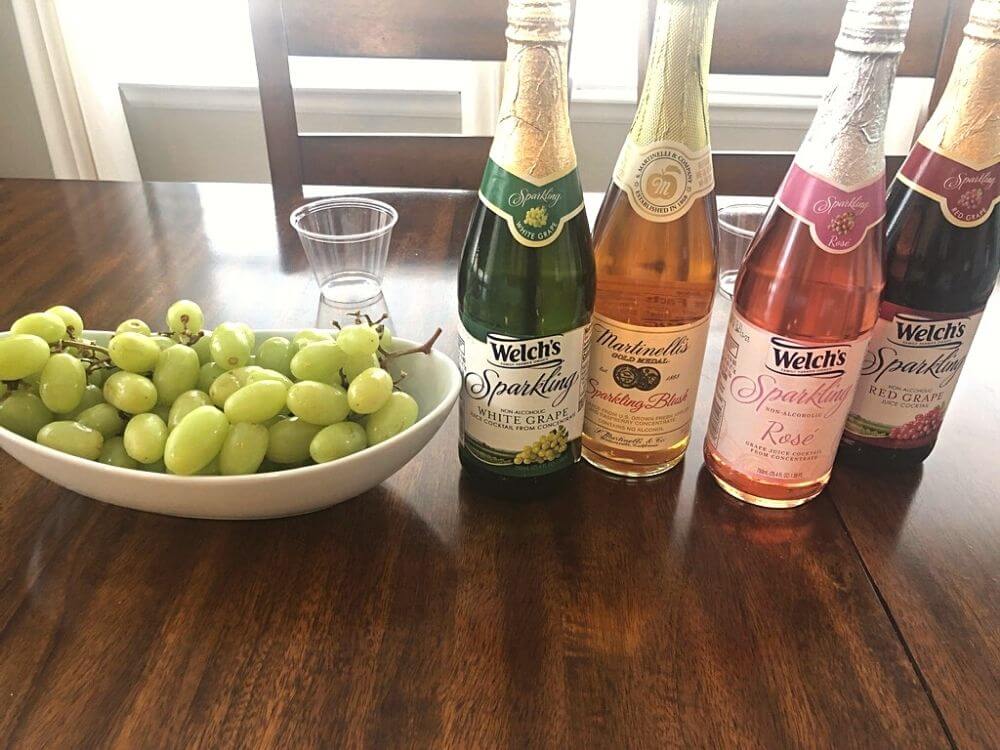 (Kid Friendly) Wine Tasting on Italy Theme Day
There are so many vineyards, beautiful rolling hills, and wine in the hills of Tuscany. To have our own wine tasting, I bought a few flavors of Martinelli's and Welch's Sparkling beverages (which are all non-alcoholic, of course 🙂 )
Pour them into different cups and let the kids try each one nice and slowly.
My kids mainly enjoyed the idea that I was giving them a sugary, flavored drink.
Taste of Italy Tour for Italian Theme Day at Home
This part took the most preparation, but OH. MY. did it pay off.
Basically, I made a bunch of little Italian dishes like pizza, pasta, polenta, and so much more. Make whatever you'd like ahead of time and just heat it up when you're ready for your Taste of Italy. Cut each thing into small, bite-size pieces and put it all on a plate. Then microwave each plate and serve!
Here are a few of the recipes I used (again, I made almost all of them ahead of time):
Authentic Neapolitan Pizza from My Pizza Corner (note: I followed the ingredients, but did yeast and raising/proving as I usually would for bread, twice about an hour each. It turned out great for us).
Italian Polenta Skillet from This Delicious House was probably my favorite. I did it without meat.
Tomato Basil Risotto from Iowa Girl Eats was also my favorite. I've made mushroom risotto a thousand times, so trying new flavor was really exciting.
Gnocchi– no recipe. I just bought a pack of gnocchi at the store, cooked it, and added a little olive oil and parmesan.
Visiting Venice with kids for pretend on Italy theme day ideas
A couple things stick out in my mind when someone says Venice.
Glass. Gondola. Bell Tower.
We actually didn't get to a glass making activity, which could be done by shaping something out of playdough.
Gondola in Venice activity
For a gondola, I again used the white butcher paper to create a gondola as a photo prop.
I also hung up a gorgeous Venice tapestry as a backdrop for the gondola.
St. Marks Bell Tower in Venice
St. Marks Bell Tower has 5 bells inside. They were traditionally used for different meanings: the start/end of the workday, council meetings, senate meetings, noon, and executions.
We just used two bells to call out meetings!
To make this little activity, you'll need:
A box (big and long if you have it.)
White Paper (how about this butcher paper)
Crayons, pencil, tape, scissors
a picture of St Marks Campanile to look at
green construction paper
Hand Bells for the tower (these were cheap and worked great)
Cut a hole big enough to stick your hands in easily in the back side of the box.
Measure out the paper and cut in to fit around the outside of the box and glue on. Free-hand a drawing of the top of the bell tower.
Angle the green papers and glue together to form a pyramid. Glue or tape to the top.
For the activity, I set the box on a tall basket. A stool will work as well. I also set it on our stair landing so that the kids had to "climb" to the top first.
Once your child climbs up, they can put their hand inside and ring the bell in the tower.
It seems simple, but the kids loved getting to ring the bells.
Ending the Day with an Italian Dinner
After visiting Rome, Florence, and Venice, we relaxed a little bit before having a nice Italian dinner.
I made a Ribollita soup (from Chef Bike Ski) ahead of time and just heated it up in a pot at dinnertime. This soup is packed full of veggies and has a bean base to it, which gives it an ever-so-slightly creamy texture without having any dairy.
I also made an Italian Salad (from the Modern Proper) that had really great flavor to it.
(That seemed like a lot of food, so I waited until the next day I did Puttanesca on chicken with a Pasta Carbonara. The kids really liked both. I did not remember to take a picture of those ones though.)
---
Make sure to check out more theme days!
Head to Hogwarts- Harry Potter Day
---
A Pretend Day in Italy for kids
I'm sure there was plenty more we could have done. I actually bought a tapestry for Cinque Terre and hung it up for fun, but we didn't end up "visiting" there.
I'd love to hear how your fun day in Italy at home goes. Did you use these ideas, or come up with some new ones? Let me know in the comments! I'm excited to see how your trip to Italy at home goes!