A few years ago in March 2020, we made a quick trip up to Silverthorne, Colorado for a Snowshoe for the Cure event.
Let's Jet, Kids! uses affiliate links.  As an Amazon (and other networks) Associate, I earn from qualifying purchases.  It is no extra cost to you.  
Where to Stay for the Susan G Komen Snowshoe for the Cure
We drove up Friday night so we could get up and get going in the morning. (We DID still have kids with us afterall, so no use trying to sleep in!) All the hotels in Frisco were booked, so we stayed a short drive across the highway at Luxury Inn and Suites in Silverthorn. While I found the term "luxury" to be a stretch, it was plenty comfortable and had everything we needed for a quick overnight stay, including a continental breakfast. Plus, it was a more affordable hotel in the area.
It even had a small indoor pool, which unfortunately we didn't have enough time to visit since we checked in a little late that night. The hotel is close to a grocery store, as well as the Silverthorne outlet shopping center. And, as mentioned, a short drive up the interstate to Frisco.
Other great, nearby options would be:
Hotel Frisco, from $136, conveniently located right in the town of Frisco. It's just across from the Frisco Nordic Center
Or rent a beautiful, spacious condo right in town that can sleep a large family!
Getting our snowshoes on!
How we stayed free
We stayed for free from the Hotels.com rewards I had saved up (basically a 10-punch card every time you book thru them that gets you a free night). But the hotel never gets too expensive. You can stay for $100 or less during mud season, and just over $200 during ski-season. Not too bad, especially if it means skipping ski-traffic on I-70!
What Snowshoes We Used
After searching around for a long time, I finally found two pair of snowshoes for kids.
We used a pair of Tubbs and a pair of Atlas snowshoes for kids, and both worked great and were really high quality!
The adults use Tubbs as well, which work great. Tubbs is a pretty trusted and established brand in the snowshoe world. We've had no complaints!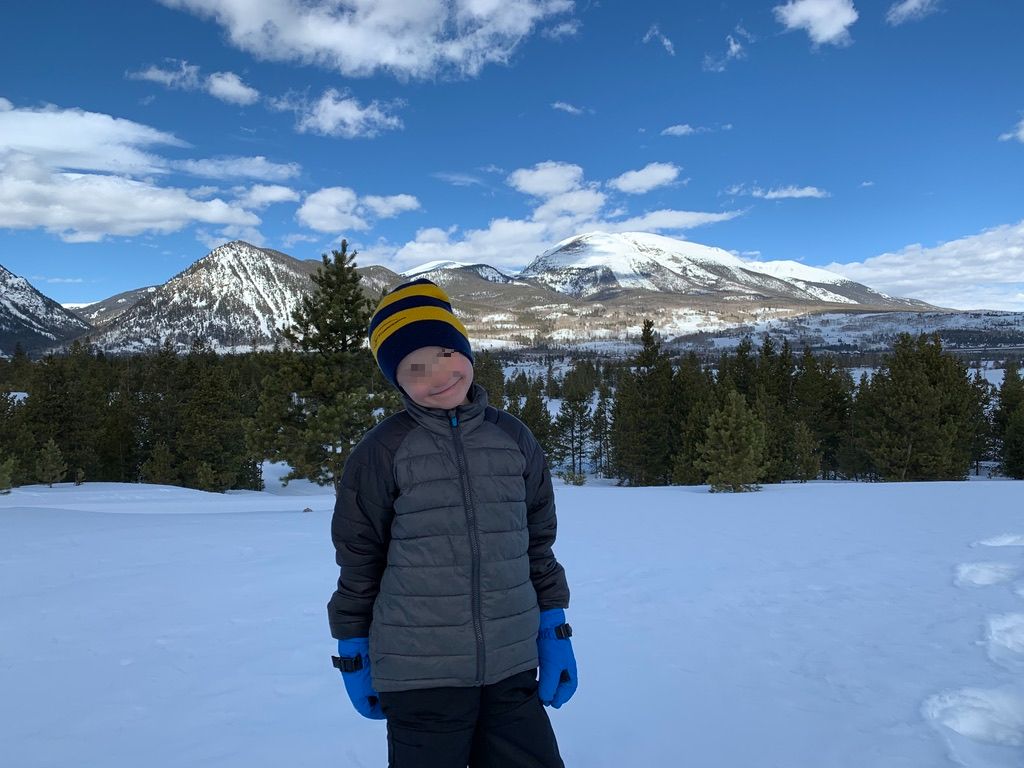 Awesome views during the snowshoeing
Snowshoe for the Cure Event in Frisco
While the event was technically canceled due to Covid-19 concerns (corona was just starting to hit in the mountain region) and wanting to protect anyone susceptible, the Nordic Center generously stayed open for the participants who still wanted/felt comfortable to attend on their own watch that day. We are so glad we still went up to participate!
The event aimed at fundraising for Susan G Komen Colorado for breast cancer research and treatments. (breakdown of how funds are used here)
The event had a fee for each participant and was free for kids to attend. They had a great spread of snacks/sweet breads to get going in the morning. We were some of the first people there and got to explore the fun snowshoes trails at the Nordic Center. We saw plenty of cross-country skiers enjoying the snow as well on their trails.
It started out a little chilly, as the sun hadn't ascended completely overhead yet. But one thing about Colorado: once it's over 30 degrees AND the sun is out in full force, it feels pleasant and beautiful! The air was fresh and our bodies began warming up quickly.
The kids had so much fun snowshoeing for their first time. The scenery was picturesque, the air was fresh, and the snow crunching below made a nice ambiance.
About the Frisco Nordic Center
While we had driven by the Nordic Center a few times over the years, we had never stopped by before. It was fun to see all it offered and made us want to return in the future.
Inside the small building, there was a small snack bar, bathrooms, and a rental area. You can rent skate skis, classic skis, snowshoes, and even a little sled to pull the little ones in.
The center offers lessons and clinics for all ages. You can even sign up for a snowshoe tour where a guide will take you through the trails and share history about the area. Or if you are into biking, they host a 14 kilometer Frisco Freeze Fat Bike Race once a year.
If we had more time, we thought it would be fun to go next door to the Frisco Nordic Center at the Frisco Adventure Park which hosts tubing hill and ski hill. Maybe next time!
Snowshoe For The Cure
Do you enjoy Snowshoeing? Why not combine it with being able to help and raise money for the Susan G Komen.
Check the official registration page for more info and to register.