Denver to Grand Canyon Road Trip – 2 Awesome Routes
Colorado is a beautiful place to explore with kids, but combine that with the breath taking, largest canyon in the USA and you've got a great trip! Here is the coolest Denver to Grand Canyon road trip for families that is filled with kid-friendly activities and stops.
Let's Jet, Kids! uses affiliate links.  As an Amazon (and other networks) Associate, I earn from qualifying purchases.  It is no extra cost to you.  
Table of Contents
How Far is the Grand Canyon from Denver?
Depending on which route you take, the distance from the Grand Canyon from Denver falls between 600 and 700 miles.
Taking 285 South- 625 miles
I-25 South Through Colorado Springs- 672 miles
Going West Through The Mountains (and then South in Utah)- 657 miles
Best Time to Take a Road Trip from Denver to Grand Canyon
Spring and Fall are the best times to head from Denver Colorado to the Grand Canyon. You'll be able to explore the mountain areas as well as be at the Grand Canyon before the heat really sets in.
By June, the temperatures at the Grand Canyon climb into the 100's and school lets out, bringing high temps and crowds.
Spring is really best for any waterfalls you'd like to see on your way.
If you're able to visit on a spring break (or fall break, if you have one), you'll get decent temperatures all around. Though if drive from Denver to Grand Canyon in the springs, you may want to take the southern route to avoid heavy snowstorms in the mountains.
How to Get from Denver to the Grand Canyon
Route Option 1- If you need the best route from Denver Colorado to the Grand Canyon, it's by going south from Denver down past Pueblo, and then west. It's not the shortest route (30 minutes longer than the shortest route), but it will take you past some really awesome and unique places.
Route option 2- You could also head west first and then south for a more scenic route from Denver to the Grand Canyon. That will take you through the beautiful mountain towns of Colorado, down through Moab, and to the Grand Canyon. This is also a great choice, filled with plenty of great stops.
Route Option 3- You can also take the shortest route by heading south on 285 past Buena Vista. While there are some cool things to see on this route, it's not quite as exciting as the other two. So I do not break down this route in this post.
I'll break down the first two routes so that you get all the best stops from Denver to the Grand Canyon no matter which route you take.
How to Plan your Denver to Grand Canyon Road Trip
Pick one of the routes below (either heading south, or heading west). That will give you plenty of stop options for breaking up your road trip and stretching out. Plus, you'll be able to experience so many great things along the way.
Of course you may not have time to stop at every stop listed.
That's okay. The whole idea is to give you plenty of options so you can cater your schedule how you'd like.
I try to give suggestions about where you should actually stop and stay the night. For example, on the South route, it would be worth staying in Colorado Springs, Alamosa, and Pagosa Springs. These locations have plenty of things to do that, if you have the time, would be worth a full day or two to enjoy.
So watch for those overnight suggestions! (And check out the quick, sample itineraries at the end.)
When you head back from the Grand Canyon to Denver, decide if you just want the fastest route back, OR if you have more time, try taking the other route back!
**If you take route 1 there and route 2 back, you will have the opportunity to see 4 national parks and 2 national monuments. That makes for quite an amazing road trip!**
Start in Denver
No matter which route you choose, you'll start in Denver. Take a look at the many FREE things to do in Denver with kids.
If you'll be in Denver a few days, check out the top Day Trips from Denver.
Denver to Grand Canyon Road Trip- South (Colorado Springs) Option
Stop #1- Colorado Springs
Drive time from Denver: About 1 hour 20 minutes
Distance From Denver: 70 miles
Distance from Colorado Springs to Grand Canyon: 602 miles
Colorado Springs is the first stop on your road trip. You may want to book a night or two here as there is so much to do in Colorado Springs for families.
Consider stopping at Garden of the Gods, a gorgeous (and FREE) geological attraction that is jaw-dropping gorgeous. Plus it's an easy stop with kids as it has a short (1.1 mile) paved trail around all the best formations.
If you like hiking, try Red Rock Canyon for plenty more red rock features, plus a distant view of Garden of the Gods. Free to visit.
Of you could go to North Cheyenne Cañon park. It's also free and more forested than Red Rock Canyon. You'll get streams and waterfalls here.
Check out the Olympic and Paralympic Museum and training center to see swag from past olympic and future hopefuls.
If you do book a couple nights and have a half-day open, drive over to the Paint Mines. This is another beautiful geological feature, but completely different from Garden of the Gods. Oh, and it's free, too.
Where to Stay in Colorado Springs
Great Wolf Lodge – a huge indoor waterpark you can play at any time of year.
Garden of the Gods Resort– beautiful grounds, pools, and great location.
Cheyenne Mountain Resort – a more affordable option to Garden of the Gods, and a bit more family-friendly (playground, pools, waterslide, kids stay free)
Quality Inn and Suites – a budget-friendly option for families. Breakfast and wifi included, and still a great location (and seasonal pool)
Cañon City is a little drive off of the main route, but it's a great stop.
Check out the Royal Gorge Bridge at Royal Gorge Park. Once the highest bridge in the world, the Royal Gorge Bridge is still impressive at 955 feet above the Arkansas River.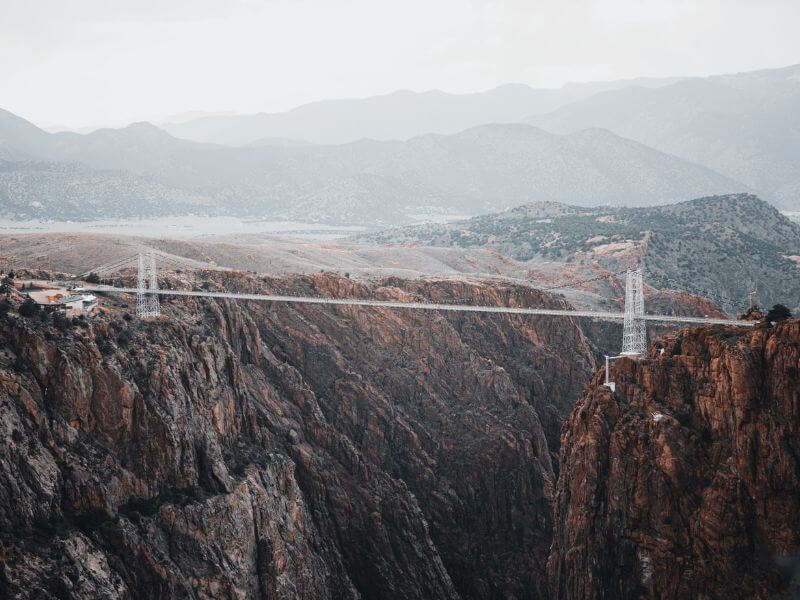 Stop #2- Cañon City (side trip from Colorado Springs)
How does Royal Gorge compare to the Grand Canyon? Well, it's not quite as big (or even nearly as big). But still impressive.
After you check out the bridge, head to the Royal Gorge Railroad and take an incredibly scenic train ride. This is one of the most fun things to do with kids on your Denver to Grand Canyon road trip.
Cañon City can be a little day trip if you choose to spend a few nights in Colorado Springs.
Stop #3 – Rye
Drive Time from Colorado Springs: 1 hour 10 minutes
Distance From Colorado Springs: 75 miles
Distance from Rye to Grand Canyon: 9 hours 20 minutes
The biggest attraction in Rye is called Bishop's Castle. This is most definitely one of the unique things to do from Denver to Grand Canyon.
Bishop's Castle was built by Jim Bishop. He purchased the land at the age of 15. Well, he funded the land and his parents signed to purchase the land. They had it for years with the intention of putting a family cabin on it.
After years of finding his love of working and building, Jim worked apprenticeships to learn to build. He began what is now Bishop's Castle using resources available to him, and today the public can tour it.
While children can go up the castle, it's recommended that they don't (or that parents keep a very watchful eye.)
But everyone can still enjoy simply seeing the castle, stopping in the gift shop, and grabbing some great pictures of this unique roadside attraction in Colorado.
Stop #4- Alamosa
Drive Time from Rye: 1 hour 45 minutes
Distance from Rye: 101 miles
Distance from Alamosa to Grand Canyon: 438 miles
While there aren't a ton of things to recommend around Alamosa, there is one really awesome thing that you MUST stop and see.
Great Sand Dunes National Park.
Great Sand Dunes National Park is located in the town of Mosca, but there's really not much there, so the closest town to stay in is Alamosa.
This national park is unique, amazing, and really fun to go to.
Rent a sand board at a nearby store and hit the sand hills for the day!
If you are roadtripping in summer, make sure to hit the dunes early morning or in the evening. The sand temperatures can start to burn during midday in summer.
Learn more about visiting Great Sand Dunes National Park with kids.
While you are there, make sure to take the short hike to nearby Zapata Falls.
You can also drive over to the Colorado Gators Reptile Park and see some gators up close.
Where to Stay in Alamosa
We stayed at the Comfort Inn and Suites. All 6 of us could stay in one room. It has a small indoor pool, serves a hot breakfast (included), and was nice and clean.
The Best Western has a larger indoor pool .
The Fairfield Inn & Suites is among the top rated hotels in Alamosa. It has an indoor pool and included continental breakfast.
Soaking in the free river hot springs in Pagosa Springs
Stop #5- Pagosa Springs
Drive time from Alamosa: 1 hour 50 minutes
Distance from Alamosa: 89 miles
Distance to Grand Canyon: 349 miles
Pagosa Springs is a beautiful town in the San Juan mountains. In winter time, you can get in some great family ski time at Wolf Creek.
Summer brings gorgeous hiking and waterfalls. And any time of year you can enjoy the hot springs in Pagosa Springs.
While on your Denver to Grand Canyon road trip, stop in Pagosa to relax in the free hot springs of the San Juan River. Or visit The Springs Resort and Spa, a popular place with many hot springs on site.
Hike up Treasure Falls, a nice short hike in summer. Check out all the things to do in Pagosa Springs with kids.
Want to stay a night or two in Pagosa? Great choice. Check out the best places to stay in Pagosa Springs.
Stop #6- Durango
Drive time from Pagosa Springs: 1 hour 9 minutes
Distance from Pagosa Springs: 60 miles
Distance from Durango to Grand Canyon: 290 miles
Durango is a GREAT stop from Denver to the Grand Canyon for anyone that has kids that love trains!
From railroad museums to movie theaters converted from baggage cart, this is the place for all things trains.
But the BEST thing to do in Durango is to ride the Durango to Silverton Narrow Gauge Railroad. This is a classic train ride that takes you along some stunning scenery. You can book a lunch to eat along the way (recommended).
Off the train, you can also go ziplining or check out The Powerhouse: A Science Center and Tinker Lab.
Or take the kids on this family-friendly rafting trip down the Animas River.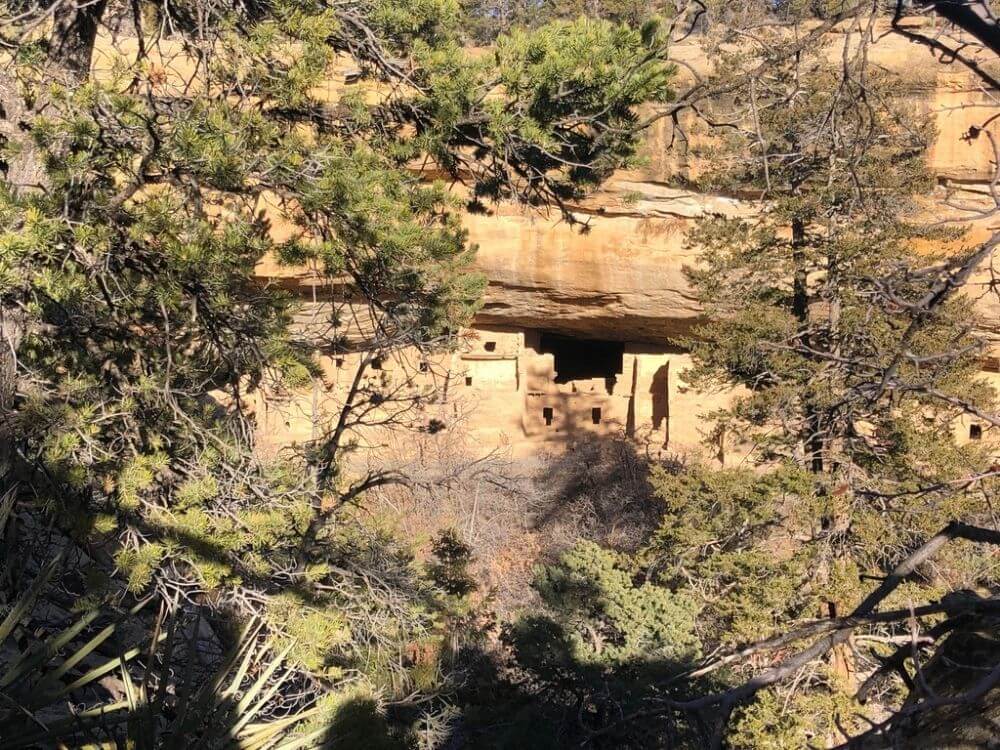 Stop #7- Mesa Verde National Park
Drive Time from Durango: 1 hour 16 minutes
Distance from Durango: 56 miles
Distance from Mesa Verde to Grand Canyon: 275 miles
The next stop on this Denver to Grand Canyon road trip is Mesa Verde National Park.
Yes, another national park. I love that in this ONE road trip, you are hitting 3 national parks.
(With that said, you may want to purchase the America the Beautiful Pass which is a one-time fee of $80 that will get you into all National Parks and federal lands for a full year!)
Mesa Verde is another really unique national park. It's known for the cliffside dwellings left from the Ancestral Puebloan people. It's really mind blowing thinking about how they built their residences and cities on the side of a mountain.
You can book/purchase a guided hike up close to the dwellings during warmer months (do so at the visitor center or book ahead of time online).
But if no hikes are available or you just don't want to hike with the kids, you can see the different dwellings from many viewpoints within the park. It's pretty easy to drive around and see the dwellings, great views, pithouses you can go in, and more.
>>> Find more details about visiting Mesa Verde National Park with Kids. <<<
Stop #8- Four Corners
Drive Time from Mesa Verde: 1-1/2 Hours
Distance from Mesa Verde: 70 miles
Distance From Four Corners to Grand Canyon: 206 miles
Have your body in 4 different states at once when you visit Four Corners Monument!
This is the only place where 4 states come together. Grab some pictures and grab some souvenirs and art from local artisans.
Stop #9- The Grand Canyon
Drive Time from Four Corners: 3 hours 15 minutes
Distance from Four Corners: 206 miles
There isn't too much to see in these last 3 hours that kids would be super excited about. So even though there are a few places, I haven't detailed them out.
You could always stop at the roadside Baby Rocks Arizona, Church Rock Valley, and Elephant's Feet for a great photos of cool formations along 160.
They also might like the Navajo Moenave Dinosaur Tracks to get out at stretch a little (located toward the end of 160 right before you turn onto 89).
Really, the rest of the drive has some really scenic spots that you can enjoy.
Then, you can enjoy the grand finale as you complete your Denver to Grand Canyon Road Trip.
Denver to Grand Canyon Road Trip – West (Through the Mountains First)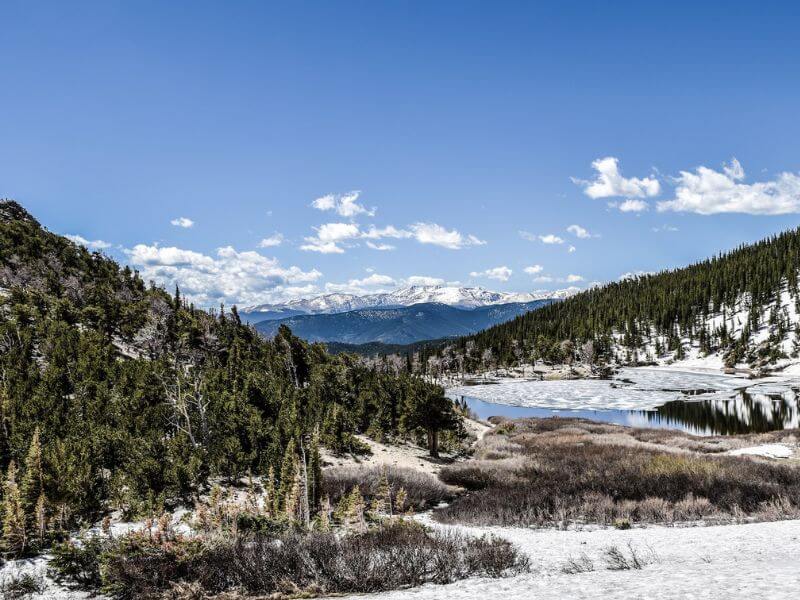 St. Mary's Glacier in Idaho Springs
Stop #1- Idaho Springs
Drive Time from Denver: 40 minutes
Distance from Denver: 38 miles
Distance from Idaho Springs to Grand Canyon: 625 miles
Idaho Springs is a little mountain town you'll come across off I-70 not long after officially getting into your mountain drive. In Idaho Springs, you can pull over for a quick stop or spend some time here before continuing on. Here are a few ideas:
Take a Mine Tour – Argo Gold Mine can be seen from I-70 up on the hill. Take a tour of the mine and mill, go panning for gold, and learn all about the Rocky Mountain Gold Rush. This is a GREAT family-friendly tour.
Hike to St. Mary's Glacier – Take your experienced young hikers or older hikers who want some fresh air to one of Denver area's most beautiful hikes. St. Mary's Glacier is only 2.4 miles roundtrip, but it does have some elevation gain and a few rocky areas. But you'll be greatly rewarded at the top.
Aerial Course- Try the Sky Trek with your older kids. Kids 12 and up can get in the air with you on this aerial course full of obstacles and challenges.
Go Rafting on a whitewater rafting trip in Idaho Springs. While there are many different companies to choose from, this company is ideal for families (kids 6+ allowed) as it's gentler than other departures.
In fact, the guide will even teach you a little history about the area as you go down Clear Creek.
Indian Hot Springs– These hot springs are the closest hot springs to Denver, but to be honest, I would hold out for Glenwood Springs (later on this route itinerary) to enjoy some better hot springs.
But, if it works better with your schedule, you can stop at Indian Hot Springs in Idaho Springs. Stop in the geo-thermal caves or right into the hot springs in the atrium area (year-round comfort).
Lunch– Grab some classic Colorado Pizza at Beau Jo's. Beau Jo's is home of the Colorado mountain pie. You'll get mountains of crust (yep, pun intended) topped with loads of cheese, sauce, and toppings. When you've eaten all the goodness, you dip the remaining crust in honey for dessert.
Whatever you choose to do in Idaho Springs, I would drive a little farther and stay the night in the next stop.
Hike to Rainbow Lake is pretty easy
Stop #2- Frisco
Drive Time from Idaho Springs: 42 minutes
Distance from Idaho Springs: 39 miles
Distance to Grand Canyon: 587 miles
Your next stop on the Denver to Grand Canyon Road trip will stop in Frisco, a popular mountain town ripe with adventure and outdoor fun.
Lake Dillon– first, stop at Lake Dillon, a huge reservoir you can see right from I-70. A few years ago, tons of sand was brought in to make quite an impressive beach area. Rent a kayak, paddle board, or just relax on the beach.
Frisco Adventure Park– This place is perfect whether you are traveling in summer or winter. In the summer, enjoy biking and disc golf.
Come winter, check out the tubing hill, or head to the nordic center for cross country skiing or snowshoeing on the 20+ miles of groomed trails.
This is where our kids' first experience was with snowshoeing and they had a blast!
Rainbow Lake Hike– this is such a gorgeous hike and a perfect hike for kids in Frisco. If you access Rainbow Lake trail from near downtown Frisco, it's a fairly-easy 1.5 miles roundtrip. The kids will love this fun hike walking over wooden paths and finally up to a gorgeous lake.
If you choose to stay the night in Frisco, consider checking out nearby (next-door) town of Breckenridge. There is so much to do in Breckenridge with kids, so it's worth a night or two to explore a little.
Where to Stay the Night in Frisco
Snowshoe Motel is a more affordable place to stay. You'll get breakfast, room options for up to 6 people, or you can request adjoining rooms.
Frisco Inn is a very popular, top rated hotel at midrange prices. The unique setup allows for multiple rooms in a unit, perfect for larger families.
Hotel Frisco is a nicer hotel with options to sleep up to 6 people. You can even snag a room with a small (or large) kitchen.
Stop #3 – Vail
Drive Time from Frisco: 27 minutes
Distance from Frisco: 26 miles
Distance to Grand Canyon: 561 miles
Family Ski Trip– Vail is the largest ski resort in Colorado, and the 4th largest ski resort in the US. If you've brought your skis along on this Denver to Grand Canyon road trip, Vail is the best place to stop and go skiing. Vail is just about my favorite ski resort, and for good reason. You can ski all day and never hit the same run twice.
Vail Valley– if you didn't bring the skis, no worries. There are plenty of other things to see in Vail. Check out Vail Valley, the little Swiss-inspired village. Not only is the architecture cool, but it's filled with shops and restaurants.
Take a hike (or a walk)– Vail is filled with trails. Try the easy recreation path for an easy stroll. Or check out Booth Falls, a moderate trail just over 4 miles round trip.
Where to stay in Vail
Vail is filled with luxury, top-notch accommodations. Here are a few you'll love.
Sonnenalp is a great hotel for families to stay at. You'll get a nice pool (and poolside bar), kids club (included!), game room, and rooms that can sleep up to 7. This hotel is beautiful inside and out.
Four Seasons Vail is obviously a very nice hotel. The brand brings luxury, and this one brings an incredible spa. Kids will love the great pool and free kids club. You can book a standard room that sleeps 4 (and is still luxurious), or you can book multiple room units with living space and gorgeous kitchens that sleep up to 11.
Tivoli Lodge comes with less sticker shock than the Four Seasons. It's still great for families as the rooms come with a small kitchenette to heat up your own breakfast, or you can head to the breakfast buffet ($).
Hanging Lake in Glenwood Springs
Stop #4- Glenwood Springs
Drive time from Vail: 58 minutes
Distance from Vail: 61 miles
Distance to Grand Canyon: 501 miles
Hot Springs– THIS is where you want to stop for hot springs on your Denver to Grand Canyon Road trip. You can actually stay at the Glenwood Hot Springs Resort and have access to the world's largest hot springs pool. If you don't want to stay, you can get a day pass to soak in the springs.
Hanging Lake – One of the most beautiful lakes in Colorado, Hanging Lake sits in Glenwood Canyon up a tough 1.2 mile hike. But the results are amazing. Hanging Lake is even more beautiful because it is filled from a waterfall.
Glenwood Caverns Adventure Park– If you've got adrenaline junkies in the family, then this is the place. Take a swing off the edge of Glenwood Canyon…for fun. Or ride the rollercoasters, zip rides, or walk through the caverns. There's something for all ages at Glenwood Caverns Adventure Park.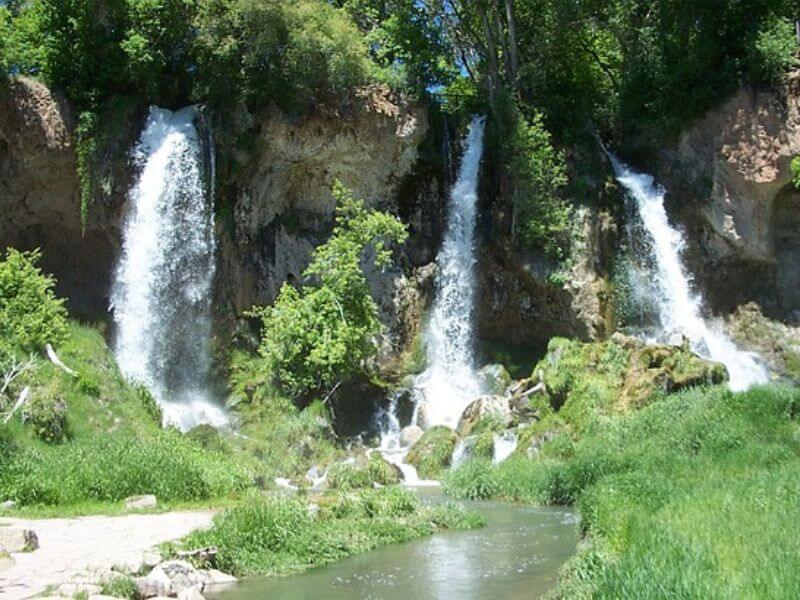 Stop #5- Rifle
Drive Time from Glenwood Springs: 26 minutes
Distance from Glenwood Springs: 27 miles
Distance to Grand Canyon: 475 miles
Rifle Falls State Park– The main reason to make a stop in Rifle is to check out Rifle Falls. Rifle Falls is actually 3 waterfalls all right next to each other.
They drop from 80 feet (or 60-70 depending on your source). It takes less than a mile (round trip) of an easy hike to see them. If you have extra time, find some of the other easy and beautiful trails within the state park.
As a state park, you'll need to pay the $10/car entry fee.
Stop #6- Palisade
Drive Time from Rifle: 46 minutes
Distance from Rifle: 50 miles
Distance to Grand Canyon: 427 miles
Peaches– the only thing you need to know about Palisade is that they have the most unbelievably delicious peaches you will ever taste.
Of course, they are only available towards the end of summer. But if you happen to take this Denver to Grand Canyon road trip during August or September, you MUST stop here and get some peaches.
Stop #7 – Grand Junction
Drive Time from Palisade: 19 minutes
Distance from Palisade: 12 miles
Distance to Grand Canyon: 416 miles
National Monument– this is the part of the drive where all the stops have some cool geological formations. Colorado National Monument is the first stop like this, and it's a cool one.
Look for the obvious formations and spires, known as some of the most beautiful in the west. But also look for eagles and bighorn sheep as you drive Rim Rock Drive.
Entrance is $25/car.
Stop #8- Moab
Drive Time from Grand Junction: 1 hour 46 minutes
Distance from Grand Junction: 113 miles
Distance to Grand Canyon: 303 miles
Moab is somewhere you MUST stop on your Denver Colorado to Grand Canyon road trip with kids. There is so much to see and do here that is all family-friendly. It's especially great for any dinosaur enthusiasts in the family.
Arches National Park– This great national park has so many great hikes and viewpoints. There are so many kid-friendly hikes in Arches that the whole family will enjoy and be amazed by.
See more remote areas of Arches National Park on this 4×4 Tour
Canyonlands– Another great National Park near Moab is Canyonlands. You can drive around for great views, or there are plenty of easier hikes that are under 2 miles that the kids will enjoy.
Besides national parks, you can explore Moab with the kids and check out the dinosaur tracks, cool hikes, and petroglyphs around the area.
Deadhorse Point State Park– another great place to visit is Deadhorse Point State Park. This is a popular place to see the Colorado River carve through rock, forming a horseshoe shaped crevice.
Where to Stay in Moab
Comfort Suites– this is where we stayed. It had everything we needed, including free breakfast! It was right in town in Moab and easy to walk around from here.
Fairfield has the coolest pool in town, with a rock formation and waterfall coming out of it in the middle of the pool and a kids splash area. Definitely the coolest place to stay.
Stop #9- Monticello
Drive Time from Moab: 56 minutes
Distance from Moab: 54 miles
Distance to Grand Canyon: 249 miles
Monticello is great for kids who love history!
You'll be able to stop at the Newspaper Rock which is covered in petroglyphs.
You can then head to Canyon Country Discovery Center to learn of the plateaus in the area. You can also head inside to the discovery center where kids can have hands on experiences with STEAM subjects.
The Frontier Museum is also great for historians as it exhibits history about the Utah settlers. It's in the same location as Monticello's welcome center, so it's a great place to get more info about activities in the area as well.
Stop #10- Sand Island Petroglyphs
Drive Time from Monticello: 53 minutes
Distance from Monticello: 51 miles
Distance to Grand Canyon: 200 miles
Sand Island Petroglyph Panel is located just outside of Bluff, Utah. It features walls of petroglyphs from 300-3,000 years ago.
It's open year round and free to visit.
Stop #11- Navajo National Monument
Drive Time from Sand Island: 1 hour 35 minutes
Distance from Sand Island: 100 miles
Distance to Grand Canyon: 118 miles
Navajo National Monument is a lesser known place, but really cool. On the other route option I provide, you can stop at Mesa Verde National Park. Mesa Verde isn't on this route, but you can see cool dwellings of indigenous peoples at Navajo National Monument that appear similar.
While these aren't built on cliffs, the dwellings are built in alcoves from almost 700 years ago.
This monument is free to enter and you can sign up for free guided hikes to learn more.
Coal Mine Canyon, Photo by John Fowler
Stop #12- Coal Mine Canyon
Drive Time from Navajo National Monument: 1 hour 30 minutes
Distance from Navajo National Monument: 83 miles
Distance to Grand Canyon: 78 miles
This is the last stop of your Denver to Grand Canyon road trip!
Coal Mine Canyon is another awesome geological wonder to stop at. Witness the eroded sandstone formations that rise above the canyon, Hoo Doos and Ravines. These colorful formations are gorgeous, yet lesser known and not frequented since they don't have proximity to many other attractions.
That makes this the perfect stop on your Colorado to Grand Canyon road trip since you drive right by. Bonus: it won't be too crowded.
Arrive at Grand Canyon!
Welcome to the Grand Canyon! I hope you've enjoyed your journey from Denver Colorado to the Grand Canyon and all the great stops along the way. Find some great Grand Canyon Lodging before you go for a great experience.
To really make this the best road trip ever, choose the other route when you go from the Grand Canyon to Denver. That way you will be able to see SO many great things on your family road trip.
Sample Itineraries for Families
Here are a few sample itineraries for a family road trip from Denver to the Grand Canyon. Feel free to copy these!
3 day Itinerary
Day 1– drive from Denver to Colorado Springs (1-1/2 hours). Walk through Garden of the Gods. Then continue on to Alamosa and stay the night (2 hr 40 minute drive).
Day 2– play at Sand Dunes National Park for a few hours (start early if it's summertime!) Then hike Zapata falls. Drive to Pagosa Springs (1 hour 50 minute drive).
Day 3- soak in the hot springs in Pagosa Springs. Hike to Treasure Falls. Drive to Four Corners Monument (2 hours 41 minute drive). Finish the Drive to the Grand Canyon (3 hour 14 minute drive).
5 Day Itinerary
Day 1– Drive from Denver to Frisco (1 hour 15 minutes). Paddle or rent a kayak on Lake Dillon for the morning. Then hike up to Rainbow Lake. Drive over to Vail (28 minutes) and stay the night.
Day 2- Do a morning hike in Vail. Then wander the Vail Valley Swiss village for lunch. Drive to Glenwood Springs (58 minutes) and soak in the hot springs.
Day 3- If you're staying at the hot springs resort, take another dip in the hot springs. If not, head to the Glenwood Cavern Adventure park. Then drive to Rifle (26 minutes) and do the short hike to Rifle Falls. Drive to Moab (2-1/2 hours) and stay the night.
Day 4- explore Arches National Park in Moab.
Day 5– Complete the drive to Grand Canyon, stopping at Coal Mine Canyon for a break.
Frequently Asked Questions about a Denver to Grand Canyon Road Trip
Where should I stop between Denver and Grand Canyon?
If you head south first from Denver to the Grand Canyon, some great stops include Colorado Springs, Great Sand Dunes National Park, Pagosa Springs, Mesa Verde, and Four Corners monument. There are plenty of things to do at each of these to make a great trip!
What is the most scenic drive from Denver to Grand Canyon?
While any route you take will have some great scenery, the top scenic route from Denver to the Grand Canyon will be heading west first through the mountain towns of Colorado. Then heading south through Moab. Each will bring a very different scenery, from green covered mountains to dry, sandstone formations.
How far is the Grand Canyon from Denver?
The shortest route from Denver to the Grand Canyon is 657 miles. Alternatively, you can take other routes closer to 800 miles that will give you a lot of great, scenic, and exciting stops along the way.
How to Plan a road trip to the Grand Canyon?
First, decide which route you would like to take to the Grand Canyon. Do you prefer outdoor adventure and scenery? Or do you prefer passing through towns? If you are coming from Denver, then you can choose between going through the popular Colorado mountain towns, or heading south through southern Colorado and the unique attractions there.
Denver to Grand Canyon Road Trip
There is the grand Denver to Grand Canyon road trip, with two awesome itineraries. If you are doing a round-trip road trip (and have lots of time), take one route there and another route back to really explore a ton!
Need more road trips from Denver?
35+ Awesome Stops from Denver to St. Louis
Denver to Moab Road Trip (The most FUN route)