11 Best Things to do in Denver in October
Denver, Colorado is a fun city year round. But come fall, beautiful weather and activities present themselves, turning it into a fall dream for visitors. Pumpkin patches, fall festivals, and unique events provide some of the best things to do in Denver in October.
Let's Jet, Kids! uses affiliate links.  As an Amazon (and other networks) Associate, I earn from qualifying purchases.  It is no extra cost to you.  
Here is a guide to October in Denver so you can plan the perfect visit and enjoy every minute.
Table of Contents
Denver in October Weather
It's Colorado, so it must snow all the time, right?
Nope.
In fact, many people think Denver is in the mountains, constantly covered in snow. But it's not.
Denver is about an hour away from the core of mountain towns. So the weather in October in Denver does not reflect what the mountains get.
On average, the first snowfall in Denver happens around October 18 and the city will see around 4″ of snow during the month. However, the average high in October is 68.
So as you can see, the weather changes often and you really don't know what to expect.
Denver weather is like a box of chocolate…
Keep an eye on the forecast before coming so you can plan accordingly.
How to Dress for Denver in October
Layers, layers, layers! That's the standard dress code in Denver.
As I mentioned above, it could be almost 70 degrees or it could snow.
Pack a sweatshirt, pants, some lighter tops, good walking shoes, and a hat and gloves just in case. Check the weather ahead of time. If you are there during a snowy day, it's good to have a coat as well.
Things to do in Denver in October
There are plenty of great things to do in Denver all year. But here are a few of the best family-friendly things to do in Denver in October, specifically. Plan out your fall getaway with these fun events.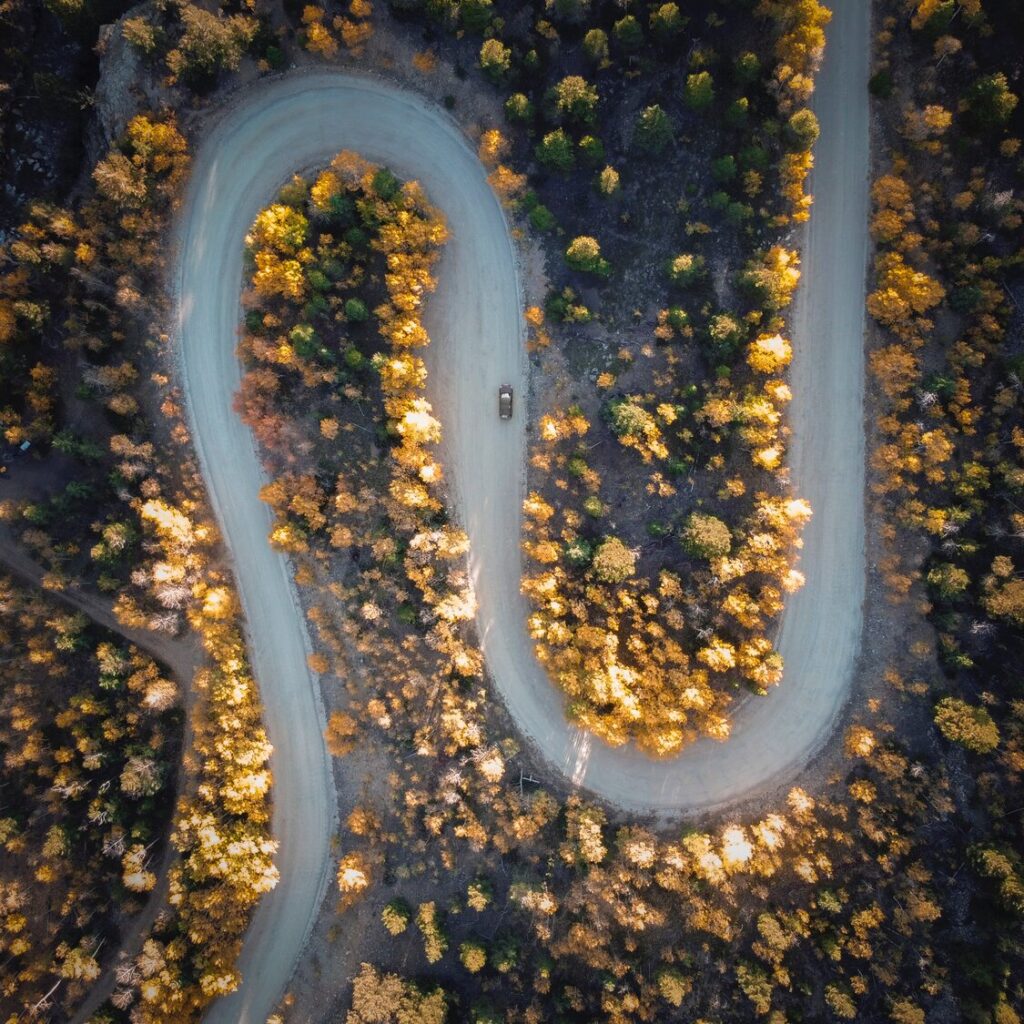 1. Take a Drive Through Changing Colors
If you make it to Denver in early October, then you'll have a good chance of seeing some of the best colors the state has.
One of the best drives that locals enjoy is heading up 285 and through Kenosha, and then Guanella Pass. This area has little hikes you can do as well, but staying in the car will provide ample opportunity for colorful displays.
Guanella Pass will land you in Georgetown just off I-70. This is a great place to stop for lunch and to walk around after a morning in the car.
Early October will also grant you access to colors at Rocky Mountain National Park. Trail Ridge Road is widely known for its incredibly display of colors.
2. Take a Hike for Changing Colors
Make sure to check out the colors at Lair O' the Bear, a short drive away from the city. You'll get an easy hike the kids will love, especially with the castle at the end.
You can also head to Golden Gate Canyon State Park for incredible, vibrant hues throughout. This park gets really busy during leaf peeping season, so make sure to get there early.
3. Celebrate National Hispanic Heritage Month
The month long celebration begins on September 15th, which marks the day of 5 different Hispanic countries day of independences.
For a month after, into mid October, you can participate in celebratory events.
Learn about Mexico's traditions during Día de los Muertos celebrations at the CHAC gallery.
You can attend the Yo Soy events at the Denver Botanic Gardens. They present family workshops, exhibits, art, and more to celebrate Latino culture.
Visit the Denver Art Museum for Latin American Art and Art of the Ancient Americas. Ponder 3,500 years that explore relationships and history.
Hispanic Top Chef is a fun opportunity to watch those from the Hispanic community compete for winner of a tough cooking competition. They must display culture, innovation, and tradition. 8 participants compete and are judged accordingly. Ticket sales help fund the Hispanic Restaurant Association, which aims to provide opportunity for Hispanic Restauranteurs. Purchase your ticket to attend.
4. Wild Fall at the Zoo
Previously known as Boo at the Zoo, this event has changed names to Wild Fall. It's mostly the program that it use to be, but without the candy.
The focus of Wild Fall is on education about nature and animals. But it still provides plenty of fun for families.
Dress in a costume and enjoy the other costumed creatures (none too scary) that roam around.
These mythical beasts are for fun, not for sneaking up on anyone. Enjoy walking around the zoo, uniquely carved pumpkins, festive food for purchase, and animal demonstrations.
Wild Fall is included in your standard zoo ticket. Wild Fall runs all October.
5. Glow at the Denver Botanic Gardens
For a few days in mid October you can enjoy thousands of spooky, lit up jack-o-lanterns around the Botanic Gardens (York Street location).
Explore the beautiful flowers of the garden all while taking in the fall atmosphere and glow of the grounds.
Tickets sell out far in advance, so reserve ahead of time. There are no ticket sales on site for this event.
*For families with older kids (12+) that want a more spooky adventure, visit the Botanic Gardens for Ghosts in the Gardens. You'll get to walk around the gardens hearing stories of the Boneyard and encounters staff have had on site. More details here.
6. Visit Anderson Farms
This is a pumpkin patch, and yet so much more. You'll have to drive slightly north out of Denver to get here, but it's the place to hang out around Denver in October, so I thought it was worth a mention.
Anderson Farms is the best pumpkin patches in Colorado. People all over Colorado will drive to visit Anderson Farms during fall.
Enjoy a pumpkin patch, corn maze, paintball, wooden train, slides, pumpkin cannons, pedal karts, barrel trains, a kids rainbow maze, or even rent out a private fire pit.
There is a lot going on at Anderson Farms!
Open late September through October, closed Tuesdays. Purchase tickets in advance.
7. Oktoberfest in Denver
Denver hosts an Oktoberfest that is family-friendly so everyone can join the fun!
If you're in Denver in late September / early October, make sure to stop by Larimer and 21st to listen to some polka and disco, dance the day away, watch the Long Dog Race, go bowling with a keg, and more.
Kids are welcome to attend.
8. Fright Fest at Elitch Gardens
Join in on one of the largest Halloween events in Colorado by heading to Elitch Gardens in Denver in October.
The theme park has lots of fun rides and family entertainment, but come nighttime during October, it turns spooky.
You'll run into ghouls, zombies, and more while searching for a haunted house. These spooky weekends in October are full of bones, skulls, graveyards, and plenty of actors to keep the Fright Fest going strong.
9. Bones, Bats, Boo! At Denver Museum of Nature and Science
Jump on the opportunity to spend a night at the museum in October, one weekend only!
Wear your costume to this fun family-friendly night where you'll be entertained with crafts, science, storytime, and a trip to the planetarium.
You'll enjoy pizza, snacks, and a hot breakfast when you wake up. This is one of the coolest things to do in Denver in October for families to get in the Halloween spirit, learn a little, and spend some time together.
10. Halloween Fest at the Aquarium
If you're spending the end of October in Denver with the kids, make sure to check out the Halloween Fest at the Denver Aquarium.
Kids will love playing games, guessing the weight of a giant pumpkin, taking their chance at prizes, trick-or-treating, and more.
Make sure your child wears their costume for a discount on admission (with adult purchase).
Check out the Halloween Fest during the last couple days leading to Halloween.
11. Magic of the Jack O' Lanterns
If you are looking for what to do in Denver in October, this is by far one of the most popular activities.
Just south of Denver in Littleton you can walk among 7,000 glowing jack o' lanterns. You'll feel as if you are in a sea of carved pumpkins!
Hosted at Hudson Gardens, you'll also encounter glowing scenes of dinosaurs, a pirate ship, dragons, and more.
Grab tickets before it sells out.
Visiting Denver in October
Grab your flannels, plus some other layers of course, and start planning your crisp-air getaway to Denver in October this year.
There is plenty to do to celebrate culture, hang out at a fire pit at the state's coolest pumpkin patch, or get some spooky (and not-so-spooky) thrills at one of the festive events.
Spending October in Denver can be fun for the whole family.
Save to Pinterest