20 Fun Things to do Butte to Seattle Road Trip for Families
Butte to Seattle Road Trip- Things to See
If you're wondering how to take a kid-friendly road trip without a long drive in between stops, you've come to the right place! This post will show you over 20 fun things to do in Montana and northern Idaho on your way to Seattle on this Butte to Seattle Road Trip.
Let's Jet, Kids! uses affiliate links.  As an Amazon (and other networks) Associate, I earn from qualifying purchases.  It is no extra cost to you.  
---
If you'd like to check out a longer road trip, make sure to check out
Part 1 (Seattle to Olympic National Park, Washington),
Part 2 (through Oregon)
Part 3 (through southern Idaho) and connect them all together with this post for a road trip that makes a loop!
---
Read on to find fun things to do in Montana, Northern Idaho, and Spokane Washington for your drive to Seattle, and find your favorites to plan your Butte to Seattle Road Trip.
Table of Contents
Kid-Friendly Things To Do In Montana
Montana may seem like open country that's isolated (but beautiful!) Well, it is open and beautiful, but there are many fun things to do in Montana during your Butte to Seattle Road Trip with kids.

Butte, Montana – Montana to Seattle Road Trip
World Museum of Mining
As you make your way on your Montana to Seattle road trip, check out a mining museum as your first stop.
Discover this historic mining town and jump aboard two different tours. The Orphan Girl tour equips each attendee with a hardhat and headlamp and takes you down 100 feet into the mine. There, you spend 1.5 learning the history of the mine and exploring the mine. Then take the Mine Yard tour to see over 60 exhibits!
Orphan Girl: Courtesy of World Museum of Mining
As you walk through the re-created mining town Hell Roarin' Gulch, you'll experience what a real mining town felt like! World Museum of Mining is sure to be fun for both kids and adults!
open April thru October, Tuesday thru Saturday
adults- $9, youth- $5, 4 and under- free
MBMG Mineral Museum
Do you have a kid that loves rocks? (Mine does!) This is one of the perfect kid-friendly things to do in Montana.
Kids and adults will enjoy learning about Montana's geology. This museum has over 1,000 specimens on display (agate, sapphire, gold, to name a few). Visit the exhibits to learn about geology, earthquakes, and mining. Bonus: you can also a few meteorites on display!
free admission, and you can reserve a free 45-60 minute tour as well
Don't miss this on your Butte to Seattle road trip!
Butte Trolley Tour
This is a great tour to see all the awesome things about Butte. And the kids will love riding on a trolley! This tour lasts about 2 hours, and explains all about Butte history. You'll learn about mining and culture, but you'll also drive thru the National Historic Landmark District. This great area will show you Copper King Mansion, Clark Chateau, Montana Tech, and more!
Adults- $20, ages 12 to 17- $15, ages 4 to 11- $8, 3 and under- free
Copper King Mansion
This beautiful home (now bed-and-breakfast) belonged to William Andrews Clark. His history is long and rich (such as single-handedly financing 1,100 miles of railroad that eventually became part of the Union Pacific Railroad). You can stay here the night and have a tour included, or you can visit just for the tour for a fee.
Adults- $10, Kids 5 to 12- $5, Under 5- free
Where to Stay in Butte
Hampton Inn – indoor pool and free breakfast, up to 2 pets welcome
Fairfield Inn – Indoor pool/hot tub, free breakfast, no pets
Missoula, Montana – Butte to Seattle Road Trip with kids
Aerial Fire Depot and Smoke Jumper Center
Come take a 45 minute tour of the real working areas, and learn the history of the Missoula Smokejumpers. Then roam the exhibits at the visitor's center. Then go to the fire lookout; it's been there since 1937!
Open Memorial day through Labor Day
Free tour
A Carousel for Missoula
This is definitely one of the fun, kid-friendly things to do in Montana. Stop at this unique structure, which was created by a cabinet maker and a team of trained-volunteers. Completed in 1995, this carousel is conveniently located next to the riverwalk and park.
This is one of those classic things to do on your Butte to Seattle road trip that the kids will love. Stretch, play, and feel your inner child come out!
Photo credit: Dax Kuehn/Dax Photography; provided by Carousel for Missoula
Cara's Park
The carousel is right here, so it'll be easy to stop and enjoy the park after! The kids can enjoy the large jungle gym, or the whole family can walk on the paths and enjoy watching kayaks, surfing, and paddling. If you're lucky, you may even catch an event or music in the park.
Where to Stay in Missoula
Residence Inn – Free Breakfast, larger rooms, can get small kitchen, pets welcome
TownePlace Suites – Pool, free breakfast, 2-bedrooms available
Kalispell, Montana – Butte, Montana to Seattle Road Trip
Conrad Mansion Museum
First, enjoy the beautiful grounds on which this mansion sits. In the summer, you'll find various colors in the many flowerbeds and landscaped yard. Charles Conrad founded Kalispell and today his home is able to be toured, in an effort to preserve the history. You can take a 1.5 hour tour and see it yourself! It's impressive, and even Teddy Roosevelt stayed here!
$10-$20/person for the tour (call to schedule)
open Tuesday thru Friday for self-guided tours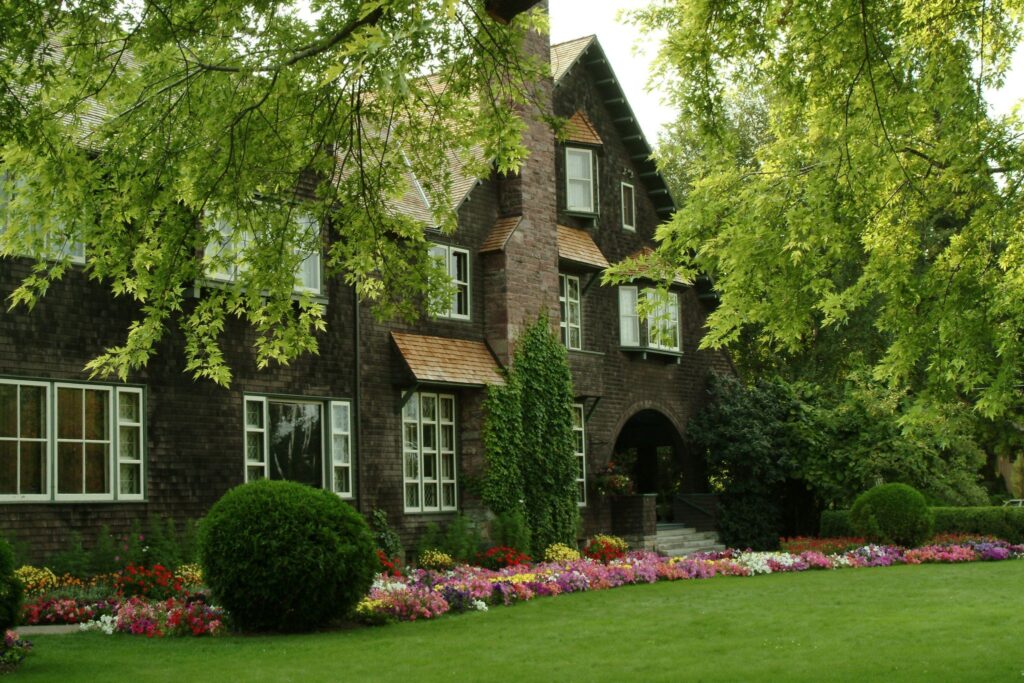 Photo provided by Conrad Mansion
Flathead Lake State Park
Stroll around this beautiful park, or rent a kayak and play on the water a little! (You can play IN the water, but be warned it's a bit chilly!)
You could also rent a Stand-up paddleboard (and other equipment) from Sea Me Paddle. The shorelines are covered in smooth, beautiful, colored rock.
Whether you kayak, canoe, picnic, float, hike, camp, boat, fish, or just take some amazing pictures, the whole family will have a great time here! Flathead Lake State Park is the perfect kid-friendly activity in Montana.
For a little more adventure, take a Scenic Raft trip from West Galcier (just under an hour away) and float down the Flathead River with the whole family. With gorgeous views and a little (but not a lot!) of paddling, it's the perfect way to spend the day! Book here! .
Here is where we would tell you to go to Glacier National Park. You are so close to it that if you have the time, then NOW is the time. But Glacier deserves its own attention and post and probably its own few days. So we'll keep driving for now.
Where to Stay in Kalispell
Country Inn and Suites– indoor pool (even has a small waterslide), 30 minutes from Glacier National Park, free breakfast, no pets
Hampton Inn– indoor pool/hot tub, free breakfast, pets welcome
Kid-Friendly Things to do in Idaho
This post takes you back through the very northern part of Idaho. If you'd like to explore the southern part with the bigger cities, check out this post. But for our Butte to Seattle road trip, we take a route through the northern part.
Cour d'Alene, Idaho – Montana to Seattle Road Trip
This is one of those towns that just looks beautiful. It looks inviting. And it looks like a classic, nostalgic family vacation. Adults can enjoy the activities and beauty of the town, and the kids will appreciate all the fun to be had.
Cour d'Alene Lake
This is the obvious spot to stop at. Whether you want to swim, kayak, or use the paths, there is something for everyone at this nearly 50-square-miles lake.
The most popular and convenient (and fun!) place to stay is the Cour d'Alene Resort. Here, you can basically plan your entire lake adventure.
You can hop on a boat tour of the lake, viewing lakefront celebrity homes, You can cruise during the holiday season to see spectacular light displays or to go eagle watching. Or, take one of the other many cruises offered, such as a sunset dinner cruise, or a yoga cruise!
The resort also offers boat, pontoon, and jet ski rentals if you'd like to explore on your own. Or go for non-motorized with a kayak or paddle board rental. If you need to settle down for a moment, you can simply enjoy the infinity pool overlooking the lake.
Cour d'Alene is know as a beautiful location for a vacation, so you'll need to at least stop here briefly on your Butte to Seattle road trip and enjoy!
Seven Stars Alpaca Ranch
Here is a unique experience the kids will love! For only $5-$10, schedule a 90-minute guided tour here and go experience this 40-acre working ranch! You will learn about alpacas, their fibrous coat, and be offered coffee or water, and perhaps a cookie for the kids! They'll love this kid-friendly activity in Cour d'Alene.
Cour d'Alene Summer Theater
If you are here in June, July, or August, make sure to check out this local summer theater. Though smaller, it runs full scale broadway musicals! This is a perfect way to spend a summer night on vacation! (postponed 2020)
Tubbs Hill Nature Trails
Only two miles long, this is perfect for kids! Take this trail and read the historical points along the way! You'll also find a few spectacular viewing areas of Cour d'Alene! Make sure to wear your swimsuit, as there are places along the way with small beaches and perfect opportunities to take a dip in the lake. If you are there in the evening, find a spot to relax and watch the sun set over the lake.
McEuen Park
This park boasts beautiful, historic homes, as well a a beach area. Centennial Trail is long, reaching all the way to Spokane. And City Park has its own incredible views along the shoreline. Hit all these places and more on a segway tour (12 years and older) through Cour d'Alene!
Spokane, Washington – Montana to Seattle Road Trip
Our Butte to Seattle road trip ends in Spokane and then you can finish driving to Seattle. (Check out the original post on the longer road trip to see things to do in Seattle).
Named after the Spokane Tribe, this city is a great family place. It was, after all, where Father's Day was born!
Here are some fun things to do in Spokane for families:
Manito Park
This BEAUTIFUL, 90-acre park has it all! The kids can enjoy a playground, though they'll have as much fun discovering all the colors and smells around them or watching the ducks at the duck pond.
This park has over 150,000 visitors each year, and for good reason! From the duck pond, to the conservatory, you can spend a while here. You'll also enjoy the lilac garden, rose garden, and the Japanese garden!
Japanese Garden and Gaiser Conservatory is currently closed (as of Aug 2020)
Free!
Manito Park, in Spokane, Wash., is photographed on Wednesday, August 21, 2013. (Young Kwak/City of Spokane Parks & Recreation)
Manito Park, Image provided by Spokane Parks and Recreation
Centennial Trail
The whole family can stay active on these 40 miles of paved trail along the Spokane River! Hike or rent some bikes and bring a picnic for a break.
Photo Credit: Friends of the Centennial Trail, used with permission
Bing Crosby House
Do you kids like Bing Crosby? He's a frequent singer in our home, especially during Christmas. If they're familiar, make sure to stop here on your Butte to Seattle road trip with kids. And if they're not familiar, now is a great time to introduce them!
Take the kids to see a piece of history…the childhood home of Bing Crosby! Gonzaga University holds many pieces and memorabilia of the famous musician and will let visitors tour his home, still in its original location!
Free
Closed at the moment (COVID)
Zipline Through the Forest on Mica Peak
Ziplining is becoming ever popular, and this is a great place to experience it! Soar through the air through beautiful, green forests. Ages 7 and up can take advantage of this adventure in Liberty lake, a short 20 minutes drive from Spokane.
Where to Stay in Spokane
The Davenport – historically beautiful, pool, pets welcome
Hampton Inn – indoor pool/hot tub, free breakfast, pets welcome
That's the Ultimate Roadtrip from Butte, Montana to Seattle!
Just over a 4-hour drive will get you back to Seattle.
(Remember, for fun things to do in Seattle, check out the first post about things to do in Washington in the longer road trip series.)
We hope you found some fun ideas and inspiration for whole-family travel! These were fun places for kids to visit, and not too long of a drive in between each. Filled with both popular and unique ideas, we hope you enjoy this kid-friendly Butte to Seattle road trip!
Did you miss the first posts for a loop from/to Seattle? Make sure to check out:
Part 1 through Washington,
Part 2 through Oregon, and
Part 3 through Idaho!
Save this to Pinterest!