35+ Budget-Friendly Family Vacation Tips
Traveling as a family is so important in our home, but it can be hard to make family travel on a budget happen.
Let's Jet, Kids! uses affiliate links.  As an Amazon (and other networks) Associate, I earn from qualifying purchases.  It is no extra cost to you.  
But the experiences and memories we create are so worth it. The past few years, we've tried to really make traveling as a family a priority, which means we had to change our state of mind on travel.
If you need to learn how to travel on a budget with family, here are a lot of tips and ways to make that happen. Make your next trip great with these budget-friendly family vacation tips.
Between finding more affordable accommodations, planning the right time for travel, and finding affordable (or free) activities, we have really been able to expand our traveling. Read on for how to adopt budget family traveling for yourselves!
Table of Contents
---
Best Budget-Friendly Family Vacation Tips:
When To Travel
1.Travel During Off-Season
This can mean a lot of different things. It really focuses more on when not to travel.
For instance, don't travel to Spain during Holy Week. Don't hit up Florida during spring break. And don't expect to take a budget family vacation to Vail in February.
Unless those specific activities are the very tippy top of your bucket list, plan a different time. You won't score and deals during those times of high season or popular holidays.
Vail in early May is much cheaper than February during prime ski-season.
Off season dates, wherever you go, will be cheaper for both flights and accommodations.
Comparison Using Travel Tip:
Key West Hotel in March for 4 nights: $2,306
Same hotel for 4 nights in April: $1,719
2. Attach Travel to a Work Trip
After okay-ing it with your HR department, book your vacation to the same location as your work trip!
We did this a few years ago when my husband had a meeting over in Europe. We went out early, explored a couple countries, and then I flew back while he went continued on to his meetings.
His flight expense was reimbursed since he had to get out to Europe anyway (and yes, we got it all approved.)
Comparison Using Travel Tip:
(Just subtract one airfare price)
---
Save on Flights
---
3. Use Travel-Focused Credit Cards
This is one of the top budget-friendly family vacation tips that will allow your family to travel way cheaper each year.
I only recommend signing up for a credit card with the full intention/ability to pay it off each month. Otherwise, you've lost money in the long run, not saved it.
But if you can sign up for a great credit card with travel perks, you can really use it to your advantage to book a budget family vacation.
Check out Chase Sapphire Preferred. It's a great card to start with if you haven't "travel hacked" before. The sign on bonuses are typically higher than standard and the redemptions for points go farther on travel. The annual fee is relatively low for the bonuses and rewards it can bring.
Capital One Venture Rewards card that keeps the annual fee low, but provides great travel benefits (2 miles per dollar and, currently, 75,000 bonus miles at sign up when you meet the 3-month purchase amount.)
If there is an airline you prefer or always fly on, it may be worth looking into their specific credit card. You'll typically earn more points per dollar when booking on that airline, along with other travel perks like bonus miles, priority boarding, and more.
Comparison with Travel Tip (with current promos and prices) :
Sign up for Southwest Card. Earn 50,000 points after $1,000 in charges on card. You book 4 tickets from LA to Chicago in May at $304 each. But the 50,000 points gives you (roughly) $750 in flights. So 2 flights plus half of another are covered. You end up only paying around $462 total for 4 roundtrip tickets from LA to Chicago.
4. Pick the Right Airline to Save Money
There are many airlines that cater to families, but here I'll talk about which airlines can keep you on a budget when you travel with kids (moreso than others).
Frontier Airlines
Frontier Airlines is known as a low-cost, budget airline, Frontier has incredible deals throughout the year.
We've flown to California for $15 before and made a whole vacation out of it.
Sign up for Frontier's email list to be notified of sales (which occur often.)
One of the family travel budget tips with Frontier is to purchase a membership to the Discount Den. This will give you cheaper fares plus a specific calendar of days where kids fly free (one free kid per paying adult).
Kids Fly Free is only available for specific dates, so it works well if you are very flexible with your travel.
Discount Den is around $100 to sign up, so make sure you're planning to use it before purchasing!
Southwest Airlines
Southwest Airlines is one of our favorite airlines to fly.
They are family-friendly, from the flight attendants to the many family passengers we always encounter.
But when it comes to saving money for a family vacation, they come in high on the list.
Southwest does not assign seats. Instead, they basically give you a number and you board in order of your number. After the first "Section" (A Group), they allow family boarding for anyone with kids 6 and under.
How does this save money? Well, instead of having to pay extra to choose and guarantee seats together, you'll have your own family boarding time to make sure you sit together. No extra cost.
Southwest also saves you money as it's the only domestic airline in the US that doesn't charge for a checked bag! You'll get both checked and carry-on bags included in your ticket, no matter which fare you choose.
Comparison with Travel Tip:
Flying R/T from Denver to Chicago on Southwest for a week in April = $296. No fees for luggage or seats.
Flying R/T from Denver to Chicago on Frontier for same dates = $149 R/T, plus $11 to pick a seat (starting price, usually for the worst seats on the plane), $38 to check a bag EACH WAY, and $40 for a carry on.
The comparison here shows that if you can travel LIGHT and only use a personal item (backpack), then Frontier would be the best pick here.
But if you need to really pack some luggage and carry on bags, Southwest will give you that plus family boarding at no extra cost, making Southwest more affordable.
Depending on dates and locations, these prices can vary widely.
Jet Blue Airlines
Jet Blue is another great choice for budget travel with kids.
You'll save plenty of money in all the "extras" that you typically have to pay for on other airlines.
Jet Blue has free Direct TV, SiriusXM, Radio Disney kids music, and more kid-friendly entertainment.
On the small chance your kids don't find something they like on the provided entertainment, they can hop on the free wifi and find their own shows on their devices.
Jet Blue offers more legroom than average. And (except for the basic fare) you can carry on bags and pick seats together, enjoy the free wifi, and choose from a variety of nut-free snacks, all included!
Save on Lodging
5. Consider Hotels AND Rental Homes
We are always very flexible when it comes to staying at a hotel vs rental home.
Whenever I plan a trip, I check both VRBO for rentals and hotels.com for hotels. Then, I find which has cheaper accommodations for our family vacation.
Rentals are great for longer stays. You can often get discounts, you can pack lighter (saving on luggage fees) thanks to rentals typically having laundry machines, and you can spread out a little.
I love the idea of having a home or condo to spread out in for our family. But I also love the perks of booking through Hotels.com and being able to earn free nights. Which brings me to my next tip…
Comparison with Budget Travel Tip:
A week in June for a hotel (with at least a 7/10 review rating) in Virginia beach: Cheapest option is $819 for the week
The cheapest 2-bedroom condo for the same dates on VRBO is $1,459 for the week
OR
The same week in Denver, booking a hotel (with at least a 7/10 review rating): cheapest is $1,167 for the week
The cheapest 2-bedroom rental for the same dates on VRBO is $749
Prices can really vary between rentals vs hotels in different cities, so make sure to check both hotels and rentals.
6. Book Hotels with Hotels.com
Hotels.com is really among my top budget-friendly family vacation tips. We only book hotels through them. Here's why:
I discovered hotels.com years ago, and we've been able to stay for free quite a few nights since then! You don't have to stay with one franchise to earn nights…you can earn rewards on tens of thousands of hotels around the world.
For every ten nights you book and stay, you earn 1 free night (or rather, a credit towards a night) that is the average cost of the ten nights.
Update: Hotels.com has recently combined their rewards program with Expedia and VRBO. So when you book with any of these companies, you get rewards money that can be applied to any of them!
This can result in free nights at Hotels.com (or rental nights on VRBO).
Those free nights really can add up and come in handy.
7. Book Hotels with Flexible Cancellation Policy
Another thing I love about hotels.com is that their cancellation policy is clearly stated when you book a room. You can book different rates depending on if you'd like cancellation included.
I use to never add the extra $10 (or whatever each individual fee is) to add cancellation.
But ever since 2020, we've had to cancel a lot of plans, and I've realized being able to cancel is so important.
Hotels.com makes it easy… you log on, find your reservations, and click "cancel".
Done. No holding for 20 minutes to talk to someone, no having to explain…
If you purchased the cancellation rate (which is typically not much more $ and sometimes isn't anything extra) and you are within the cancellation period, it's literally just the click-of-a-button if you need to cancel.
That has saved us so much money in the long run.
8. Stay in a Tent
I don't know a better budget-friendly family vacation tip than to stay in the cheapest of accommodations: a tent!
Some campsites have a minimal camping fee or an affordable fee for using hook-ups (if you camp/glamp/RV).
You can also check your National Forest land of interest, as 95% of the land offers dispersed camping, AKA Free Camping, on the land.
Camping is an adventure that can really make some fun memories, for cheap! Get the kids excited with some fun camping toys and gear.
9. Stay With Friends or Family
This is a great way to find FREE places to stay on your family vacation.
If you have family that lives in another city, why not go visit and explore their area?
Spend quality time with the people you love and never get to see, but also take some times to see a part of the country (or state) you don't typically get to see.
And if you are nice enough, you'll probably score some free lodging!
10. Vacation with Family and Friends
Probably only a good idea if you're really close, but the idea behind this is to rent a larger home and then split the cost.
Instead of paying $500 a night for a huge place in a super cool location, now you're only paying $250.
This also may save you money if it's a relaxation-focused trip. Adults can hang out while the kids entertain each other. No need for shiny attractions to entertain the kids.
Alternative Lodgings to Stay on Budget
Traditionally when traveling, you may just be deciding between a hotel or a rental home.
It's great to compare those two prices, but if you want to get really creative, know that there are other options as well!
11. Find Family-Friendly Hostels
Hostels are often thought of as young, single, backpacker-type accommodations, but hostels can be great traveling on a budget with family.
More and more, there are hostels available that can sleep a family together in a room.
Hostels typically provide everything you need without luxury. So you may have a shared bathroom. You may (or may not) have a pool.
Many hostels also have a shared kitchen you have access to.
Hostels are a great way to meet other travelers, but they are a really great way to budget travel with kids.
12. House Swap
House swapping is gaining popularity as well.
House swapping is basically switching houses with someone else.
While there are Facebook groups for organizing house swaps, you do have to use caution since you will be opening your home to a stranger.
There are websites that are better organized to find a house swap for your family.
Home Exchange is a popular one that requires a membership fee under $200. Then, you can browse and submit offers to swap homes with someone else! Home Exchange is great because it is available in 159 countries around the world.
Love Home Swap is becoming more popular as well. You can swap with a Classic Swap: you stay in their home, they stay in yours.
Or, if the swap doesn't work two ways, you can pay a small transaction fee and use Points (Love Home Swaps's virtual currency, so you pay the home owner in points) to go stay in whatever house you'd like.
Love Home Swap has low monthly payment membership fees. And some membership tiers come with extra perks (like airport lounge passes!)
13. House Sit as a Family
House Sitting is a little more untraditional for family travel, but still doable if you are looking to budget travel with kids.
For an annual fee, you can get connected with people all over the world looking for someone to house sit (and possible pet-sit) in exchange for staying in their home for free.
This is open to families, as long as your profile clearly states your whole family will be housesitting.
Save on Food on Vacation
14. Limit Eating Out
We take this budget-friendly family vacation tip very seriously when we go on trips.
If we are driving in the car, we will pack up some pre-made meals (or really simple ingredients to make a meal if we are at a rental) and eat most of our meals in.
We are a family of 6, so this saves so much money on our family vacations. Going out to a fast casual restaurant will cost us around $70-$80. No drinks, no apps. Just a meal.
For a weeklong trip, if we ate in just for dinner, that would save us nearly $500.
And that's just savings from fast-casual cuisine, not even sit-down dining experiences.
15. Breakfast Included!
If you end up staying in a hotel, look for one that includes breakfast. That can add up to a huge savings (and it's quite convenient!)
For our family of 6 to stay somewhere that includes breakfast, that saves us about $60/day, or $420 for a week!
16. Bring a Water Bottle
So, so simple. Yet such a great money-saver (and environment friendly!)
Bring your own reusable water bottle.
Even for the airport. Airports have filtered water stations, so you can fill your bottle up before you board your flight. This avoids having to pay $3 for a bottle of water every time you and all the kids get thirsty.
Avoid plastic all-together to help the environment and grab an affordable stainless steel bottle that you can use over and over (plus, stainless steel will keep your water colder for longer).
If where you are going doesn't have safe drinking water, then purchase gallon (or larger) jugs of filtered water to refill your water bottles. Grab some at the store when you arrive.
We do this often and not only is it convenient, but it's also more economical than buying a bunch of small water bottles.
Planning Your Family Vacation on a Budget
17. Package Deals?
Be careful here as booking vacation packages isn't always the best way to stay on your family travel budget.
Costco has great travel packages and they are usually a good deal…for what they are providing. But Costco often provides higher end packages. Not quite as budget-friendly.
I do recommend signing up for deal site emails, like Travel Zoo or Gate1 Travel. These send weekly emails about big savings across the world.
Many of the deals are packages, but sometimes the deals are just on hotels or sale alerts on airfare.
Either way, I've seem some incredible savings come through on those emails. (The most recent one I saw was to tour China for $1. Yes, $1 for a limited number of people. They connect with tourism boards where locations are really trying to boost tourism.)
18. Family Road Trip
One of the best budget-friendly family vacation tips is to take a road trip.
When airfare is just soaring and out of reach, turn to the good-old-days of packing everyone in the car for a good old-fashioned family road trip.
Road trips are a great way to stay on budget while traveling as a family. You take out the cost of airfares and a rental car at your destination.
Road trips can be a really fun way to explore new places and see unique things like random roadside attractions.
Spend the quality time together playing games in the car. It's amazing what you learn about each other being trapped in a small space for so long.
Comparison with Budget Travel Tip:
Flying from Salt Lake City, Utah to LA in the summer would cost around $300 per person (average of best 4 prices, though some don't even include luggage). For a family of 4, you're looking at $1,200 just to get there.
To rent a car that same week (midsize SUV) would cost $350 at the cheapest.
That's $1,550 just for flights and car.
But to do a road trip (which would be just under 11 hours of driving time), it would take about two tanks of gas each way. Let's say the average car fills up for $70 at current prices. That's $280 to transport your whole family on a road trip.
And you don't have to pay for a car when you arrive.
Try a road trip next time, like Denver to St. Louis .
19. Find the Cheapest Destinations
If you are looking to budget travel with family internationally, Southeast Asia is often a more affordable destination.
Mexico also comes in cheap as it is filled with all-inclusive resorts (for all different budgets). This is a money-saver because all-inclusive resorts provide entertainment, activities, and food. You'll never have to leave (if you don't want) and don't need to spend anything extra the whole time!
If you are looking for budget travel with the family in the US, try to think outside the box. Think of destinations that no one else thinks of… they will come in cheaper than their popular counterpart.
Years ago, Gulf Shores was hardly talked about. Rentals were cheap since it wasn't a touristy town. Now, the exact same town has higher prices as this travel gem has become popular.
Find towns that aren't hot on the tourist map.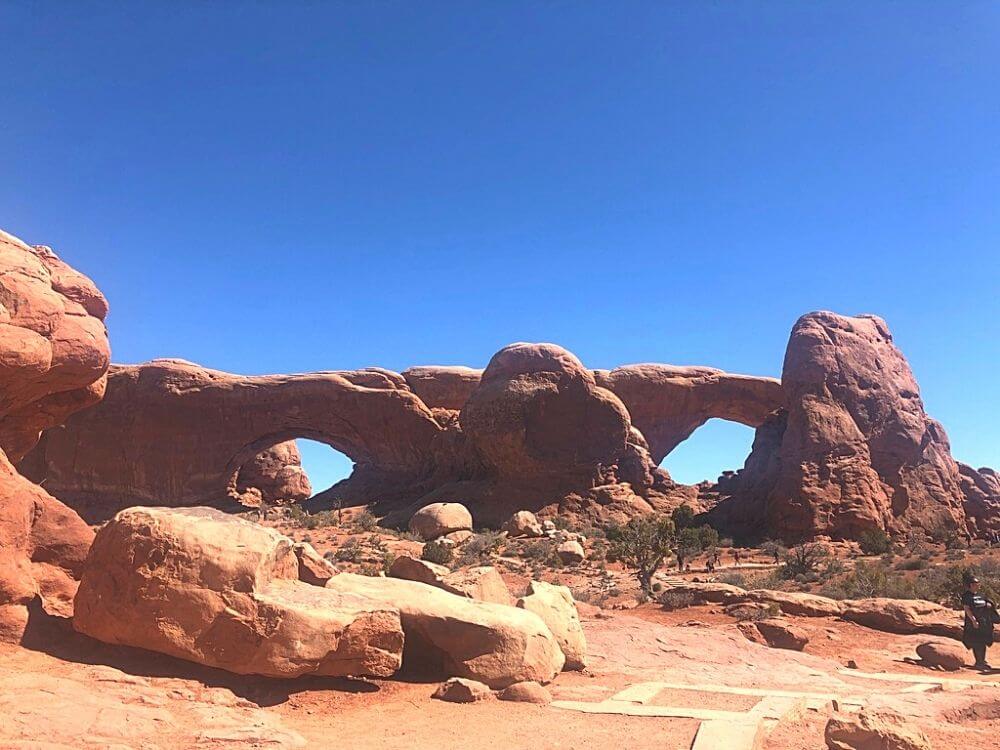 20. Purchase a National Parks Pass
This is one of my personal favorite budget-friendly family vacation tips.
We purchased the America the Beautiful pass last year and used it 6 times!
The America the Beautiful pass is good for one year from purchase.
Then, you can hang it on your rearview mirror anytime you visit a national park and enter without paying anything extra. (Unless you choose to book extra activities like guided hikes like in Mesa Verde National Park or Arches National Park).
That saved us nearly $100 in one year. And yet, we spent weeks traveling through national parks.
Sooo, that's $80 for weeks of activities for 6 people.
If you have a while, try road tripping through multiple national parks!
21. Plan Your Own Trip
I have seen so many deals come through the deal site I recommended above. And one day, I am totally going to book one of those.
But when the proposed trip doesn't quite fit your schedule, do all the work yourself. Don't rely on fancy travel packages (ahem, Costco) that aren't budget-friendly deals.
Compare hotels, compare airfares, set a price alert on different airlines (Airfare Watchdog has price alerts) so you can book right when the price drops.
Use Google Flights and play around with different dates and airlines to find the best fare.
Search hotels.com and sort by price to find the most affordable family accommodations.
Plan what activities you'd like to do ahead of time so you can compare prices, rather than buying on the spot when you get there.
A lot of research can help you find the best prices for travel with your family.
22. OR Use a Travel Agent
I like to plan my own trips and have full control over my itineraries.
However, if planning is not your favorite, you can use a travel agent.
Many (not all) travel agents are FREE to use, as they get paid from vendors you book with.
But can they help you with keeping a budget family vacation?
YES.
Travel agents actually have access to special deals not available to the public. They have connections with resorts that often help get you a better price.
If you decide to use a travel agent, be courteous. Don't ask for all their advice and planning just to ditch them and do it yourself with their plans.
23. Take a Longer, Slower Trip
We love being able to take longer trips. You get to see more, and yet not feel so rushed in doing so.
But did you know that many rentals on VRBO come with discounts if you book a longer stay?
When we went to Costa Rica, we were planning on staying a while. I was researching staying just a couple days at one rental, but then we decided to stay in that area longer (longer than a week). So I changed the dates.
The price went up, but not as much as I expected.
I thought maybe I inputed the dates wrong, confused as to why it was so affordable for so long.
That specific rental had a 25% discount for stays longer than 10 days at the time.
If you're able, staying in one area longer (rather than moving around every couple days) can get you great rental discounts on certain properties.
24. Travel Insurance – a necessity these days, and how to save on it!
There is nothing more costly than having a travel incident and having to cover the cost of it all.
Flight canceled? Luggage lost? Injury? Medical bills abroad?
These things can become expensive, quickly.
Spend a little to save a lot with a travel insurance policy.
If you are having a hard time finding the right plan, you can compare plans side by side and see which is best for your family.
You can also check your credit card you booked your trip on to see what kind of coverage it has (if any).
The cards mentioned previously have travel insurance included, though you'll need to analyze if it's enough coverage for your specific trip.
For example, the Chase Sapphire Preferred includes CDW for car rentals, trip cancellation and trip interruption insurance, trip delay, lost luggage, delayed luggage, travel accident insurance resulting in death or dismemberment.
That's pretty impressive for credit card coverage.
Save Money on Rental Cars
25. Compare Rental Car Rates
After so many vacations, I've found that the two best places to book rental cars are either Costco.com or Expedia.com
Expedia is great and allows you to filter, making it easy to find the right size car. I often find the most competitive prices here, as well as extra savings and perks.
If you or your spouse travels a lot for work, it might also be better to book with the same company your work uses for rental cars. Often loyalty members of a certain rental company will have perks and discounts.
26. Check Out Turo for Rental Cars
Turo is becoming quite popular as people realize how they can travel on a budget. Especially during the last couple years when car rental prices have soared.
Turo is a company that allows individuals to rent out their own car. This is often at a much more affordable price than traditional car rental companies.
Comparison with this tip:
For example, I compared minivans for a week in April using both Turo and Expedia (since I usually find the lowest car rental rates on Expedia.)
For the same dates in April in Denver, Turo had a minivan available as low as $290 for a week. Looking at traditional car rental companies, the lowest cost for the same dates in Denver was $437.
I ran the same search but in June, and Turo came in at $485 whereas the lowest price from rental car companies was $701.
I personally haven't used Turo before as I am just starting to hear about it. But everyone I see that uses it sings its praises.
27. Rental Car… Pickup Location!
It's not always the case, but sometimes if you pick up your rental car outside of the airport area (in a nearby city), the rates will be cheaper.
Basic economics of supply and demand mean that you may find a better rate in a lesser-known town than at the constantly-busy airport.
Make sure to check both (if logistically possible).
Budget Friendly Activities on your Family Vacation
28. Look For Free Things To Do
This is one of my FAVORITE family travel budget tips. And I love the great challenge of seeking out free things to do in cities we visit.
We love to hike, so wherever we go, we bring our hiking backpack (which is a budget-friendly pack). Most places have an abundance of FREE or cheap hiking trails if you just research a little.
We also love finding free things to do around town, like free fountain shows Branson, visiting free museums (many in St. Louis and Washington DC), or even taking free candy factory tours in Denver.
The free stuff is often the cool, unique stuff that many people miss.
29. Bundle Activities
Research which activities are a MUST for your family vacation, and then see how you can purchase them most affordably.
When we went to London, there were so many things we really wanted to see.
Tower Bridge, London Tower, St. Paul's Cathedral (to name a few.)
All those attractions were really starting to add up, but I really wanted to see them all.
I started researching prices, and found that the London Pass included all these attractions (and many more), but in a packaged price.
It ended up saving us quite a bit of money to use the pass.
If you are traveling in the US, you can browse the City Pass for many major cities and see if it includes attractions you are wanting to visit.
30. Visit National Parks
This is another of my favorite budget-friendly family vacation tips. We just love National Parks!
I find National Parks to be such a great value. Each one is unique and each one is beyond beautiful.
National Parks are priced around $15-$30 for a passenger vehicle.
Yes, that includes the whole vehicle, not per person.
So for our family of six, that's around $2-$5 per person for an entire day (or usually a couple days) of activities.
National Parks are such a great way to budget travel with kids.
Need National Park ideas?
We love all National Parks as they are all so beautiful and different. The most unique one we've been to is Great Sand Dunes where we played all day long.
The most diverse park we've seen in Olympic National Park, where you could play at the ocean, go up a mountain, or hike through the rain forest.
And during the cold months, head to southern Utah where the weather is still decent and check out Arches National Park.
Saving Money AT Your Destination
31. Buy a SIM Card at your Destination
When we go out of the country, I always put my phone on airplane mode, stopping any cellular use from occurring.
With the iPhone, I am still able to message (and even voice call) friends and family (who also have iPhones) as long as I am connected to internet at the hotel or restaurant.
However, if you are needing cellular service while on a trip (and it is a good idea to have service if you will be traveling around an unknown country), buy a SIM card when you arrive.
Using a SIM card will connect your phone to the local networks, eliminating the use of international roaming. The price of a SIM card is usually much more affordable than paying for international roaming.
When you arrive at your international destination, you should be able to purchase a SIM card at the airport or sometimes even a local drug store.
Not interested in a SIM plan? Compare different phone providers international rates and see if your plan has an affordable add on (some are pretty decent!)
32. Public Transportation for staying on a family travel budget
While this isn't always ideal, and in some countries perhaps not the safest, there are plenty of places where using the public transport really saves a lot of money!
For instance, in London, using the Tube (train) is relatively cheap and safe. It can get you all over the city (and outside the city) for much cheaper than what a taxi would cost.
Most destinations will have public busses that run through town or through the country.
In Europe, getting around by train from one country to another is much more affordable than a plane ticket.
Consider using a less glamorous form of transportation to stay on budget for your family vacation. (Just make sure it's also safe for your destination!)
33. Take it Easy on Souvenirs
I know I know. When I see souvenir shops (or local vendors along the beach or streets), I really get sucked in. I want to buy it all. I want every memory of our trip to come home and be highlighted.
But when I get home, do I really want to put a bunch of random items all over? Do I really have a use for all those things?
Perhaps you love a cute summer dress that is unique to that location and you really see yourself wearing it often. Then go for it.
But if you are buying souvenirs just to buy them, stop yourself.
It's easy to get carried away with souvenirs on family trips, but that won't keep you on your travel budget.
Only buy things that you really have a use for and really will use.
Otherwise, window shop and move on.
I'll note that we do like to bring home a little memory of places we've been. So everywhere we go, we buy a magnet. Our fridge now gives us beautiful memories, without breaking the bank.
I've heard of others buying a post card and putting them in an album.
Or, just make your personal photos your souvenir.
34. Get Outside
Another way to save money on activities is to get into nature more. Hiking, biking, walking through a rainforest, visiting a national park… these are all much more budget-friendly activities on vacations than visiting big attractions.
For example, Colorado is full of beautiful hikes that the whole family can do that are free or only require parking money.
35. Find the Cheapest Gas Stations
In both the US and Canada, you can use the GasBuddy app to track down where gas is cheapest near you.
The App can not only guide you to cheaper gas, but you can also link your bank account and pay for gas on the app. Doing this method can save you up to 25 cents/gallon.
Can it be trusted? Well, take a look at almost a half-million high reviews.
36. Don't Pay ATM Fees
This can be tricky as you may not want to carry a ton of cash on you.
We typically bring some cash (and separate it into different places if we do).
But we often just use our credit card and expect to pay the fees.
It may seem like just little fees here are there, but when our credit card bill came and it was pages long at the end of just fees, we knew it was more than "a little bit."
There are a few credit cards that do not charge foreign fees, making every little bit add up to great savings!
A few cards include the Chase Sapphire Preferred (see? Still a great travel card), the Southwest Rapid Rewards Priority card, and the Capital One Venture Rewards credit card.
Why not sign up for one of these, grab the sign up bonus, and then enjoy fee-free spending on your trip?
Keep Baggage Fees down
37. Pack ONLY What you Need
With the exception of Southwest Airlines (and Delta for just a carry on), you're going to have to pay for anything more than a small backpack of luggage if you fly within the US on a basic fare.
So make sure to pack only what you need and nothing more. Even if that means you have to pay for one or two checked bags, it's better than paying for 4 check bags with a bunch of unnecessary stuff inside.
39. Combine Suitcases
Each child does not need their own suitcase.
When we travel by car, we allow each a small bag to put their items in.
But when we fly, we purchase two checked bags for the kids and stuff in as much as we can. That means multiple kids are sharing a suit case.
Grab the largest, allowable checked-bag you can and start stuffing it all in!
It all ends up thrown all over the floor when we arrive at our destination anyway, so it really doesn't matter that it's all packed in together.
My husband and I will even try to pack together when possible.
To save space in the suitcase, I like to use compression sacks. It REALLY saves / creates space in the suitcase, allowing us to pack in much more. (Pictured above)
Budget-Friendly Family Vacation Tips- keeping your vacation costs low
Which of these budget-friendly family vacation tips seem doable for you? It's hard to do all 35+, but even picking a few will make a difference!
Next time you plan your family vacation on a budget, try researching hotels vs rentals, give Turo a try, and take that (off-season) vacation on a budget!
Save This to Pinterest!