Brown Bear, Brown Bear What Do You See? is such a fun way to learn all about colors. In this Brown Bear Brown Bear preschool unit, we'll learn about colors, brown bears, and have some fun hands-on activities. I also have a free Brown Bear printable for a game you and your preschooler can play. If your are looking for Brown Bear Brown Bear math activities, crafts, and fun, you've come to the right place.
Let's Jet, Kids! uses affiliate links.  As an Amazon (and other networks) Associate, I earn from qualifying purchases.  It is no extra cost to you.  
Make sure to check out some our other preschool themes:
Brown Bear Book
First, to do anything in this preschool lesson you will of course need the Brown Bear, Brown Bear, What Do You See? book by Bill Martin Jr/Eric Carle. You can buy it on Amazon or check it out at your local library. If you've never read it, this book is a quintessential preschool book. It explores colors and animals and uses repetition so the kids can join along in the read aloud.
Brown Bear Brown Bear Crafts for Preschoolers
The great thing about Brown Bear Brown Bear, What Do You See? is that there are lots of fun crafts to go along with it. When you are talking all about colors and animals, the options are endless. Here are a few crafts that we enjoyed.
Animal Puppets from the Brown Bear Brown Bear Book
Supplies:
Paper lunch bags
Animal pictures or drawings, or cut out paper shapes
Glue
Scissors
For these puppets, have everyone pick their favorite animal (or two). Print out a free template or just draw on the paper bag or use cut out shapes. I recommend white paper bags if you are drawing so you can see it better, OR draw the animal head on a piece of white paper, cut, and glue onto the bag.
Kids can then use these puppets to dig into their creativity and imagination. Having imaginative playtime is important for development, and is just plain fun!
Brown Bear Paper Plate Craft
For this cute Brown Bear Brown Bear craft, you'll need:
Construction Paper (Brown and Black)
A Pen
Scissors
Glue stick
Paper Plate
To prepare the craft, trace a bowl on the brown paper and cut out a big circle. Then trace a cup for a smaller brown circle and cut it out a bit oblong when you cut. Draw a little bear mouth on this one. Cut out two even smaller brown circles and three small black circles. Then you can give the pre-cut items, a paper plate, and glue to the child.
The preschooler can use the paper plate to glue on the big circle. Then glue on the other pieces as ears, muzzle, nose and eyes. It's okay if it's not perfect; it's all for fun, creativity, and for motor-skill development. You're left with a cute Brown Bear!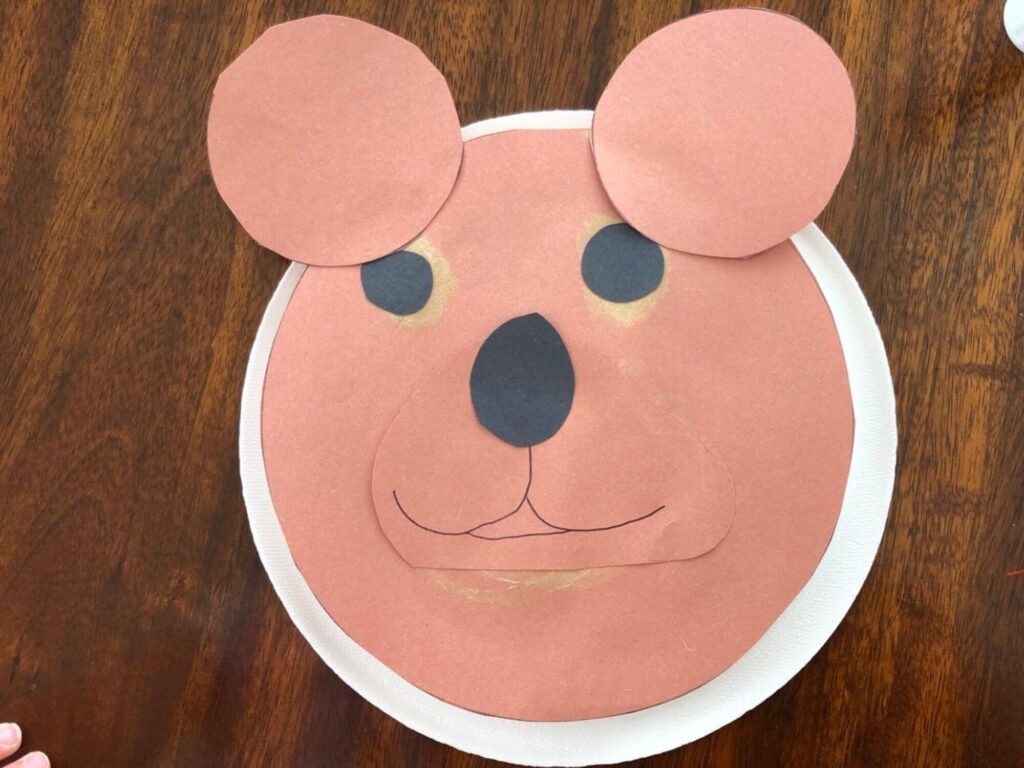 Colorful Animals Craft for Brown Bear Brown Bear
Read Brown Bear aloud again and have the children really pay attention to what color each animal is. You can always reference the book as well while doing this craft.
Supplies:
White/computer Paper
Pencil/pen OR template print outs from DLTK Teach's website
Lots of colors of tissue paper, buttons, black beans, gemstones, paint, markers…any materials
Glue stick and glue bottle
Draw an outline of each animal from the book (Bear, duck, horse, cat, fish, bird, frog, dog, sheep) or print out the templates from the website linked above. Working with the colors that the book mentions on each animal, use different materials to cover each animal. Use a glue stick to glue on the lighter pieces and bottled glue for heavier items.
We used gemstones for the dog, beads for the bird, black beans for the sheep, goldfish crackers for the goldfish, buttons for the frog, markers for the bear, paint for the cat, feathers for the duck, and tissue paper for the horse. Having all these supplies really comes in handy for other preschool units as well, so keep them on hand when you finish!
They will be left with a fun, colorful visual to use next time you read the book. The children can point to their own pictures and read along with you.
If you decided to do all the animals in this Brown Bear Brown Bear craft, I recommend doing one or two a day. Gluing on lots of little beads and gems can take a while!
B is for Brown Bear
This little craft uses the child's creativity. Simply cut out the letter B out of brown construction paper (alternatively, the child can color their letter brown). Then cut and glue shapes and pieces to turn the letter "B" into a bear! Allow the child to do this how they choose, whether they keep the B upright or turn it sideways. It's fun to see how their brain starts thinking to transform a simple letter into an animal.
Make a Brown Bear Mask
Supplies:
Paper Plate
String / yarn
Markers
Scissors
Construction paper of different colors
To make a brown bear mask, the child can color a paper plate to represent a brown bear. Use colored paper to cut out ears, nose, mouth, etc. Then the child can glue these pieces on. Make sure to cut out eyeholes beforehand! Then attach some string and measure it around the child's head so it sits comfortably, but not too tight.
Science for Brown Bear Brown Bear
Gummy Bear Science
The point of this little science experiment is to see what happens to the colorful gummy bears in different liquid solutions.
Supplies:
Package of Gummy Bears
4 bowls (or cups)
water
salt
vinegar
Sprite or 7-Up
Set Up
Start by pouring water into the first bowl, filling it about halfway. Do the same in the second bowl, except you'll also add 1-2 tablespoons of salt. Fill the third bowl halfway with vinegar, and the 4th bowl with Sprite or 7-Up. Label each bowl.
Have your child add 2 gummy bears into each bowl. Let the gummy bears sit in the bowls for a few hours…preferably until the next day, as the results will be more obvious.
After 24 hours, check the gummy bears and talk about what happened. Take out an un-soaked gummy bear from the package and compare it with the ones from each solution. Which ones grew the largest? Which ones didn't grown very much? Did any colors change a little? A lot?
For use, we used vinegar, salt water, and regular water. The vinegar destroyed the bears so we couldn't get them out in one piece. The saltwater held them in tact, they didn't even grow. The plain water really enlarged the bears!
I don't suggest eating gummy bears that were soaked in a solution overnight. But now might be a good time to let your preschooler snitch a fresh one from the bag 😉
Math Activity for Brown Bear Brown Bear
Counting with Bears
Print out this free printable to have your preschooler practice counting in a hands-on way.
The first column has bears in it. Count how many bears are in the first column. Then use your gummy bears to copy the amount of bears in the second column. This activity uses repetition in counting for great practice, as well as hands on counting so the child can see what numbers look like. Download the printable here:
Graphing Activity for Brown Bear, Brown Bear
We used a lot of printables for our Brown Bear unit. One that we loved for math was the Brown Bear graphing printable. My daughter loves to roll a fun, illustrated cube and graph our rolls to see which animal wins! We use Chocolate Teddy Grahams for our markers on the graph. Find your Brown Bear Graphing printable (and other printables) on 1plus1plus1plus1equals1's webpage!
Fun Activities for Brown Bear Brown Bear
Here are a few other Brown Bear, Brown Bear activities for preschoolers that you can incorporate wherever fits best during your time.
Color Mixing
Brown Bear, Brown Bear explores all of the basic colors. Grab some paints and a palette (or paper plate) and discover the art of color mixing. Talk with the child about how adding more (or not adding as much) of different colors changes how light and dark it is, or how bright or bold it is. Adding lots of blue to red makes a dark purple, while only adding a little makes a lighter purple. Play around on a few paper plates and just explore the magic of colors.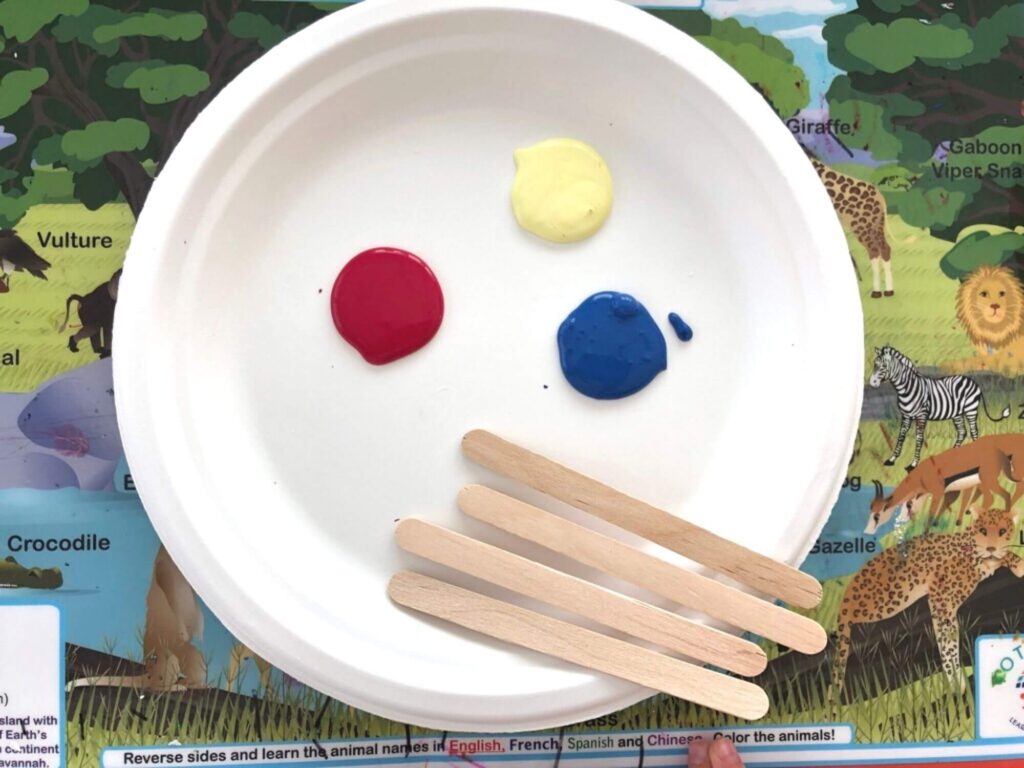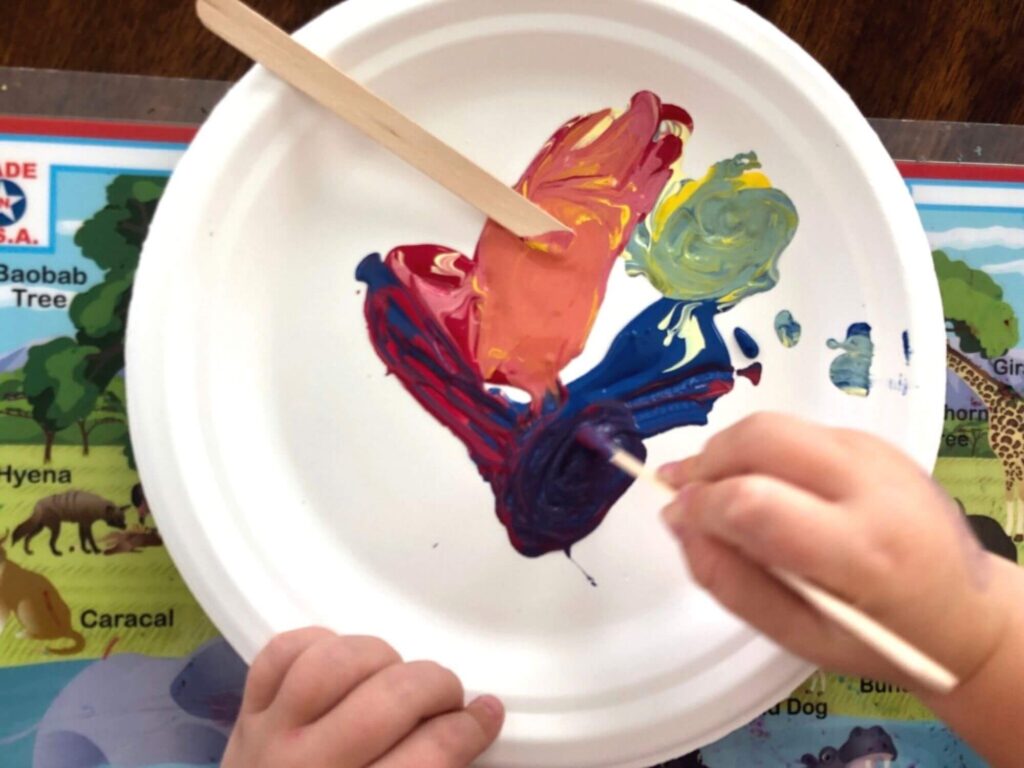 Brown Bear Brown Bear Charades
This fun Brown Bear Brown Bear preschool activity is fun for adults and kids to play together. Use this Brown Bear graphic set or print/draw your own cards. Place all the cards in a bag and then take turns drawing a card out without the other person seeing. Act out what animal is on the card until the other person can guess. You can't use any sounds, but you can get creative with movement.
Learn All About Brown Bears
Here is another great educational activity to use with your Brown Bear, Brown Bear theme. Learn about Brown Bears! Check out a few books from your local library about brown bears. Learn all about their habitat, habits, size, etc. Preschoolers will love learning about these giant animals.
Did you know?
Brown Bears are the largest species (by population) of bears
They live in North America, Europe, and Asia.
Bears live alone and hunt alone, except for a mother who stays with her cubs for the first couple years.
Brown Bears are omnivores, meaning they eat both plants and animals. They will eat berries, nuts, roots, leaves, squirrels, and even moose!
Learn lots more about Brown Bears by checking out one of these fun books about Brown Bears. You can also read some fun, fictional books about Brown Bears!
North American Mammals: Brown Bear by Jinny Johnson
Big Brown Bear's Cave by Yuval Zommer -a fun, fictional book that teaches friends are more important (and fun) than things.
Write the Room- Brown Bear Literacy
1Plus1Plus1Equals1 has a Write the Room print out. This is a fun hands-on way to practice reading and writing. Place the labeled pictures around the room, and as the child walks around and finds pictures, they can write (or trace over the dotted words) which animal they find. It's a fun way to move around and go on a little hunt for animals!
Fun Snacks for Brown Bear, Brown Bear Theme
A few easier Brown Bear theme snacks could be something as simple grabbing a box of chocolate Teddy Grahams from the grocery store.
You could also grab a bag of goldfish!
To get a little more creative, you can make this healthy brown bear snack...
Ingredients-
a piece of bread
peanut butter
banana slices
Brown M&Ms
Cover the bread in a circular pattern with the peanut butter to make the bear's head. Then use 1 banana slice as the nose and two for the ears. Place 3 M&Ms as the eyes and center of the nose.
This is a cute snack that my little one loved! It looks cute and tastes great! They get a little candy surprise, but also grains, protein, and little fruit. It makes a perfect snack.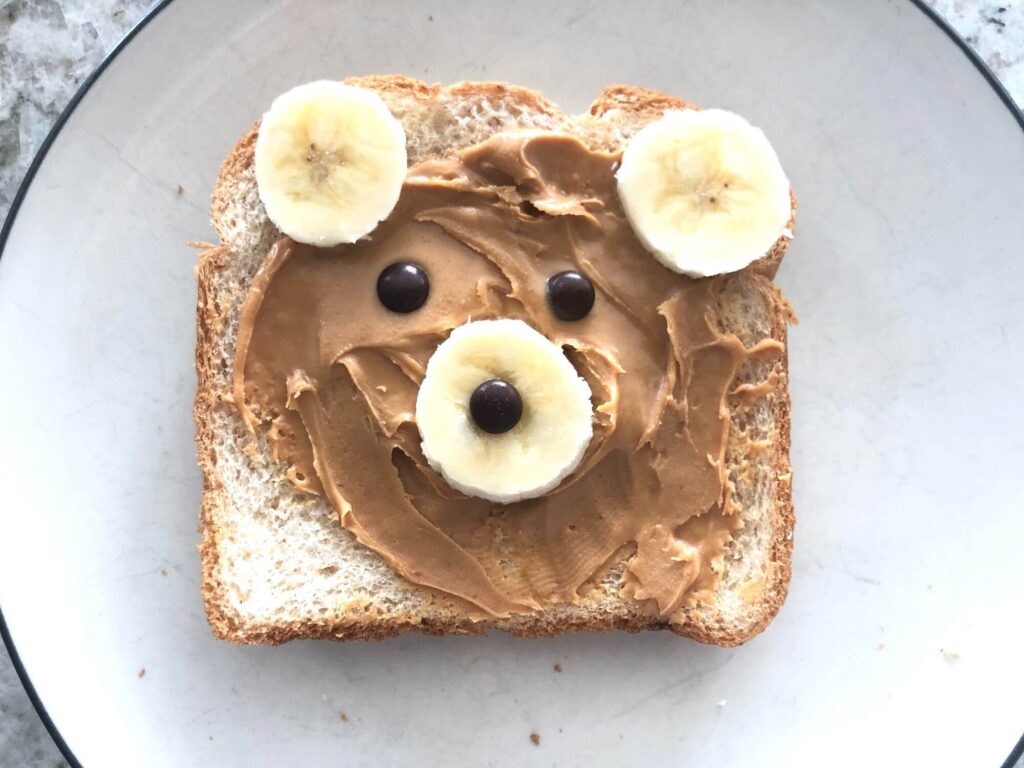 Fun Props to add to your Brown Bear, Brown Bear Preschool Theme
For extra hands-on fun for Brown Bear, Brown Bear, consider adding a few fun props!
You could of course grab a cute brown teddy bear that will be loved well beyond this preschool unit.
This National Geographic book about bears is perfect for early readers and young kids. Plus it has lots of great pictures!
Grab a simple Brown Bear puzzle matching game to help reinforce colors. It makes for great motor skill practice!
Brown Bear Brown Bear Preschool Theme
I didn't realize there would be so much to do and learn in this Brown Bear, Brown Bear What Do You See? unit! We had a lot of fun and our preschool time was filled to the max! What is your little ones favorite Brown Bear Brown Bear activity? Let me know in the comments!
Save this to Pinterest!
You May Also Like:
All About Ecuador: fun facts, crafts, and food!